Beas Kund is one of the most popular beginner treks in Himachal. As the name suggests, this trek will take trekkers up to the origin point of the holy Beas River. The trekking trail is set amidst the scenic grasslands, Gushing River and thick forests. Accompanying a major part of the trail will be the Pir Panjal Mountain Range. Lying amidst the stunning shades of green and blue, is the emerald lake of Beas. Legends associated with the Kund dates back to 5,000 years ago. Rishi Vyas, who was the author of the epic Mahabharat, is said to have bathed in this lake everyday. The term Beas in itself means 'Vyas' and Kund Means Lake, this makes it a destination that is richly dipped in history.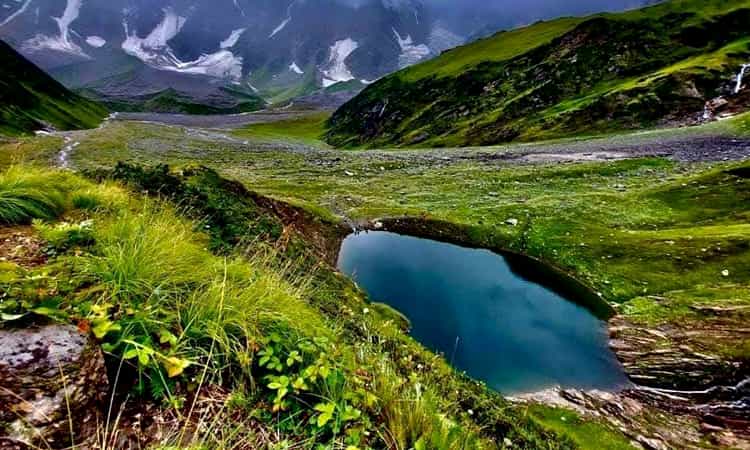 Beas Kund Trek Details
Go through these basic trek details about Beas Kund. This will further help you in solidifying the trekking plans you may have:
Difficulty Level – Moderate
Trail Type – Well used throughout
Trekking Duration – 3 to 4 days
Basecamp – Manali
Maximum altitude to be reached – 12,500 feet above sea level
Temperature expectation – Maximum 13 degree Celsius in Summer and -7 degree Celsius in winter
Trekking distance covered – 47 kms.
Trek Itinerary
Day 1: Manali – Dhundi – Palchhani Thatch
The trek starts off from Manali. You will be taken by road from Manali to Dhundi. Manali visit is an important part of Himachal Tour Packages. This will be a trip of 1.5 hours. From Dhundi, the trekking trail will begin up to the campsite at Palchhani Thatch. The trekking trail will be of 1 hour and the estimated time of arrival is by afternoon. The night will be spent at the campsite.
Day 2: Palchhani Thatch – Lohali
This will be a day of trekking that will kick start early in the morning. The entire route will be 4 km long. To trek up to Lohali, depending on speed it will take any trekker 4 to 5 hours. The trail is a moderate ascent through stunning views. The night will be spent in a tent at the Lohali campsite.
Day 3: Lohali – Beas Kund and Lady Leg – Lohali / Bakarthach
This is the day when trekkers will be reaching the final destination. The trekking distance covered would be 5 kms. Due to a steep ascent, the trek will take 7 to 8 hours to cover. This will be the day when the trekking trail will also cross its maximum elevation of 12,772 feet above sea level. After spending some time there trekkers will make their way back to the campsite at either Lohali or Bakarthach.
Day 4: Lohali / Bakarthach – Dhundi – Manali
From the campsite of your choice, the trekkers will trek back to Dhundi village. The length of the trek will be 4 kms and will take 5 to 6 hours to cover. The way back is a full descent throughout. On reaching Dhundi the trekkers will be transported back to Manali via a jeep. The night will be spent at the homestay in Manali. The drop-off at the stay will mark the end of the Beas Kund Trek.
Trek Highlights
The trekking experience will entail a placid high-altitude alpine glacial Lake.
Camping and setting up tents will be done amidst snowcapped mountains and beautiful meadows.
Views of Deo Tibba, Indrasan Peak and Hanuman Tibba will be easily visible.
Sleeping under the sky at the campsites will be a deeply rejuvenating experience
Interact with the locals and shepherds that will greet you along the way.
The Beas Kund Trek is a treat for the sore eyes and a wonderful opportunity for photographers and videographers to capture some amazing moments.
Best Time To Visit Beas Kund
The Beas Kund Trek is a treat for the mind, body and soul during the months from mid-March to mid-October. During this time the weather remains clear and trekking under these temperatures is ideal. Trekkers will also get clear views of the surroundings. These are the months when the foliage and the flora and fauna here springs to life.
Things To Carry For The Trek
First and foremost a good pair of walking sports shoes is a must.
Your own trekking and camping gear. If not, be sure to inform us beforehand and learn where you can rent them from.
Keep a good stock of comfortable and quality warm clothing items like thermal inners, sweaters, jackets, mufflers, beanie, gloves etc.
Always remember to pack your first aid or medical kit with bandages, Dettol, Band-Aids, pain medication etc.
Always carry a working flashlight with an extra pair of batteries.
Do not forget to pack a good-quality of sunscreen, caps and sunglasses. This trip will take place in high-altitude regions where the trekkers will be exposed to bright sunlight.
Make sure to carry your own small bag of toiletries and other such important stuff that you may be needing during the trekking duration.
If carrying a camera then be sure to pack your equipment with extra chargers and batteries so you don't run out.
Always keep a good stash of water bottles, energy bars, protein bars and other such healthy snacks that you will definitely be needing during this trip.
Beas Kund Travel Tips
Beas Kund trek is a high-altitude trekking trail in Manali. Be sure to acclimate properly on lower altitude. This will avoid the triggering of high-altitude mountain sickness. For Beas Kund one can acclimatise at Manali or Solang valley. Acclimatization can also be done at the campsite in Dhundi before moving forward to Lohali.
For beginners it is advised to be crystal clear of their expectations with this experience. Since camping is a part of the trip, sleeping in sleeping bags will be done. So be sure to pack extra woollens if you want to have a good night's sleep. Cribbing about it won't be of any help.
Dress accordingly for the trek. Avoid wearing jeans, trousers or any other clothing that will make movement difficult. Wear track pants that are a little loose and allow movement. Try to pack as many waterproof items as you can as it may rain during the expedition.
Remember to not wander off from your group or go off-trail while trekking. Wandering off from the campsite is also not advised. The hills are ruthless and going off on your own may prove to be a threat. Always go in groups or accompanied with the guide. To stay safe, follow the instructions of the guide very closely.
Remember to always respect the wilderness and the wild. Do not litter and always carry garbage bags. Carry those garbage bags back with you and dump it in a designated bin. Take back what you bring in.
FAQs for Beas Kund Trek
Are Camping Equipment And Other Gears Available For Rent For The Beas Kund Trek?
Ans. Yes, trekking poles, backpacks, shoes, raincoats etc. are easily available for rent. Manali is the place where people can easily rent their stuff. Be sure to contact your travel agent for the trip gear.
What Will The Temperatures Be Like During The Trek To Beas Kund?
Ans. Even during the summer time, the Beas Kund Trek can prove to be very cold. From May to June the temperature can drop to 1 to 2 degree Celsius at night. From September to October, the temperature remains between 2 to 3 degree Celsius.
What To Do In Case It Starts Raining During The Beas Kund Trek?
Ans. In case it starts raining while you are trekking them the trek will continue on as planned. The rain coat or the poncho that you will be wearing will keep you safe from the rains. It is not advisable to abruptly stop somewhere or take shelter in undesignated spots. Make sure to carry a backpack cover to keep your belongings safe from the rains. If it starts raining at the campsite then remember that the kitchen area, dining area and the tents will keep you safe.
When Can I See Snow At Beas Kund Trek?
Ans. This trekking trail will experience snow cover during the month of June. Although it all depends on the snowfall that had taken place in the preceding winter months.
Will There Be A Mobile Phone Network In Beas Kund Trek? Are There Any Electricity Charging Points On The Trek?
Ans. Manali is the final place from where most of your electronic equipment can be charged. Be sure to carry a fully charged portable charger. There may be some phone connection here and there in Solang valley but don't rely on it. Make all your important phone calls and let your loved ones know about your whereabouts before heading out for the trip.
Can Old People Do This Trek?
Ans. Definitely! Older people who are in good health and regularly indulge in aerobic exercises then anyone can go on this trek.