India is known as the 'land of diversity' because of the diversity of people belonging to varied cultures, groups, religions, and faith. It is because of this diversity of culture that India is a land of multiple celebrations where people of all races embrace each other and their culture with love and warmth. In the Hindu religion, Lord Vishnu is one of the deities. There is a Hindu temple dedicated to Lord Vishnu, which is situated in Badrinath, Uttarakhand. The temple in Badrinath is one of the four pilgrimage sites for Char Dham Yatra.
Also Read: Where to Stay in Badrinath
Location
Badrinath temple is located in Garhwal hills in Chamoli district, Uttarakhand. The hills are located 3, 133 m above sea level. It is situated on the banks of River Alaknanda.
Historical aspect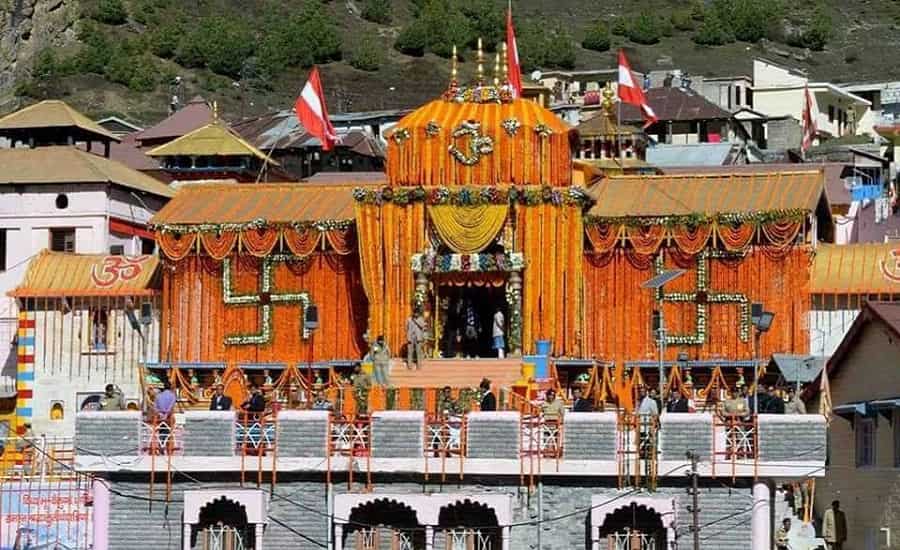 According to Hindu belief, Badrinath became eminent when Lord Vishnu, Nar-Narayan, took sanyas there and practiced meditation. At that time, the place was covered with 'Badri' trees, commonly known as berry trees. So the place came to be known as 'Badri-van' or the forest of berries. These berries or 'Badri' trees shielded Lord Vishnu from harsh weather during his meditation. It is believed that Lakshmi, his wife sheltered him by being the tree. Therefore, the place came to be known as 'Badri-Nath,' Lord of the berry forest. Badrinath became the first Dham. The Second place became Rameswara, followed by Dwarka and Puri. However, Chota Chardham is a part of the original Chardham that encompasses four places- Kedarnath, Badrinath, Gangotri, and Yamunotri.
Also Read: Things to Do in Badrinath
Char Dham Yatra
Char Dham or Chhota Char Dham is referred to as a pilgrimage encompassing four sites- Kedarnath, Badrinath, Gangotri, and Yamunotri. The Char Dham that is formed is attributed to the great reformer and philosopher, Shankaracharya. Originally, Chardham Yatra in India comprises four sites: the north, south, west, and east of India, Badrinath, Puri, Dwaraka, and Rameswaram. It is believed that people who visit these shrines and go for this pilgrimage achieve salvation and return with their sins washed away.
Chardham Yatra Tour Package
The Char Dham Yatra package differs from place to place and also depends on the means of travel. If traveling by helicopter, it costs nearly Rs.1,76,000, including hotels, sightseeing, meals, and travel. If traveling to Chardham ex Delhi, the package starts from Rs.31,999. If traveling by private bus from Haridwar, the trip cost goes more than 16,000.
Interesting facts about Badrinath Temple
The scenic beauty of Badrinath is exceptionally captivating. Located on the banks of the Alaknanda River and among snowy mountains, the temple is a visual delight. It drives travelers to visit the temple and appreciate its visual beauty. Badrinath is a land of many Legends, and each legend adds extra glory to the already glorified temple. From meticulous attention to architecture to its historical importance, Badrinath is one place that is to be explored.
The temple has a hot water spring attached below, Tapt Kund. This hot water spring lies close to the temple, and it is believed that whoever bathes with this water is purified of all sins.
The temple is open for six months. It begins at the end of April and ends at the start of November. This duration is a lot for people to plan a pilgrimage. It gives people and their devotees enough time and opportunity to design a voyage.
Badrinath is not only a part of Chota Chardham Yatra in Uttarakhand. Still, it has also made its way to the original Char Dham Yatra that consists of Puri, Badrinath, Dwaraka, and Rameswaram.
The temple has a myriad of folktales and mythologies. Lord Vishnu diligently repented for his sins. During his repentance, he became so focused that he did not realize the harsh weather. To protect him from the scorching sun, his wife Lakshmi became a Badri tree and spread over him. Lord Vishnu was so pleased by his wife's gesture that he named that particular place as Badrikashram.
Sankaracharya initially established the Badrinath temple. He was a proficient scholar and a theologist who took sanyas at a very young age. Badrinath is one of the five holy places (Punyakshetram) where Hindus give offerings to their ancestors.
The scriptures mention Badrinath Dham as the home of Lord Vishnu, also known as the second 'Vaikuntha.'
The temple is situated at an altitude of 3,300 meters. The temperature is freezing there. The temple is surrounded by snowy mountains making the view majestic.
The Badrinath temple has been mentioned in many Hindu texts and scriptures like Bhagavata Purana, Skanda Purana, and Mahabharata. The Badrinath temple has been mentioned as a sacred and spiritual site in Padma Purana.
It is said that the sculpture of Badrinath was found and fixed by Gods. The miscreants during the end of the 6th century had thrown the statue in the Alaknanda River. Sankaracharya founded the sculpture and placed it carefully in a cave near Tapt Kund. The sculpture was then removed from the shelter and placed in the temple by Ramanujacharya.
A pilgrimage to this temple is believed to be holy and sacred. Hindu devotees from across the world travel here, hoping that their souls will be cleansed of all sins and impurities. They also believe that it will help them achieve moksha (salvation).
The number of people who have visited the temple has only increased. This shows the popularity and holiness that the place has to offer. The population in Badrinath is entirely Hindu, as it should be in a pilgrimage spot. According to the last census of 2001, Badrinath consisted of 55% male and 45% female population. Every year Lakhs of Hindus visit Badrinath for a pilgrimage. For the Hindus, it is regarded as one of the most sacred and holy pilgrimages.