The name of this colorful Gujarati festival literally translates into 9 nights. Celebrated as a part of one of the major religious festivals in India the state of Gujarat especially erupts into a colorful vibrancy which douses the entire state. People dress up in their traditional dance attire and indulge in playing Garba to traditional Gujaratis music and dance to the tune of the goddess. The entire festival is a very spiritual and holy experience which you most definitely should be a part of at least once in a lifetime.
Here is everything you need to know about the grand and glimmering festival of Navratri: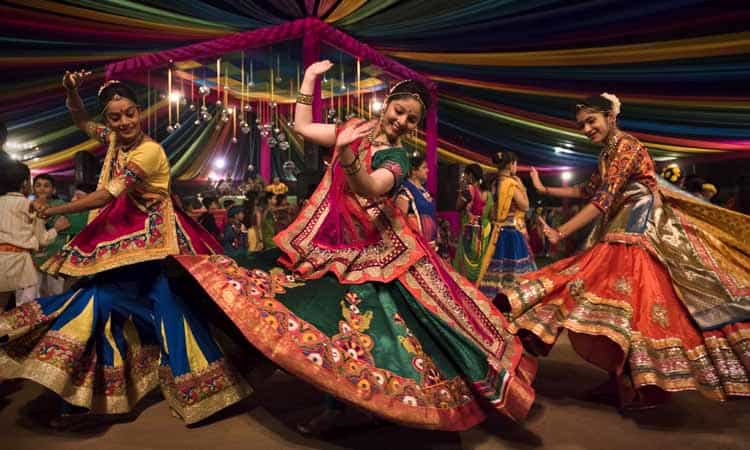 When is it Celebrated?
The nine nights of Navratri is divided in 3 days for 3 different goddesses. The first 3 is dedicated to goddess Durga, the second is for Lakshmi (the goddess of prosperity) and the final days are dedicated to goddess Saraswati (goddess of wisdom and art). The time when this festival is celebrated is the time for fertility and monsoon harvest which is represented by a mound of fresh soil. The first night of Navratri celebration takes place on the auspicious day of the Hindu month of Ashwin which roughly represents the months of September or October, this also marks the end of the rainy season. Vijayadashami or also celebrated as Dussehra marks the tenth day of Ashwin and the end of this grand celebration which is also probably one of the longest in the world.
Where Does This Take Place?
Navratri festival does not remain restricted to just one region but it is celebrated all over India and even some parts of the world. Speaking of Gujarat Garba takes place in all the villages and neighbourhoods all across the Gujarati state. All you have to do is step out of your place and head anywhere by just following the booming music of the traditional Gujarat. Once such location is Vadodara which is believed to be the amazing cultural capital and the most sought-after location for celebration purposes. During the festival time religious pilgrimages to Shaktipeeths takes place to temples like Ambaji, Pavagadh, Becharaji etc. apart from this you can celebrate Navratri anywhere across India.
Latest Dates for Navratri
The Navratri dates for the year 2019 is from 29th September 2019 to 7th October 2019.
Legend of Navratri
Just like a lot of beliefs in India, there are several enchanting legends and myths related to the historical significance of Navratri. Here are 2 of the most legendary and iconic stories attached to this colourful festival:
The demon god, Mahishasur was given a boon by the god of fire Agni that he wouldn't be killed by any sort of weapons carrying masculine names that had caused immense terror and destructions. The gods went to get the help from Lord Shiva who had advised them the invocation of goddess Shakti. When all the gods prayed intensely to Shivji a divine luster sprang from his heart and the bodies of all the gods and formed the goddess Adhya Shakti. All the gods handed over their ornaments, arms and a lion for a vehicle to the goddess. She fought bravely to the evil demon Mahishasur for 9 whole days and lights while at last beheaded the demon on the final day. These 9 nights are known as Navratri and on the 10th day which is called Vijaya Dashmi was the last day where the goddess had killed the demon and was triumphant of good over evil.
Another belief is that sati – or also known as Uma was married to lord Shiva against the wishes and will of his father King Daksha Prajapati. As a revenge plan the king organised a massive yajna and invited all the gods and goddesses except his son in law Shiva. Sati decided that she would attend the Yajna despite lord Shiva's attempt to ask her not to do so. The king completely ignored his daughter's feelings and presence and even went on to publicly abuse and talk badly about Shiva. Unable to hear her husband's insults sati jumped into the yajna fire and committed suicide. However later on she was reborn and won Shiva's heart again making him her groom and restoring the peace. It is believed that ever since then goddess sati or Uma visits the earthly realm with her four children Ganesh, Kartik, Saraswati and Laxmi along with 2 of her best friends or Sakhis named Bijaya and Jaya to visit the home of her parents during the time of Navratri.
Rituals of Navratri
Every evening an Aarti is performed in front of the idol of goddess along with a typical earthen pot known as Garbi which is accompanied with several Diyas.
Before the Puja takes place people indulge in traditional dance and musical performances. Garba dance with Dandiya is performed by people attending the puja in a circular formation which is synchronized.
People performing Garba wear their best attires that are made out of sequins, silks, glass work, golden threads etc. which is also known as Chanya Choli which adds a lot of character to the entire festival.
The last and 10th day of Vijayadashami is believed to an auspicious day for buying new machines or vehicles. This is also the day when people keeping the fast break it and indulge in a full-fledged feast.
In some place Raavan Dahan also takes place where large structures made out of inflammable materials are erected depicting the evil king. This activity marks the triumph of good over evil.
Food in Navratri
As a part of the tradition during the auspicious days of Navratri many religious people observe fast for 7 or 8 days as per choice. Even if they want to eat something the food should not contain onions, garlic, wheat or rice. A special diet and food ingredients are followed strictly which works as a perfect way of detoxification for the person. Some special dishes prepared and consumed include Fafda, Jalebi, Khandvi, Mandvi Pak etc.
Best Places to Enjoy Navratri in Gujarat
The entire state of Gujarat springs to life during these 9 days. Some of these places are: Khodiyar Mandir, Bhavnagar, Chamunda Mata Mandir, Chatila, Ashapura Mata no Madh and Kutch are some of the most iconic temples to have a complete and exotic experience in Gujarat. This will also be a great time to plan a visit with your friends and family which will be a memory of a lifetime.