God's own country Kerala boasts of a rich cultural heritage. The culture and traditions are impeccably preserved by the locals and passed on from generation to generation. Adding to this backdrop of culture and heritage is its pristine natural beauty. Kerala is all about its backwaters, scenic cruises, palm-lined coasts, humble folks and of course the traditional food. Kerala will definitely capture a spot in your heart for a long time and time spent here will be cherished for days to come. One thing that no traveller to Kerala should miss out on is its variety of dance forms. The classical Carnatic forms of dance are mesmerising, graceful and tell a story.
Here are the different folk dances of Kerala:
1. Kathakali Dance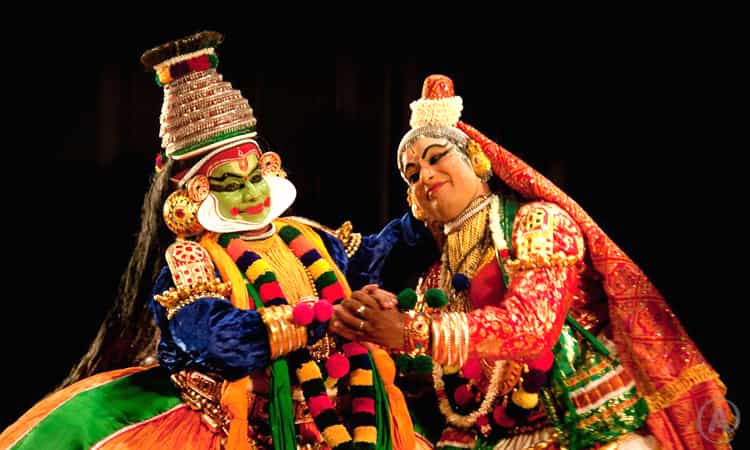 When it comes to classical dance and various art forms Kerala is a treat to experience. The famous Kathakali dance traces its origin back to Kerala. Originating 500 years ago this dance form is famous all over the world. It combines the artsy features of music, design and art. Kathakali dancers are known for their stand-out expressions that add a lot of theatrical drama to the whole performance. Performed by expert Kathakali dancers wearing elaborate and brightly coloured traditional clothes and head gear they tell tales from Ramayana, Mahabharat and puranas.
2. Mohiniyattam Dance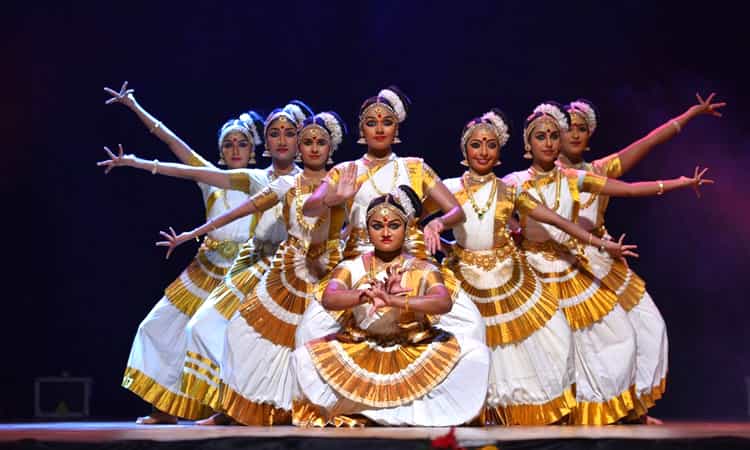 Considered to be one of the most graceful dance forms of South India, Mohiniyattam is a woman-centric dance. Performed only by female dancers, the dance involves lots of elaborate and obvious eye movements as a way of communicating with the audience which is extremely enchanting to witness. They wear traditional keralite saree with golden borders and form patterns while dancing in a group. The dance movements seem like adding a sense of calmness to the watcher. It represents the combination of 2 classical dance forms i.e. Bharatanatyam and Kathakali.
3. Thirvathirakali Dance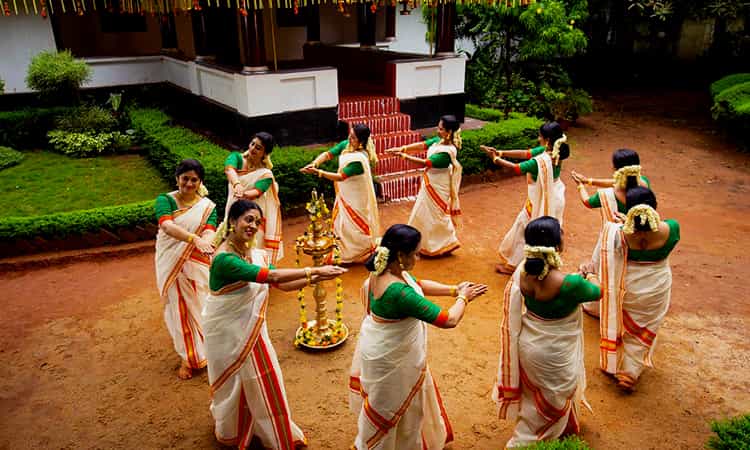 The livelihood of the people in Kerala is mainly dependent on their agriculture production. This is why, just like other people relying on agriculture for livelihood, they also honour the elements and gods and goddesses associated with nature. This dance is a very popular harvest festival dance performed by groups of women while moving in a circular motion. Onam is the time when this dance can be seen on a large scale. Many women take part in the dance to attain everlasting marital bliss.
4. Kolkali Dance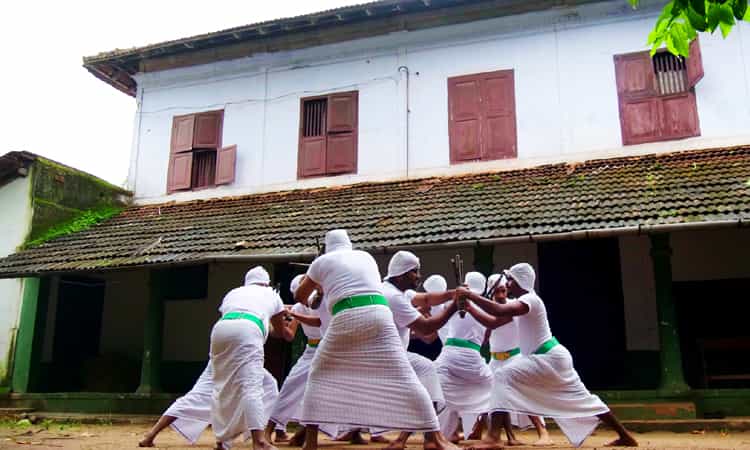 Kerala is home to several farming communities who have their own set of beliefs and traditions. Kolkali is a dance which is performed by people of the farming community and includes 24 performers. With wooden sticks in both hands, the dancers move along in circles while also gently tapping the 2 feet long sticks. A ceremonial lamp is lit at the centre (kind of like Dandiya Raas) and they dance rhythmically to the beats of the music. It can be seen being performed more often in the northern malabar region.
5. Ottamthullal Dance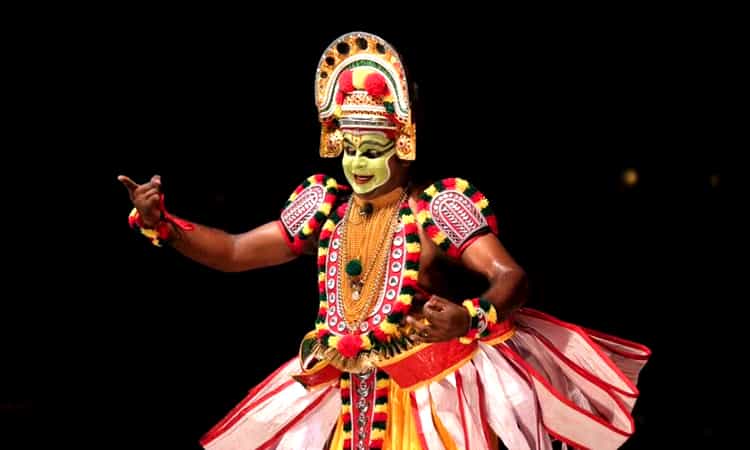 Tracing its origin back to the 18th century, this dance form of Kerala is one of the loudest and the most mesmerising types of dances. Seeing this performance is a blissful experience. The dancers deck themselves in extremely loud makeup and face paint and don vibrantly colored costumes. Along with graceful hand movements, eye movements are also an important factor to this dance. Through the steps and expressions these dancers depict stories from the Indian mythologies. In layman terms, the dance has often been described as the poor man's Kathakali.
6. Koodiyattam Dance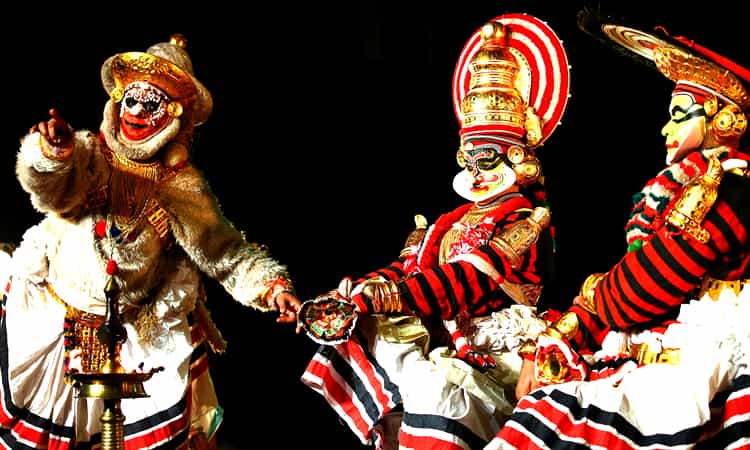 This traditional temple dance can be seen being performed only in temples during some special ceremony or ritual. A whole orchestra of traditional instruments is used for this performance including conch shells. It is a pure mesmerising act where theatrics and dance meets mythology. Being one of the oldest dance forms of Kerala, the dance and the dancers are treated with unparalleled love and respect. They perform bits from epics like Mahabharat and Ramayan.
7. Chakyar Koothu Dance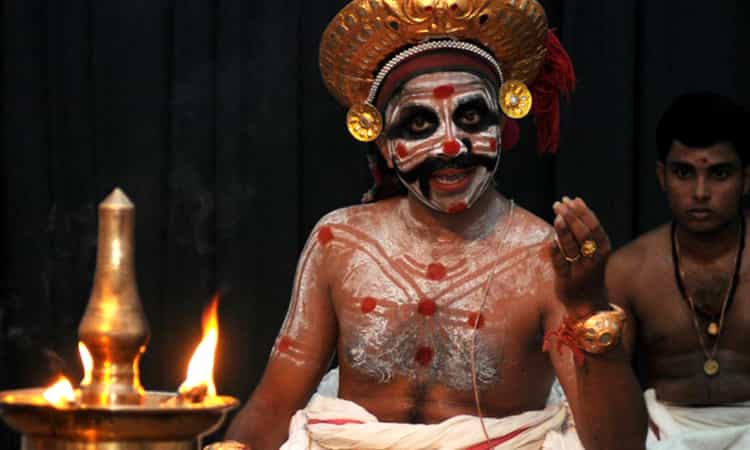 Introduced by the Aryans in ancient Kerala, this dance is still one of the most well-preserved forms of traditional dances in Kerala. This orthodox type of dance is traditionally performed by the people of the Chakyar caste inside temples. Some performances also take place in special theatres called Koothambalam. Stories of Ramayana and Mahabharat are told through special performances that include elaborate gestures and expressions. It is not entirely a traditional dance, it is more like a modern-day stand-up comedy act.
8. Oppana Dance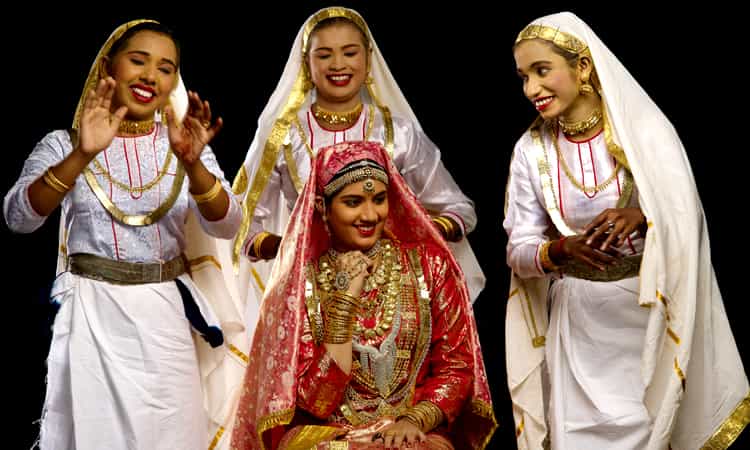 Oppana is an extremely popular form of social entertainment among the local Mappila community of Kerala. Over time oppana became a popular art form that has always been revived in the form of youth festivals and stage performances. Generally, this dance is performed by a group of 15 women including the musicians. It is a spectacle to behold during special occasions. It is mostly celebrated during wedding time where even the men do this dance to entertain the bridegroom. The dance is done around the bride while clapping enthusiastically.
9. Margamkali Dance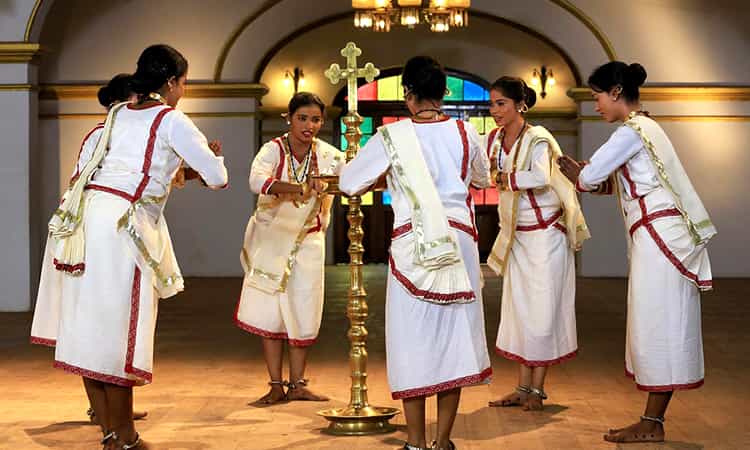 Kerala is home to a large Christian population. Margamkali is one of the oldest dances dating back to ancient Kerala. Prevalent among the Syrian Christians and performed by men as well as women, the dance is a mark of special occasions like wedding ceremonies. The dance is done around a ceremonial holy lamp where the group of 12 women form a circle and perform their steps. They also sing folk songs in their language as a way of honouring the moment. They wear traditional white Christina wear including Chatta which makes the dance incredibly beautiful to watch.
10. Theyyam Dance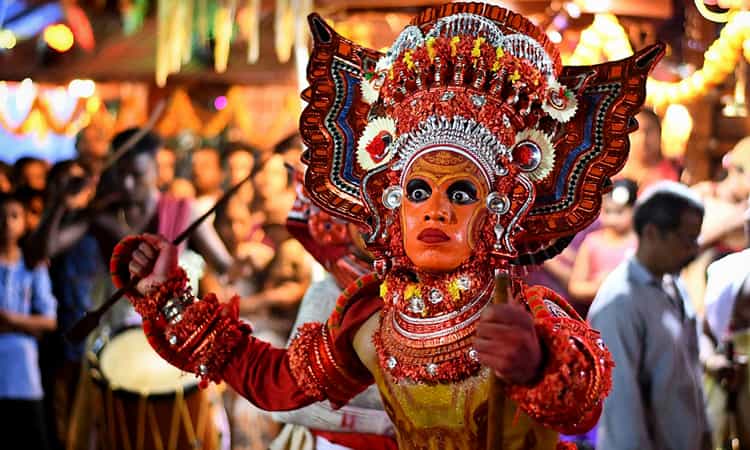 Theyyam is the dance of the gods and is a very popular dance form in the Malabar region of the state. This is a dance worship that consists of thousand-year-old traditions, customs and rituals. The locals and dancers believe that Theyyam is a channel to god thus the audience seek blessings from Theyyam. There are over 400 different types of Theyyam and is a major part of the modern folk religion. The dance is generally performed in front of the village shrine without any stage or curtains. The dancers recite ritual songs along with the drummers while also dancing through elaborate steps.
11. Kutiyattam Dance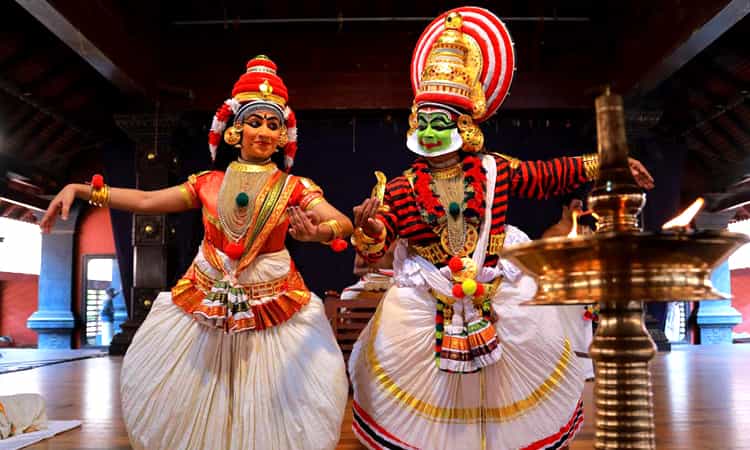 Kutiyattam is a traditional performing dance that uses a combination of ancient Sanskrit theatre. It has been recognized officially by UNESCO as a masterpiece of oral and intangible heritage of humanity. Although its origins remain a mystery, the dance is performed primarily by the people of the Chakyar community. Traditionally, the main musical instrument used in the performance is Mizhavu, Kurumkuzhal, Sankhu etc. the term literally means acting together which involves lengthy acting sequences between the dancing couple, hand gesture and elaborate eye movements.
12. Nangiar Koothu Dance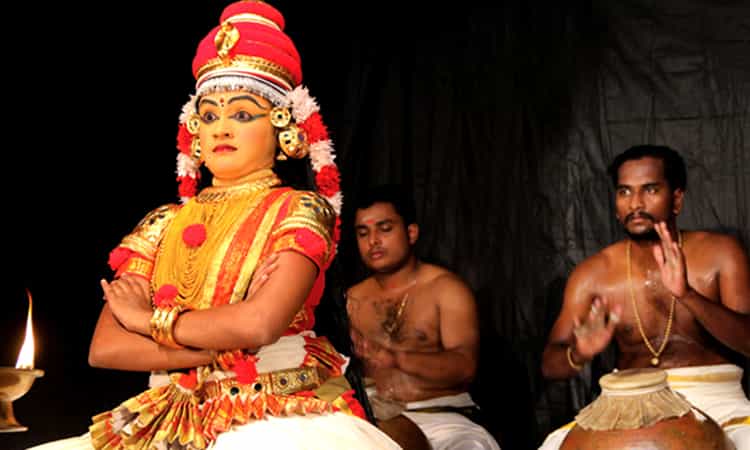 This allied traditional art form is an age-old Sanskrit drama tradition of India. Performed primarily by the women of the Ambalavasi Nambiar community of Kerala, the main dancer in this is a woman. The stories for the performance are borrowed from the epic Hindu mythological texts, especially the one showcasing the life and times of Lord Krishna. During the performance, the dancers present lengthy and elaborately choreographed stories of the lord through facial expressions, hand gestures and body movements.
13. Velakali Dance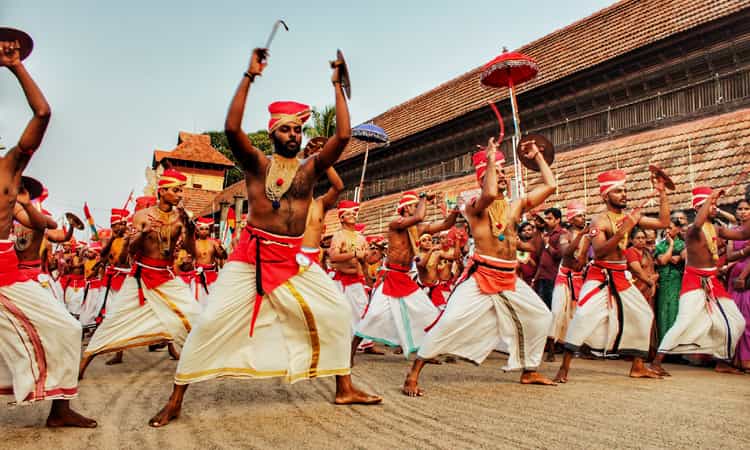 Velakali is a traditional martial dance form performed by the Nair community of Kerala and is mainly performed during temple festivals. The dancers can be seen carrying swords and shields while wearing brightly colored clothes. The sequence is done in such a distinctive way that it attempts at capturing and recreating the fight between the Pandavas and Kauravas. During the performance of Velakali, huge effigies representing the Pandavas are put up. This performance is strictly done by the men folk of the region and is one of the grandest and most elaborate dances of Kerala.
14. Kavadiyattam Dance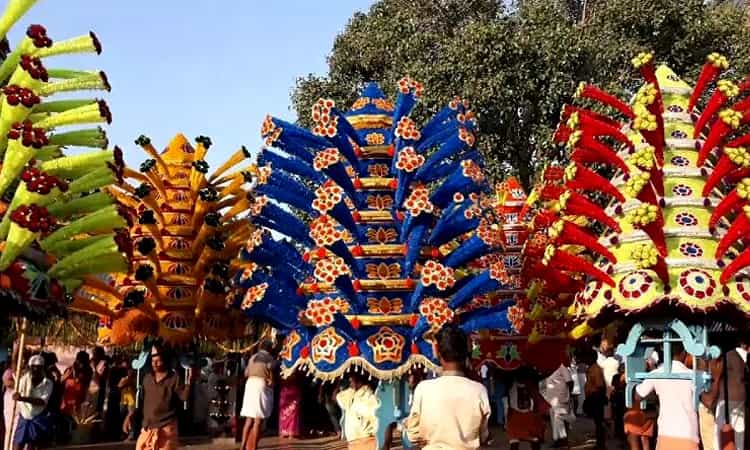 Dedicated to Lord Murugan, the Hindu god of war, Kavadiyattam is a ceremonial sacrifice and offering practice. Through this dance, the devotees implore Murugan to offer some assistance usually for some loved one who needs some sort of healing. The dance in itself is deeply steeped in mythological accounts concerning Lord Shiva. This dance is a major part of the festival of Thaipusam where the Kavadis carry a large burden on their shoulders which is a form of physical burden for them. Devotees do this whole dance while on their pilgrimage route.
Frequently Asked Questions (FAQs)
Q. When Is The Best Time To Visit Kerala?
Ans. September to March is the best time to travel to Kerala.
Q. What Is The Main Language Of Kerala?
Ans. Malayalam is the main language of Kerala.
Q. Where To See Kathakali Dance Performances In Kerala?
Ans. Go to Kochi during some festival and you will be able to catch a Kathakali performance at the temple grounds.
Q. Which Are The Hill Stations In Kerala?
Ans. Munnar, Wayanad, Vagamon, Thiruvambadi, Lakkidi, Thekkady, etc. are some of the famous hill stations of Kerala.
Q. Which Place In Kerala Is Famous For Backwaters?
Ans. Trivandrum backwaters are very famous in Kerala.