Scuba Diving in Andaman is the most incredible action in a tropical archipelago with mangrove-lined shores, coral reefs, and marine life for underwater experiences. The Andaman and Nicobar Islands are among the world's top diving destinations, with numerous specialist diving centers around the beaches.
Exceptional birdlife, delicious seafood, and incredible sea life greet you with fantastic water bodies, steep walls, sandy bottoms, great pinnacles, and fabulous corals. Pump up your adrenaline by swimming with colorful fish, dugongs, jellyfish, and sea turtles.
Gear up to explore the magical underwater world on your Andaman Trip Plan. Marvel at seabed gardens, colorful corals, eels, shrimps, triggerfish, and parrotfish in the cluster islands. The scuba diving arena harbors 89 types of coral fish.
A magical underwater experience awaits you with visibility, water depth, water current, and salubrious weather in the Andaman.
Diving enthusiasts can select suitable Andaman Tour Packages to experience the scuba diving of their lives with their friends and family. Book your Andaman Packages at the best price with Namaste India Trip and discover serene underwater life.
About Scuba Diving
Scuba stands for "Self-Contained Underwater Breathing Apparatus" which helps individuals to breathe underwater. With its compressed air tank, you can be part of underwater life and explore the marine world without knowing how to swim. It is a magical adventure. A bizarre and quiet aquatic life will have marine creatures zigzagging around you, and you attempt to soak in the marine life.
Why Scuba Diving In Andaman?
The Andaman stands out clearly among dive spots globally due to its oceanic conditions, cultural vibes, and unique biome.
It exhibits the best underwater visibility around dive sites with warm water mingling with clean ocean bodies. Its coral and marine life are diverse to provide a unique experience. You need not go far deep to spot a wide variety of corals and fish.
You can discover around 750 species of fish up close in the unspoiled seas of the Andaman Islands.
Cost Of Scuba Diving In Andaman
Scuba diving costs a little more than typical water sports. The price depends on the island, diving school (vendor), and what you want. Vendors charge extra for boat movement to the site as well. The cost comprises underwater photography, video, and the rent of diving gear.
Scuba Diving costs around INR 3500- Rs. 5000. A single dive may cost you from INR 4500 to 5000 with one guided dive with an instructor and an introductory scuba session. For two dives, you may have to fork out INR 6000 to 7000. Beginners can pay around INR 3500-4000 for a shorter version of the introductory scuba session and 30 minutes.
Types Of Scuba Diving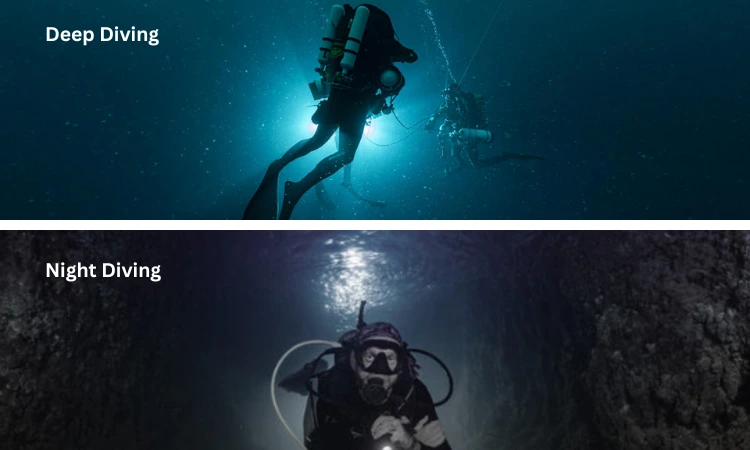 Apart from regular open-water diving, you can partake in several other variations of diving in the Andaman Islands.
Night Diving: Night diving allows you to see many nocturnal animals that come out for feeding at night. Scuba torch and scuba sign language help you communicate with other divers.
Deep Diving: Deep diving helps you explore rare species, coral reefs, and wrecks up to 30 meters underwater. It requires extra precautions to undertake.
Types Of Scuba Diving For First-Timers
Here you will know the type of Scuba Diving first time So let's check in the list that we have given in the below:
Discover Scuba Dive or DSD: DSD is a one-time diving experience for non-divers under direct supervision. It includes brief theory, equipment familiarization, little practice, and a 45-minute to 1-hour dive underwater with an ideal instructor. It goes up to 12 meters underwater for a relaxed and fun time.
Boat DSD: You reach a secluded reef patch (dive site) in a boat. Back-roll is a fantastic experience for entering the water for first-timers. It includes dive briefing, equipment wear, and boat logistics. This is considered the best way to do diving in Andaman.
Shore DSD: Here, you reach the dive site by walking from the shore. The rest of the experience remains the same as a boat DSD.
Try Dive: Local tour operators offer this tour variant with minimal pre-dive theory and skill training for a 20-30-minute dive.
Best Place for Scuba Diving in Andaman
Havelock and Neil are the most popular places for dive sites with sharks, manta rays, marine life, and soft coral.
Havelock Island: Havelock includes almost 25 dive sites. Its dedicated macro diving sites have shrimps, juvenile, devil scorpionfish, wart slugs, leaf fish, and nudibranchs.
Other dive sites have white-tip reef sharks, giant moray eels, and wrecks. No doubt, Havelock Island stands out clearly as the most popular location for scuba diving. Pilot Reef, Lighthouse, Peel, and the Nemo Reef are some of the most loved dive sites.
Barren Island: The Island is home to the only active volcano in South Asia. Its marine life includes kingfish, barracuda, tuna, turtles, manta rays, blacktip, and white-tip sharks.
Mahatma Gandhi Marine National Park: Rich marine life and crystal clear water make it an excellent dive site. Crocodiles, a variety of coral reefs, starfish, and turtles are the main highlights.
Neil Island: The Island is home to five diving sites. Margherita's Mischief, K Rock, and Bus Stop are the main sites. Gentle current, sloping sandy bed, and clear water are the main highlights. Diving here is an intimate and living experience.
Scuba Diving Schools in the Andamans
It is of utmost importance to select a good diving school. Many diving schools offer free dives or open water courses which certify you as a scuba diver.
The Professional Association of Diving Instructors (PADI) and SSI are two international diver training organizations that offer certified training programs for recreational and technical diving. Most Indian dive schools follow PADI coursework along with diving procedures.
The school you choose must be certified by either PADI or SSI. Check reviews, positive history of diving practices, and talk online before making a decision.
Dive India, Scuba Lov in, Seahawk Scuba, Eco Diver India, Doongi Dives Dive Centre, Andaman Bubbles, Blue Corals Dive, Ocean Tribe Scuba, and Havelock Divers are the SSI certified schools.
Precautions for Scuba Diving
Here are some Precautions in the list below as we have, mentioned, you should read these Precautions before thinking about Scuba Diving.
Pregnant women, heart patients, and people with low or high hypertension are not advised to dive before checking with their doctor. Towards this end, the dive centers may ask you to fill out a medical questionnaire.
Use rash guards, and coconut oil instead of sunscreen because chemicals damage marine life.
Do not brush fish, rocks, reefs, or creatures underwater as it can harm the organisms.
You should not compromise on safety at any cost.
Allow some time to fly after diving.
Holding a breath while diving is not recommended.
Use safety stops on the dive.
Be in your limits in the early stages of learning
Eligibility and Qualification to Dive
Scuba diving is a safe sport in the open waters for everyone, irrespective of diverse physical characteristics and abilities.
If you aspire to see the exclusive stuff underwater, undertake courses to get yourself PADI or SSI certified within 4-14 days. The dive centers cater to the non-swimmers and uncertified divers as well.
However, children below 10 years are not eligible for diving.
Best Season for Scuba Diving in Andaman
Although it keeps raining throughout the year in the Andamans, like most tropical places, tourists can dive safely.
Visibility or clarity of the water is the most critical factor contributing positively to your diving experience. It depends on turbidity and sunlight absorption in water. Visibility is high in still water, and you will be able to spot the marine world.
Non-monsoon months (October to May) have conducive heat and water conditions with visibility underwater. The temperature stays cool (Between 20°C and 33 °C), and the waters are calm. This is the most conducive time for diving. Unexpected rains and cyclonic weather may play spoilsport with unpredictable changes.
It is perfect even for newbie divers. Monsoon season has attractive diving conditions for seasoned divers. September to November is another period for scuba diving, with fish swarming up in the sea after the cessation of the southwesterly winds.
Make it a point to check the weather before deciding your dates of visit.
FAQs For Scuba Diving In Andaman
How Safe Is Scuba Diving In Andaman?
Diving schools brief you on the diving session. Trained diving instructors accompany every participant. So, diving in Andaman is safe even if you venture out into deep-sea diving.
Do I Need To Know Swimming For Scuba Diving?
Introductory scuba diving programs, Try Scuba or a PADI Discover Scuba Diving Program, do not require swimming. Suppose you want to get certified as a diver. In that case, you need to learn basic swimming that enables you to float or tread water for 10 minutes, swim 200/300 meters independently, or mask-fins-snorkel.
Is It Possible To Scuba Dive In A Single Day?
You cannot complete certification programs in one day. It takes a minimum of four days or more to finish a good certification program. However, you can have a one-day introductory course toward certification.
What Time Interval Should You Allow For Flying After Diving?
After multiple dives, you should at least wait for another 18 hours before flying. Wait at least 12 hours before flying after a single dive.
Is It Possible To Dive In The Monsoon?
You can dive in the monsoon because it does not change underwater conditions. However, turbulent seas and inclement weather may discourage long boat rides.