The first-ever trek is special. The excitement to scale every inch of the trail and squeezing the maximum out of mountains is probably the highest. Most often, the very first trek of your life helps you establish a connection with the mountains. This connect would decide how far your trek-journey will go in future. While a proper trekking guide to the mountains can prove to be helpful as you kick-start your journey, an ill-planned one may lead you to have some sour experiences.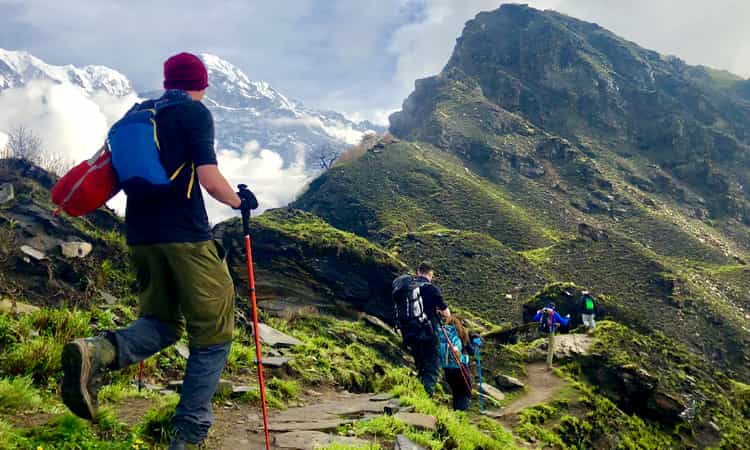 As you plan for your first-ever trek, here, we have tried explaining almost everything that a novice-trekker must-do during the journey. Following these steps will let you earn memories for a lifetime and give you the strength to do multiple treks in future! Let's get started!
Picking The Right Time To Trek To The Mountains
You read it right. Picking the right time to trek to the mountains will certainly determine your trek-journey. Be it the mountains of Himachal or Uttarakhand; Sikkim or Kashmir; the right season must always be kept in mind. Most often, the best time to trek to the mountains is considered from August to October. You must never plan to go on a trek during monsoon season. Heavy rainfall in the mountains and a slippery trail makes it difficult for you to trek during the monsoon. What's more disappointing is the unclear views of the mountains during this season.
The time-period after the monsoon is considered the best period for almost all the treks. A green cover runs over the mountains and makes you experience a memorable one!
Choosing The Right Trekking Gear And Accessories
You must always pick the right accessories and gears before you plan to go on a trek. A common mistake that we all make is that carrying too many accessories and gears. You must remember that the length and difficulty level of the trek plays a key role in determining the gears you choose. While a professional level trekker who plans to go on an expedition would carry some alien-gears, you need not! As it is your first trek, you must contain yourselves spending too much on gears. What you require is a trekking pole, a good-quality trekking bag, good quality shoes, thermals and jackets, gloves and socks. While these items are essential to carry, you must always tell the store-person about your trekking destination. Hence, the gears.
Do I Need To Pre-Book My Hotels?
The night before you hit-off your first trek is very important. You must ensure that you take proper sleep of six to eight hours before you start your trek. This may help you to climb better and will keep you energetic throughout the trek. Additionally, you must not forget to pre-book your hotels to avoid the last-minute rush. Being the base point of several treks, hill stations like Chopta, Nainital, Manali and Munsiyari experience heavy rush and have limited facilities in terms of stays and accommodation. Several hotels in Chopta, Manali and other hill-stations may also provide you with the facilities of a trekking-guide to make your trek easier!
Should I Carry A First-Aid Kit?
Even if you are very cautious about every step that you take as you trek, it is always a good idea to carry your first-aid kit. While in the mountains, you are prone to cough and cold as you undergo a drastic weather change. You must carry a complete set of medicines for fever, cough, cold and a band-aid. You should also carry a spray-based ointment as it may help you relieve your muscles after your trek. Don't forget to ensure that the medicines have not expired and are prescribed well by a medical professional.
Munch On Snacks As You Trek
Believe me, you will never regret having taken this step. As you climb up, you burn your calories at a rapid rate. Your body demands more carbs to maintain your energy level. You must never start your trek on a full stomach. This may make you more lethargic and may lead to having a bad-trekking experience. Rather, you should take some light (but high in calories) breakfast before your trek. Also, do not prefer eating deep-fried and fried snacks or meals while or before you trek.
Secondly, you should always carry some snack with you as you trek. You should eat them at regular intervals to maintain the energy level in you! You can try a protein bar which is a famous choice for trekkers. These may provide you with a high-quality taste and load you with enough calories to continue your journey! You may not find them easily in some hill-stations and must carry them with you when you start your journey.
Always Carry Enough Water
Whether you read any trekking guide to the mountains, you must come across the essentiality of carrying water as you hike or trek. While you burn your calories, your body releases salts and water in the form of 'sweat.' You must compensate for the loss of water to keep your energy curve upwards! You must carry enough water before you start your hike. In some places, you may not easily find water in between the trek and you must check the availability of water. Also, carry some lemons and black-salt and mix them with your water.
It may help your body revive the salts that are released with your sweat. Most importantly, you should never drink all your water at once. Rather, you should sip it at regular intervals to keep your body hydrated for a long period!
Keeping Your Phone And Batteries Charged
As you trek up in the mountains, you may remain out of a network coverage area. Yet, you need to keep your phone charged always. You must always carry your power bank and make sure that the batteries are well-charged. In certain circumstances, you may also use your phone as a flashlight and must keep it charged too.
Do I Need A Guide Even For An Easy Trek?
It is always recommended to take a guide with you even if you are planning for an easy trek. The weather conditions in the Himalayan belt remains uncertain and may change even in a moment. Having the support of a proper guide will keep you more confident and safer even in such conditions. If you are planning a winter trek, you may easily skip the trail even for a beginner level trek. In such a case, having a guide will prove to help make your journey comfortable and memorable!
Do Not Overload Yourselves
Yes. You should never carry extra weight while you trek. You should always carry only the essential items and don't overload your bag. Also, as it is your first trek, you don't need to carry a very large bag. A small-trekking bag of 30 litres will easily suffice. Also, you must carry a waterproof bag cover to protect your bag in case of rainfall. You should also carry a poncho that acts as a raincoat while you trek!
Applying Sunscreen During The Trek
You never want to re-join your office or college with tanned skin immediately after your trek. As you trek up, the elevation increases and the sun rays may fall directly on you. This burns your skin and may lead to tans or even sunburns! You should always carry a sunscreen of 50+ Sun protection formula (SPF) to protect your skin. Do not forget to apply your sunscreen at least 20 minutes before you start your trek. This is the time when the sunscreen settles and combines with your skin to work better. Also, you may re-apply the sunscreen after every 1/5 hours to get the best results!
Conclusion
As you finish reading our trekking guide to mountains, you are well aware of all the dos and don'ts for your first trek. Of all the things mentioned above, we must never forget to keep the Himalayas clean and green. You must always carry your non-plastic bag with you to put your wrappers and garbage in. If you are going with your friends, you can plan to collect the wrapper alongside the trek and disposing of them at a dustbin. Remember, the more we love the mountains, the more the mountains will love us! Happy Trekking!