Uttarakhand is the most sought place for solace and the incredible inner peace where every twist and turns in the mountains are just wow..! The gushing sound of the water flowing between the rocks, grass-covered meadows, colorful gardens, and the snow-capped mountains are very appealing and inviting. Moving further to this blog you will come to know the beautiful places to explore in Uttarakhand including Auli, Munsiyari, Chopta, Rishikesh, Chaukori, Harsil, Kausani, Lansdowne, Binsar, Nainital, and many more. Everyone who wants to get over the scorching heat of summer should plan their trip to Uttarakhand which is reckoned for holding numerous serene, quaint and economical destinations in India. There are myriads of places which are not so touched by the tourists yet known for its unparalleled scenic beauty.
List of 10 Snowfall Places in Uttarakhand
1. Mussoorie – Simple yet much Popular Town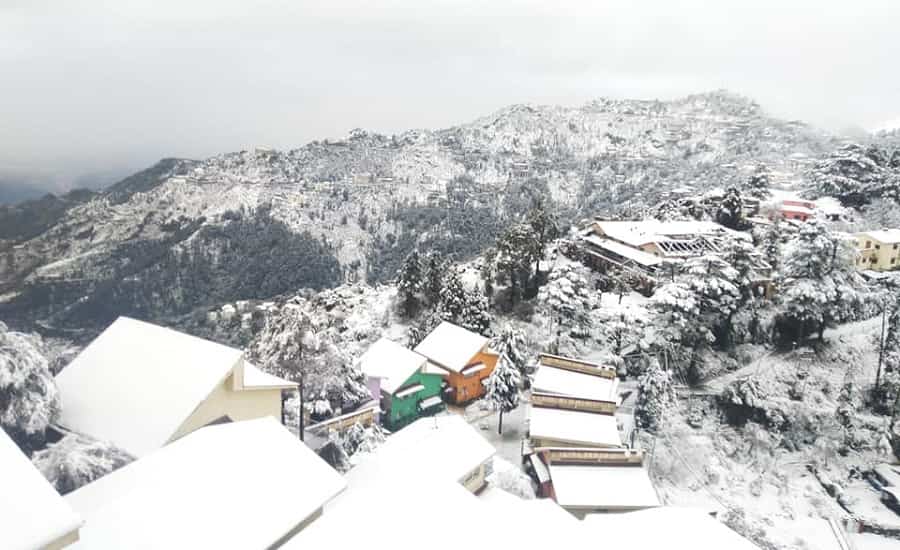 Mussoorie is the most top-picked snowfall destination in Uttarakhand which is nestled in the lap of the Himalayas and the dense Doon Valley is one of the best places to visit in Uttarakhand in winter. Also known as the Queen of Hills due to its foothill location on Himalaya and is located at an elevation of 2005 meters above the sea level. Mussoorie is quite a popular destination for a honeymoon, weekend getaway, imposing views of the mountains, and Mall Road. Winter in Mussoorie is completely frozen and experiences chilly cold weather and heavy snowfall where the temperature goes below zero degree Celsius. Due to heavy snowfall, the roads of Mussoorie get blocked from mid-December to February. So, if you want to enjoy Mussoorie with a completely white background then you must visit this place in winter.
2. Auli – Mini Switzerland of India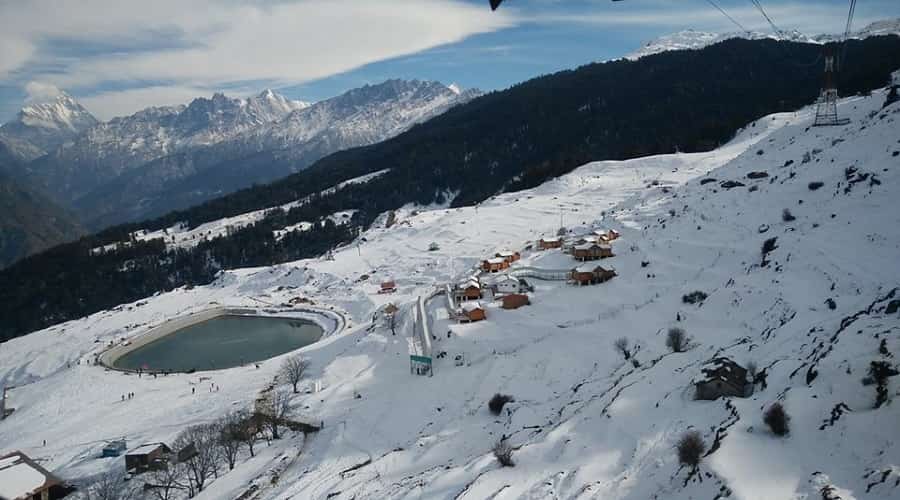 Auli is one of the most emerging snowfall destinations in Uttarakhand. Auli holds everything that you have dreamt of to visit. It is situated at an elevation of 2505 meters above sea level from where one can get the stupendous views of the magnificent Himalayan Peaks like Nanda Devi, Mana Parbat, and Kamet. Auli offers the best slopes and the platform to bot professional as well as an amateur skier as many trained professionals provide training to the novice skiers. Winter is the ideal time for adventure enthusiasts as it gets heavy rainfall and making it suitable for winter sports like skiing, snowboarding, and snow-trekking. Thousands of tourists visit Auli during winter to enjoy the ground kissing snowflakes and to hurl snowballs at each other.
3. Chopta – A Perfect Combination of Adventure and Solitude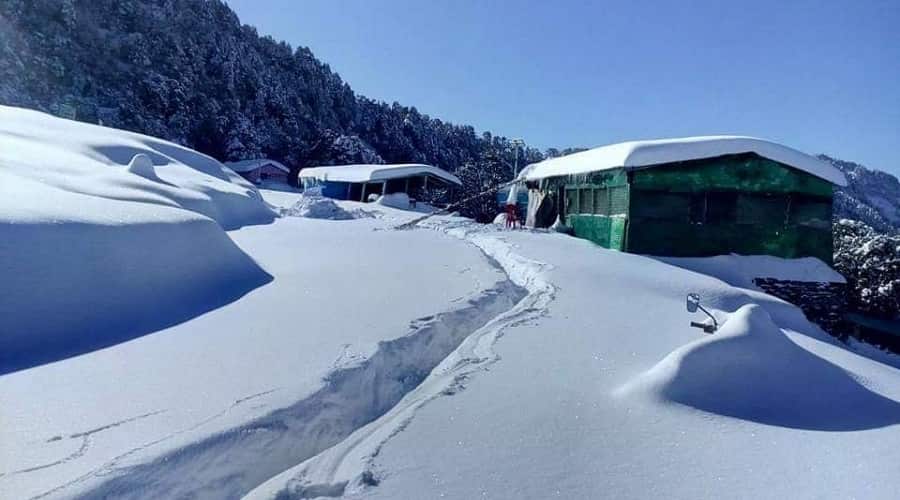 This small yet beautiful hamlet in Uttarakhand is a perfect destination for those who want to enjoy adventurous activities without any hassle. Chopta is settled at an elevation of 2900 meters and is located in Rudraprayag district of Uttarakhand. The astonishing lush green meadows, imposing views of snow-clad Himalayan Peaks like Nanda Devi, Chaukhamba, and Trishul enhance the charm of this less-touched hamlet. The mesmerizing view of sunrise and the gentle touch of cool salubrious breeze refresh you. You must plan your trip to Chopta in winter as the place gets completely covered with snow which seems like it is covered by a snow blanket. However, it is less visited during winter which turns it more pristine and gives you a dreamy experience. You can even spot the state bird of Uttarakhand (Monal Birds).
4. Chamoli – Where You Get the Perfect Ecstasy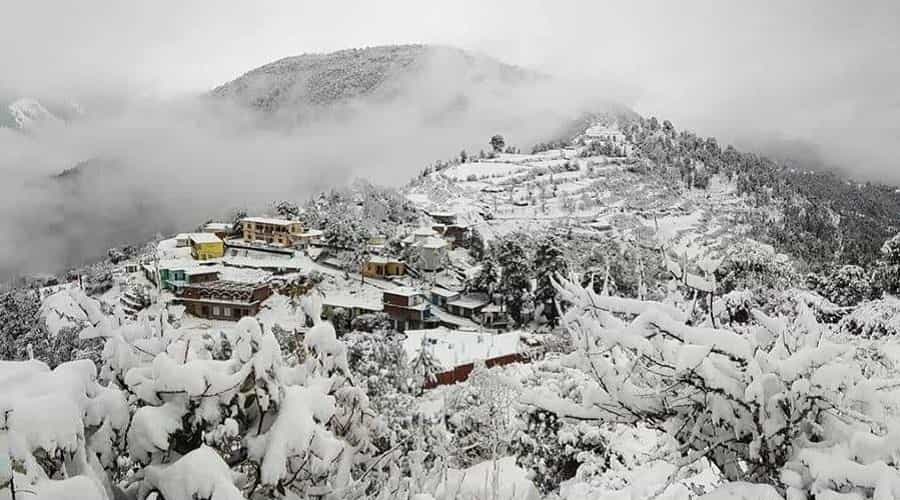 Also called as Winter Abode of gods and is considered as the most important places to visit during winter. Chamoli is a perfect combination of culture, sightseeing, and adventure which make it a perfect shelter for backpackers. It is known as the second largest district of Uttarakhand and is situated on the river bank of Alaknanda at a height of 1300 meters. Chamoli in winter becomes a paradise where the entire area gets covered with snow blanket due to a regular and heavy snowfall. During winter the temperature goes below zero degree Celsius and ranges around 5 degree Celsius and 15 degree Celsius. In November, Chamoli organizes Gauchar Mela which is a cultural fest as well as a reckoned industrial fair. Due to the closure of the Badrinath temple, the prices of hotels and airfare go down and the place is also a less crowded one.
5. Nainital – A Perfect Honeymoon Destination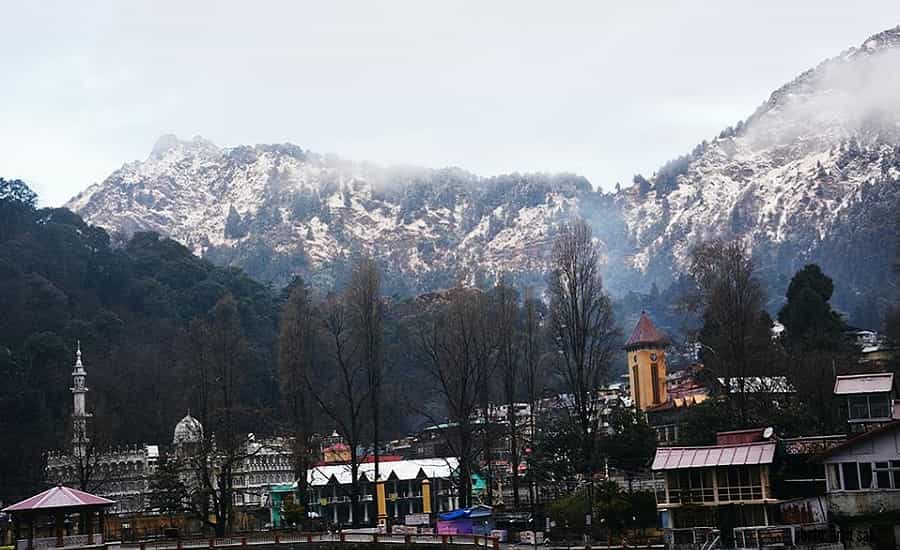 As the majestic landscape of Nainital which has many things to serve its tourists like rituals, celebrations, myths, faith, devotion, and romance. The major attraction of this beautiful place is an eye-shaped Naini lake where you can enjoy boat rides during the day and splendid lightning at night.  In winter the temperature ranges from 10 degree Celsius which sometimes even goes below zero degree Celsius resulting in the frozen landscape. Nainital in winter looks more stunning where the lanes are entirely covered with snow. Throughout the day the weather remains chilly so you are required to carry heavy woolen clothes with you.
6. Munsiyari – Precious Gem of Uttarakhand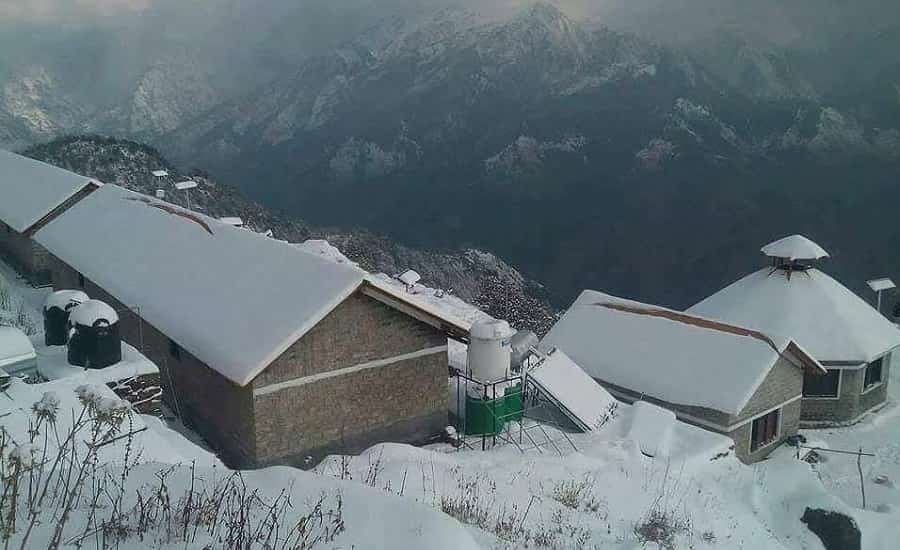 Munsiyari is situated in the Pithoragarh district of Uttarakhand and is perched at an elevation of 2298 meters above the sea level. Munsiyari offers a magnificent view of natural beauty blended with snow-covered mountain peaks. Munsiyari also dubbed the "Gateway to Johar Valley" and is lesser known among tourists. It is termed as a paradise for nature lovers which relish their heart with charm and enchant them the most. During winter the temperature sometimes goes below -12 degree Celsius and may rise up to 20 degree Celsius. The chilly weather of Munsiyari makes everyone shiver and makes it a perfect skiing destination. If you are a keen bird lover then you must plan your Munsiyari trip in winter.
7. Chaukori – A Multicolored Hill Station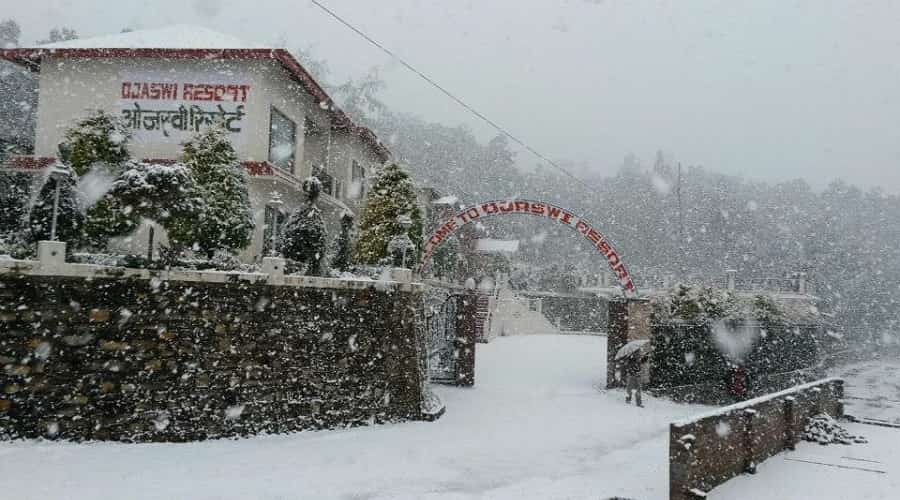 Chaukori, where dreams or an imaginary world of the tourists turn into the reality, the village is settled at an elevation of 2010 meters above the sea level. Imposing Himalayas and the thick woodlands encircle Chaukori and give a stupendous view of the gorgeous Nanda Devi Peak, Nanda Kot, and the Panchachuli Peaks. One can experience heavy snowfall in Chaukori from December to January. So, if you are in Chaukori for snowfall then winter is the most ideal time when you can witness snowy ground and can go for some adventurous winter activities.
8. Chakrata – Loner's Delight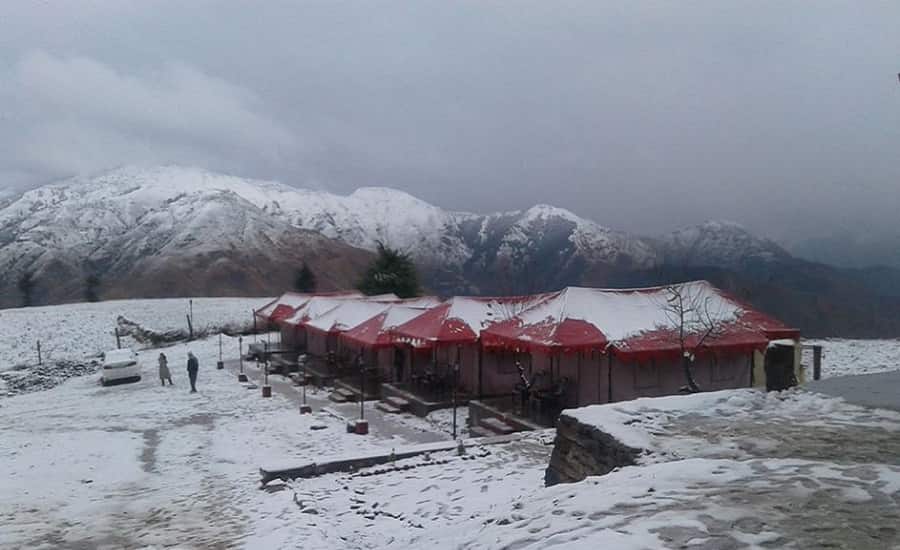 If you are tired with the hustle and bustle of your busy city then Chakrata is the perfect place to gain inner peace. Chakrata is a secluded town of Uttarakhand state settled at an altitude of 2118 meters above the sea level where the sun-kissed Himalayas embellish the city. The area is surrounded by Coniferous forests from everywhere which make the place more serene and tranquil for the peace seekers. You feel the fresh and cool salubrious breeze in Chakrata while walking along the dense conifers trees. Chakrata witnesses a heavy snowfall during winter and the temperature also goes down zero degree Celsius which makes the place frozen and more serene and tranquil. You can even enjoy the snow-clad Himalayan Mountains from Chakrata. One can even enjoy bonfires and barbecues In Chakrata during winters.
9. Landour: Covered with Scarlet Red Rhododendrons and thick Deodars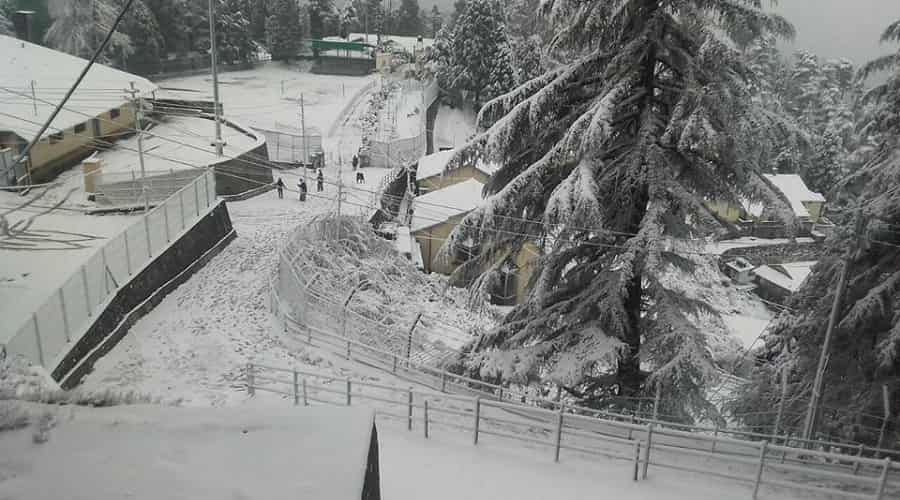 This beautiful town is settled amidst the lap of Himalayas and reminds you of the British Raj. If you love walking in the mountains then your walk-in Landour will be the most memorable and calm mountain walks of your life. Similar to Mussoorie, Landour also experiences snowfall twice in a year. It also takes a long time for the melting of snow, especially on the north-facing slopes. Nag Tibba, Dhanaulti, and Kanatal are the best snowfall destinations in Landour. Nag Tibba serves as the base camp for trekkers in summer. Trekking on snowy slopes in Landour for around 13 km gives you a surreal experience of trekking.
10. Kausani: A Scenic Splendor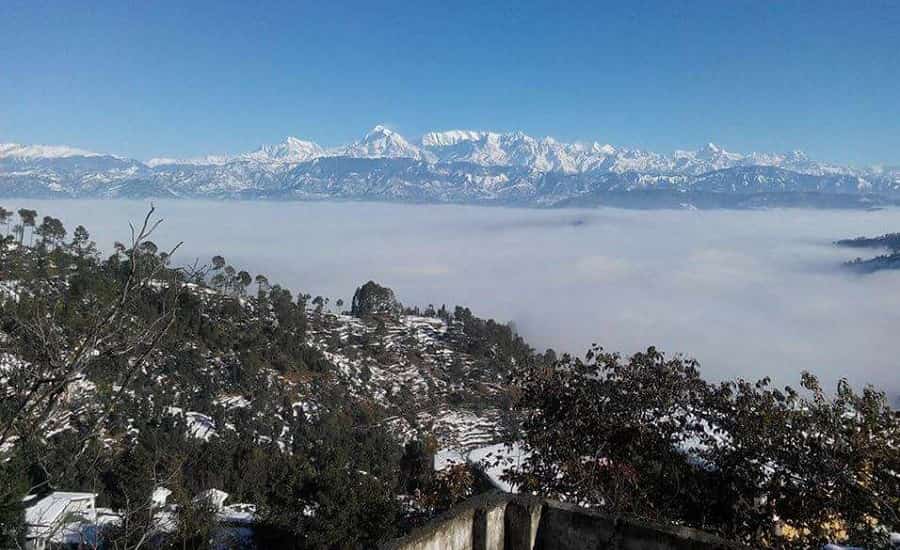 A hill station in Uttarakhand which is famous for its scenic splendor and the panoramic views of the imposing Himalayan Mountains. The scenic beauty of Kausani has delighted many eminent Indian personalities including Mahatma Gandhi who was very much attracted towards Kausani and called it "Switzerland of India" as its landscape is quite similar to Switzerland. The beautiful landscapes, a decent amount of snowfall are much appealing especially the majestic view of snow-capped mountains and the chilly cold weather during winter makes it an ideal destination to welcome a new year. In winter, the early hours of the day get extraordinary foggy and misty so you need to be much careful while venturing the outdoor activities.