Kedarnath Dham is known for being one of the most popular Dham shrines amongst the Chota Char Dham Yatra circuit of Uttarakhand. We bring to you a meticulously created list of some of the most important questions that every pilgrim asks. These questions have been asked by a number of our Yatras who decided to take on this holy journey, so we have decided to make it easier for you and present you with an entire collection of all the questions that are frequently asked by all the pilgrims going on this holy Kedarnath journey: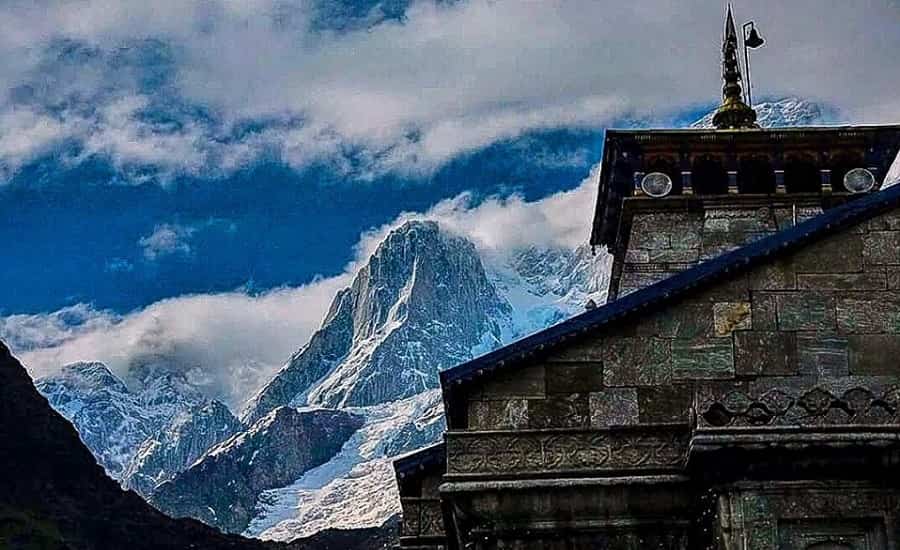 Q 1. Is Kedarnath Dham Open Right Now (March)?
Ans. No… the temple of Kedarnath always opens up during the holy eve of Akshay Tritiya which falls in the month of May. This year the Kapat of Kedarnath is set to open up on 9th May 2019 at 5:30 am in the morning.
Q 2. Which is the Best Month for Kedarnath?
Ans. The best time for you to visit Kedarnath Dham is during the summer months of May to mid-July when the snow has cleared completely and the weather opens up.
Q 3. Is it Safe to Go to Kedarnath Now?
Ans. Yes! It is extremely safe for you to travel to Kedarnath Dham now. Rebuilding works have been completed and wider new routes have also been constructed. However you should definitely avoid going there or any other hill destination during the monsoon months i.e. between late July to early September. Otherwise Kedarnath Dham is completely secure and safe.
Q 4. How old is Kedarnath?
Ans. Going by its construction and structure researchers have concluded that this Shiva temple is said to have been constructed 3,000 years back which is known as the minimum age.
Q 5. Can I Go to Kedarnath by Car?
Ans. You can definitely make your way to Kedarnath dam in a car from Dehradun, Delhi, Mussoorie, Nainital etc. if you have a private or a rental car to Kedarnath Dham then it is the best option for you. Car parking is available at Sonprayag and beyond that point only bikes and other two wheelers are allowed till Gaurikund. You can park your car at Sonprayag and from there on you will be making your way to the Dham shrine on foot or on pony or a doli.
Q 6. How Far is Kedarnath from Rishikesh?
Ans. The distance between Kedarnath and Rishikesh is 105 kms. The best and one of the most convenient ways of making your way to Kedarnath Dham is by hiring a cab or a taxi service from Rishikesh to Sonprayag.
Q 7. How Can I Go to Kedarnath from Badrinath?
Ans. The distance between the two holy Dhams is 41 kms and can be covered with the help of a car or a bus journey. you will be following the given route map: Badrinath – Govindghat – Joshimath – Pipalkoti – Gopeshwar – Karnaprayag – Gauchar – Augustmuni – Ukhimath – Kalimath – Gaurikund – Kedarnath.
Q 8. Can I Visit Kedarnath in October?
Ans. Of course you can! Kedarnath Kapat closes off during the holy eve of Bhai Dooj which generally falls during the months of late October or early November. This year the Kapat will shut down on 27th October.
Q 9. Why was Kedarnath Flooded?
Ans. One of the main reasons was climate change induced due to the ignorant attitude shown towards the temple areas and everything was rapidly developed without showing concern to the environment. A cloudburst occurred on top of the Chorabari glacier which broke off a huge chunk of the glacier inside Chorabari Tal and the whole water was displaced from here which came gushing down the Kedar valley. In less than 10 minutes millions tons of water was displaced which destroyed everything that came in its way. Effects of the flood were seen in Badrinath the same day as well.
Q 10. Who Founded Kedarnath?
Ans. As per ancient Hindu legends and mythological accounts Kedarnath Dham was founded by the Pandava brothers when they were on their quest for finding the lord and asking him for forgiveness for killing their kin in the Mahabharat war. They built this temple and performed penance here during the end of Dwapar Yug.
Q 11. Who Built Kedarnath?
Ans. According to some theories and research work to is said that Adi Shankaracharya had built this temple during the 8th century. Other theory mentions about how Raja Bhoj of Malwa had built this temple during his rule between 1076 and 1099 AD. But the most widely accepted theory is that Adi Shankara is said to have reestablished this temple in an attempt to reignite the feeling of Hinduism amongst the mass population of India.
Q 12. How Can I Go to Kedarnath from Bhopal?
Ans. There are no direct ways of reaching Kedarnath from Bhopal and the most convenient way for you to reach Kedarnath is by choosing a flight journey from Bhopal to New Delhi. From Delhi you can make your way to Haridwar / Rishikesh and from here on you can choose to hire a cab or a taxi or even a bus service heading for Kedarnath Dham.
Q 13. How Can I Get to Kedarnath via Helicopter Journey?
Ans. There are several companies offering helicopter yatra journey to Kedarnath Dham. There are several helipads in and around Kedarnath and the journey commences from Sahastradhara airport in Dehradun. As per the government regulations the flight passengers will be transferred to the helipad near Kedarnath Dham temple. This has to be one of the best and the most soothing ways of getting to Kedarnath Dham.
Q 14. When did Kedarnath Tragedy Happen?
Ans. The Uttarakhand flash floods took place on 16th June 2013 at approximately 7:30 pm after a loud thunder and crashing was heard. Later on by 8:30 pm everything was devastated and destroyed.
Q 15. How long is Kedarnath Trek?
Ans. The paved trekking way of Kedarnath is 16 kms long and takes almost 3 to 4 hours to cover. The trekking journey commences from Gaurikund and goes on till the main entrance of Kedarnath Dham.
Q 16. How Can I Get to Kedarnath Dham from Vijayawada?
Ans. From Vijayawada you will first of all be required to reach New Delhi via a flight journey. From New Delhi you will be able to make your way to Haridwar or Rishikesh and from here on you have the option of choosing a bus service or hire a taxi or a cab heading for Kedarnath Dham. you will be dropped off at Sonprayag or Gaurikund depending on your preference from then on you will be commencing your trekking journey.