Devbhoomi Uttarakhand is home to some of the most fantastic views, the mighty Himalayas and the famous Char Dham Yatra. The wilderness of Uttarakhand is not only home to a wide range of flora and fauna but it harbours a large collection of fruits as well. With the crowning glory of the Himalayas overlooking, Uttarakhand is often referred to as the fruit bowl of India. The streets are lined with local fruit sellers and vendors from where you can buy these fruits and add a lot of flavour to your trip to Uttarakhand. Here are some of the 12 most famous fruits of Uttarakhand:
List of the 12 Famous Fruits of Uttarakhand
1. Timla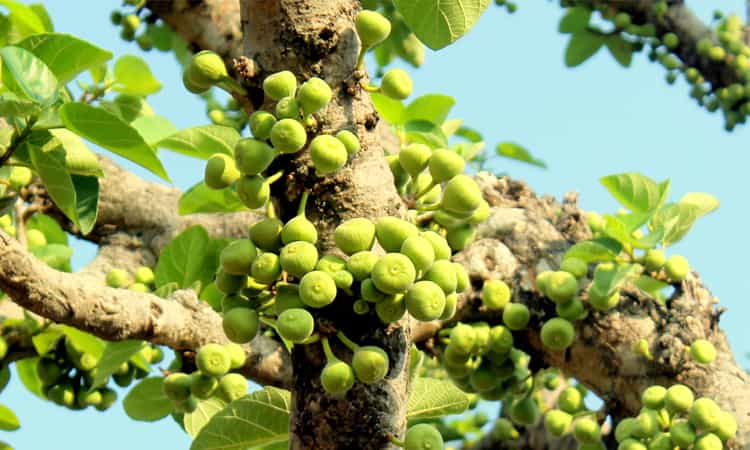 Harvested from the wild, Timla is one of the most famous and commonly found fruits in Uttarakhand. The fruits appear in large clusters on the trunk and branches. The locals use it to prepare different types of jams, curries and chutneys or even eat it whole. The fruit is sweet and appears to be brownish with hints of purple on the exterior. Timla also has some medicinal values and health benefits. It can be used to maintain blood pressure, manage hypertension and regulate digestion. The weather and growing conditions in Uttarakhand is perfect for growing Timla. Did you know that during the ancient times, local Pahadis used to utilise the broad leaves of the Timla tree leaves as plates to serve food.
2. Hisalu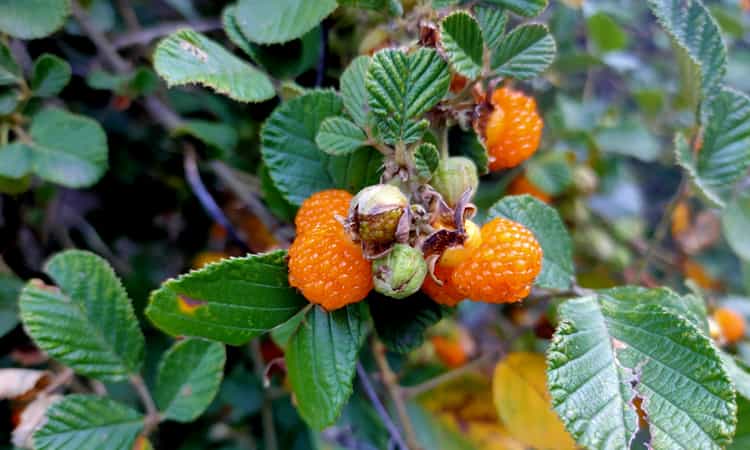 Hisalu is a locally grown, golden coloured, berry-like fruit found in both the Garhwal and Kumaon regions of Uttarakhand. During the summer time, these bright yellow berries cover almost every tree in Uttarakhand. These cute little berries used to grow during the months of May or June but due to the recent changes in climate conditions they can be seen growing during the months of March and April. A native to China, Hisalu can be bought from the vendors in Nainital, Bhimtal, and Almora etc. Did you know that every part of Hisalu has medicinal benefits? The roots of the plant are used to cure stomach aches and headaches while the berries are eaten as it is to cure digestive problems, gastric issues and peptic ulcers.
3. Kafal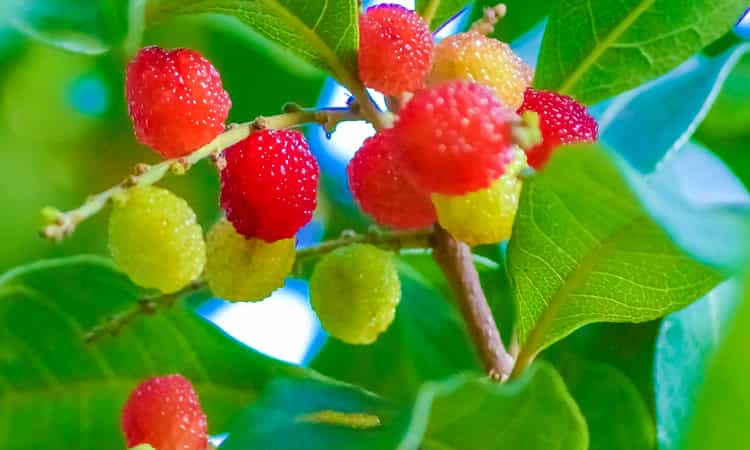 For pahadis, Kafal or Kaphal is synonymous with the onset of summer. Kafal is a small dark red berry that tastes sweet, tangy and juicy. The hilly regions of Nainital, Bhimtal, Almora, etc gets covered entirely in red-coloured berry trees as soon as summertime hits the region. During the peak harvesting season Kafal can be seen being sold in every other street vendor's stall. Did you know that Kafal is the state fruit of Uttarakhand? Due to its delicious taste and medicinal properties, Kafal is one of the most popular fruits in the state that is loved by both locals as well as tourists. The health benefits of Kafal include anti-asthmatic properties, sore throat, ulcers and a host of other ailments.
4. Plum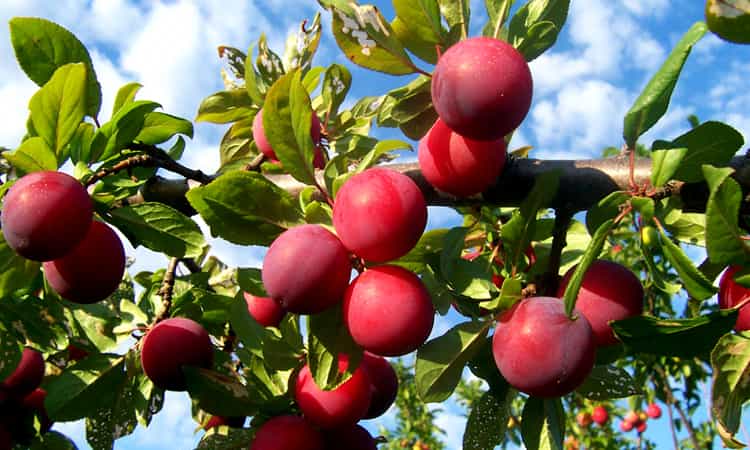 Uttarakhand is one of the largest producers and exporters of seasonal fruits like plums. These tomato-sized, cherry-coloured fruits are found in almost every corner of the state during the peak growing and harvesting season. The fruit is sweet and sour to taste and is either eaten straight from the trees or turned into delicious jams, chutneys and spreads. The pahadi plums taste juicier and more delicious than the plums found in cities. Plums fall under the category of low caloric fruits that is a good option for people dealing with diabetes. You can find scores of plum orchards in Mukteshwar and Nainital. Rich in Vitamin C content and other minerals, eating plums is known to boost immunity, nourish and purify skin.
5. Bedu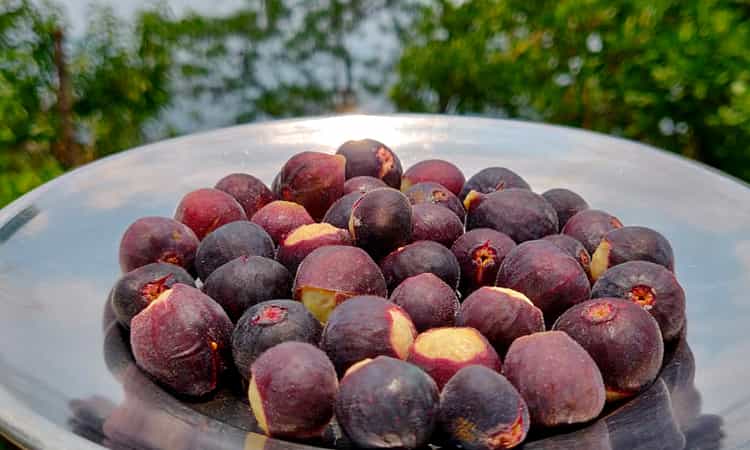 Popularly referred to as Punjab fig, Bedu is mainly grown in the hilly wilderness of Uttarakhand. The fruit is sweet and is packed mostly with juices and essential vitamins and minerals. When Bedu is unripe it is cooked as a vegetable in many parts of Kumaon. In the hilly region, it is also referred to as the Himalayan fig and it is highly beneficial for various health issues like lungs and bladder disease. Every part of the Bedu tree is utilised for some purpose or the other for example, its sap is used to treat painful warts and many more.
6. Khubani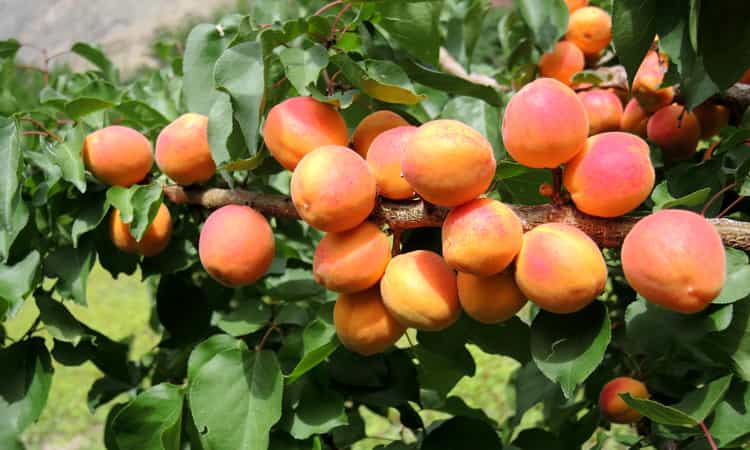 Commonly known as apricot, Uttarakhand is one of the highest producers of organic apricot in India. This yellow, peach-coloured fruit is sweetly tangy in taste and belongs to the same family as plums and cherries. Apricot trees can be seen dotted everywhere in this hill station and during the spring season, these trees bear beautiful little flowers. Apricots are high in fibre content and packed with antioxidants that are beneficial for a host of health benefits like promoting skin health, gut health, heart disease and many more. Many people use Khubani to bake delicious desserts, organic jams and other interesting dishes. If you go to Uttarakhand during the right season then you will even find apricots just lying around and at the lowest rates.
7. Ghingaru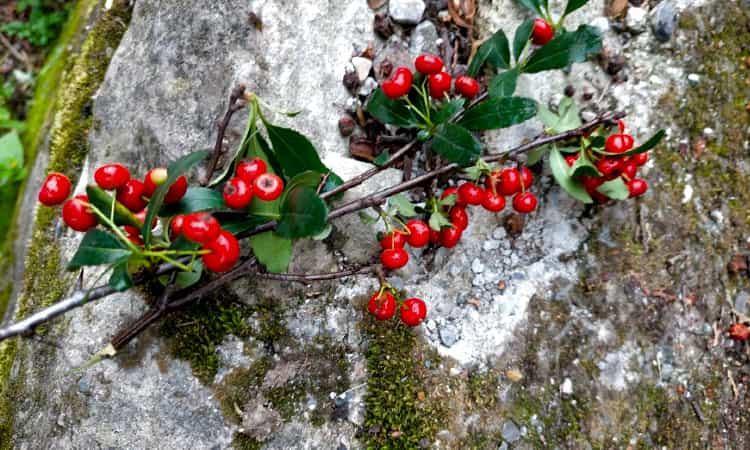 Also known as Himalayan or Nepalese firethorn, Ghingaru is one of the most commonly occurring wild fruits in Uttarakhand. The fruit is packed to brim with incredible medicinal properties and is known for lowering blood pressure and heart-related issues. These fruits are grown in thorny bushes whose leaves are used to prepare soothing herbal tea, facial and sunburn creams. The stem and bark of Ghingaru tree is also used in cases of fever and even curing malaria. Just popping a few of these everyday will help in cholesterol reduction, managing blood pressure levels and getting rid of the ill effects of the free radicals in the body.
8. Mulberries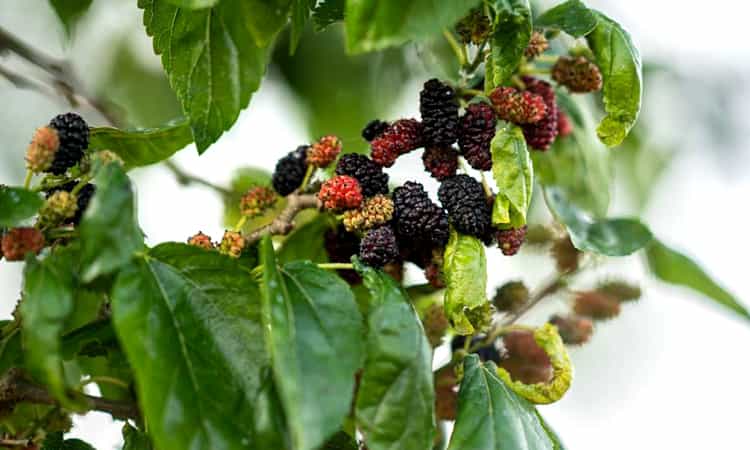 Popularly known as shahtoot and available in white, red or purple colour, mulberries are known for its rich antioxidant content. Due to its sweet taste and multiple health benefits, mulberries are one of the most loved fruits in Uttarakhand. Easily available in the state, these berries can be grown not only on large fields but at homes as well. It can be eaten freshly as well as dried and some people even decide to use mulberry extracts for its health benefits. Mulberries are known for improving blood sugar control, lowering cholesterol and even reducing cancer risk. Overall, mulberries are a great way to boost your immunity in a delicious manner. The next time you are in Uttarakhand during mulberry season make sure to try out this fruit.
9. Siriphal
Siriphal or the fruit of goddess Laxmi, is not just a delicious native fruit of Uttarakhand but it is even worshipped as the favourite fruit of goddess Laxmi. Locally referred to as bael, Siriphal is mainly used during puja rituals for its medicinal value. It looks like a regular green pear but not a lot of people consume it as fruit. However, its extracts are used to create Ayurvedic/local medicines. Some of its health benefits include: ulcer healing, anti-inflammatory properties, antipyretic properties and also comes in handy to prevent the treatment of many diseases.
10. Burans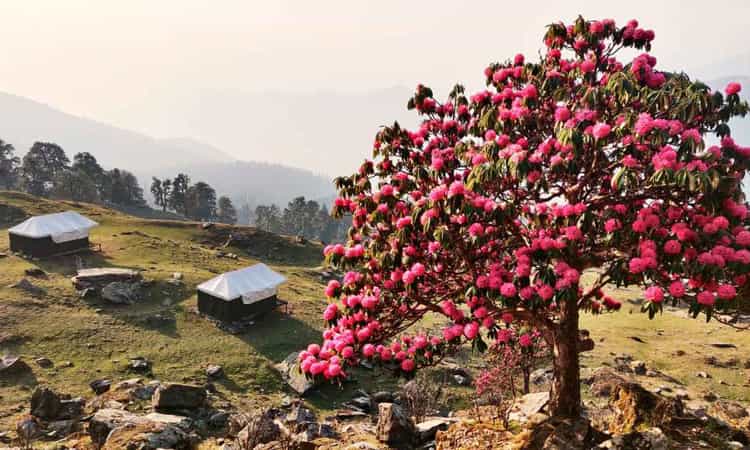 Burans is probably one of the most famous trees in Uttarakhand that can be found everywhere throughout the state. Also known as rhododendrons, these trees contain scarlet-coloured bell-shaped flowers that contain a sweet nectar. Once in Uttarakhand you will be treated with delicious pinkish coloured burans juice drink at the vendors and its sweet, tangy taste is extremely rejuvenating. Other than the flower containing medicinal properties, the juice extracted from the bark is used to treat coughs and manage the digestive system. Some other health benefits of burans include: managing diabetes, treating anaemia, promoting skin health and liver health.
11. Kilmode

Kilmode is another unique fruit found majorly in Uttarakhand. Kilmode fruit looks like elongated blueberries due to its deep purple colour and the fact that it is found in thorny bushes. If you happen to see Kilmode bushes around in Uttarakhand one can easily just pluck the fruits and eat it as it is. The plant is delicious and holds medicinal values as well, which makes it extremely famous. Not only is the fruit used but their roots are also utilised for medicinal purposes. Some of the health benefits of Kilmode include: promoting heart health, improving joint health and rejuvenating the skin. Kilmode is unique to this area and should definitely be tried once.
12. Akhrot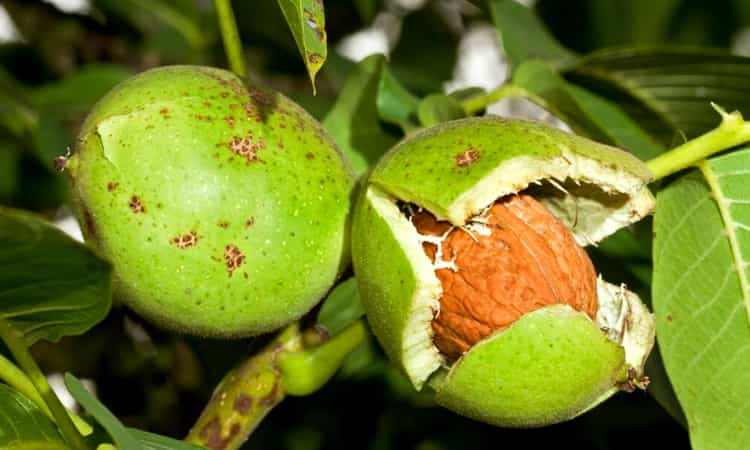 Walnuts in Uttarakhand are grown majorly for commercial purposes. Some of the major walnuts producing areas in Uttarakhand are Almora, Dehradun and Pauri Garhwal. This single-seeded fruit grows on trees and is the best source for healthful fats, protein, fibre and other essential vitamins and minerals. Consuming plant-based sources of vitamins and minerals has been associated with reduced risk of lifestyle-related health risks. In the same manner eating walnuts regularly has been shown to improve heart health, boost immunity, manage weight issues and improve bone health. Pahadis include walnuts in their food and it works great in providing them with energy to work outdoors throughout the day.
Frequently Asked Questions (FAQs)
Q. Are Apples Grown In Uttarakhand?
Ans. Yes. Apples are primarily grown in the Kumaon region of Uttarakhand in places like Bageshwar, Pithoragarh, and Almora etc.
Q. When Is The Best Time To Go To Uttarakhand For Fruits?
Ans. April to September end is the best time to go to Uttarakhand for fruits.
Q. What Is The State Fruit Of Uttarakhand?
Ans. Kaphal is the state fruit of Uttarakhand.
Q. Which Is The Famous Sweet Of Uttarakhand?
Ans. Bal Mithai is the most famous sweet of Uttarakhand.
Q. Which Fruits Can I Find In Nainital?
Ans. Famous fruits in Nainital are: Apples, Peaches, Strawberries and Plums.