Popular for being the hub of all the spiritual activities in India and located on the Sangam of 3 of the holiest rivers of India i.e. Ganga, Yamuna and Saraswati, Allahabad has an inescapable vibe of deep devotion. Another significant factor that makes Allahabad even more holy is the popular Hindu belief that Lord Brahma is said to have come to the earthly realm from the heavenly realm in Allahabad itself. Replete with Hindu mythologies and age old ancient history Allahabad carefully captures and represents the real image of India. Sitting majestically on the banks of the holy river Ganga and dotted with a range of colorful Ghats this place has also found its mention in various Hindu literary sources making it even more precious and significant in the Indian heartland. From the holy Triveni Sangam to the fort of Allahabad and numerous other temples this place works as an oasis for innumerable travellers who throng this holy destination on a daily basis.
If you are planning on taking a trip to this magnificent land of culture then here are 10 places that should not be missed out on during your visit to Allahabad:
List of 10 Most Famous Tourist Places to Visit in Prayagraj (Allahabad)
1. Khusro Bagh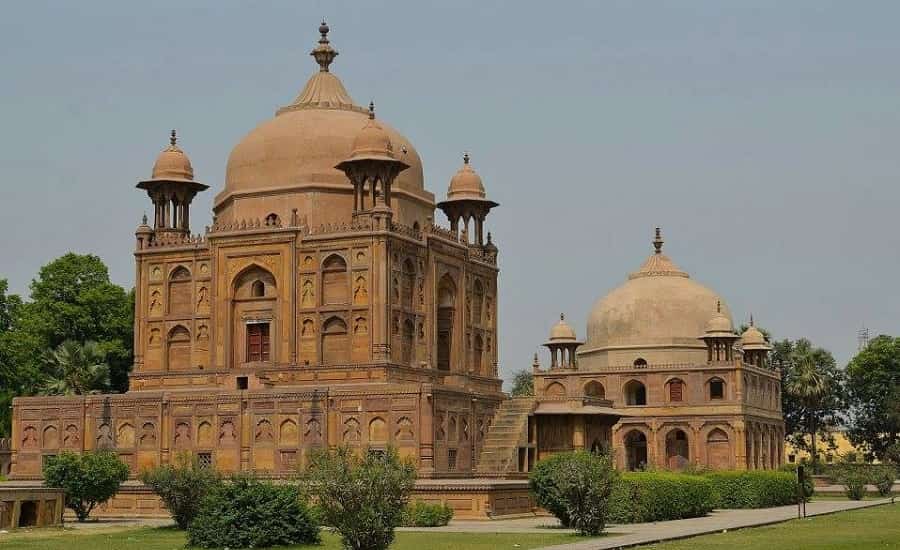 Spread across an impressive area of 40 acres and consisting of well-manicured gardens this quadrangle-shaped walled garden is home to 4 tombs that belong to the family of the royal Mughal emperor Shah Jahan including Prince Khusro. Situated at a mere distance of 2 miles from the Allahabad fort, Khusro Bagh is a true representation of the pristine Mughal architecture. Every column, arch, wall and interiors is covered in incredibly detailed work of art and carvings. Every tomb here has its own significance and relevance and is well preserved and showcases some fine works of cultured craftsmanship. This place holds rich and valuable information about the bygone era including the cultural heritage and the way of life of the Mughal rulers.
Timings – 5 am to 7 pm; open throughout the week
2. Triveni Sangam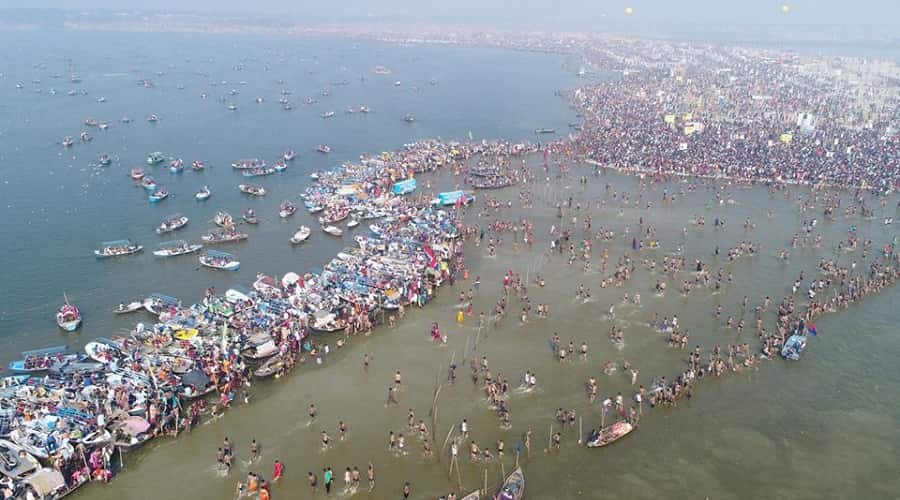 As the name suggests this place is known for being one of the holiest spots in India since it is the confluence of 3 of the holiest rivers in India – Ganga, Yamuna and Saraswati, the mythical river. This is the point where devout Hindus from different parts of the world visit to take a holy dip here. Visually this confluence showcases two dramatic colors since Ganga is clear colored while Yamuna has a greenish tinge. The banks of this holy Sangam also functions as the perfect spot for the iconic and holy Kumbh Mela that takes place here every 12 years. Apart from this its spiritual significance has made it a spot for immersing the ashes of the deceased individuals including Mahatma Gandhi.
Timings – Open 24 hours; throughout the week
3. Anand Bhavan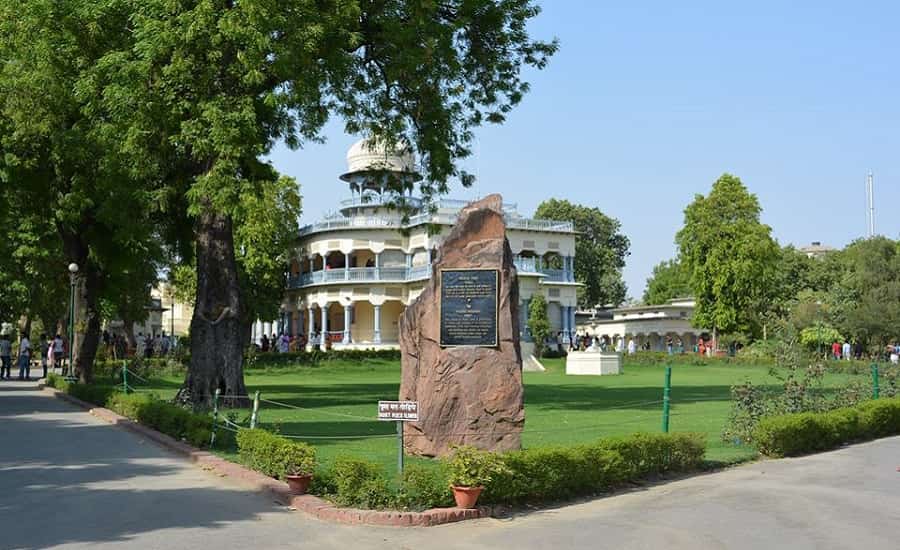 Allahabad has always been a politically active city in India ever since the struggle for independence was commenced. Situated in the heart of this magnificent city is the residence for the first prime minister of India – Jawaharlal Nehru. This is an elaborately constructed sparkling white building which is well maintained and preserved to brilliance. This is a two storied simple and elegant home which has also served as home to other leaders like Motilal Nehru, Indira Gandhi and even Mahatma Gandhi. There are several items in its museum depicting the freedom struggle and even a library filled with numerous books. Colored in the colors of white and blue depicting peace and serenity the house is surrounded by neat and formal gardens and evokes a deep sense of peace and quiet.
Timings – 9:30 am to 5:00 pm; open throughout the week except on Mondays
4. Allahabad Fort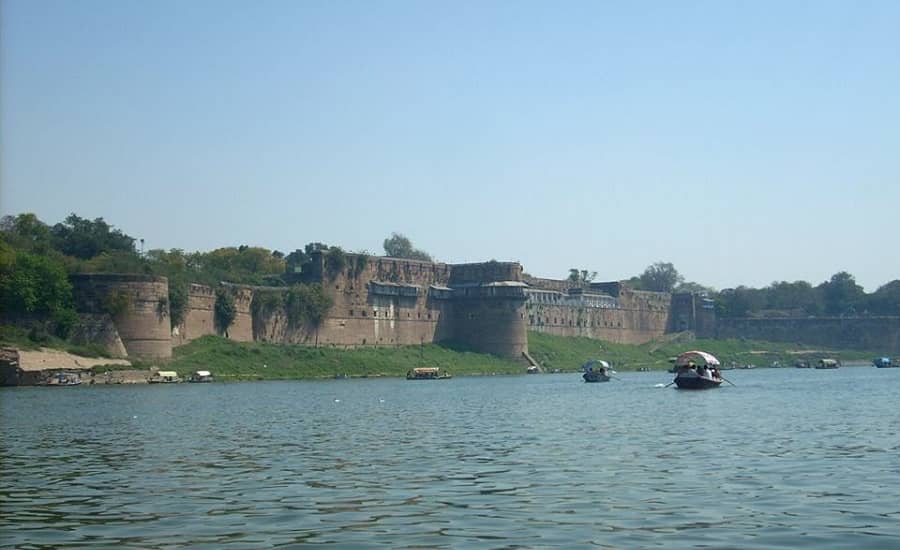 The imposing and rocky structure of Allahabad fort stands majestically tall along the holy river of Ganga and gives an encapsulating view of its impressive surroundings. Built by the great ruler Ashoka and rebuilt and renovated by Akbar in the year around 1583, this fort is known for being an architectural marvel and is awed by architects from all over the world. The fort also encloses the famous Akshayavat tree which was done to prevent people from committing suicide on the fort. This is known to be the largest fort ever to be constructed by Akbar and consists of numerous well-constructed galleries that are flanked by high towers covered in detailed carvings and designs. Visitors are drawn to this fort who wants to take a look into the rich history of Prayagraj.
Timings – 10 am to 6 pm; throughout the week
5. Chandrashekhar Azad Park / Alfred Park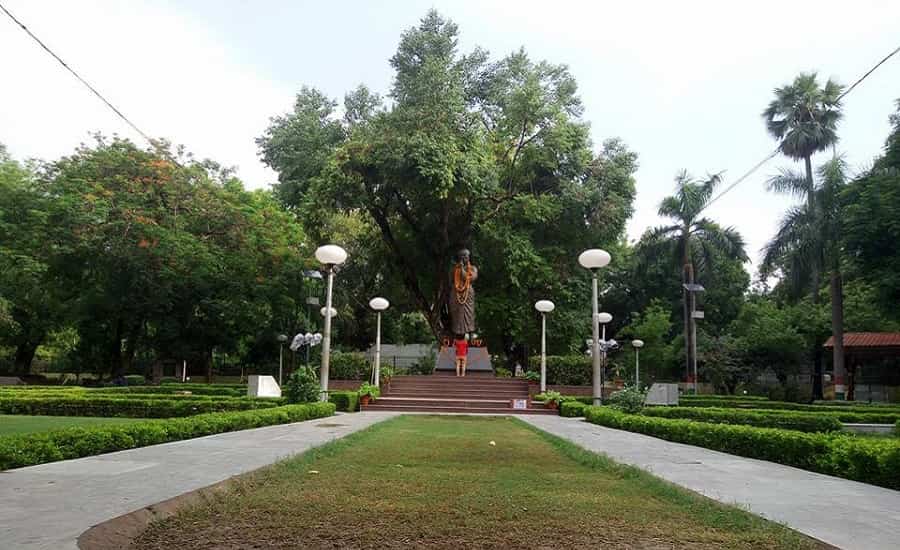 Panning over an area of impressive 133 acres this beautifully maintained public park was built in 1870 in order to mark the visit of Prince Alfred. As the name suggests this park is dedicated to the great and legendary freedom fighter Chandrashekhar Azad who had shot himself instead of giving surrendering to the British and sacrificed his life during the struggle for independence in the year 1931. Marking his heroic efforts towards the Indian independence struggle there is a statue of Chandrashekhar Azad as well as a memorial to commemorate his sacrifice. Along with this the park also houses the statues of queen victoria and George the 5th right at the centre of the park and it also successfully elevates the beauty of this place.
Timings – 4 am to 11 pm
6. Allahabad Museum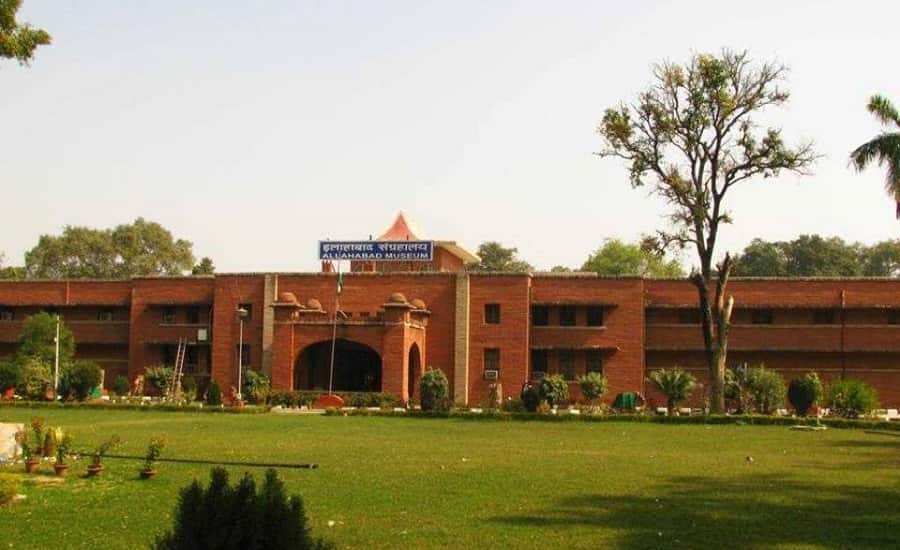 Located within the magnificent park of Chandrashekhar Azad, this museum was established in the year 1931 that showcases a rich collection of interesting and unique works of art. Visitors will be treated with an impressive heritage and culturally rich insight into what exactly the movement to free India looked like. Surrounded on all the sides by lush green and well-manicured gardens this museum is also popular for its detailed and impressive rock sculptures, miniature paintings of Rajasthan, Terracotta figurines of Kaushambhi, artwork from Bengal school of art and so many other things. The list doesn't stop here since it also houses artefacts and items belonging to the beginning of civilization of Harappa and goes on till medieval era of Gupta and Khajuraho and also modern history.
Timings – 10:30 am to 5 pm; open throughout the week except Monday
7. All Saints Cathedral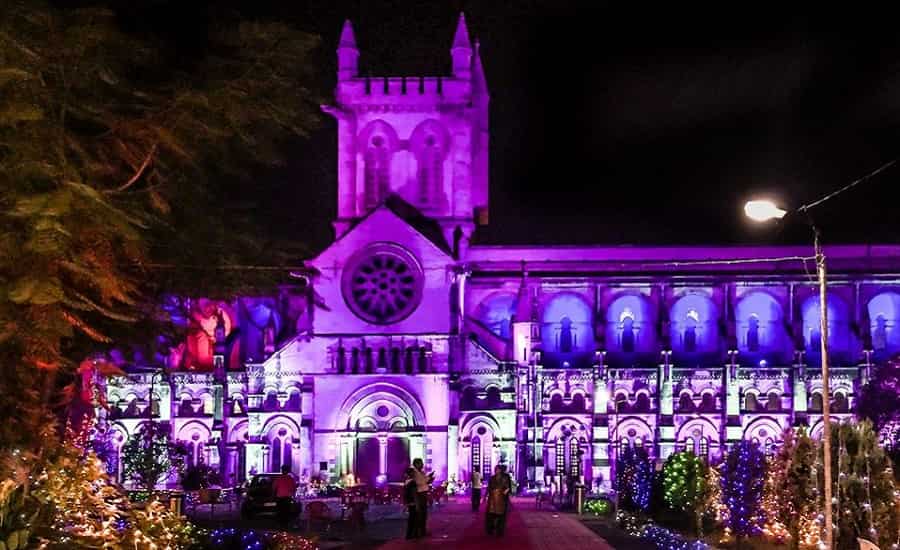 Built during the early 19th century and modeled utilizing the 13th century gothic style architecture that is one of the most common architectural style used while building churches. The church is a wonderful representation of architectural masterpiece and also consists of lush greenery. The church consists of highly detailed works of marble and glass materials that have intricate and elaborate designs which can be seen in top notch condition and it dates back to as far as 125 years. Inside the cathedral you will not only be greeted with a serene and peaceful environment but you will also be presented with a number of plaques. Every feature of this church showcases the expert craftsmanship that went into its construction. This church looks even more impressive at night when it is all lighted up from underneath and it truly looks like an incredible work of art.
Timings – 8:30 am – 6 pm
8. Bade Hanumanji Temple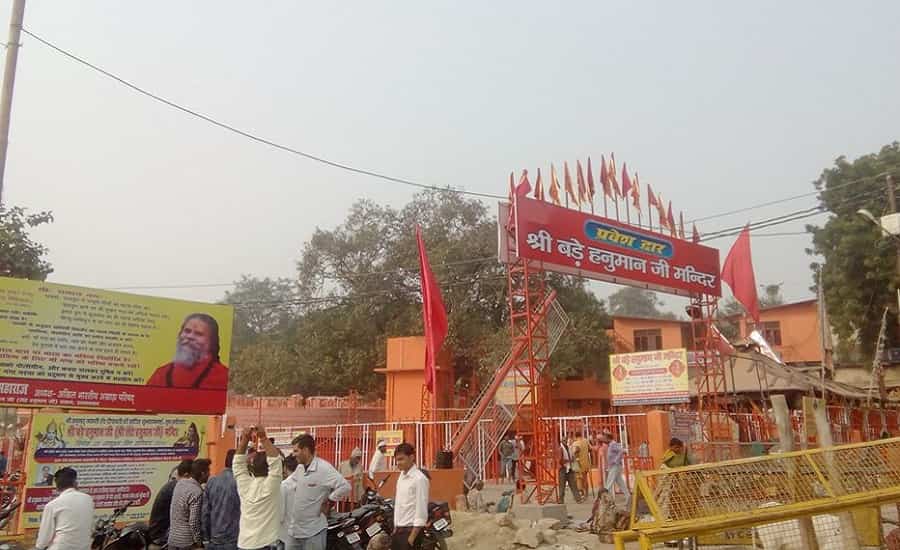 The unique temple dedicated to Lord Hanuman is situated in close proximity to the incredible fort of Allahabad. This is the only temple in India or anywhere else where Lord Hanuman is shown in a reclining position. Another interesting feature about this 20 feet long statue is the fact that it gets completely submerged in water when the water levels rise in Ganga which, according to devout Hindus, is the representation of Goddess ganga touching the idol's feet. This temple remains flocked with tourists and pilgrims throughout the year who visit here to offer their holy rituals to the lord. This temple is one of the prime destinations for people looking to have a holy experience in Allahabad.
Timings – 5:30 am to 9 pm
9. Swaraj Bhawan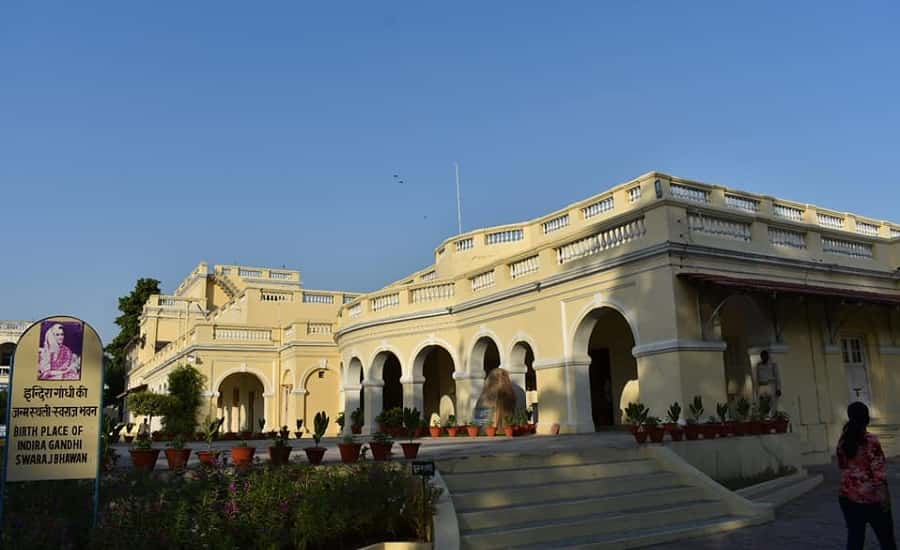 Formerly known as Anand Bhawan and literally translating into 'the abode of bliss', Swaraj Bhawan is an opulent mansion. This mansion was once owned by the Indian political leader in the 19th century by Motilal Nehru and it was also the birthplace of the first prime minister of India – Jawaharlal Nehru. This place now functions as a museum and consists of well documented information about the freedom movement and personal items belonging to the Nehru family like photographs and more. There is also an interesting underground room present here which is believed to be the place where occasional meetings regarding political decisions used to take place.
Timings – 10 am to 5 pm; open throughout the week except Monday
10. Allahabad Public Library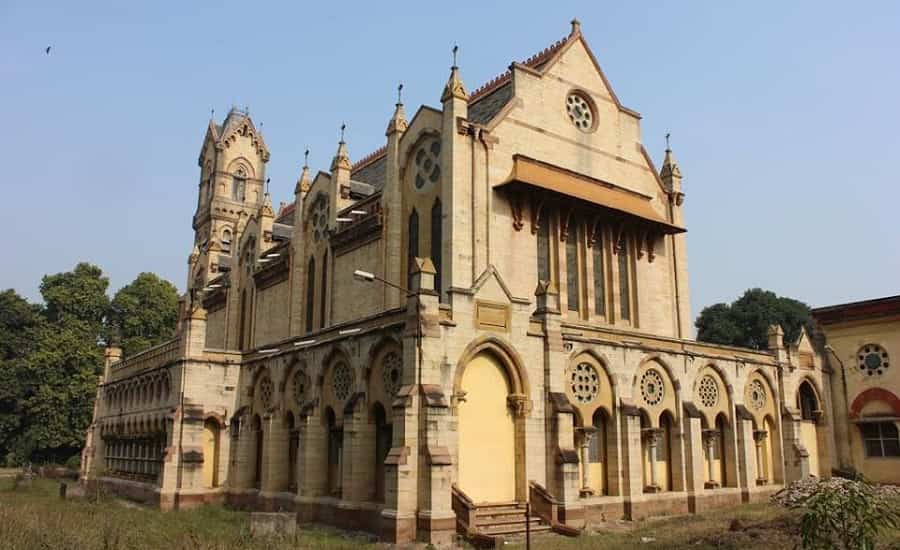 Also known as the Thornhill Mayne Memorial this impressive looking library was established in the year 1864 and is known for being the biggest library in the entire state of Uttar Pradesh. This public library houses an incredible collection of almost 125,000 books, 40 different magazines and 28 different newspapers. The imposing building of this public library represents a gothic architecture and just like its interiors the exteriors of this public library and equally impressive. Initially it had served as the house of legislative assembly during the British era before becoming one of the most iconic landmarks of Allahabad.
Timings – 8 am to 6 pm; open throughout the week except Saturday