The highly religious temple dedicated to the Shiva incarnate of Baidyanath ranks among one of the prime spiritual centre in India. The temple attracts a huge number of pilgrims from all over the world due to its sacred significance. The entire region further springs to life during the auspicious eve of Maha Shivratri and Kanwar Yatra. if you are planning a trip to this marvellous historical and legendary temple then here is a complete travel guide that will give you updated and latest information.
About Baidyanath Temple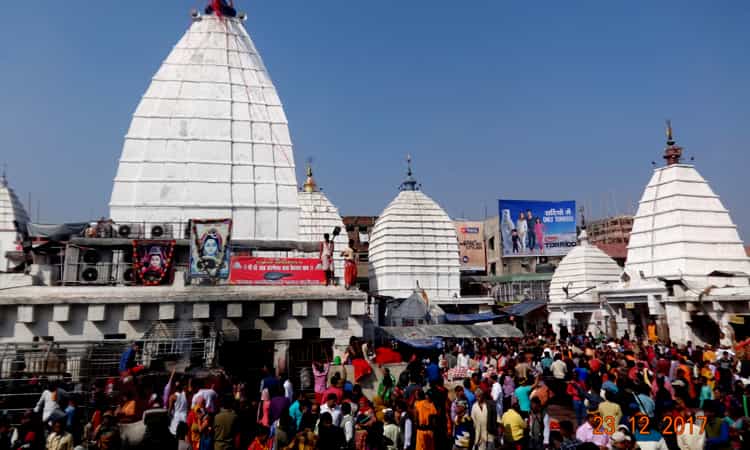 Religious Belief
As per Shiva Puran, during The Treta Yug when the king of Lanka, Ravan, felt that his kingdom will not be completely free of enemies and become perfect unless Shiva resided there permanently. In order to please the lord and help in making his kingdom perfect Ravana used to perform continuous and intense meditation practices to the lord. Finally, Bholenath Shiva was so pleased and permitted Ravan to carry his lingam to Lanka with him. Mahadev had also strictly told him not to place or transfer this lingam to anybody else and he was also not allowed to take break during his journey to Sri Lanka in case he did kept the lingam anywhere else during the journey back it would get fixed there forever. While coming back from Kailash Ravan had to perform evening prayer and he couldn't carry the Shiv Linga in his hand during that time. Nearby Vishnu had appeared in the form of a shepherd rearing some sheep in the nearby fields. Ravan requested him to take care of the lingam and strictly instructed him not to keep the lingam anywhere. The shepherd in return said that if Ravan does not return soon he would leave the lingam on the river bank. Vishnu, pretending to be perplexed by Ravan's delay set down the lingam and the moment it touched the ground the lingam got completely fixed here. Ravan returned and could not move it and this is the place where the temple of Baidyanath was constructed.
How to Reach
Being one of the top pilgrimages and holy destinations in India the temple is made very easily accessible for the visitors.
By Road – Deoghar is located in Jharkhand and it is also well linked with a network of roads from Kolkata (373 km), Patna (281 km), Ranchi (250 km) among other big and small nearby cities. Regular buses ply for Deoghar from Jamshedpur, Dhanbad and Bardhaman in West Bengal. You can even take your private cars which can be parked in a nearby temple parking lot.
By Rail – The closes railhead to Deoghar is located in Jasidih which caters to train from several nearby cities. An overall distance of 8 kms will be covered if you are travelling from Jagdih to Deoghar. From Deoghar auto-rickshaws and taxi services are available that will transfer you to Jogidih railway station.
By Air – The closest airport for Baidyanath temple is located in Patna. There are several flights like Air India, Indigo, Vistara etc. that connect different major and minor cities of India to Patna. Upon arrival you can hire a taxi or a cab service for Deoghar which can be found on the airport itself where you will be covering a road travel distance of 281 kms.
Best Time to Visit
The best time to visit Baidyanath temple in Deoghar is during the autumn, winter or spring months of October to March.
Summer – The temperature reaches up to 45 degree Celsius accompanied with hot wind and humid conditions.
Monsoon – The entire region gets covered in thundering rainfall and unexpected showers. The temperature however drops down to around 30 degree Celsius. your sightseeing plans will be effected.
Winter – this is the best time to travel to Deoghar when the breeze is cool and the climate is pleasant and comfortable for sightseeing as well. The temperature drops to as low as 10 degree Celsius.
Darshan Timings and Devotee Rituals
The first darshan of the day takes place as early as 4 am in the morning and this is also the time when the doors are opened. After the head priest is done performing his prayers with Shodashopachar, the devotees also start performing their visit to the temple during this time as well. This puja rituals commence till 3:30 pm in the afternoon and devotees pour kuccha jal and offer flowers with Vilva leaf on top of it. Post afternoon break the doors reopen for darshan at 6 pm in the evening for Darshan after the Shringar puja takes place. Scented flowers are spread out on top of the lingam and stream of water is poured on top of it followed by the pasting of sandalwood. As a part of an ancient tradition a snake like flowers throne or jata mukut is also placed on top of the lingam. Normally by 9 pm at night the temple shuts down for darshan. During the religious occasions darshan timings are extended.
Where to stay
You can choose to stay inside the temple complex in the UMA Bhavan available there. The rooms and dormitories available for the visitors here comes with all the basic amenities and facilities. Bookings for this can be made at the baba mandir office. Deoghar hotels are wide ranging. You can book rooms that cost to as low as Rs. 400/- to as much as Rs. 2,500/-. All the hotels are priced very economically and can easily suit your travel budget.
Sightseeing Attractions Near Baidyanath Temple
1. Naulakha Temple
This iconic temple is located at a distance of around 2 kms from Baidyanath temple. Inside the temples are beautiful idols of Radha and Krishna that goes to as high as 146 feet. The name is derived after the amount of the money that went into its making i.e. 9 lakh rupees. This amount was donated by rani Charushila, the queen of the royal family of Pathuria Ghat royal family in Kolkata. The temple was constructed after the queen was advised by a saint.
2. Navdurga Mandir
As per the name Nav Durga Mandir is dedicated to the 9 avatars of goddess Durga with the prime deity here being that of goddess Hemavati. A beautiful Sanctorium here consists of idols of Lord Shiva, goddess Saraswati and many others. Although simple and humble in its outlook the temple is very important and attracts a large number crowd of devotees from all over India and abroad as well.
3. Basukinath Mandir
This is a very famous place of worship for Hindu pilgrims and is one of the most popular attractions in Deoghar. This holy temple is famous for its Shravan Mela that takes place between the months of July and august. Devotees collect holy water from Sultanganj and offer it in the holy Ganga River which is located at a distance of 135 kms. Pilgrims take this journey to Basukinath Dham continuously without even stopping for once. As a part of the ritual devotees make it a point to visit Baidyanath Jyotirlinga in Deoghar.
4. Tapo Nath Mahadev
Located in the Tapovan hills at a distance of 10 km from the holy town of Deoghar this place is one of the most important places of meditation for the Nagas. It is believed that sage Valmiki had visited this place to perform meditation and for penance. Sri Sri Balananda Brahmachari is said to have obtained siddhi through penance here. A cracked rock here in Tapovan exposes a portrait of Lord Hanuman on the inner surface here.
5. Lila Temple
Often referred to as Arunachal mission this holy temple is located at a distance of 5 kms from Deoghar. The temple was built by Jayanand deo who used to work hard towards promoting unity and a universal sense of brotherhood. The main deity of the temple and ashram is the beautiful idol of goddess Kali that adorns the temple premises. The temple is one of the most important places of worship for devotees from all over the world.
Lesser Known Facts about Baidyanath:
As per some legends the Shiv Linga was abandoned here after Ravan's death and was found and put in its right place by a hunter called Baiju hence the name of the temple became Baijnath temple.
It is also believed that after the Samudra Manthan episode devotees have been pouring Gangaa Jal and milk on top of the Shivling here to soothe the lord's throat. Ever since then it has been a tradition to pour these things on top of the lingam.
Baidyanath temple faces towards the east and is a plain stone structure consisting of a pyramidal tower that rises high from a square base to as high as 72 kms.
Another legend states that as a sign of devotion to the lord Ravan cut off and sacrificed one of his heads to lord Shiva. Pleased with this gesture he decided to give him back his head again and healed his injuries. Thus he is worshipped as Baidyanath here or the king of healers.
Within the entire temple complex area of Baidyanath, there are 22 temples present that are dedicated to various gods and goddesses. There is a holy pond situated on the northern end of Sivaganga which is considered to hold religious significance.
On of the most important legends here tells us that after Vishnu had cut up sati's body in 52 different pieces this temple is built on the place where her heart had fallen making it an important Shaktipeeth destination as well.
People believe that visiting this temple reaps great rewards for the devotees and whoever offers worship here gains special favors from Lord Shiva. One can gain material as well as spiritual happiness while being free from all the fears and problems.