Sikkim is a northeastern state in India while Darjeeling is a part of West Bengal but they have more in common than you can imagine. Both the places are hill stations that offer mesmerizing views of the untouched and lesser-explored part of the mighty Himalayan ranges. While Sikkim is placed on an elevation of between 3,000 to over 8,000 meters above sea level and Darjeeling is placed on an elevation of just about 2,000 meters above sea level and are two of the most underrated hill stations in India. Sikkim is home to numerous alpine meadows, glaciers, wildflowers beautifying everywhere, and numerous Buddhist monasteries and on the other hand, Darjeeling is all about amplifying the natural beauty through gardens, toy train rides, and refreshing treks. Located at a distance of about 4 to 5 hours from each other, a typical Darjeeling Gangtok Tour Package is just the thing you need to go exploring! Out of all the numerous places to visit in Sikkim and Darjeeling these places are a must-visit.
Places to Visit in Sikkim
1. Tsomgo Lake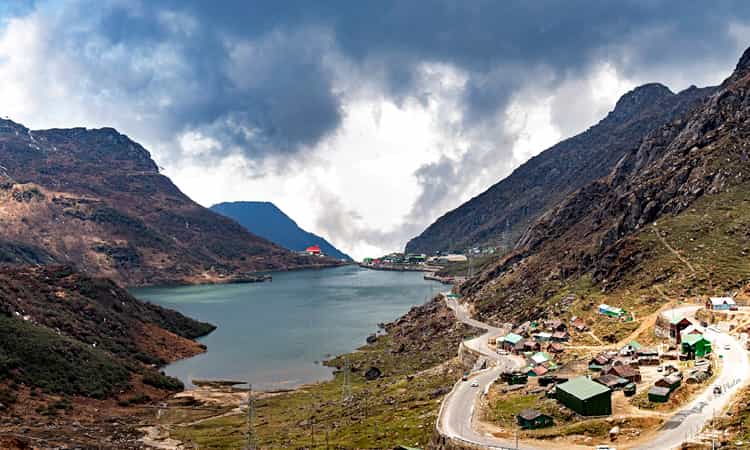 Located at a distance of about 40 kms away from the main city of Gangtok, is the gorgeous Tsomgo Lake, an iconic landmark of Sikkim. Tsomgo literally translates into "the source of water" and is located at the very top of the state and is sourced by a massive glacier. The fact that Tsomgo is one of the highest located lakes in the lap of the Himalayas makes it worth a visit. The lake is surrounded on all sides by mountains that get snow-clad during the peak wintertime, especially during the month of March. A yak ride around the lake and taking some of the most immaculate pictures inspire a feeling of wanderlust among everyone.
2. Gangtok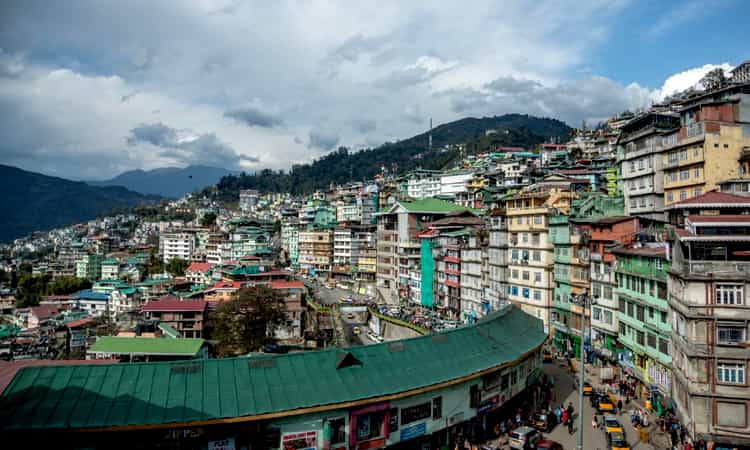 Gangtok has to be one of the most loved honeymoon destinations in India, for couples seeking a budget Switzerland experience. Gangtok is the capital city of Sikkim and its natural beauty perfectly combines with the modern changes that the city has undergone. It is a great place to go if you are looking for less tourists and more natural beauty and luxury. Overlooked by the snowy Himalayan Mountains and a sea of clouds, Gangtok is one of the most beautiful hill stations of India and a place that has to offer something for everyone. Some sightseeing places in Gangtok include – Enchey Monastery, Do Drul Chorten, Rumtek Monastery, Ganesh Tok, and Tashi viewpoint among others.
3. Nathula Pass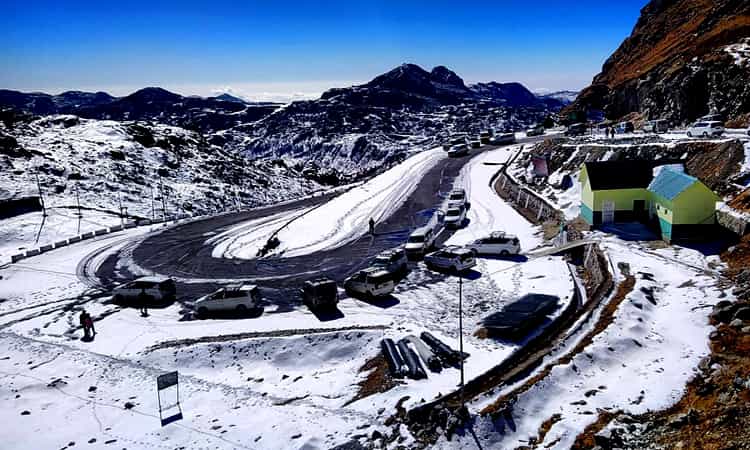 While putting up in Gangtok there are many things to be done around the city as well, Nathula pass being one of them. Located at a distance of 53 kms away from the main city of Gangtok a day trip to this pass will be just the thing you need to explore more of what the Himalayas have to offer. Other than being one of the best and a must-visit tourist spot of Sikkim also holds a lot of political and strategic importance. This pass is the connection between India and Tibet which becomes clearer by observing the culture of the locals around Nathula Pass which represents a combination of Indian culture infused with Tibetan traditions and way of life.
4. Lachen, Lachung, Yumthang Valley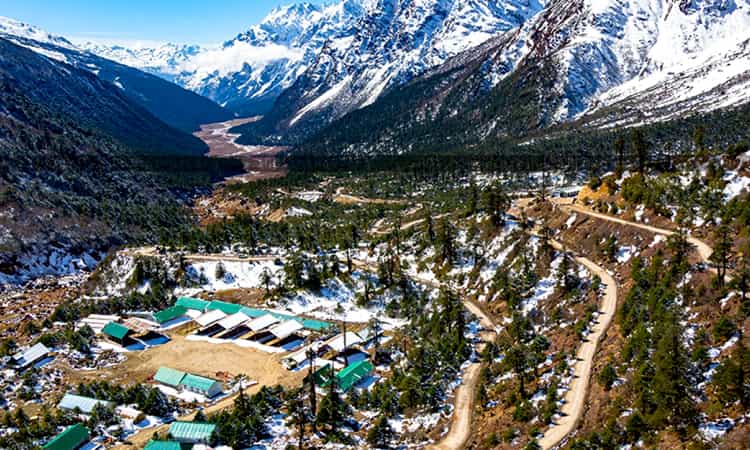 Lachen, Lachung, and Yumthang valley is a collection of 3 hill villages that is every mountain and hill station lover's dream destination. If you are the type of traveler who wishes to truly indulge deep into the culture of the place they are traveling to, then these three villages are a must-visit. Nestled comfortably along the northern Sikkim region during the wintertime these villages become the home to Tibetan nomadic tribes who reside all along this region. Lachen is also known as the gateway to the iconic Gurudongmar Lake and Tsomgo Lake. Lachen, Lachung, and Yumthang Valley, or valley of flowers of the northeast are all about experiencing a peaceful getaway.
5. Pelling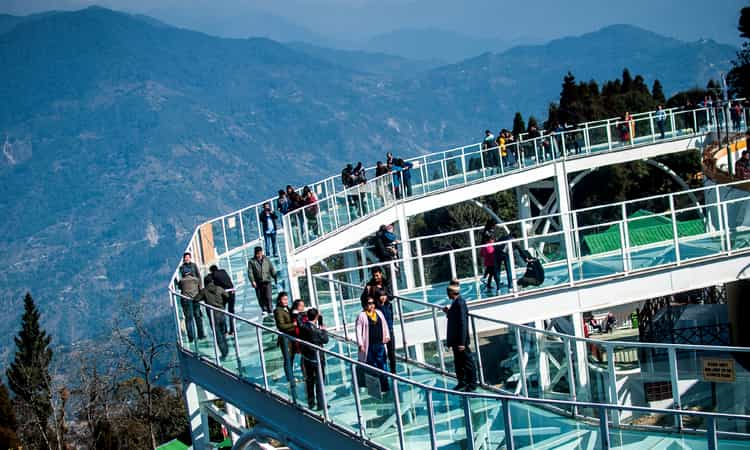 After Gangtok, Pelling is the second most favorite tourist destination in Sikkim. Located on the west Sikkim part of the state, this place can be a comfortable and a peaceful destination for trekkers, adventure lovers, remote location explorers, and peace seekers. Surrounded by fantastic views of the snowcapped peaks on almost every side, this town is like a paradise when it comes to natural beauty. Located at a distance of 75 kms from Darjeeling, Pelling is a must-visit even if you have Darjeeling travel plans in mind. You can go there during the peak winter months and experience the snow-clad regions or go there during the spring-summer months and explore the wilderness amidst the lush greenery.
6. Gurudongmar Lake

Gurudongmar Lake can be called a twin of Pangong Tso Lake in Ladakh. The lake inspires a feeling of deep tranquility due to its peaceful turquoise clear, Blue Color which has earned it spots as one of the best places to visit in Sikkim. The lake is placed at a staggering height of over 17,000 feet above sea level which is also considered to be a holy place by the Buddhist, Sikh, and Hindu communities. The barren landscape peppered with snowy peaks here and there around the lake works great in making the lake visit experience almost surreal. You can spot a couple of yaks, blue sheep, and some rare flora that only grows in these parts of the northeast.
Places to visit in Darjeeling
7. Tiger Hill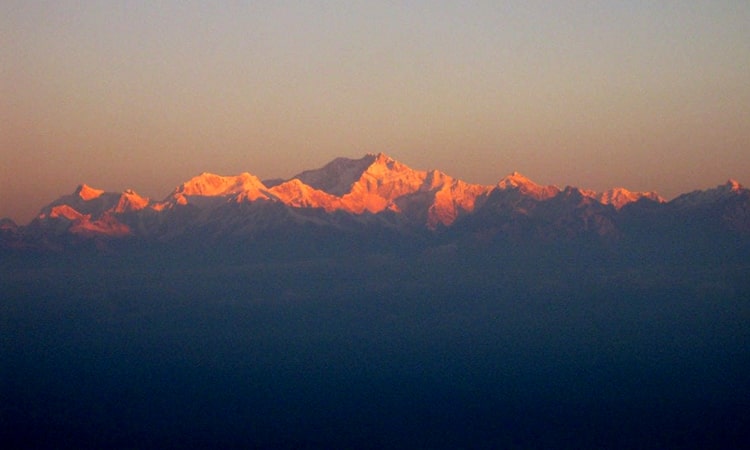 Tiger hill is undoubtedly one of the best places in India to get a complete panoramic, unobstructed view of Kanchenjunga and Mount Everest. Placed on an elevation of about 3,000 meters above sea level, tiger hill is one of those rare places where you can go and catch a glimpse of these iconic and majestic mountain ranges without any problem. Located at a distance of about 11 kms from the main town of Darjeeling tourists are expected to take a jeep ride or walk up to the point at super early in the morning and experience the best sunrise where the first rays of the sun hits the mountains which makes it look like the tip of the hill is on fire until it eventually changes.
8. Batasia Loop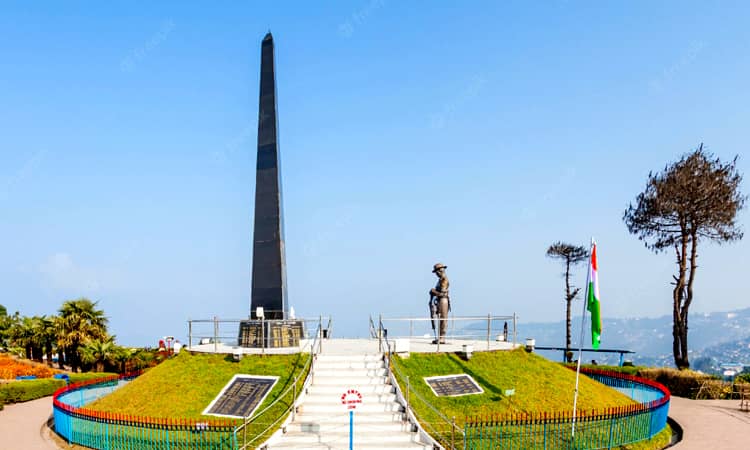 Batasia Loop is a spiral railway line which is created with the aim of lowering the gradient of ascent of the Darjeeling Himalayan Railways. Commissioned in 1919, the track spirals around over itself through a tunnel and over the hilltop. Located right below Ghum Monastery at a distance of about 5 kms, Batasia Loop is a fun and scenic activity to do in Darjeeling with your whole family. With the beautiful blooming flowers on one end and the Himalayan mountain range on the other side, it sure is an experience one must have in Darjeeling. There is also a memorial dedicated to the Gorkha soldiers who had sacrificed their life during the independence movement. Visiting Batasia Loop will be a whole day of fun adventures and experiences.
9. Rock Garden
The rock garden of Darjeeling which is also known as the Barbotey Rock Garden is located at the Chunnu Waterfalls and Ganga Maya Park and is famously known for its unmatched natural beauty. The area was secured and developed by the British when they had freed the region from the rule of Raja of Sikkim in 1835. After introducing tea gardens here, lots of hotels and other interesting things started springing up around the region. Located at a distance of about 10 kms from the main city center of Darjeeling, the rock garden here is not just another garden; it has a lot of historical significance in the making of Darjeeling. From pretty waterfalls to scenic sights and an immaculate collection of flowers that line the way and dot the entire space, the rock garden in Darjeeling is a must-visit.
10. Singalila National Park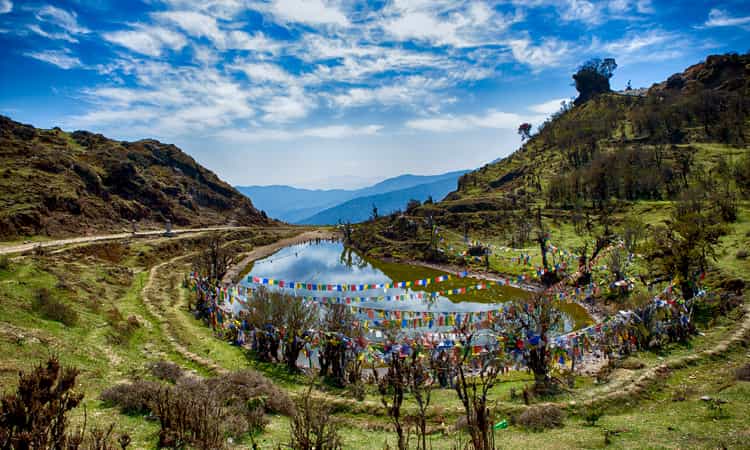 Singalila national park is located on the Singalila Ridge at an elevation of about 7,000 meters above sea level. Well known for the Sandakphu and Phalut trekking trail that runs through the park, it is a great place to go and get in touch with the wilderness and indulge in fun adventure activities. Home to some rare high altitude flora and fauna the entire ridge is covered in thick forests of oaks and rhododendrons with unique birds making their homes in them. You can book an old land rover that used to be owned by the British and get around the national park if you are not in the mood for intense trekking or hiking activities.
11. Peace Pagoda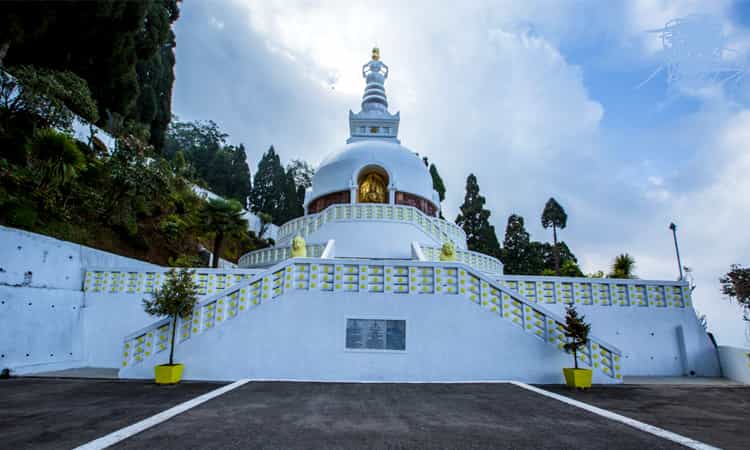 Darjeeling's culture is heavily influenced by its neighboring Tibetan culture which is clear through the presence of numerous old and new monasteries and peace pagodas that dot the entire region. The Darjeeling peace pagoda is a very peaceful meditative spot where people from all different races, creeds, and ethnic backgrounds can come and perform meditation with the intention of complete world peace. Located in the hills of Jalapahar within the town of Darjeeling the pagoda was initiated during the 1990s by a Japanese Monk.
Both Sikkim and Darjeeling have some very well-known as well as hidden places to explore. The two places are equally bewitching and scenic that will make your holiday a memorable one.
Frequently Asked Questions (FAQs)
Q. What places are the most famous in Darjeeling?
Ans. These are some places you can definitely visit in Darjeeling – Darjeeling Himalayan Railway, Singalila national park, Padmaja Naidu Himalayan Zoological Park, happy valley tea estate, joey's pub, and Batasia Loop are a couple of must-visit places during your Darjeeling visit.
Q. How many days are enough to visit Darjeeling?
Ans. 3 days and 2 nights is the perfect itinerary for you to visit Darjeeling and get your fair share of explorations done.
Q. Is Gangtok better than Darjeeling?
Ans. This may be an objective question since every traveler is different and likes different things. However, Darjeeling is much more developed and offers incredible adventure options and sightseeing tourist places to go to when compared to Gangtok.
Q. How far is Sikkim from Darjeeling?
Ans. The distance between the two hill stations is over 5 hours of road journey.
Q. Is Sikkim better than Darjeeling for a honeymoon?
Ans. When it comes to an ideal honeymoon destination then both Sikkim and Darjeeling are ideal destinations for that. Both have romantic sightseeing options and luxurious accommodation places as well.
Q. What is the fare from Siliguri to Darjeeling?
Ans. The regular bus fare for about 5 hours of road journey will be as low as rupees 100/- per person. However, the prices will shoot up once you choose to go by a hired cab or rented car.
Q. Is Ola available in Darjeeling?
Ans. Tourism in Darjeeling is now made more convenient with the introduction of Ola cab services. From Darjeeling, you can now head on to your favorite weekend destination with ease in and around Darjeeling through Ola.
Q. How can foreigners visit Sikkim?
Ans. Every foreigner visiting Sikkim has to obtain the important Inner Line Permit (ILP). These can be obtained from all Indian Missions, Sikkim Tourism Offices at New Delhi, Kolkata, District Magistrate's Office of Darjeeling, Siliguri, and Rangpo on the strength of an Indian Visa.
Q. Is a passport required to visit Sikkim?
Ans. For foreigners, valid international travel documents are a must like a passport and a visa. A permit is required to visit Sikkim (Gangtok) because it shares an international border. Any foreign national cannot enter Sikkim without an ILP. Just for extra care remember to carry two extra passport size photos and of course your valid ID.
Q. Is the toy train running in Darjeeling?
Ans. The toy train joy ride from Darjeeling to Ghum Monastery and back to Darjeeling is currently operational. The one from NJP to Darjeeling has not yet started.