Situated amongst the blessed beauty of the nature on an elevation of 2,200 metres above sea level this Hindu temple is dedicated to Lord Shiva and offer some of the most magnificent views of the surrounding valley. The temple is easily accessible and can be reached via your own car to the nearest road head and from then on you can trek your way up to the temple. The temple holds rich historical accounts and interesting legends making it a spiritual hub for devotees and pilgrims from all around the world. This ancient temple is nestled amongst the dense and thick greenery which is not only tranquil to look at but also offers a feeling of deep and pure devotion.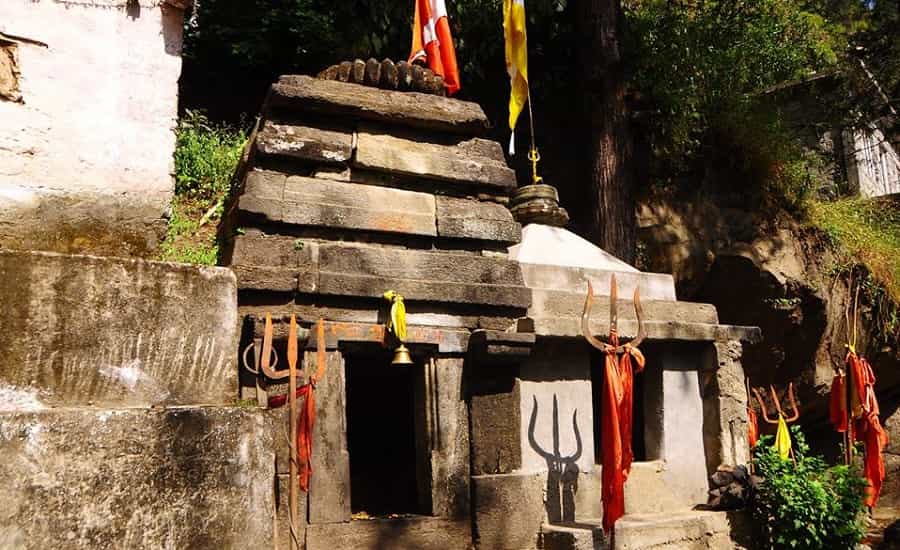 About Kalpeshwar Mahadev Temple
Legend
The legend of the temple can be dated back to the time of when the spic Mahabharata was written. It mentions that while chasing lord Shiva to seek for forgiveness for their fratricidal sins committed during the war of Kurukshetra, the Pandava brothers, spotted a bull and recognized it as Lord Shiva. The bull then suddenly started sinking into the ground and he was immediately by his tail by the strongest Pandava Bhim, however the bull completely vanished underground in Guptkashi and then it resurfaced in 5 different forms where his hump appeared in Kedarnath, his bahu or arms appeared in Tungnath, his head appeared in Rudranath, the navel of his stomach appeared at Madhyamaheshwar while his matted hair or jatta appeared at Kalpeshwar. The Pandava brothers formed temples on these sites marking it as important and continued to worship the lord there.
Another legend refers to the beauty and the serenity of this place. It was once used as one of the prime places for meditation activities for sages and saints. The famous and one of the most prominent sages of India, Sage Durvasa, the son of Atri and Anasuya, which was famous for his short temper,  is known for meditating and performed his penance here under a Kalpavriksha tree here and which is also known as the 'wish – fulfilling tree. This tree surrounds the ancient and magnificent temple of Kalpeshwar and can be seen in its close vicinity.
Location
Sitting peacefully in the Garhwal Himalayan region of Urgam valley this temple is visited lastly in the Panch Kedar Yatra journey. This valley is located on an elevation of 2,200 metres above sea level and in close proximity to the village of Urgam. You will be making your way to Kalpeshwar from Helang. On your way you will be accompanied by the scenic rivers of Alaknanda and Kalp Ganga throughout. Earlier this temple was accessible by just a 12 kms of walking distance from its closest road head of Helang that falls on the Rishikesh – Badrinath road however now, after some rapid recent developments, the road now leads up to the village of Devgram with the remaining trekking distance has lowered down to a distance of just 300 metres.
How to Visit
By Road – Kalpeshwar Mahadev is situated at a distance of 253 kms from Rishikesh and falls on the Rishikesh – Badrinath road. You will be following the road up to Urgam and these roads are extremely durable and strong and makes moving very convenient and easy. This is the reason as to why this temple remains accessible throughout the year. You can not only get your own car here but if you like you also have the option of hiring your own cab or taxi services from Rishikesh to Triyuginarayan.
By Air – The closest airport is located in Dehradun and you will be able to avail the services of a taxi or a cab which is easily available from outside the airport. You will be covering an overall distance of 272 kms from here.
By Rail – The nearest railhead is situated in Rishikesh which is located at a distance of 255 kms from here. You will be able to hire a cab or a taxi service and make your journey to the temple. The roads that lead up to the temple are well connected to a network of other roadways and make it easier for the visitors to plan their trip here.
Best Time to Visit
The summer months of April to June are believed to be the best time to visit. Rainy months are not regarded as the most appropriate time to pay your visit to the temple since the rains and torrential winds may disrupt your visit to the shrine. Travelling on the hills during the monsoon months are not considered to be the best time to visit. The next window for paying a visit to this holy temple is during the months of September and October.
Unlike the other sites of the Panch Kedar Yatra journey, where other shrine gets completely blanketed under a cover of thick snow, this ancient temple shrine remains open for Darshan throughout the year.
Accommodation Facility
There are a number of stay options available in and around the temple of Kalpeshwar which you can choose from as per your budget. The prices here can go as low as Rs. 800/- to as high as Rs.6000/-. You can choose the hotel of your liking depending on the price and the basic amenities offered. The stay options here are in the form of budget hotels, lodges and camps. Some of these hotels are – Dream mountain resort, the royal village, hotel comfort inn, within the village there several homestay options and lodges. You can pick your choice and have a comfortable stay anywhere you choose.
Darshan Timings
The temple opens its doors for Darshan at 4 am in the morning. The day commences with a morning Aarti and during its closing time an evening Aarti also takes place. The temple shuts down for Darshan at 9 pm at night. The temple remains open for throughout the week and can also be accessed throughout the year.
All the puja rituals at this temple is performed by the Dasnamis and Gossains who are known for being the disciples of Adi Shankaracharya and are required to hail from south India.
Excursion Places
1. Gandhi Sarovar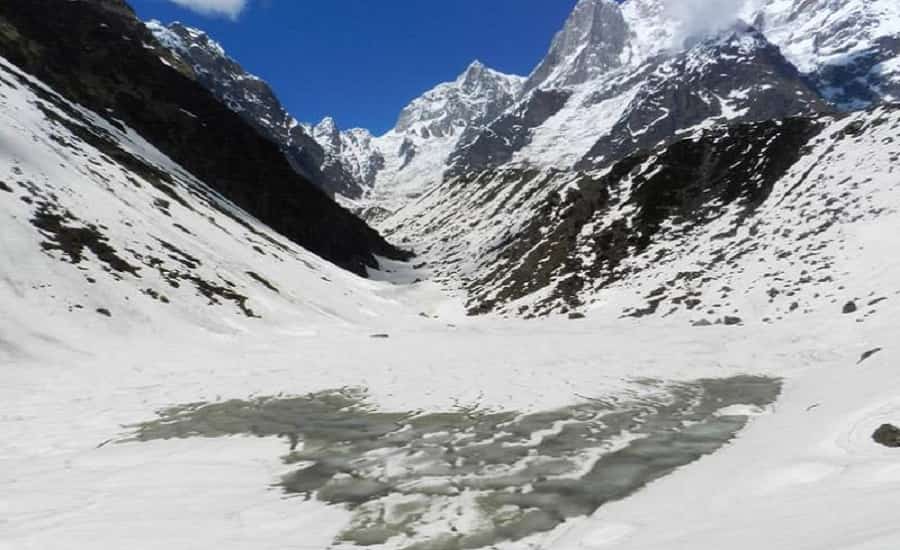 As the name suggests this lake is one of the most pristine high altitude lakes in Uttarakhand. This lake is named so due to the fact that Mahatma Gandhi's ashes were immersed in its water. Sitting comfortably on an elevation of 3,900 metres above sea level, Gandhi Sarovar provides some of the most magnificent views of the surrounding peaks. The trekking journey to this Sarovar requires you to cover a distance of 3 kms which commences from the main temple of Kedarnath.
2. Vasuki Tal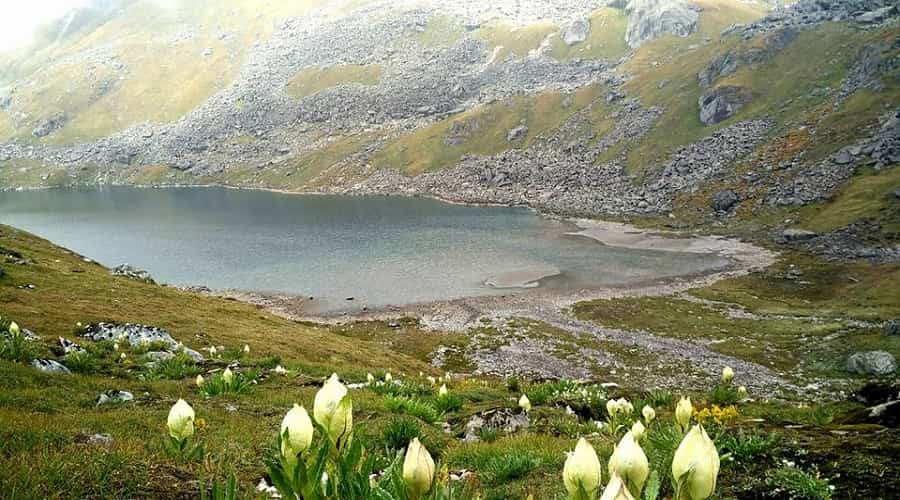 As per Hindu mythology it is a popular belief that Lord Vishnu takes a holy bath in its crystal clear waters. Visitors can savor some magnificent views of the overlooking snowcapped peaks of Chaukhamba. This place is one of the suitable options for trekking enthusiasts. From Kedarnath Dham this lake is situated at a distance of 7 kms and can be easily reached by walking and this trekking distance commences from Gaurikund.
3. Gaurikund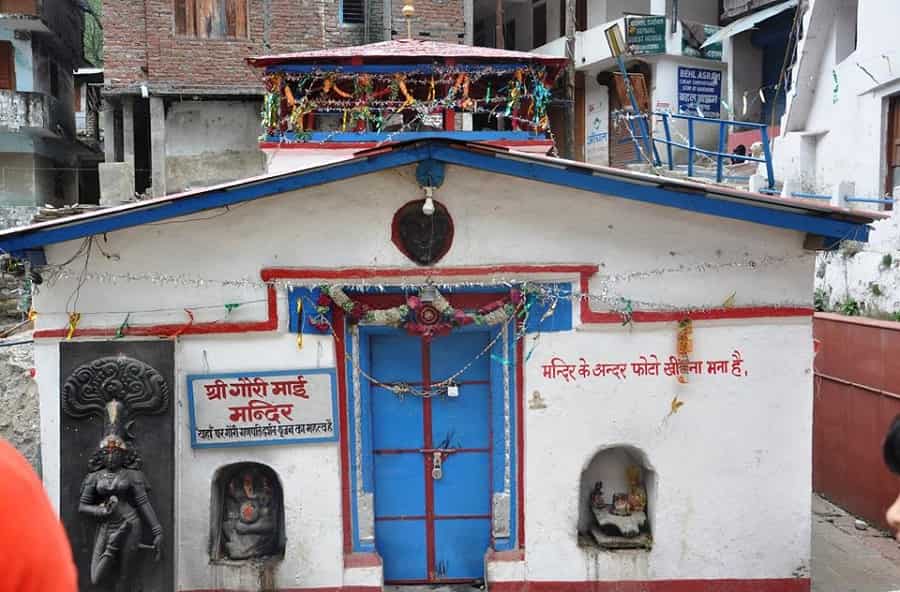 As the name suggests this naturally occurring, thermal hot water spring is located in close proximity to the temple of Kalpeshwar as well as Kedarnath. This thermal hot water spring is frequented by visitors on their way to Kedarnath Yatra and allows you to cool off and freshen up by taking a holy bath in its waters. The waters at this Kund is supposed to hold medicinal properties and it is a ritual for pilgrims to take a holy dip here before proceeding on to their journey for Kedarnath.
4. Sonprayag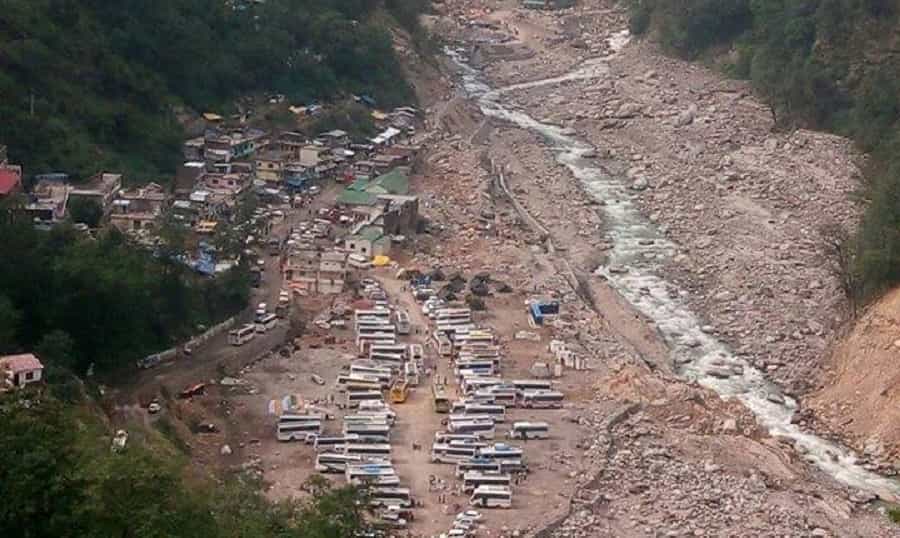 The scenic hamlet of Sonprayag is known for being a popular pilgrim's rest stop for people on their Char Dham Yatra journey. Apart from this this town also offers some pleasant stay options for visitors. It is named so due to its location which falls in between the rivers of Basuki and Mandakini. The town has garnered attentions since it is a popular belief in Hindu mythologies and traditions that taking a dip at Prayag will allow you to achieve moksha or salvation.
As a Trekking Destination
Located deep inside the valley of Urgam and offering some of the most stunning and awe inspiring views of the untouched Himalayan beauty, this temple has been chosen by avid trekkers for being one of the most beautiful treks. Although a road has been constructed to reach the temple, you can choose to explore the beauty of this place on foot. A 12 kms of a trekking trail commences from Helang and heads on to the temple amongst lush green cover and unmatched beauty. Taking the rocky trekking route will definitely add a hint of fun, adventure and thrill to your spiritual journeys. Since the temple remains open all days of the week and throughout the year you will be able to visit this stunning place anytime you like and according to your convenience.
Other Activities
Photography
The unmatched beauty this place has to offer allows avid photographers to test their skills and click some interesting and magnificent pictures for their collection. People find places in and around Kalpeshwar to be incredibly photogenic and give them the opportunity to experiment with their photography skills. The snowcapped peaks and the lush thriving greenery is the perfect setting for any photography lover.
Trekking
The temple of Kalpeshwar is located in a very strategic destination which is close to a number of trekking places. You can trek up to Kedarnath Dham and even further than that to Vasuki Tal, Gandhi Sarovar, Kedarnath peak and so much more. If you want to add a hint of adventure to your spiritual travel plans then you are in luck since this place is replete with destinations that you will find thrilling as well as alluring.
Meditation
The temple of Kalpeshwar is located amongst incredible tranquility and peace. As per various Hindu mythological accounts this place offers the opportunity to have a soulful meditation and get you some peace of mind.  Surrounded by the pristine and stunning beauty of the Himalayas and a peaceful environment nothing more is needed for you to have a soulful meditative and yoga retreat here, away from the bustle of the busy city life.
Pilgrimage
Kalpeshwar is situated in such a way that people can easily go on their Panch Prayag Yatra circuit. People on their holy Yatra of Char Dham also sometimes make a visit to this ancient holy temple. The towns of Sonprayag and Guptkashi that are situated in close vicinity to the temple are used as the base for their further trekking plans or pilgrimage Yatra journeys along with being the two holy towns that offers a range of stay options and accommodation facilities.