Nestled among the lush greenery and the whimsical beauty of the district of Uttarkashi in Uttarakhand, the village of Harsil is a humble yet incredibly scenic destination for people looking to take a break from the bustle of the city life. Sitting on an elevation of 2,620 metres above sea level, Harsil has still managed to remains untouched from the prying hands of the commercial tourists making it one of the least explored gems of Uttarakhand. However this place has caught the eyes of nature lovers and peace seekers who are looking for some time away from the busy city life. Apart from this Harsil is also being recognized as an ideal destination for outdoor sports enthusiast and adventure seekers. This place offers a beautiful blend of opportunities for not only religious people on their pilgrimages but also for the people looking to rejuvenate themselves through meditation and yoga. Located right on the banks of the river of Bhagirathi and surrounded by the mighty snow-clad peaks, this place is truly a gift of nature. Primarily inhabited by the hill tribe of Bhotiyas Harsil is covered entirely with innumerable deodar trees and gleaming apple orchards making every nook and cranny here incredibly pleasant to look at.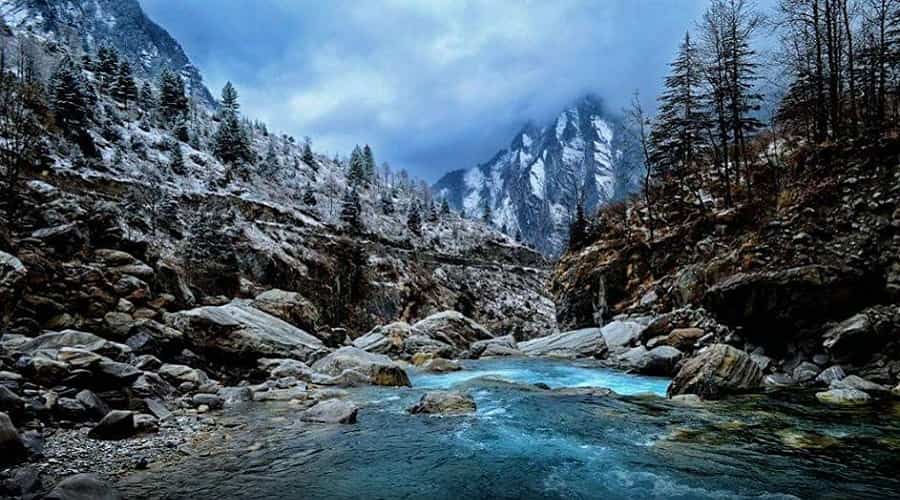 About Harsil
Significance of Harsil
On the holy eve of Bhai Dooj when the temple Kapat of Gangotri Dham is shut down after a ceremonious farewell to the main idol of the goddess the presiding deity of the goddess is then transferred in a palanquin or a Doli to the nearby village of Mukhba which is located in close proximity to the village of Harsil. The idol of the goddess continues to reside there throughout the winter months since the main Dham shrine of Gangotri remains covered entirely in snow and hence inaccessible it the pilgrims. People looking to offer their prayers to the goddess can visit the temple at Mukhba and complete their prayers to the goddess there.
Mythologies:
There are two primary mythological accounts related to Harsil which are:
As per Hindu mythologies, the king of demons, Jalandhar is believed to have terrorized the gods with his might and power and whenever the gods made an attempt to stop him in any way or even tried to defeat him, his powers would increase substantially since his wife Vrinda would pray devotedly to Lord Vishnu to give her husband victory. The gods then went to Lord Vishnu in search of answers and looking for a solution from him. He told the gods that the demon would only be defeated if his wife Vrinda indulges in adultery outside of her marriage. Lord Vishnu decided to charm her however he failed since she was incredibly devoted and loyal to her husband and it did not shake her morality in any way. Lord Vishnu decided to disguise himself as King Jalandhar and violated Vrinda. However, Jalandhar was killed by Lord Shiva and knowing this Vrinda cursed Lord Vishnu that he will be transformed into a stone structure and will scatter on the entire region which was the territory of king Jalandhar. Therefore the place came to be known as Harsil.
Another folklore regarding the origin of this scenic village is that the two rivers of Bhagirathi and Jalandhari were in a constant fight with each other to prove them in any possible way. This constant fighting caused a heavy turbulence and terror in the regions in close proximity to the rivers. The mortals and the residents of the village then offered their prayers to Lord Vishnu asking for a solution to this destructive issue. Lord Vishnu heard their pleas and prayers and answered them by turning himself into a 'sila' or a 'stone' and placed himself right on the confluence of the rivers of Jalandhari and Bhagirathi hence, the place its name of Harsil which literally means that Lord Vishnu in the form of a rock.
Best Time to Visit:
The best time to experience the grandeur and magnificence of Harsil is between the spring months of April to June. You can also choose to visit this place after the rain water washes away the dirt during the months of September and October.
Summer – The summer months in Harsil are moderately cool and extremely pleasant and pans between the months of April to July. During this time the temperature ranges between 18 to 30 degree Celsius. This is the ideal time to go on a trekking expedition of the nearby places.
Winter – The month of October marks the beginning of the winter season in Harsil which goes on till February. This winter month are extremely cool and allows you to experience the Himalayan chill. The temperatures go to sub-zero levels and the place may also experience some snowfall. The entire region of Harsil gets covered in snow making it look a true winter wonderland.
Monsoon – The months from July to September are considered to be the monsoon months in Harsil. These months mark the end of the summer months and the gradual onset of the winter months. The heavy rainfall brings down the overall temperature of the region.
How to Reach:
By Road – The hamlet of Harsil is well connected by secure roads to almost all the major and minor cities and towns in Uttarakhand. It is located on NH 108 which connects the pilgrim and holy town of Gangotri of Uttarkashi district. Bus services are available from Delhi heading towards Rishikesh, Tehri and Uttarkashi. Shared taxis and cabs are easily available from the nearby destinations of Dehradun, Rishikesh, Barkot, Dehradun etc.
By Rail – The closest rail head to Harsil is situated in Rishikesh which is situated at a distance of 215 kms from here. The train station of Rishikesh is well connected to a network of other railways to some of the major destinations of India. Once you debark at this train station you can reach Harsil via taxi services which are easily available from right outside the train station.
By Air – Jolly Grant airport in Dehradun is considered to be the closest airport to Harsil which is located at a distance of 232 kms from Harsil. There are numerous buses shared taxis and cab services which ply on the roads connecting Harsil and this airport.
Food Facilities
Apart from the restaurants in some selective and few hotels here, there are a number of locally available Dhabas here which offer north Indian and Garhwali food items. The restaurants serve primarily north Indian, Chinese and other vegetarian items. There are also innumerable tea stalls available here which are dotted throughout the town. The guesthouse here also has a restaurant offering a range of north Indian cuisines.
Accommodation Facilities
If you are planning on a visit to Harsil then you will have the option of choosing from some deluxe to medium and budgeted accommodation facilities.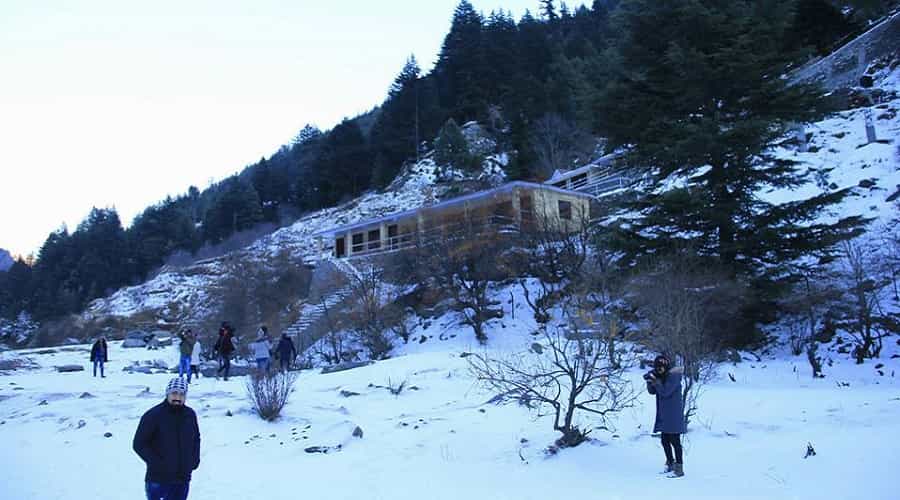 Luxury Stay
In case you want to stay under luxurious conditions and among the comfort then you will be spending in between Rs.3,000 to 6,000. Hotels that offer these luxury stay options are – Prakriti retreat, Harsil retreat, Shiv Parivar Resort and Nelangana Resorts among others. These hotels are known for offering some top notch and finished services and options.
Budget Stay
If you are travelling on a budget then you will be required to spend no more than Rs.2,000 for your stay in Harsil. These budget hotels offer all the basic amenities like hot and cold running water, parking space etc. Lodges are also available which charge Rs.600 per night and yet the stay is comfortable and hassle free.
Government Guesthouses
GMVN Harsil tourist bungalow offers cheap and budget stays for people travelling on a tight budget. The per night stay here costs no more than Rs.1000 and comes with a comfortable and warm bedding. You can also choose from their options of rooms from deluxe and super deluxe rooms. All these rooms come with an attached bathroom, TV, hot water supply etc. All this along with a scenic and panoramic view of the surrounding beauty will definitely make your stay here worth it.
Fairs and Festivals: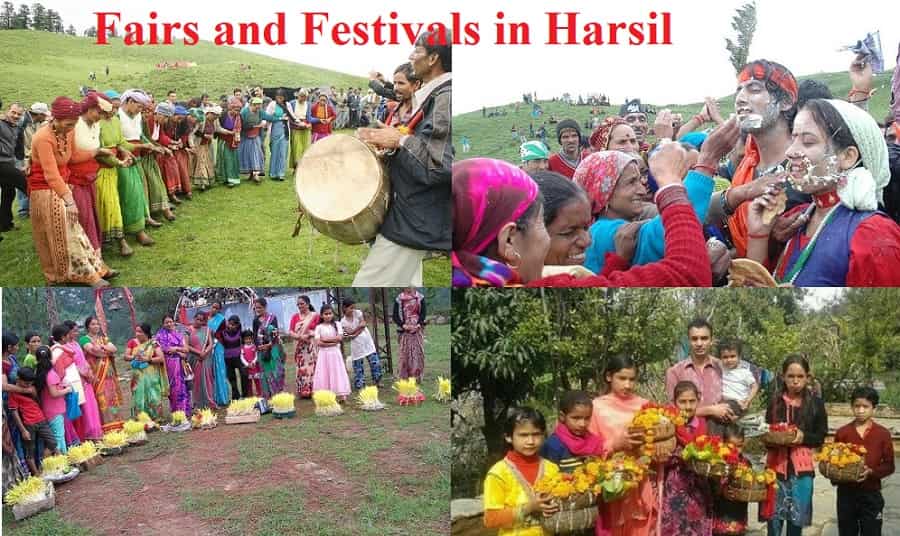 Harela and Bhitauli – The festival of Harela takes place three times in a year and it marks the commencement of the new season. This folk festival takes place during the months of March / April; September / October and Late July. As a symbol for the future success of harvest women sow 7 different types of grains and give money to the young girls. The yellow plant which is germinated is then cut and worn behind the ear by the locals as a mark of their respect toward the harvest.
Ghee Sankranti – Also famous with the name of Olgia festival this festival is celebrated on the first day of the month of August or Bhado. This ancient state festival is celebrated when the crops are growing in a full-fledged manner. This festival takes place with complete enthusiasm and joy. This festival is a way that the farming locals and families show their gratitude to nature. During the ancient ages the tradition required the son in laws to give gifts to their father in laws however nowadays, agriculturalists and artisans give gifts to their land owners and customers.
Hilljatra – This is one of the most traditional festivals in Uttarakhand and is primarily celebrated in the district of Pithoragarh. This festival is primarily celebrated by the communities and families involved in farming and agricultural activities. During this festival people worship a white-clothed deer who represents a regional god. This festival is also celebrated as a remembrance for Champawat rulers and can be traced back to their victory. However this festival is mostly connected to the plantation of paddy.
Uttarakhand Holi – The colorful festival of Holi in Uttarakhand is celebrated with great enthusiasm and zeal where people celebrated the victory of good over evil along with welcoming the new season of spring. One can witness the sowing activity taking place here during this festival. The entire region witnesses enchanting folk Pahadi music and people dancing to traditional songs.
Places to Visit:
1. Dharali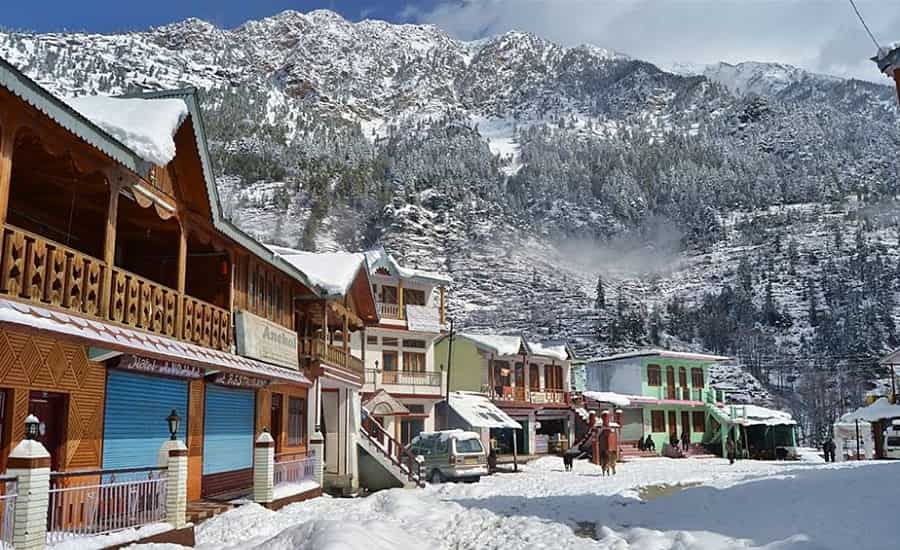 This scenic town is located at a mere distance of 2 kms from the quaint hamlet of Harsil. Dharali is primarily famous for its glistening apple orchards and the cultivation of red bean. The village is home to an ancient and an extremely holy temple which houses an idol of Lord Shiva. According to ancient mythological and historical accounts it is believed that King Bhagirath had meditated here to bring down the heavenly river of Gang to the earthly realm and this temple marks this place.
2. Mukhba Village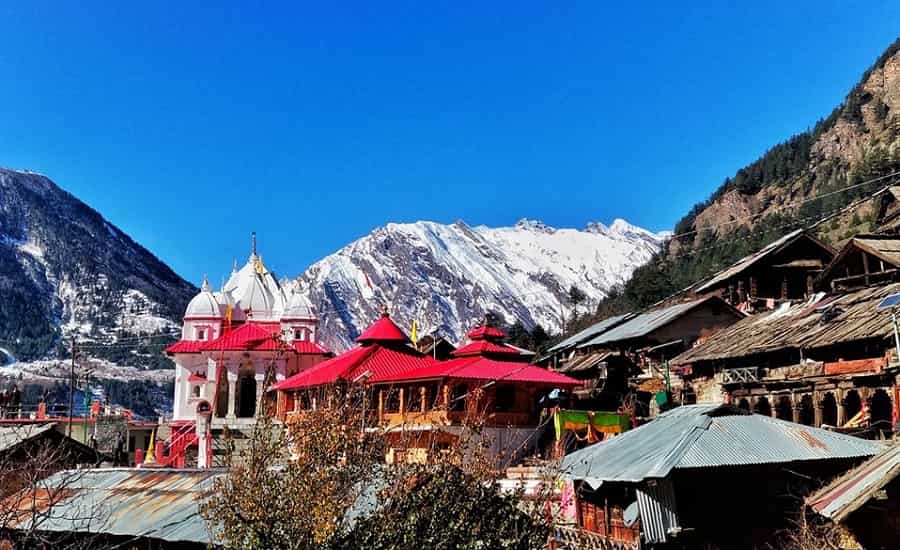 This holy destination is located at a mere distance of just 1 kms from Harsil. This place is not only known for being the winter abode of goddess Gangotri but it is also known for its picturesque beauty and natural magnificence. The beauty of this place is elevated even more during the winter months when the entire region gets blanketed in a layer of snow. People visit here as a part of their winter Char Dham Yatra.
3. Gangnani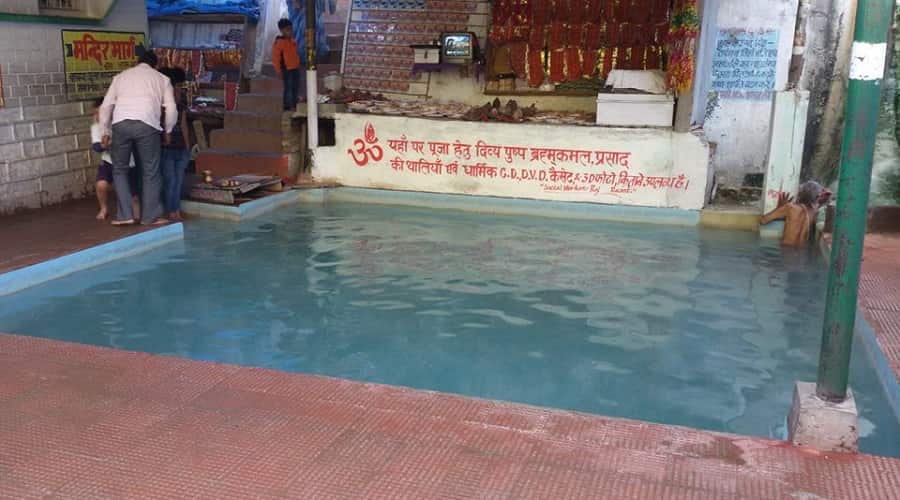 The beautiful hamlet of Gangnani is located at a distance of 26 kms prior to the quaint hamlet of Harsil. This place is known for its naturally occurring hot water thermal springs and these springs are known for its medicinal properties. Every year a large throng of crowd visit this place since it serves as an ideal retreat destination for nature lovers and peace seekers.
4. Sattal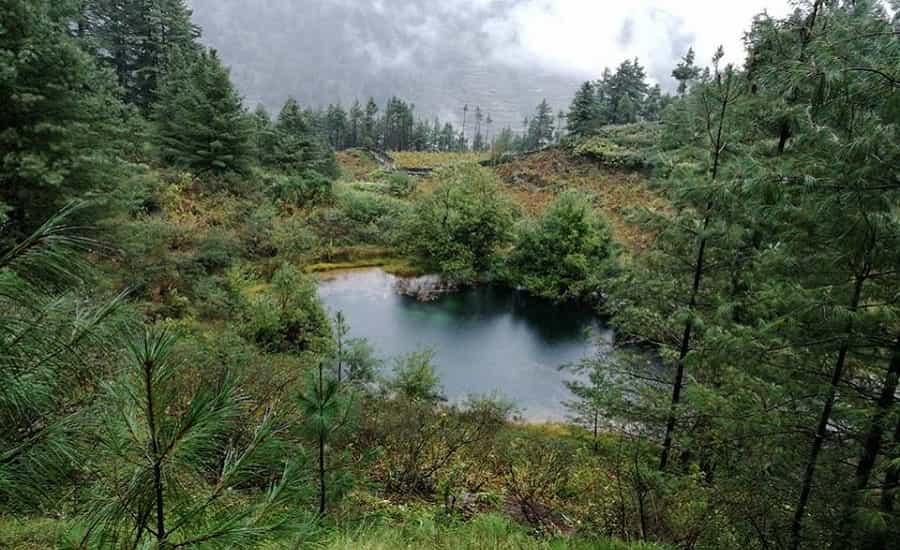 As the name suggests this place represents a collection of 7 freshwater lakes which also serves as the stopover point for various exotic migratory birds. This place serves as a complete paradise for bird watchers, nature lovers and people seeking some peace of mind, away from the hustle and bustle of the city life. This scenic destination is situated at a mere distance of 3 kms from Dharali and can be easily reached.