Char Dham Yatra is an annual pilgrimage that takes place in Devbhumi Uttarakhand. The trip takes you on a soulful journey across the 4 holy Dhams of Kedarnath, Badrinath, Gangotri and Yamunotri. The yatra is an ancient one and ever since its establishment by the great sage Adi Shankaracharya, its popularity has continued to grow ten-fold. A lot has changed over the years when it comes to going for the Char Dham Yatra. From the various modes of transportation, accommodation options and road services to proper organisation and registration procedures, every aspect of Char Dham Yatra has become even more proper and organised. This makes the pilgrim experience a seamless one and guarantees a soulful experience for all.
The Char Dham Yatra that takes place in the Garhwal Himalayan region, requires every pilgrim to register themselves. With an increasing number of pilgrims each year, it is getting extremely important to keep track of every pilgrim in order to maintain security and safety for everyone.
Chardham Yatra Registration Guidelines:
The Char Dham Yatra registration is compulsory for everyone going on this journey. Not just for Char Dham pilgrims, looking to go for a pilgrimage to Hemkund Sahib are also required to complete this procedure beforehand. Pilgrims can get it done either by themselves or the Chardham Yatra Package provider company will be responsible for this. After the completion of the mandatory Char Dham Yatra registration procedure, the pilgrims will be issued a registration letter.
The Yatri registration can be done online or offline mode and involves 3 steps:
Online / Offline registration
Receiving the yatra registration letter with a unique QR code
Verification procedure
Here is everything you need to know about the Yatri registration for Char Dham Yatra:
Mode of Registration:
Online – Online registration can be done by accessing the government portal responsible for this.
Offline – People can also physically visit the registration centre located in various places.
Online Yatra Registration Process:
Online registration has become one of the most sought after ways of getting the Yatri registration done. It is a much better option than standing in long lines in case of manual or offline registration. If you are travelling from abroad for the Char Dham Yatra then online Yatri registration is the best option. Potential pilgrims will be required to submit their email address, personal mobile phone number, and a valid ID card like Adhaar Card, Voter Id Card, PAN Card, Driving Licence, Passport etc.
Here Is A Step By Step Guide:
Step 1 – Visit the official website of Uttarakhand Government, Char Dham Registration Portal.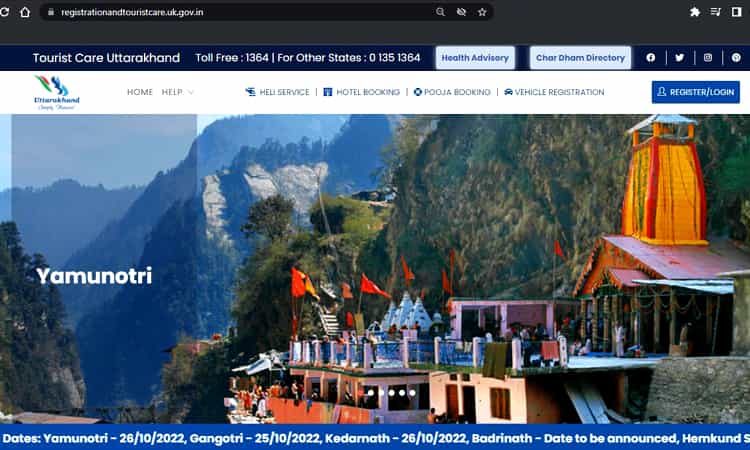 Step 2 – Click on the register or the login button that can be seen on the top right corner. From here you will be directed to the registration page.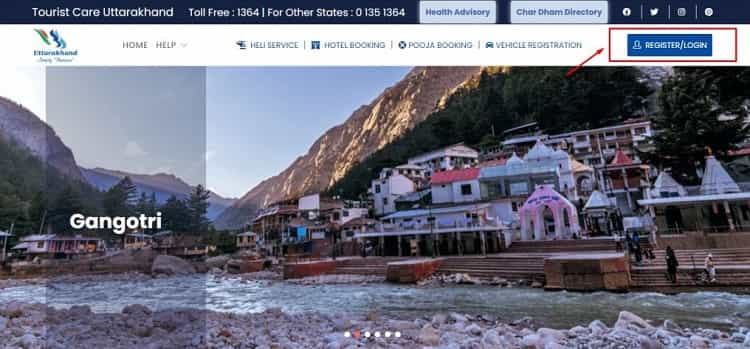 Step 3 – Fill up the form with the details asked. Make sure to fill out the correct information and double check everything before clicking the 'sign up' button.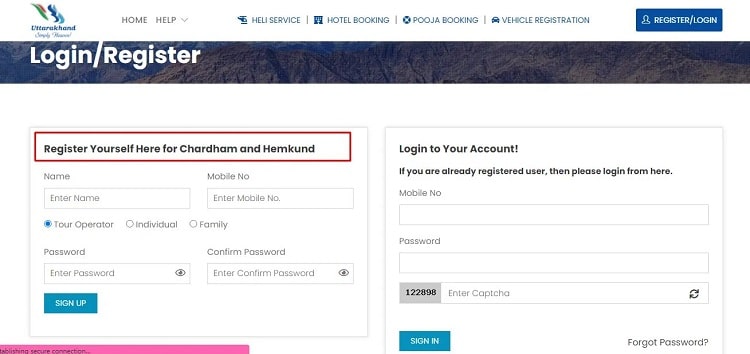 Step 4 – You will then be asked to complete the OTP verification procedure, wherein a code will be sent to your registered mobile number, along with an e-mail. You will be required to enter the OTP code after which you will be required to click on the 'verify OTP' button.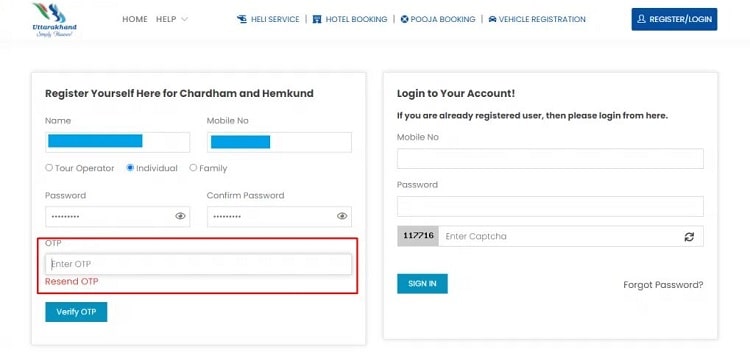 Step 5 – The next process will be to login to the website using your login ID and password.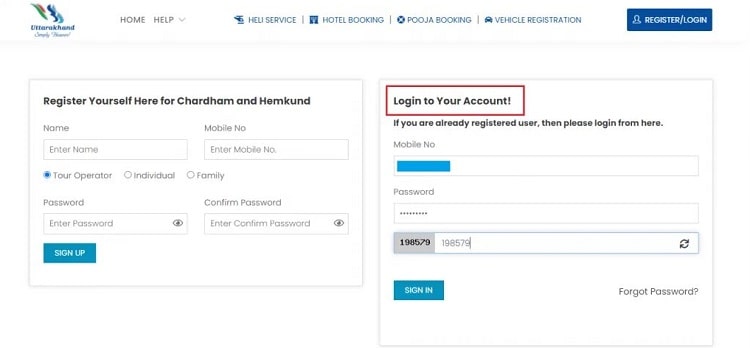 Step 6 – On logging in, you will be directed to a personalised dashboard that will be displayed. Fill out the pilgrim information in the displayed page.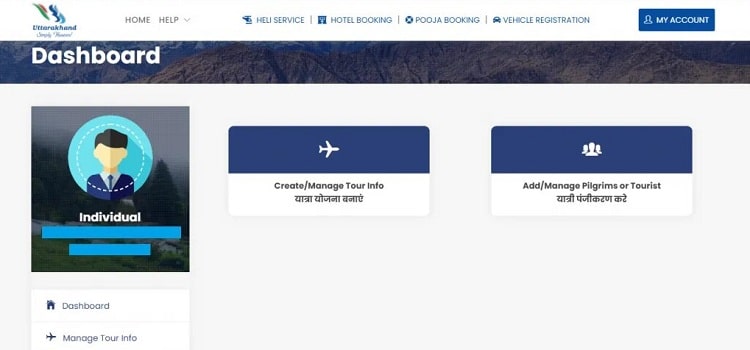 Step 7 – After filling out all the information correctly, click on the 'add/manage pilgrims and tourists' button and then a new plan your tour page will open up.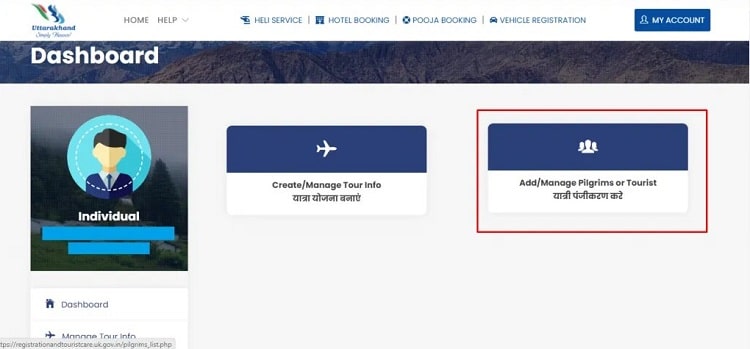 Step 8 – Go ahead and then click on the 'add new tour' button.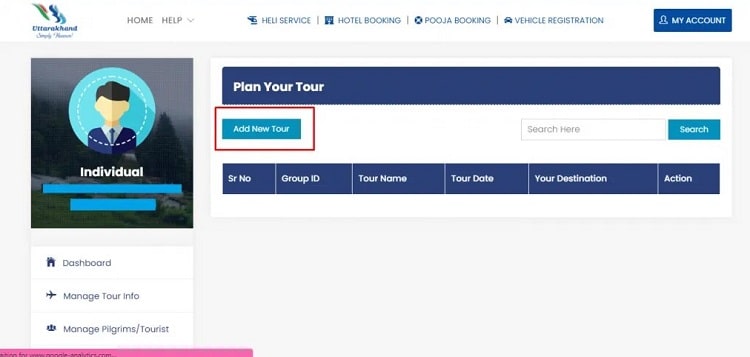 Step 9 – Then fill up the given form with all the correct and accurate tour details asked in the form, like tour type, tour duration, number of pilgrims / tourists on the pilgrimage, mode of travel to the Dham and finally after filling everything out click on the 'save' button.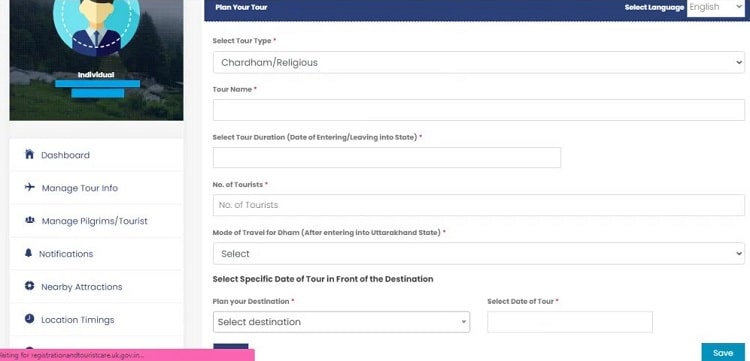 Step 10 – After this a new window will open up that will show you the tour you have just created.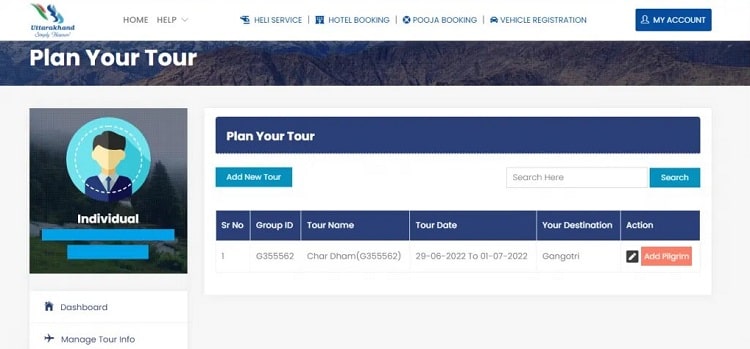 Step 11 – Then you have to click on the 'Add Pilgrim' button which will open a new page with a form for the registration of the pilgrim/ tourist.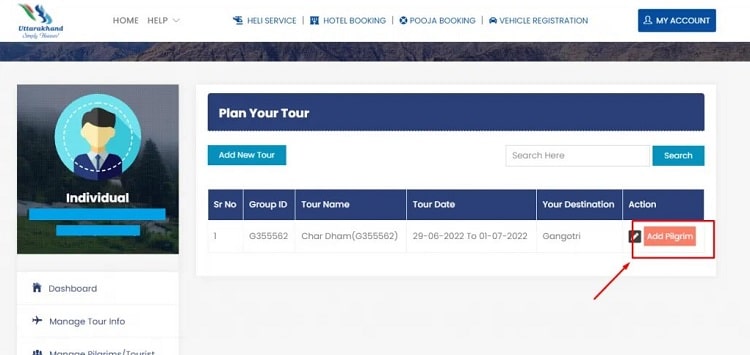 Step 12 – Fill up all the details of the tourist on the opened form / page with all the required information of the tourist such as, name, age, contact details, address etc. be sure to fill out all the information asked correctly. Also be sure to upload a passport size photo of the tourist along with a scanned copy of photo ID proof as well. Make sure to upload the passport as per the size guidelines mentioned in the page.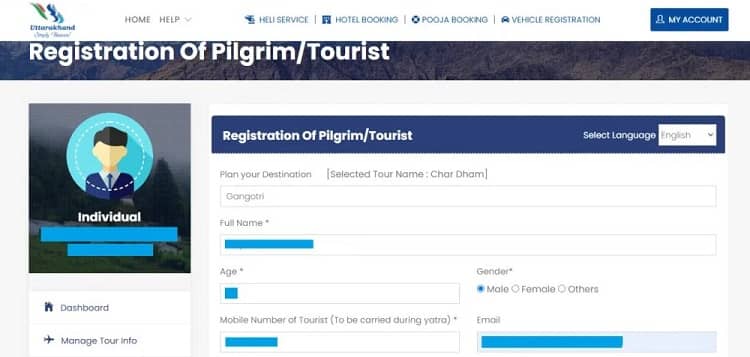 Step 13 – After the completion of Yatri registration procedure, a unique registration number, confirming the registration will be sent to your registered mobile number via an SMS. You even have the option of downloading the registration letter.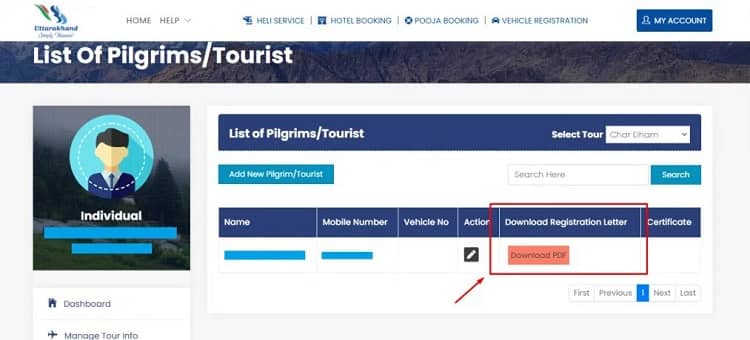 Note:
Remember that the Char Dham Yatra registration is completely free of charge.
Pilgrims must always keep their registration letter or the SMS safe with them during the time of the pilgrimage.
Offline Registration Procedure for Char Dham Yatra:
In case online yatra registration is not possible then pilgrims can also get offline registration done for Char Dham Yatra. The government has come up and listed several locations for offline, physical Char Dham registration services. In Devbhumi Uttarakhand itself, there are 14 different registration counters set up for the convenience of the pilgrims. Here is a complete list of all the 14 Char Dham registration centres in Uttarakhand:
Haridwar – Haridwar Railway Station
Haridwar – Rahi Hotel
Rishikesh – Roadways Bus Stand
Rishikesh – Hemkund Gurudwara
Janki Chatti – Janki Chatti
Gangotri – Gangotri
Guptkashi – Guptkashi
Sonprayag – Sonprayag
Kedarnath – Kedarnath
Pandukeshwar – Pandukeshwar
Govindghat – Govindghat
Uttarkashi – Hina
Uttarkashi – Dobara
Phata – Phata
Note:
Remember to carry a valid and latest ID proof like Aadhaar Card, Voter Id Card, Driving Licence, Passport, etc. and the registered mobile number.
Verification Mode:
The mode of verification for will be done physically right on the pilgrim site that is mentioned in your tour prior to your check-in. The people or officials responsible for the verification of these Yatri registrations will verify it via an SMS or by scanning the QR code with the help of a mobile app.
FAQs for Chardham Yatra Registration
Q. How Many Days Are Required For Char Dham Yatra By Road?
Ans. About 8 to 10 days are required for Char Dham Yatra by road.
Q. When Is The Safest Time To Go To Char Dham Yatra?
Ans. The best time to go for Char Dham Yatra is from May to early July.
Q. Is Registration Mandatory For Gangotri?
Ans. Yes. Registration is absolutely necessary and mandatory for pilgrims or tourists going on the yatra.
Q. What Is The Helicopter Fare For A Kedarnath Helicopter From Guptkashi?
Ans. The fare for a helicopter from Guptkashi to Kedarnath is 7,750 rupees/- per person.
Q. How Far Is Badrinath Entrance From The Helipad?
Ans. The helipad of Badrinath is just 1 km away from the main temple entrance.
Q. What Is The Order In Which The Char Dham Temples Should Be Visited?
Ans. This is the order in which the Char Dham temples should be visited: Yamunotri, Gangotri, Kedarnath and then finally Badrinath.
Q. Which Gods Are Worshipped In Char Dham Temples?
Ans. Kedarnath – Lord Shiva; Badrinath – Lord Vishnu; Gangotri – Goddess Ganga and Yamunotri – Goddess Yamuna.
Q. Who Had Established The Char Dham Yatra Of Uttarakhand?
Ans. Adi Shankaracharya is credited with establishing the Char Dham Yatra in Uttarakhand.
Q. Is There A Railway Station In Haridwar?
Ans. Yes. Haridwar has a railway station that is also well connected to other parts of the country.
Q. Am I Allowed To Take My Own Car For Char Dham Yatra?
Ans. Yes. Pilgrims have the option of taking their own car for Char Dham Yatra.