Devbhoomi Uttarakhand is popular for its ethereal beauty that is accompanied with an overpowering sense of deep spiritualism. The undulating hills used for camping purposes in some places, rolling green meadows, the gushing river water and the scent of pine in the air makes Uttarakhand and idyllic destination for all nature lovers and thrilling adventure seekers alike. A lesser-known attraction of Uttarakhand are its cascading, silver waterfalls. There is no dearth of waterfalls in Uttarakhand, every mountain, valley or hills has one or more waterfalls that only add to the already beautiful landscape of this hilly destination. What better way to experience the beauty of this place than by visiting these magnificent sights.
Some waterfalls in Uttarakhand are extremely well known and is considered to be a crowd puller like the waterfalls at Mussoorie and Haridwar while other waterfalls are located in the heart of the thick forests and can be reached after covering a short hiking distance. While some of these falls are popular for its medicinal properties others are famous for its scenic beauty and during winter months as frozen wonders.  Wherever these waterfalls may be placed people can enjoy a safe picnic close to it or take a dip in its refreshing pool of water or just sit back, relax and gaze at the beauty that nature has to offer.
If you are planning to spend your vacation or holiday in Uttarakhand then if possible here are a few waterfalls that you may include in your itinerary and make your trip a memorable one:
List of 9 Most Famous Waterfalls in Uttarakhand
1. Kempty Falls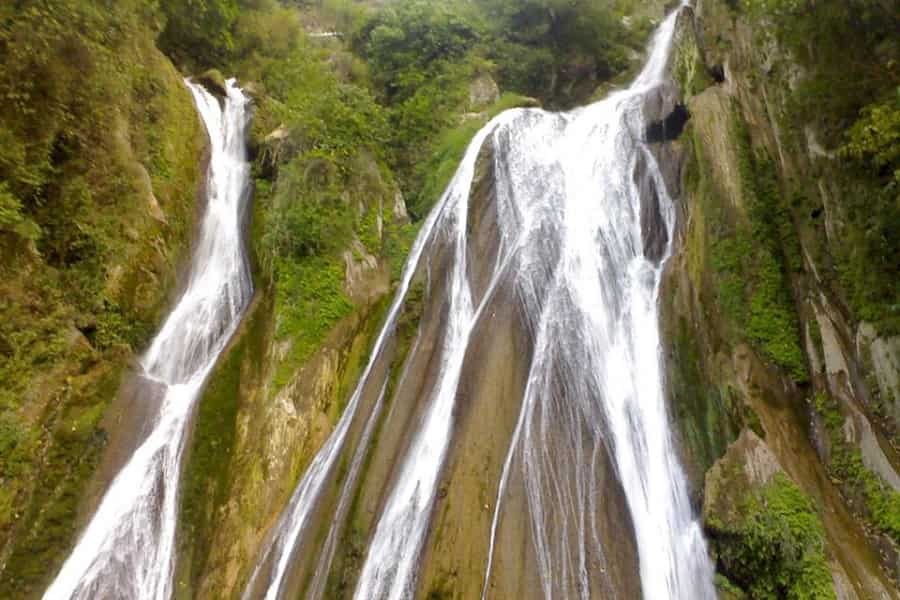 Situated at a distance of 13 kms from Mussoorie on the Chakrata road, Kempty is one of the most popular waterfalls in northern India. Falling from almost an altitude of 1,364 metres above sea level the falls is surrounded by a thriving and rich green mountain ranges. The history of this falls goes back to almost 150 years when the British were developing these hilly destinations to beat the summer heat. The water falls from a height of 4,500 feet and splits into 5 different cascades for a further height of 40 feet. This is a popular picnic and relaxing spot for people on their weekend getaway or anyone looking to have a fun time by the falling water. If you are looking to say goodbye to the scorching summer heat of the northern land then visiting Kempty falls will be a rejuvenating and refreshing experience for you.
2. Mossy Falls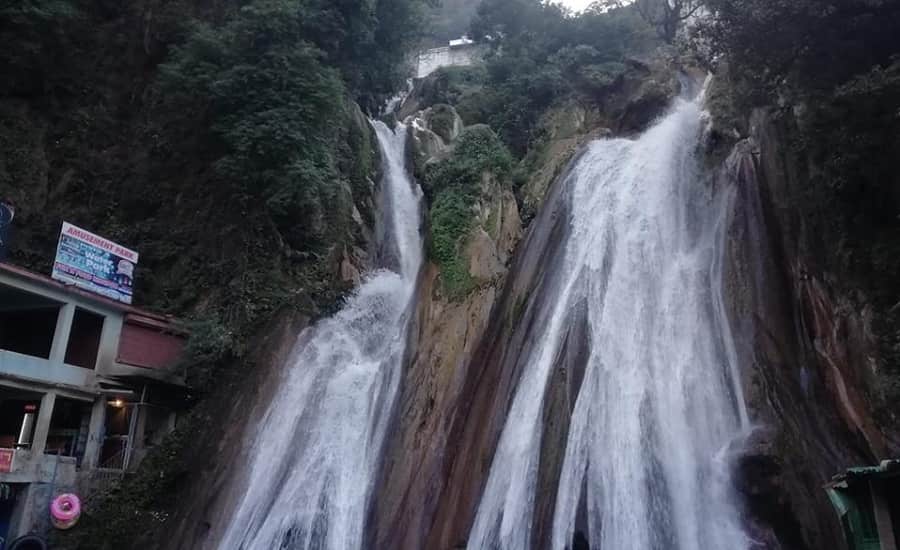 Nestled among the cosy green woods that replicate a fairytale like landscape, Mossy is one of the most well preserved and elegant looking waterfalls of Mussoorie. Considered to be a hidden gem this graceful and peacefully flowing waterfall is situated at a distance of just 7 kms from the main city of Bala Hisar road. The name of this falls is derived from the giant moss covered rock that line the falls. The falls is like a therapy session underway and looking at it you will feel your mind calm down. Veiled in broad daylight due to a cleft that is present on its hills side this natural beauty can be accessed by following a small and a little bit rough walking terrain.
3. Bhatta Falls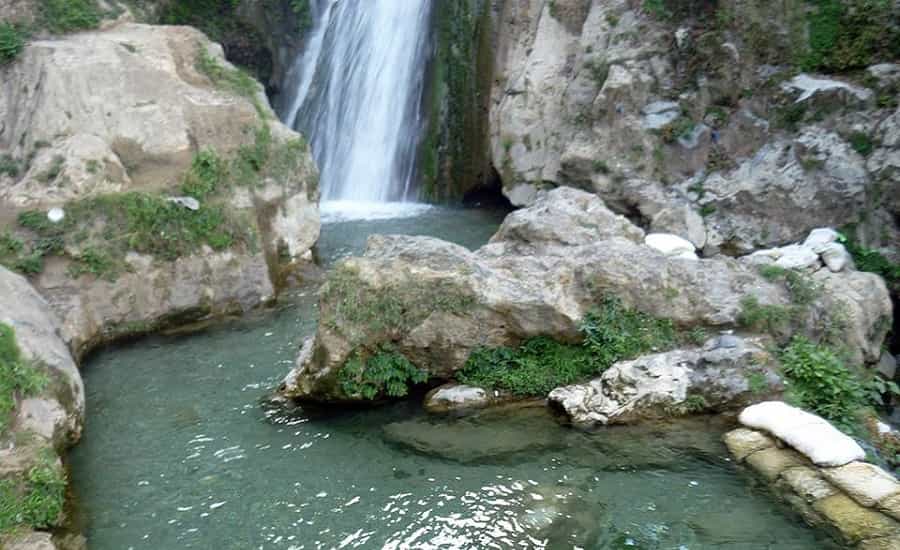 Nestled quietly among the tranquil and peaceful mountains Bhatta falls is located at a distance of 7 kms from Mussoorie on the Mussoorie – Dehradun road close to the village of Bhatta. This is the perfect place for you to gain some peace of mind amongst the natural beauty and impeccable serenity. This village can be reached with the help of a bus or a car while a further hiking trip of 3 kms can be covered on foot where you will be encountering a slightly steep yet extremely smooth road. If you get hungry you will be able to savour some delicious food being prepared on the eateries that are present there and remains flocked by visitors looking for good and fulfilling food like noodles, coffee, soups etc.
4. Tiger Falls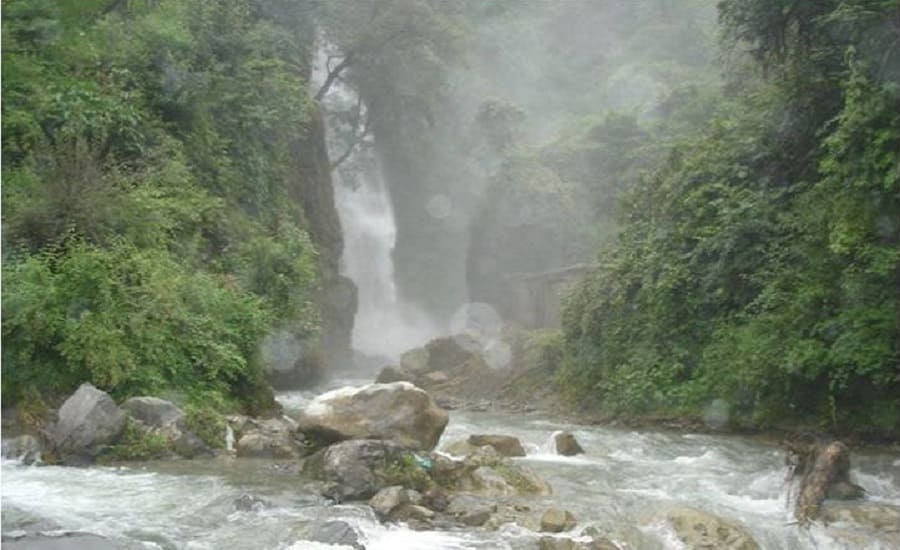 If you are travelling to Uttarakhand with your buddies or a close group of friends then a visit to this gushing waterfall is a must. Located in Chakrata the falls is reachable after covering a walking distance of just 1 kms which is an easy downhill trek and can be easily covered. Located amidst the green hills An majestic mountains tiger waterfall is a magnificent sight to behold and is one of the most loved picnic spot near Chakrata. Locally referred to as Keraao pachad and kailu pachad, you can enjoy a refreshing bath in the pools and ponds that are created as a result of the water gushing down from a height of 50 metres. Laden and surrounded by enchanting forest the sound of the falling water encapsulates the attention of every visitor.
5. Jharipani Falls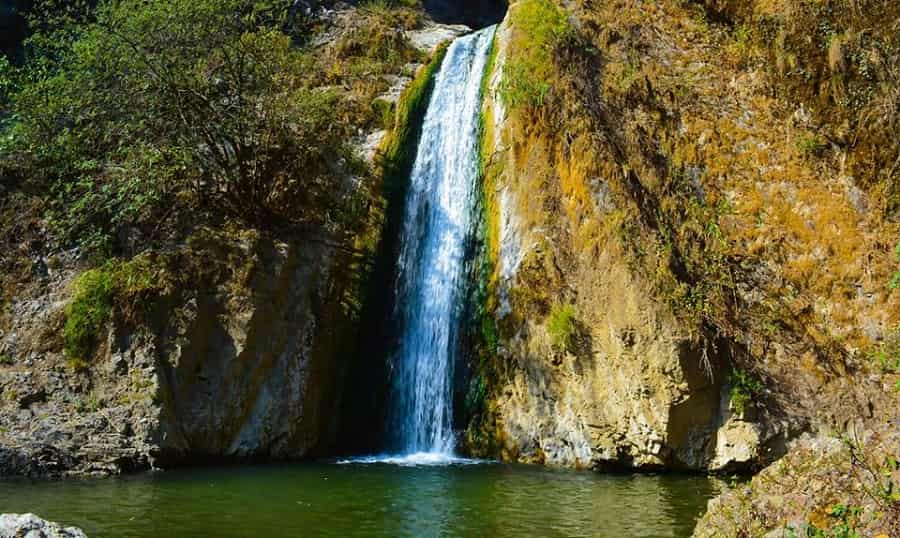 Nestled in a secluded spot at a distance of 7 kms away from the main town of Mussoorie, and in close proximity to the village of Jharipani right on the Dehradun – Mussoorie road this falls is truly a work of nature. You will be able to reach at one point by car and the further distance will be covered by covering a hiking distance on foot of 1.5 kms which will be covered in no time since you will be distracted by the surrounding beauty of this place. The fast falling water creates a mesmerizing music to the ears for every nature lover. If you can you should visit this place during the time of monsoon when the water levels rises and the falls become more enchanting.
6. Sahastradhara Waterfalls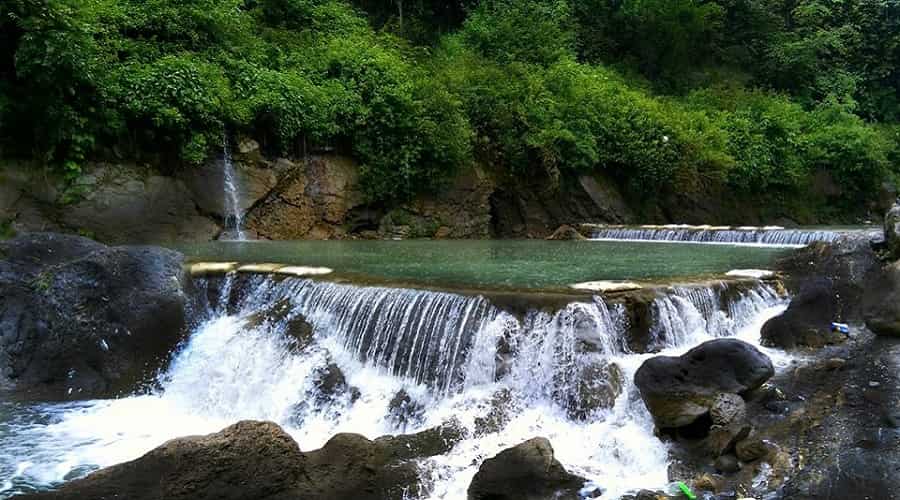 Located at a mere distance of 15 kms from the main city of Dehradun that can be reached via any easily available local transportation, this quiet an serene falls is a great way of spending the day of you are looking to detoxify from the world an give yourself a much-needed break. Literally meaning 1000 fold spring one of the most unique features about this place is the water that drips from the limestone. The water of these falls, resultant lakes and pools, carries medicinal properties due to its natural Sulphur content, which is believed to cure a number of skin related diseases. Apart from its medicinal properties the place also offers some of the most mesmerizing and beautiful sights of the surrounding rolling green valleys. For the spiritual and religious crowd there is also a temple on the hill side which is believed to be the place where Drona is believed to have worshipped Lord Shiva in the form of a lingam inside a cave. This cave is named after drone making it drone cave that also consists of a number of different small shiv lingams that are fashioned out of rocks. if you are travelling with kids then going upwards you will be encountered with an amusement park that also has a fun ropeway that takes you to hill top.
7. Jimi Ghat Waterfalls
Situated at a distance of 8 kms from Dumar in Pithoragarh district of Uttarakhand, this silver and fascinating waterfall lies on the lap of the Milam glacier – Birje Ganga Pass trek route. The entire region surrounding these waterfalls is filled with a thriving collection of dense forests of rhododendrons and birch that further elevates the beauty of this place. You will be able to gaze at a view of the scintillating Nanda Devi and the Suitilla peaks. The water gushing down from the height creates a sight that cannot be seen anywhere else. The silver waterfall is popular for its impeccable beauty and the feeling of peace and serenity it has to offer. Jimi Ghat can be reached on your way Munsiyari with a well-maintained network of roads with some nearby unique and fun destinations like Darkot, Lilam, Rilkot, Rargari, Martoli, Mapang etc.
8. Birthi Falls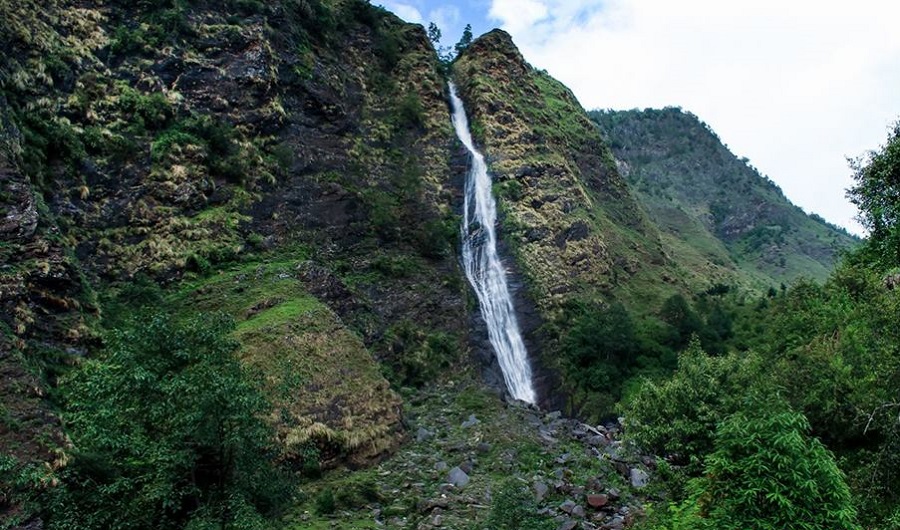 Gushing down from a height of 126 metres above sea level and surrounded by thick green forests and colorful flowers, this elegant falls is situated at a distance of 14 kms from the hamlet of Tejam that is located close to Munsiyari is the scenic district of Pithoragarh. This magnificently gushing water offers a stunning view of the surrounding and can be reached after covering a short trekking distance of Kalamuni pass. Situated amidst the beautiful and peaceful forested region this mighty waterfall offers the best opportunity for its visitors to sit back, relax and have a peaceful picnic time. September and June being the best time to visit the beauty of this falls has attracted the attention of national as well as international tourists.
9. Vasudhara Falls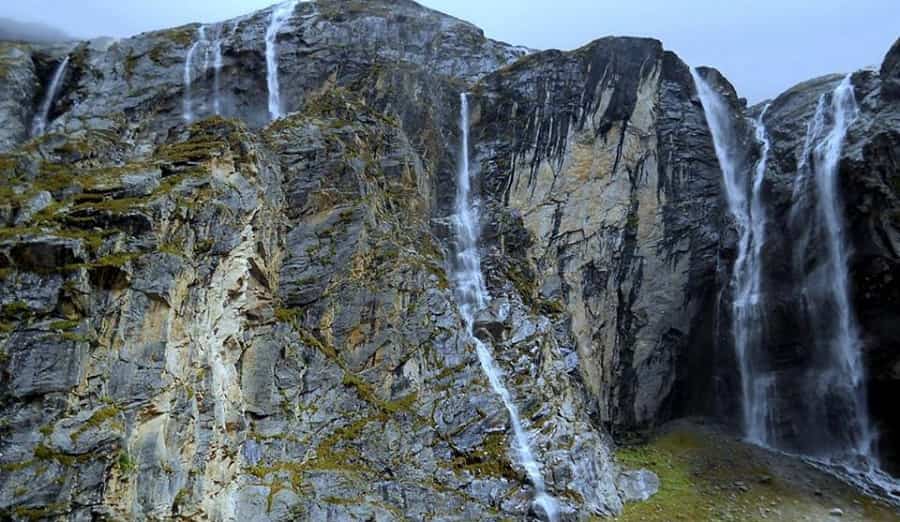 Situated in close proximity to the holy Dham of Badrinath at a distance of 9 kms, this falls is located on the holy river of Alaknanda and at a distance of 9 kms. The route leading up to this water falling from a height of 400 feet can be reached after covering a journey of 3 kms till the village of Mana (the last Indian village on the Indo – Tibetan border) while the remainder of the 6 kms can be covered on foot. The water of this falls is believed to hold natural medicinal properties that work as a charm for people suffering from various ailments. If you are visiting Badrinath then you have to take out some time and make it a point to visit this magnificent waterfall. There is also a bit of history attached to this place that mentions this place as the last rest stop for the Pandavas on their journey to heaven in Satopanth. Just like every other waterfall here this waterfall also springs to life during the monsoon seasons when the water level rises and the entire valley is cleared off its dirt and brings out its real colors.