The food of Uttarakhand has a separate fan base. The fresh herbs, locally sourced ingredients and delicious natural flavours makes Uttarakhandi Cuisine truly one of a kind. Traveling to Uttarakhand any time soon? Be sure to check out their traditional Kumaoni or Garhwali Thali. Not only are the flavours impeccable, but Uttarakhandi dishes are also rich in nutritional value as well. The flavours mostly loved by the locals are not too spicy or not too mild but they are cooked in a way that elevates the natural flavours of the ingredients.
Here are the 14 traditional foods of Uttarakhand:
1. Bhang Ki Chutney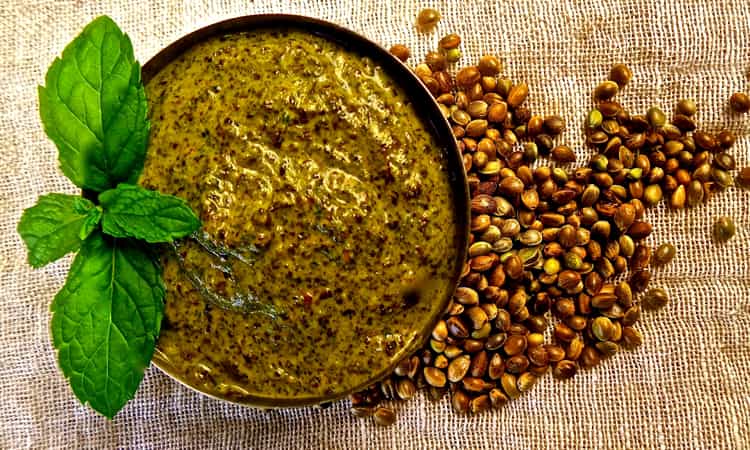 Unique to Uttarakhand, the core ingredient of Bhang Ki Chutney is hemp seeds. These seeds are then combined with lemon, dry red chillies, and cumin to create a delicious balance of salty tanginess. Made in almost every Kumaoni household, everyday, the chutney is the star of any main course. Since, seeds are used to create this dish, it does not have any psychoactive components as they are present in the buds and leaves of the plant and not in the seeds.
2. Kafuli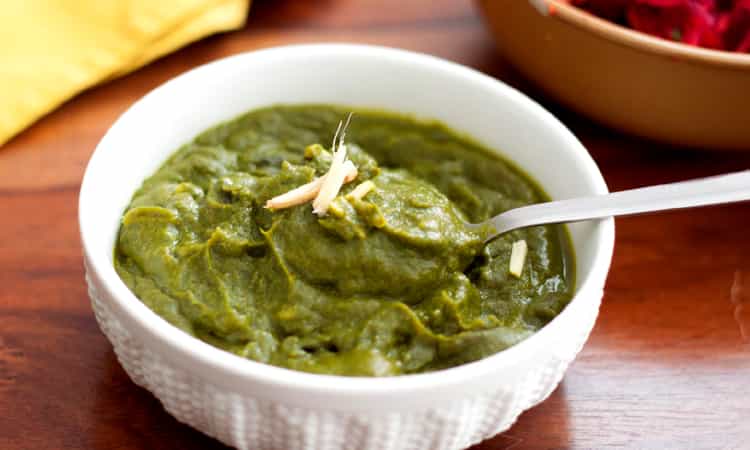 Kafuli is a traditional Garhwali spinach curry dish that is not only delicious but it is packed with rich nutrients. This green dish is mainly served as a side dish with other main courses. In this dish, other than spinach, fenugreek leaves are also cooked until it is soft and then they are blitzed together to create a thick green, delicious curry paste. It is then flavoured with organic Indian spices, aromatics and thickened with rice flour. It does not contain any vegetables and is the epitome of a simple, wholesome, nutritious Pahadi Dish.
3. Aloo Ke Gutke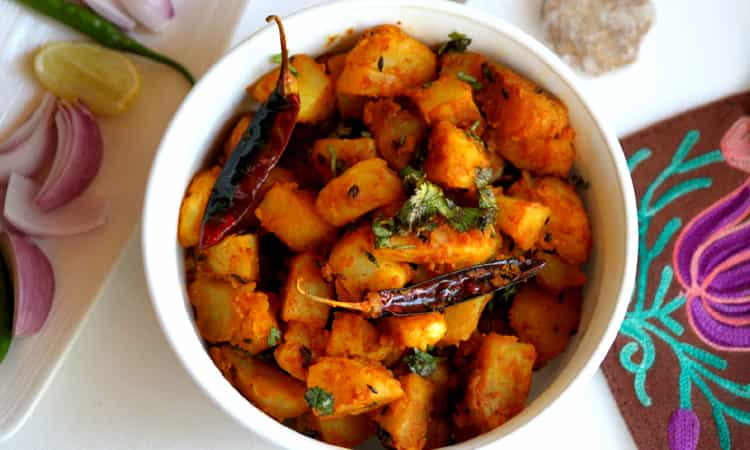 As the name suggests, the star of Aloo Ke Gutke is potatoes and it is a must-try. If you are a vegan or just someone who loves potatoes, then this dish will win your heart. This simple dish which is quickly prepared within no time, packs quite a flavourful punch. Other than potatoes, the dish includes the use of spices like red chilli powder, coriander powder and salt and it is garnished with the aromatic dhaniya leaves. It tastes best with raita and ragi rotis.
4. Dubuk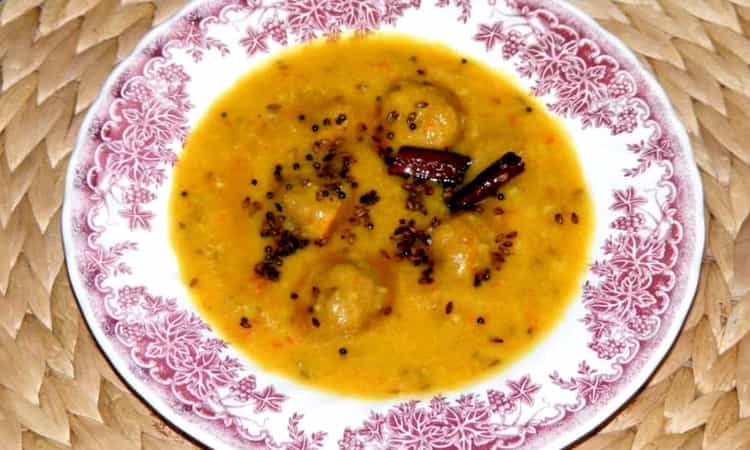 Dubuk is one of the most locally loved Kumaoni dishes in Uttarakhand. Prepared during special occasions in the Garhwali regions, the dish represents a special celebration time. Since pahadis are known for being hard workers, their dishes are quick to make are packed with great nutrition and is filling. The main ingredient of dubuk is potatoes, which are grown organically in bulk for commercial and local purposes. The dish is then spiced with dry garlic, ginger, yoghurt and amchur and made in mustard oil or ghee.
5. Chainsoo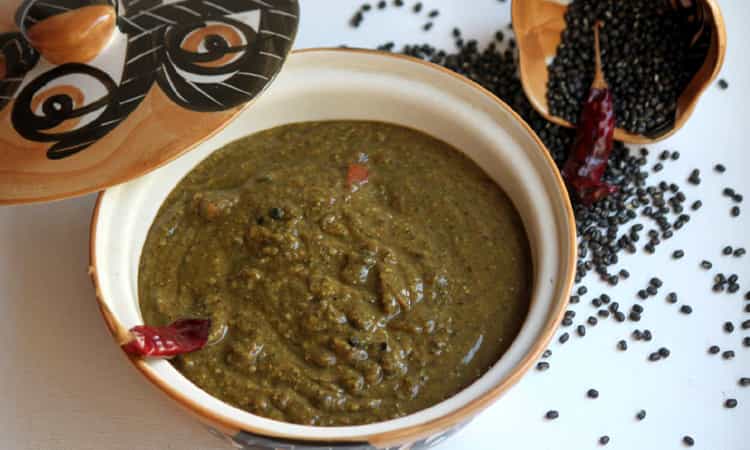 Pahadi cuisine is delicious and healthy at the same time. One such dish is Chainsoo. Popular in the Garhwal region, this unique traditional dal is made using urad dal which is packed with high protein. The Dal is roasted before preparing the dish so that it efficiently releases its earthy flavours. It is then grinded into a very fine paste. Finally, this paste is cooked very slowly in an iron Kadaai along with some herbs, spices and other aromatics. Best served with a steaming hot plate of white or Jeera rice, Chainsoo is a great way to improve digestion and repair skin.
6. Kumaoni Raita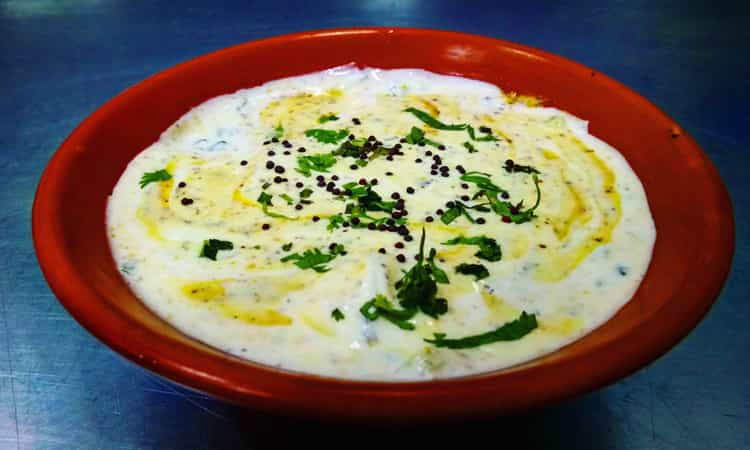 Dairy products in Uttarakhand are prepared at home. People use their cattle's milk to prepare yoghurt, ghee, Paneer and other dairy products. This delicious Raita is made using homemade yoghurt and combined with grated cucumber, green chillies, coriander leaves and the tadka is made out of ghee and mustard seeds. This mustard seed addition is what sets Kumaoni Raita apart from the rest of raitas. It tastes best with a combination of white rice and chainsoo. Drizzling it on top of Aloo Ke Gutke is also a unique and absolutely delectable combination.
7. Bal Mithai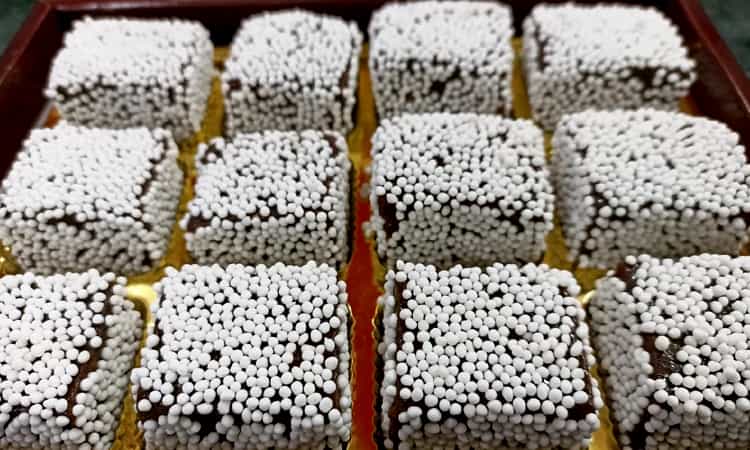 India is known for its desserts and Bal Mithai is one of the most loved sweets in Uttarakhand. Made using roasted khoya that gives it its brown colour and fudgy texture, this Kumaoni local dessert can be found in almost every sweet shop in Uttarakhand. The Khoya fudgy preparation is cut up into small pieces and coated in tiny balls of either withe sugar or poppy seeds. It's very aesthetic to look at and can be recognized easily from a hoard of sweet collection. Bal Mithai is a specialty of the Almora district and is mainly served wrapped in individual oak leaves.
8. Phaanu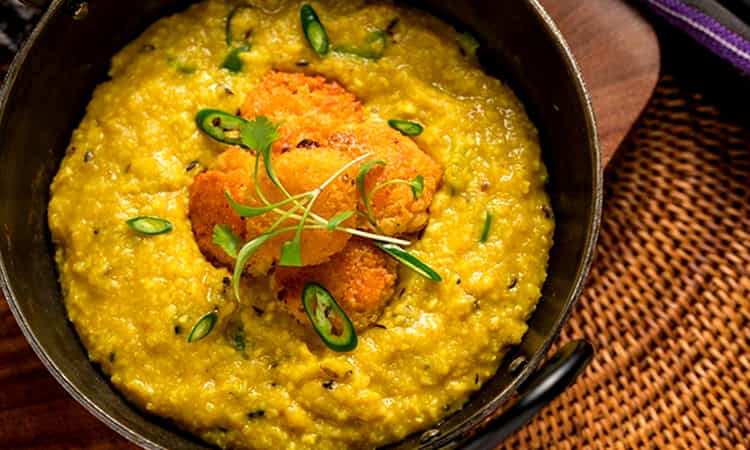 Phaanu is another one of the most popular Daal dishes in Uttarakhand. Found majorny in the Garhwali regions, this Daal is traditionally made using Gahat Dal on the hills and Arhar Daal on the plains. Just like Chainsoo, Phaanu is made using lentils like moong. Although simple to prepare using easily available spices in the market, phaanu utilises cumin, ginger, garlic, hing, salt, turmeric powder and coriander powder, with the dal of your choice playing the main role in the dish. What sets this Daal apart from regular dal is the addition of crispy, crunchy dal cutlets which makes it almost a main Dish.
9. Baadi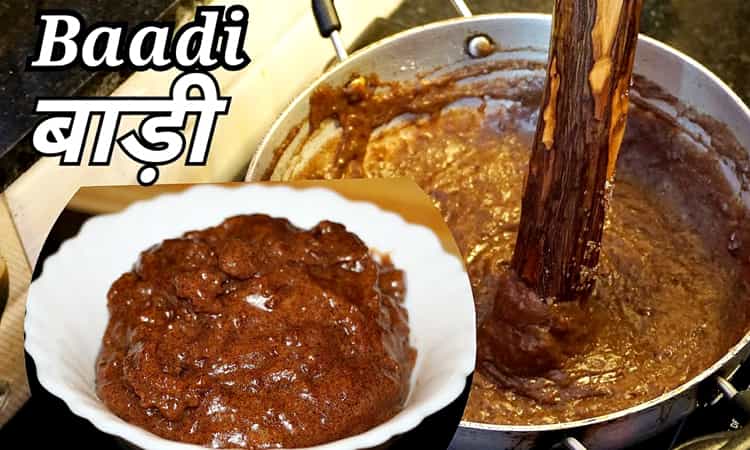 Baadi is another Pahadi delicacy that is highly acclaimed in the hills of Uttarakhand. High in nutrient, Baadi is made using locally grown buckwheat or Kuttu, which makes it filling and adds an earthy flavour and texture to the dish. This soulful, nutrient-packed dish is easy to make and a special favourite during the harsh winter months as it makes you feel incredibly warm from the inside. Baadi is traditionally eaten with Gahat Ki Dal or Phaanu and can fall under the category of one of the easiest dishes to make along with being a vegan favourite.
10. Garhwal Ka Fannah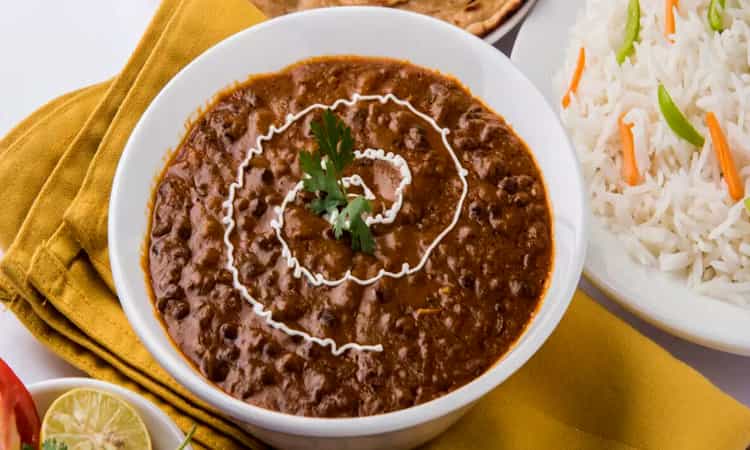 Garhwal Ka Fannah is a staple hearty dish that is prepared in almost every household in Devbhoomi Uttarakhand. Renowned in the scenic hill station of Mussoorie, the dish is as pleasing to the eyes as it is wholesome to the stomach. It is prepared using lentils (soaked overnight), Red Chilli Paste, Ginger Garlic Paste, Salt, oil and coriander leaves for garnishing. Although the dish will kind of remind you of Dal Makhani of North India, it still tastes a lot different due to the usage of locally and organically grown lentils and Beans.
11. Kandalee Ka Saag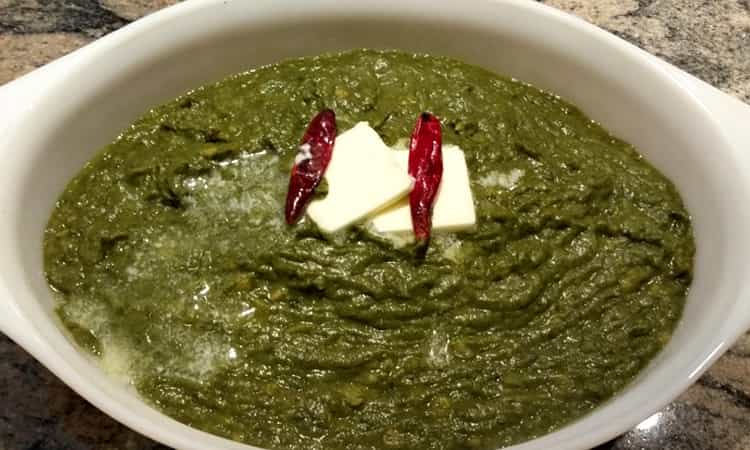 Kandalee Ka Saag is a unique dish that is mainly prepared in Uttarakhand since its main ingredient which is Bichhoo Ki Ghaas can be found only here. Bichhoo ghas is a deadly plant on its own but once its boiled, prior to the preparation of the dish, it turns into one of the most nutritionally rich dishes. The nettle leaves are boiled, blitzed and flavoured using various spices like dry red chillies, salt among others. Along with being absolutely delicious, this leafy green vegetable dish is also rich in nutrients like magnesium, iron, antioxidants, antibacterial and anti-ulcer.
12. Aloo Tamatar Ka Jhol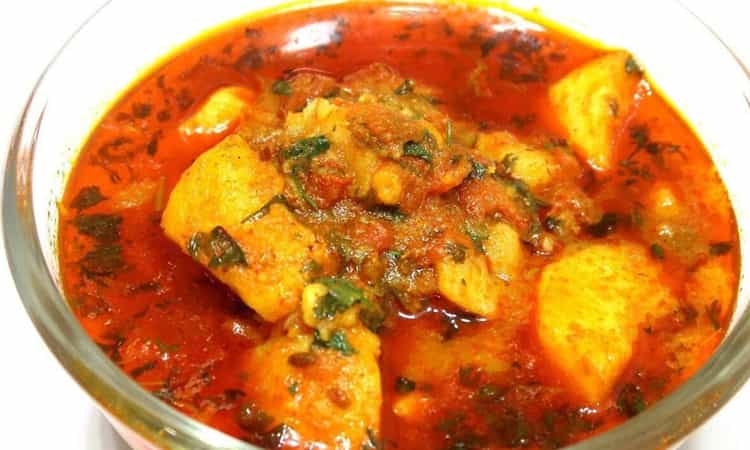 Every state in India has their own version of tomato and potato curry. Aloo Tamatar Ka Jhol in Uttarakhand is made using tomatoes and potatoes with the curry being water-like thin. The potatoes are thinly sliced and the whole dish is lightly spiced making it one of the most preferred light breakfast, vegan or Vrat dishes. It is made simply by using the combination of tomato puree, fenugreek seeds, cumin seeds, garlic, onions, chillies and salt. Served best with Hot Puris, Ragi Roti or white rice, the dish is extremely wholesome, simple to make and a soul food of Uttarakhand.
13. Bhatwani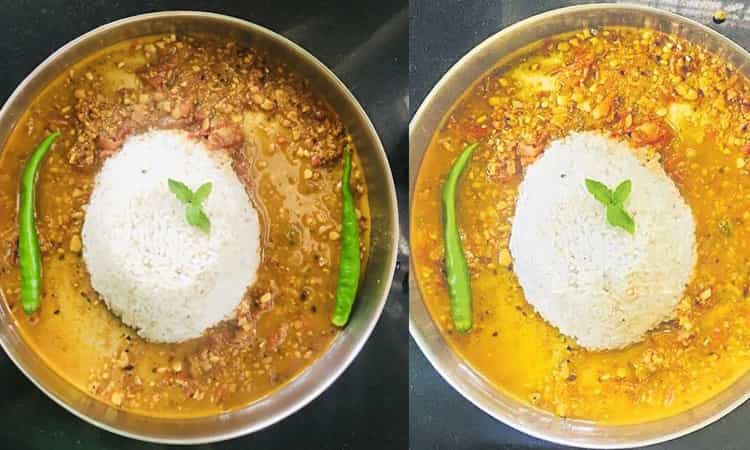 Bhattwani is another traditional, authentic dal recipe that is only made using Bhatt Ki Dal which is grown only in these parts of India. Pahari Bhatt Dal or black dal is known for its unique taste and healthful properties. The Bhatt Ki Dal is a moniker of soybean and is grown widely in Pahadi homes. Due to its rare occurrence, this dal is only present in the remote, high altitude of Kumaon. Packed in protein and other essential nutrients that makes it one of the best types of Dals in Uttarakhand.  Some benefits of this dal include: aiding weight loss, improving digestion, managing diabetes, promoting muscle growth and many more.
14. Gahat Ki Dal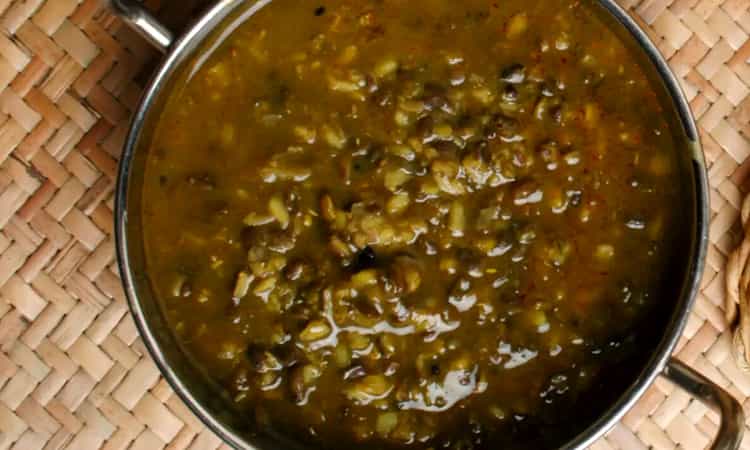 The list of healthy, delicious Dals of Uttarakhand is unending. Each dal is unique in its own way and comes in a variety of flavour profiles. A hot serving of this dal is definitely a mood lifter and offers a world of comfort. The herbs and spices used in its preparation offer some serious health benefits and can be eaten on a regular basis. As the name suggests, this dal uses Gahat Dal, ghee, turmeric, garlic, salt, red chilli, hing, rice flour and ginger. Its health benefits include: treating heartburn, improving digestion, reducing cholesterol, aiding weight loss and treating eye-related diseases and problems.
Frequently Asked Questions (FAQs)
Q. Which Is A Must Try Food In Dehradun?
Ans. Bun tikki is a must try dish in Dehradun.
Q. Which Is A Must Try Street Food In Uttarakhand?
Ans. Kumaoni Dal vadas are a must try street food in Uttarakhand.
Q. What Are The Special Features Of Garhwali Food?
Ans. Garhwali food is prepared using the simple ingredients and techniques while using herbs, aromatics and healthy core ingredients.
Q. Which Sweet Is Famous In Haridwar?
Ans. Pedas, Kulfis and Barfis are the famous sweets in Haridwar.
Q. What Comes In A Garhwali Thali?
Ans. A traditional Garhwali Thali Contains, Bhang Ki Chutney, Aloo Ke Gutke, Rajma, Ragi Rotis, Kumaoni Raita, some Papad and Chainsoo or Gahat Dal.