The westernmost state of India, Gujarat is not only home to some of the most iconic temples and religious places of worship but it is also a Pandora box for explorers and off-beat experiences seekers. From the forests of Sasan Gir to the peaceful islands of Diu and the landmark of Gujarat, a statue of unity, there is so much more to Gujarat than what meets the eyes, and every experience is like serendipity. In case you are the type of person who is mainly interested in exploring this expansive land of promises and wonderment, then here are the offbeat experiences in Gujarat which you should definitely include in one of the Gujarat tour packages:
Travel Experiences in Gujarat
Jeep Safari in Gir National Park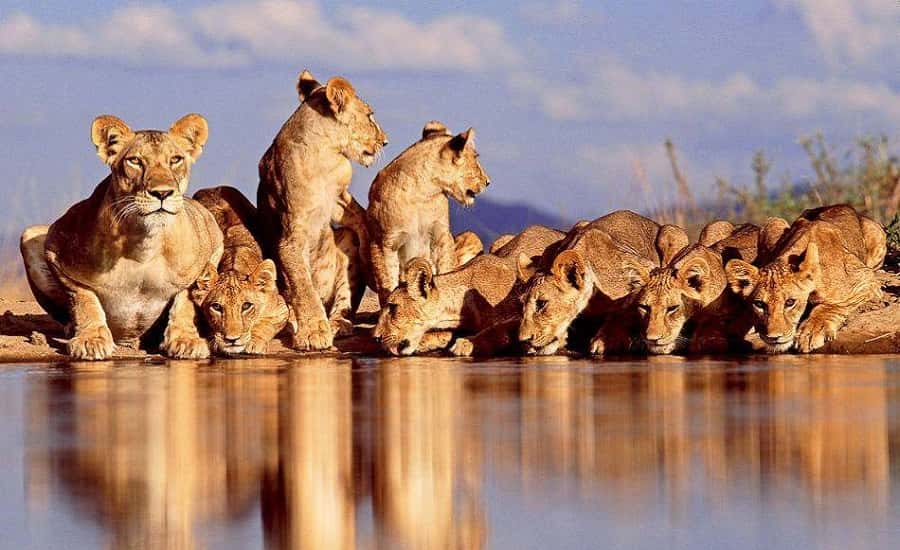 Open for a limited period of time a jeep safari visit to Gir National Park will open your mind up to new avenues in travelling. This forest displays an incredible selection of flora and fauna including the only and final abode of Asiatic Lion. If you wish to observe nature in its raw form and have a closer look at the lion population here then this is the best thing to do. If you happen to visit Gujarat any time around this open season with your family, friends or loved ones then it will be an experience that is totally worth it. Not only will you feel closer to nature but this will also work in refreshing your mind body and soul from within.
Camping At Dunny Point
If you are the type of person who loves to explore the less travelled roads then this is one such experience which will come as a huge surprise. Located in Beyt Dwarka and surrounded by water from 3 sides this sandy and peaceful island unfolds in front of your eyes the never-ending blue ocean. One can easily get camps and tents on hire from around here and also be a part of observing the interesting and quirky marine wildlife selection. A great place to sleep under the million stars and wake up to the sound of the crashing waves of the ocean, one can spend quality time with your family and loved ones.
Helicopter Ride to Statue of Unity
Statue of Unity has emerged as the tallest statue in the world and is even taller than Christ the Redeemer in Brazil and the statue of liberty in America. Just simply making your way here is a good experience in itself however taking a helicopter ride will not only give you a bird's eye view of the statue from above but will also allow you to take a closer look at the intricacies and the hard work that went into its making. Helicopter rides for the site can be booked by reaching there and booking a ride there itself which is available from 9:30 am to 1 hour right before sunset and costs almost 3000 rupees per head.
Spiritual Trek Up To Girnar Hills
The rocky and majestic hills of Girnar is one of the most spiritual pilgrimage destinations for people of the Jain community however it can be undertaken by anyone who loves adventure and have some sort of a spiritual bent of mind. Spreading gracefully over 5 mountain ranges and consisting of around 866 Hindu and Jain temples, this place is steeped with surreal beauty and impeccable spirituality which can be felt from the moment you get in. people generally start the hike up the hill early in the morning to make the most of the spiritual trek. Just like every other pilgrimage, it is not about the destination but it's about the bountiful beauty and the scenic journey through which you gradually ascend upwards to the abode of the lord.
Must Read: Tour Operators in Gujarat
How Many Jyotirlingas Are There In Gujarat?
A Jyotirlinga is a holy and a very sacred place of worship of the divine supreme Lord Shiva who is said to have emerged from a fiery column of light. Initially, it was believed that overall there are 64 Jyotirlingas in all out of which 12 of them are worshipped by the Shaiva communities and devout Hindus. these 12 Jyotirlingas are scattered all over the country and are Somnath in Gujarat, Mallikarjuna in Andhra Pradesh, Mahakaleshwar Mandir in Andhra Pradesh, Omkareshwar Temple in Madhya Pradesh, Kedarnath Temple in Uttarakhand, Bhimkareshwar Temple in Maharashtra, Vishwanath Temple in Uttar Pradesh, Triambakeshwar Temple in Maharashtra, Baidyanath Temple in Jharkhand, Nageshwar Temple in Gujarat, Ramanathaswamy Temple in Tamil Nadu and Grishneshwar Temple in Maharashtra. Out of these 12 iconic places of Shiva worship, 2 of them are located in Gujarat and are frequented by tourists and devotees from all over the world. Here is something you should know about the 2 Jyotirlingas in Gujarat:
Somnath Temple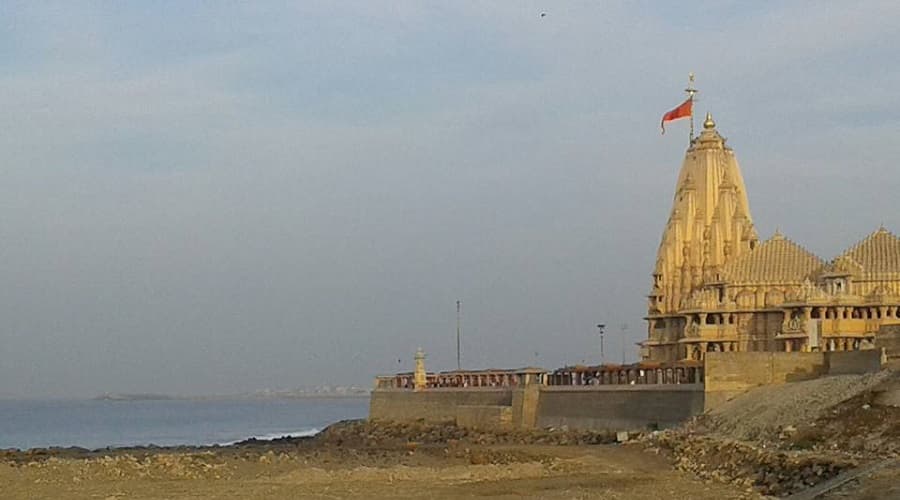 Adorning the district of Gir Somnath and perched majestically on the banks of Arabian Sea, Somnath Jyotirlinga is not only one of the most significant temples in Gujarat but it is also extremely highly revered in India. It is an architectural masterpiece and is believed to be the 1st of the collection of Jyotirlingas in India. The temple has been through a very rough and challenging history of constant attacks and ransacking by the invaders however it was finally constructed to completion by Vallabhbhai Patel in 1951 and ever since then it has seen innumerable devotees and visitors on a daily basis.
Temple Timings – 6 am to 8 pm; Aarti timings – 8 am, 12 noon, and 7 pm
Nearby Attractions – Somnath Beach, Paanch Pandav Gufa, Triveni Sangam Temple, etc.
Must Read: Famous Beaches in Gujarat
Nageshwar Jyotirlinga
Situated within the district of Jamnagar in Gujarat, this Jyotirlinga has found its mention in one of the most significant holy Hindu religious texts of Shiv Puran. The temple is built in a typical north Indian Nagara style and emanates a deep sense of peace and positivity throughout the complex. From the moment your step in you will be surrounded by incredible serenity and peace. Adorned in a large garden with a pond there is a 25 meters tall Shiva statue as well which only adds to its beauty and makes visiting here totally worth it.
Temple Timings – 7 am to 9 pm
Nearby Attractions – Bhadkeshwar Mahadev Temple, Beyt Dwarka, Gomti Ghat, etc.
Must Read: Navratri Festival in Gujarat
How can I go to Somnath from Dwarka?
Somnath and Dwarka constitute 2 of the most historically rich and spiritually significant tourist destinations not only in Gujarat but also in India. These 2 places are home to places like Somnath Jyotirlinga and Dwarkadheesh temple which is visited by thousands of visitors on a daily basis and millions during the peak festival and sacred seasons. People from all over the world visiting Gujarat make it a point to visit these 2 prime points of religious and tourist interest. But what is the best way of getting to Somnath from Dwarka?
The distance between the 2 cities is 230 kms and mostly people prefer to complete this journey by road i.e. via a car journey. Here is detailed information about getting to Somnath with the starting point being Dwarka.
Must Read: Shopping Places in Gujarat
By Road – It takes around 6 to 7 hours by road to go the distance depending on the traffic and possible jams, especially during the peak tourist season. There are buses available from GSRTC which connect Dwarka to Somnath. The 1st bus leaves at 8:30 am and the lowest ticket price ranges between rupees 170/- to 370/-. If travelling with family then hiring a taxi cab or a car rental service would be the perfect and the most comfortable option. A sedan would cost around 5K whereas an SUV would cost around 5.5K and a tempo traveller 10K depending on the company from where you are availing this service from.
By Train – Primarily there is just 1 train running between Dwarka stations to the railway station of Somnath. Another major train service connecting these 2 places is the OKHA Somnath express which leaves Dwarka at 8:30 PM and this is also one of the fastest trains for this purpose. It completes the journey of 413 kms in 9 hours. The train ticket fares are as follows: Rs 1,625/- for 1st AC; Rs. 965/- for 2nd AC and Rs. 675/- for 3rd AC. The sleeper in general quota costs Rs. 250/-. It is one of the most pocket-friendly ways as well.
By Flight – The airport of Diu is the nearest one to Somnath and is located at a distance of 2.5 hours and can be covered by road via a car rental or a taxi service. Located at a distance of 45 km is the closest airport to Dwarka. There are no direct flights available for Dwarka to Somnath.