Located in the Chamoli district of Uttarakhand Badrinath is one of the holiest destinations in India. Known for being the hub of spiritual due to its all India Char Dham Yatra and Chota Char Dham Yatra significance, Badrinath witnesses immense crowds during the open seasons. Established by the great saint, sage and philosopher Adi Shankaracharya during the 7th century AD and dedicated to Lord Vishnu Badrinath Dham is one of the prime spiritual centres in the country.
Apart from the main Badrinath Dham, there are also numerous places one can venture off to during their spiritual journey here:
List of 10 Best Tourist Places to Visit in Badrinath
1. Pandukeshwar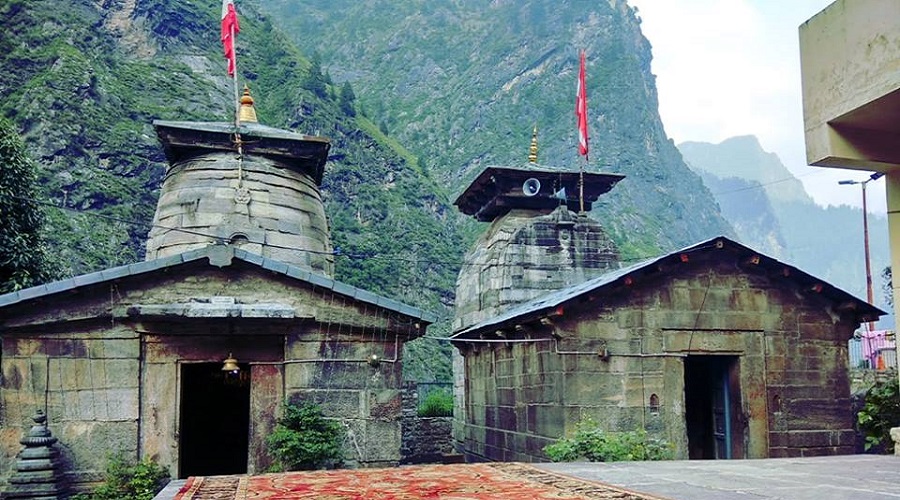 This abode of Lord Vishnu is located en route Badrinath Dham and is situated at an elevation 1,829 metres above sea level. Located at a comfortable distance of 18 kms from the holy town of Joshimath Pandukeshwar Mandir is the exact spot where king Pandu, father of the Pandavas from the epic Mahabharata, worshipped Lord Shiva. There are two extremely sacred temples in Pandukeshwar which are Yogadhyan Badri Mandir and Lord Vasudeva mandir.
2. Mana Village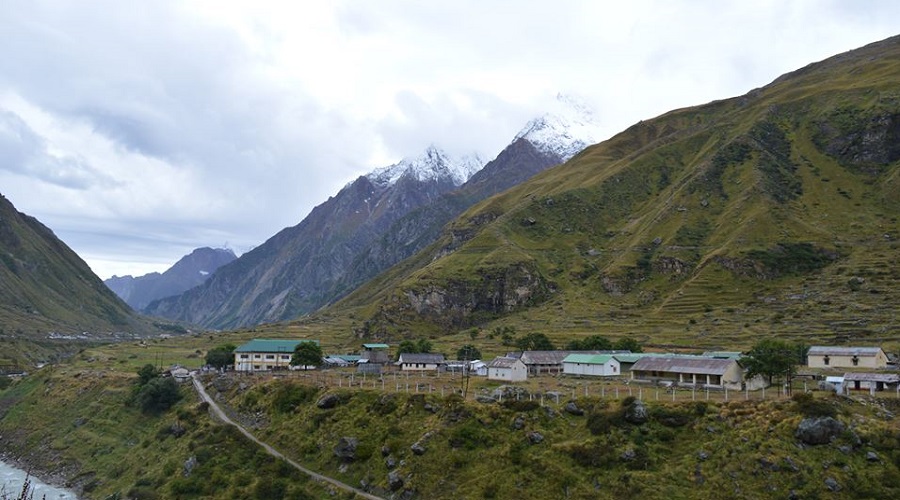 Located in the Chamoli district of Devbhoomi Uttarakhand Mana is popular for being the last Indian village in India, which is situated on the Indo-Tibetan border. Popular for being a 'tourism village' this village is also located at a mere distance of 3 km from the main town of Badrinath. Sitting on the banks of River Saraswati at an elevation of 3,219 metres above sea level this village is encapsulated by snowcapped Himalayan mountain peaks and ranges.
3. Tapt Kund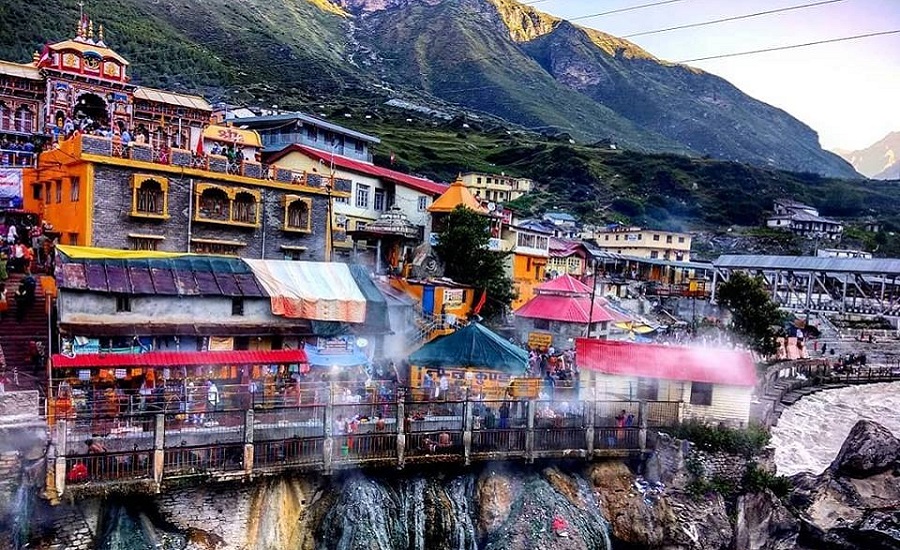 Located close to the main temple of Badrinath Dham, Tapt Kund is famous for being the holy abode of Goddess Agni. The naturally occurring hot water spring contains Sulphur which is said to possess healing powers. People take a dip in these waters before entering the temple premises with an aim of refreshing themselves and there are separate bathing spots for males and females. This hot water spring is a huge relief from the extremely cold surrounding climate at 12000 feet above sea level.
4. Neelkanth Peak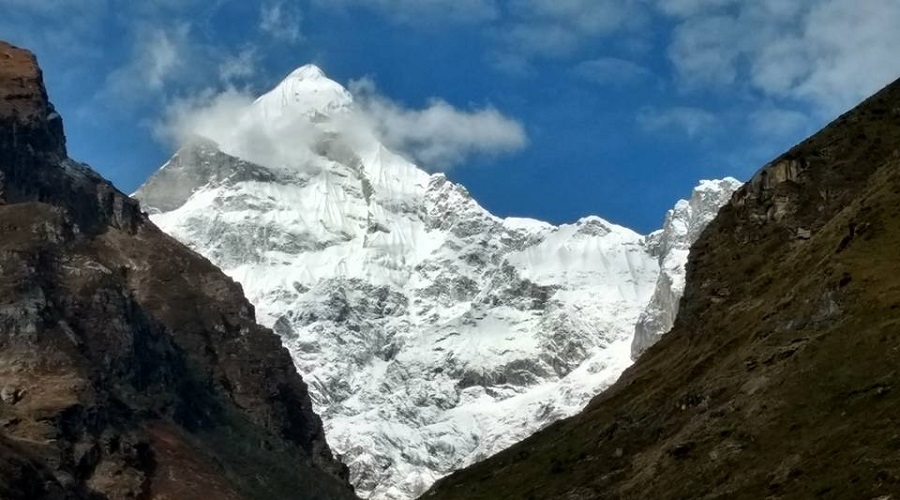 On your visit to Badrinath you can opt for an adventurous trekking activity to the nearby Neelkanth peak which is situated at a mere distance of 9 kms from the main Dham. This mesmerizingly pyramid like snowcapped peak attracts numerous adventure lovers and outdoor sports enthusiasts. Considered to be as one of the most preferred trekking trails Neelkanth peak is a great option if you are looking for a change from the regular old trekking routes.
5. Charan Paduka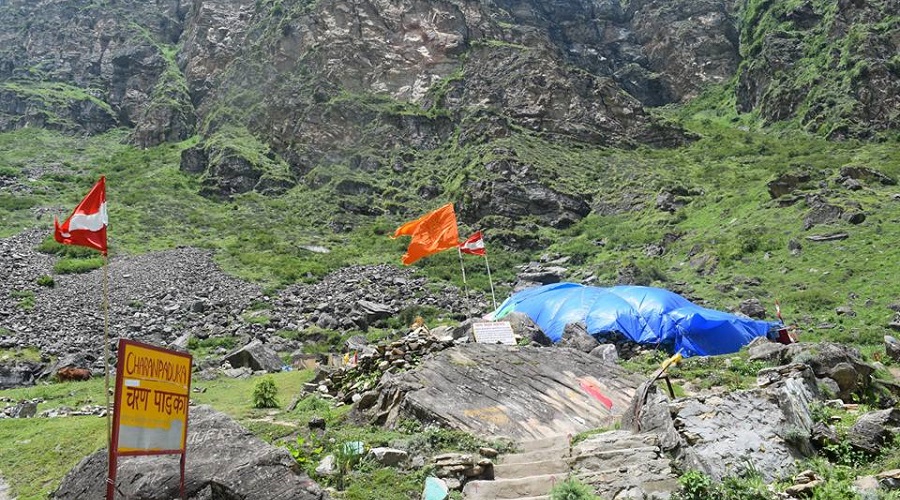 Located at a mere trekking distance of 3 kms from Badrinath Dham, Charan Paduka is an eccentric stone and rock structure which is said to hold the foot prints belonging to Lord Vishnu. It is believed that a Darshan of these footprints will get rid of all the physical and mental ailments which they are suffering from. Perched at a height of 3,380 metres above sea level and as per Hindu mythology, it is also believed that Lord Vishnu had set his very first foot at this place.
6. Mata Murti Temple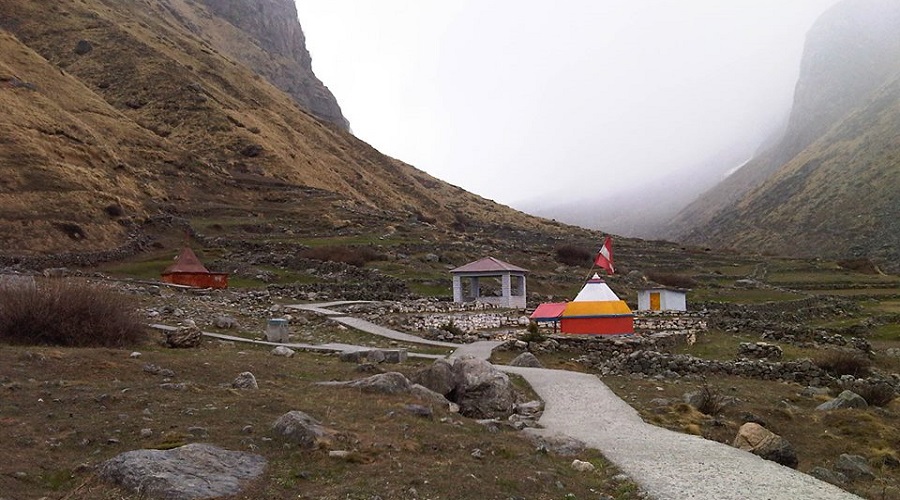 Located at a comfortable distance of 4 km from Badrinath bus stand, this ancient Hindu temple sits majestically on the banks of River Alaknanda. Dedicated to Mata Murti who is the mother of Nar and Narayan, it is believed that praying to this goddess has the ability to grant wishes. This place is also the host to the famous Murti ka Mela where the mother of Sri Badrinath is worshipped with great love and devotion. People can visit this holy place after visiting the Badrinath Dham which takes 1 or 2 hours to reach.
7. Narad Kund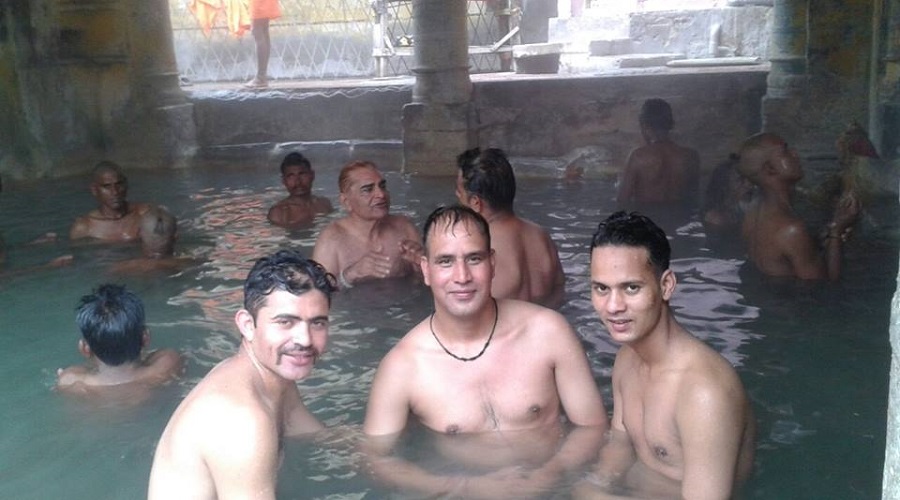 The holy site of Narad Kund is believed to be the place from where Adi Shankaracharya had retrieved the idol of Lord Vishnu. This hot water spring is the site where devotees take a holy plunge prior to visiting other temples. It is also believed that Narad Muni had written Narad Bhakti sutra here making it one of the prime centres of attraction for devotees and pilgrims visiting this sacred Mandir. This hot water spring is surrounded by untouched beauty and pristine vistas which makes a visit here extremely worth it.
8. Bheem Pul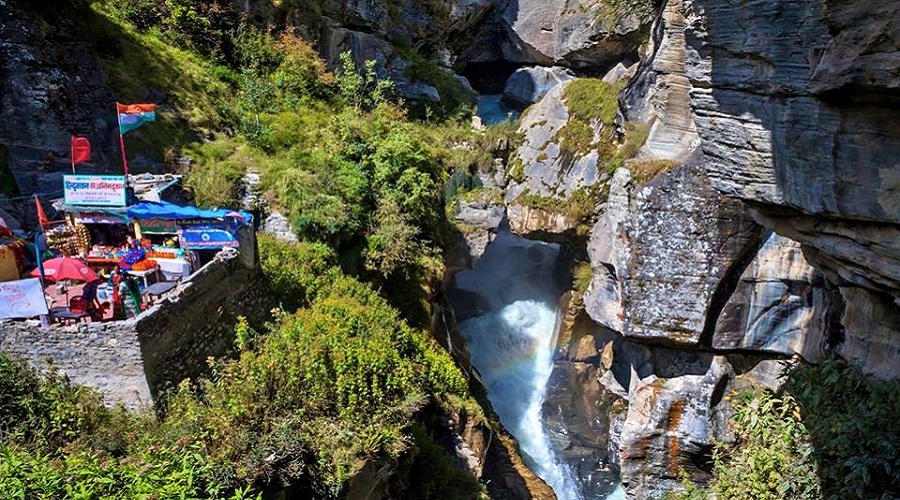 Situated in Mana village and at a mere distance of 3 km from Badrinath Dham, this ancient Pul is said to have been built over River Saraswati. Legend has it that one of the 5 Pandavas, Bheem is said to have built this rock bridge with his bare hands for his beloved wife Draupadi. This place is also significant since this is exactly the spot from where they had commenced their journey to Swargarohini. This place is famous for offering enchanting views of the surroundings.
9. Vyas Gufa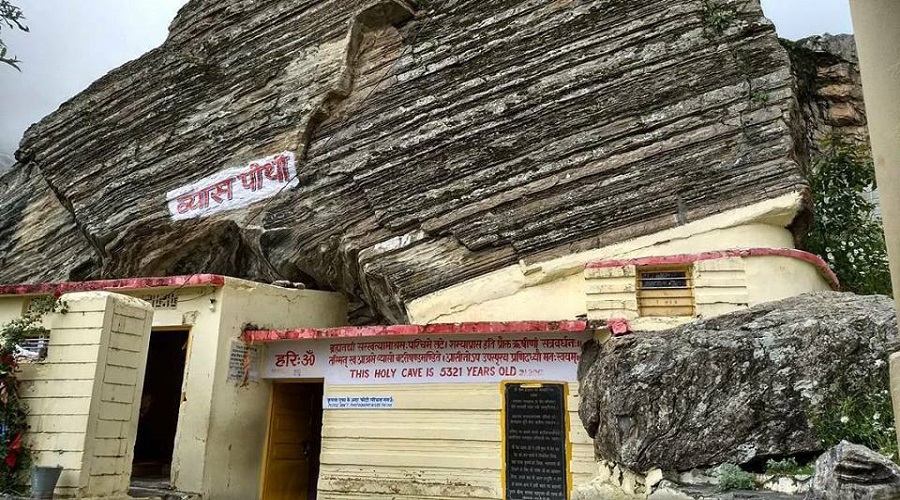 Located at a mere distance of 5.5 km from Badrinath bus stand Vyas Gufa is an ancient cave structure which is situated in village Mana by the River Saraswati. It is believed that Sage Vyas had composed the epic Mahabharata with the help of his scribe Lord Ganesha at this very location. This holy cave is inside a naturally occurring rock structure which imitates a collection of numerous books kept on top of one another. Pilgrims offer their prayers to a statue of maharishi vyas which is situated inside the cave.
10. Brahma Kapal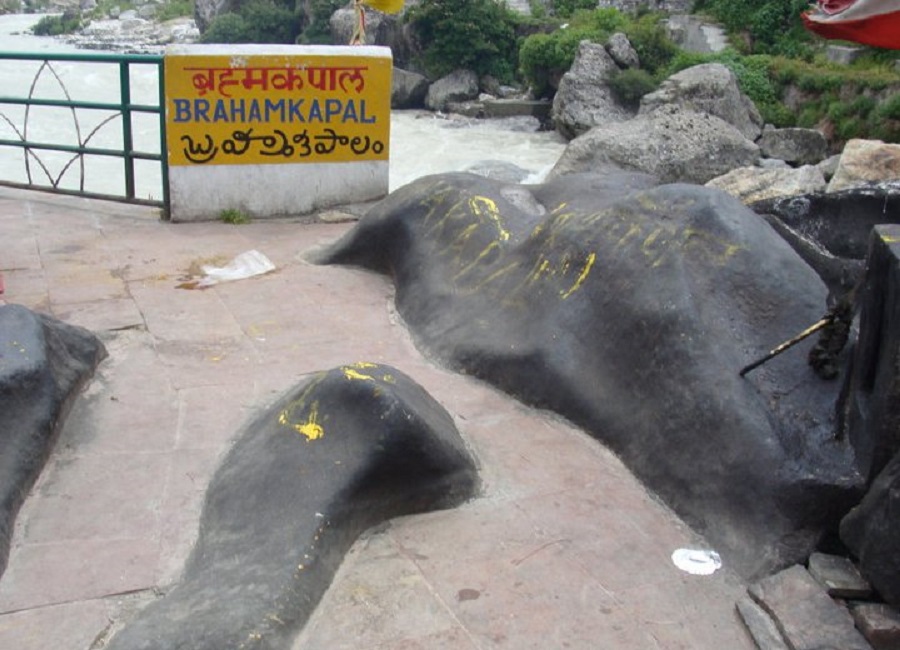 Sitting on the banks of river Alaknanda, this place holds immense importance to the Hindus. This is the place in Badrinath where people pay homage and tribute to their deceased ancestors. Located at a distance of 2 kms from the majestic hills of Badrinath, it is believed that Lord Brahma himself exists at this spot and performing Kriya Karam or Shradh Karm for your deceased relative will grant them salvation from the cruel circle of rebirth.
We hope that you find this information noteworthy and have an extremely pleasant time during your visit to Badrinath. Badrinath is not just one big temple, it holds a massive collection of important and extremely relevant Hindu sites which guarantee to leave you mesmerized.