Devotees choose to visit Kedarnath each year to see the sacred location. Regardless of colour or social standing, everyone is welcome. During the pandemic, the pilgrims were separated from supernatural favours by barely two years. The authorities is now opening the doors for the Darshan once more. The voyage and how to prepare for it are two of the yatra's most crucial components. Now that we are aware of some exciting information, let's find out more about how to reach Kedarnath from Delhi by car, train, and by air.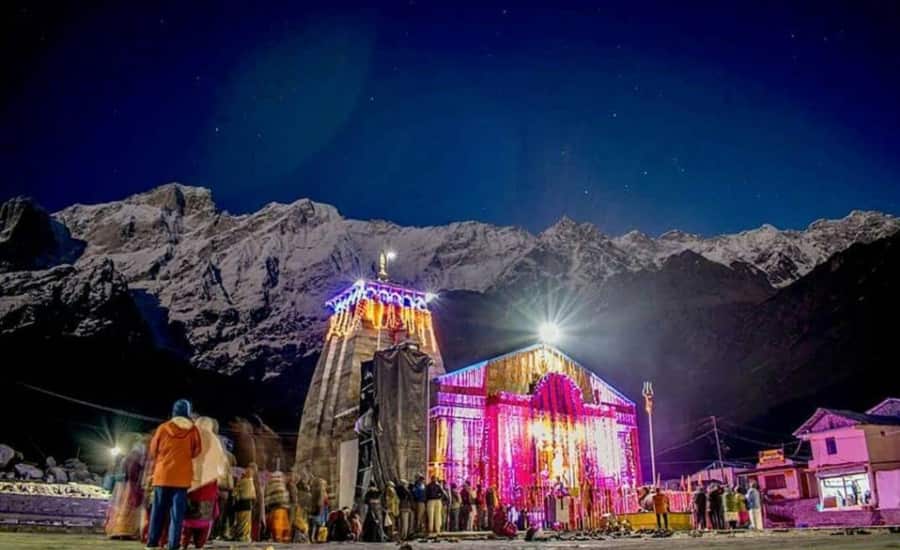 How to Reach Kedarnath from Delhi
Delhi to Kedarnath by Plane
The pilgrims should board a flight to Dehradun and land at Jolly Grant Airport in order to travel to Kedarnath Dham via air. Around 250 kilometres separate Kedarnath from this airport. To get to the destination, you must therefore use a private cab or a local Uttarakhand transportation service. Dehradun's Jolly Grant Airport does have good connections to cities like Delhi, Mumbai, Lucknow, Bangalore, and even Thiruvananthapuram. Direct flights are available for travellers from the aforementioned locations.
Tourists who choose to arrive at Kedarnath by helicopter disembark at Phata, which is 20 kilometres away, and then use shuttle services to travel to the temple. Reservations are necessary, although many travel firms provide Chopper and Shuttle services. Also, 200 metres separate the Helipad from the main temple in Kedarnath, and pilgrims must walk the remaining distance to reach there. It is a fantastic alternative for individuals who cannot walk 14 kilometres to get to Kedarnath.
Delhi to Kedarnath by Train
Rishikesh, which has good connections to other areas of the country's major cities and towns, is the train station nearest to Kedarnath. This station is about 216 kilometres away from Kedarnath Dham. From the train station, you can take a taxi or a bus to Gaurikund. There are numerous trains leaving towards Haridwar/Rishikesh every hour from different railway stations in Delhi.
Delhi to Kedarnath by Road
The best way to travel to Kedarnath from Delhi is by road, where one can enjoy the scenic beauty and can have their own time and space to reach. Let us see in details the planning and the road trip through the Northern Mountains.
The Planning
One of the 12 Jyotirlingas, Kedarnath Dham is a respected place of pilgrimage and is dedicated to Lord Shiva. Kedarnath Temple, which is part of the Char Dhams and Panch Kedar and is situated in Uttarakhand, at 3,584 metres above sea level. The Mandakini River, which runs alongside the temple, adds to the splendour of the surrounding landscape. Everyone is affected by the hallowed location's ethereal air and the appeal of the snow-capped summits.
The journey from Delhi to Kedarnath is one of the most well-traveled pilgrimage routes. Every year, millions of pilgrims go from Delhi, which has great connectivity to the major towns and cities of Uttarakhand, to Kedarnath Dham. You should look at the comprehensive facts on the trip from Delhi to Kedarnath, the ideal time to visit, lodging information, and significant factors to consider. Kedarnath visits necessitate particular planning. Here is important information that may aid you in arranging your trip from Delhi to Kedarnath. Let us know the essentials.
Char Dham Yatra biometric registration is required.
Carry the required identification, such as a passport, driving licence, voter ID card, PAN card, or Aadhaar card.
Swiss Cottages, Deluxe hotels, and inexpensive lodges all offer lodging options. They come with the bare necessities. Booking your stay in advance is advised because it can be harder to find suitable lodging during the busiest times of year.
From Gaurikund, you can rent a pithus, pony, and palki for the Kedarnath Yatra.
During the Yatra, it is advised to bring warm jackets, gloves, sweaters, woollen socks, and raincoats.
It's strongly advised to wear shoes with adequate traction and comfort.
Carry the required drugs, such as those for headaches, colds, coughs, and fevers.
Also carry bandages, cotton, antiseptic cream, medicines, and pain medications in your first aid bag.
If you intend to drive from Delhi to Kedarnath on your own, ensure sure the car is in good working order.
The vehicle's ground clearance is important for easily navigating muddy, uneven, and rocky roads.
Do carry spare parts of the vehicle, including spark fuses, Jack and Spanner, air compressor, spare tire, spare tube, hydraulic jack, coolant and engine oil, and extra car keys.
It is not difficult to find a mechanic on the route. However, you should know the basics of fixing the bike or car if it breaks down and you will not have a mechanic nearby.
Important SOS Note before Planning for The Road trip to Kedarnath
The hilly area is off-limits to drivers at night. Make appropriate travel plans.
You can take a break from your travels by staying at the important rest stations along the way, including Haridwar, Rishikesh, Devprayag, Srinagar, and Rudraprayag.
When to Plan Your Road Trip
The Kedarnath Yatra is best conducted during the summer and winter. Therefore, April through June and September through October are the best times to travel. For outdoor activities, Kedarnath Temple is still in superb shape. In both the summer and the winter, the temperature is constantly warm. Booking a visit during the monsoon season is not advised since in some areas, heavy rainfall could cause landslides and floods. Due to the terrible weather and constant snowfall the rest of the year, the temple is only accessible for six months of the year. During the winter, the god moves to the Omkareshwar Temple in Ukhimath, where followers can go to seek blessings.
The Road Route
Delhi and Kedarnath are separated by a 450-kilometer drive. From Delhi to Kedarnath, there are two alternative roads you can take, and there are several well-known tourist destinations and pilgrimage sites you can visit along the way. You can take a taxi or drive from Delhi to Kedarnath. You will travel from Delhi to Gaurikund, where the walk to Kedarnath begins. The next step is to either hire a pony or palki or hike the last 18 km to Kedarnath Temple. Let's us now see more details on the two routes and the condition of the roads below;
Delhi, Ghaziabad, Khatauli, Muzaffarnagar, Haridwar, Rishikesh, Devprayag, Srinagar, Rudraprayag, Guptkashi, Phata, Sonprayag, and Gaurikund are among the towns and cities along Route 1. This path is the quickest and most efficient method to get from Delhi to Kedarnath. Your travel routes will be NH 334 and NH 7. Along the trip, there will be opportunities to visit the well-known pilgrimage sites of Haridwar, Rishikesh, Devprayag, and Rudraprayag.
Condition of the Road – You'll be using well-constructed national highways. The trip from Delhi to Rishikesh is simple, after which the hilly area begins. Despite the possibility of some rough sections, there are proper visitor sign boards that make driving uncomplicated.
Delhi, Ghaziabad, Khatauli, Najibabad, Kotdwar, Devprayag, Srinagar, Rudraprayag, Guptkashi, Sonprayag, and Gaurikund are the stops that make up Route 2. You'll travel from Delhi to Kedarnath along the Meerut-Pauri National Highway. Three of the many tourist sites along this road include the NH 34, NH 534, and NH 7. You will enter Kotdwar after Najibabad and continue straight to Devprayag, where the Alaknanda and Bhagirathi Rivers converge. If you wish to get to Rishikesh and Haridwar, take the first way.
Condition of the Road – Most of the route is in good condition, and the roads are wide. However, some spots could feel scratchy. Several large cities and towns along the route have shops, restaurants, and hotels.
Essential Points during the Journey
There are a few crucial considerations to keep in mind as you prepare to travel from Delhi to Kedarnath, whether by flight, train, or road. The list is as follows:
Avoid going during the monsoon season because the area suffers moderate to severe rainfall, making landslides and floods more likely. However, if you're going to travel to Kedarnath from Delhi during the rainy season, be careful to allow extra time in case you get stranded.
If you are still travelling during the monsoon and are planning a visit, carry an umbrella and a raincoat.
Carry heavy woollens in the winter and light woollens in the summer as the temperature drops in the evening.
To prevent sunburn, remember to bring sunscreen and sunglasses.
Carry dry snacks such dry fruits, chocolates, chips, and biscuits because the travel will be long.
Bring a battery-powered flashlight, fully charged power banks, and extra camera batteries.
From April to October, the temple is open, the rest of the year, it is closed.
The top available network services are Jio, Airtel, and BSNL.
Few best Accommodations in Kedarnath
Prior to making travel plans from Delhi to Kedarnath, it is crucial to be aware of the lodging information. Although it can be difficult to find lodging at times, there are now several hotels and guesthouses nearby that accept simple reservations without fuss. Let's examine a couple of them.
Kedar Hill Resort
Hotel Kunj Kedar
Kedar Rive Retreat
Shivalik Valley Resorts
Agrabhawan Kedarnath
Rumkh Kedar Resort
Hotel Dev Dham
Ekaksh Vedya
Narayan Valley Resort
Shivay Guest House
So just pack your bags and get ready for the most divine and exciting travel journey to the Devbhoomi Kedarnath and attain some celestial blessings. Kedarnath Tour Packages will be your best choice if you are planning your trip.