Dubai is a bustling city of attraction upon attraction. You'll be running out of time before you can get to see the best of Dubai. You'll definitely not want to miss seeing the magnificent Burj Khalifa, and the equally magnificent Burj Al Arab up close. You definitely will want to taste the desert air and feel the ancient sands under your toes. Then what about Ski Dubai, Dubai Parks and Resorts, Green Planet, Miracle Garden, and several other incredibly delightful attractions? Allow us to assist you with a curated list of 12 absolutely must-enjoy attractions in Dubai. You'll thank us later!
12 Things to Do in Dubai
1. Burj Al Arab
The Burj al Arab's graceful silhouette, meant to evoke the memory of sail, is truly remarkable. As impressive as it is from the outside, the hotel is absolutely smack-dab gorgeous from the inside and a must-visit option in any Dubai tour packages from India. The best way to check out the interiors and visit some of the rooms is to enjoy high tea at the Burj Skyview bar. Enjoy a wonderful tea with snacks cooked by Michelin-starred chefs and explore the hotel later. Allow yourself this treat and you'll love every second of it.
2. IMG Worlds of Adventure
This massive indoor amusement center, the largest in the world as per records, is housed in a fully air-conditioned hangar that's as big as 28 football fields. The amusement center cost US$1 billion to set up. There are over 20 rides and immersive attractions based on IMG's characters and characters from Cartoon Network.
3. Burj Khalifa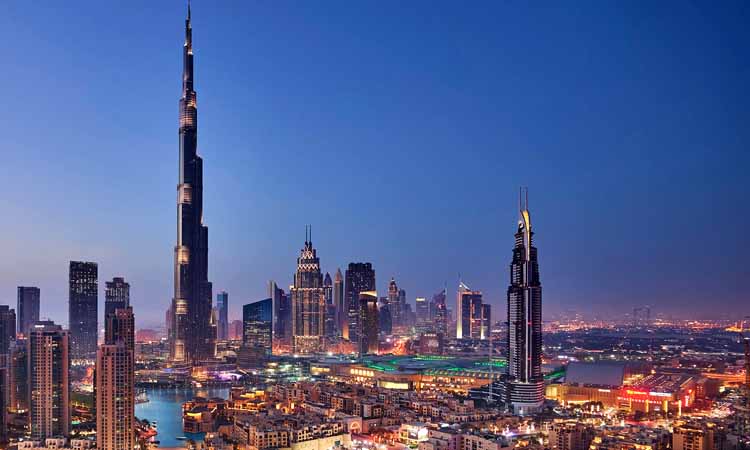 The Burj Khalifa is a stunning 829-meter tall structure that has two observation decks – one of the 124th floor and one of the 148th floor. There's a restaurant and bar on the 122nd floor as well. Experience the At The Top Burj Khalifa experience at the 124th floor. You'll be amazed by the stunning views from up there. Several telescopes have been placed at strategic points so you can focus more keenly on the landmarks you want to see up close.
4. Dubai Mall and Dubai Fountains
When you're visiting Burj Khalifa be sure also to visit the Dubai Mall and the Dubai Fountains located right there. Each choreographed water dance show lasts for about 4 minutes, but it's mesmerizing. You can watch it from outside Dubai Mall, or get to the balcony of the Apple Store in Dubai Mall and watch from there. Thousands of jets of water leap up to a height of 45 stories to spray colored water in time with some luscious music.
5. Dubai Safari Park
The Dubai Safari Park is a stupendous wildlife park. It occupies 119 hectares of prime land in Dubai and houses 2,500 animals from over 250 species. Dubai Safari Park is one of Dubai's latest attractions. The wildlife is spread out in 4 geographical zones called villages – Arabian, Asian, Open Safari village, and African Village. You can enjoy each village's animals along with the village environment as you pass through in a safari vehicle. Did you know that Dubai Safari Park has the first drive-thru crocodile exhibit in the world? Not only that, but it also has the UAE's largest aviary exhibit plus the UAE's only drive-thru hippo and tiger exhibit.
6. Sheikh Mohammed Centre for Cultural Understanding
Spend a little time learning about Emirati culture at the non-profit Sheikh Mohammed Centre for Cultural Understanding. The center organizes multiple cultural activities and Emirati meals to introduce visitors to the regional culture. Visiting the center will give you an excellent perspective of how the locals live, what they believe in, and who they are.
7. Dubai Museum
A visit to Dubai's main historical museum in the Al Fahidi historical quarter is a must if you want to learn more about Dubai. It'll give you a definite perspective on Dubai's evolution into the commerce and glamour capital it is today. Dubai was, in the not-so-very-far-back past, only just a fishing and pearl-diving village. Then oil was discovered and Dubai's turbo-evolution began. From being a fishing village, Dubai developed in leaps and bounds. Through strategic planning and heavy investment, Dubai evolved from what was a hard-packed desert into the commerce capital of the world.
8. Al Fahidi Historic District and the Souqs
The moment you enter Old Dubai, traffic fades to a quiet hum in the background, and the labyrinthine lanes of this heritage area beckon you. Check out the sand houses that line the streets, the little shops selling coffee and condiments, and the wind towers that provide much-needed cool air into the traditional mud homes. When you're done, explore Bur Dubai's spice souqs; you can smell the spices from a long distance. Hire an abra boat for AED 1 and cross Dubai Creek to explore the souqs of Deira. You can bargain for pashmina shawls and carpets over there.
9. Hop-On And Hop-Off Bus Tour
Sign up for a hop-on-hop-off big bus tour and get around every corner of Dubai, even the Palm Islands. Hop off when it suits you and explore sights on foot. Hop back on when you're done on to the next bus in the line and continue with your tour. It's the best way to get around Dubai and check out a great many attractions in person and it's one of the best things to do in Dubai.
10. Miracle Garden
At Miracle Garden, flowers and plants are manipulated to take on various forms such as famous global landmarks, cartoon characters, politicians, and so on. The forms, even though made of flowers and plants are so realistic that you'll wonder. The entire garden is designed based on themes that change every year.
11. Ski Dubai
Ski Dubai is the world's biggest indoor ski resort, and it's in Dubai. As you enter, coming in from the sweltering heat, you're given time to orient yourself to the cold, and then it's like magic. You enter this magical multi-football-fields-sized ginormous ski resort. The lighting and the height of the slopes make it all look very realistic, but don't forget you are indoors and in Dubai.
12. Desert Safari
You simply cannot visit Dubai and miss out on the Dubai Desert Safari. Get introduced to the ancient red dunes of the desert via a desert safari. Go dune bashing, quad biking, and camel riding. If you sign up for an evening or overnight desert safari, you'll get to enjoy relaxing in a real Bedouin tent, being entertained by belly dancers and Tanura show performers while enjoying a full-course Emirati BBQ meal.
Conclusion
These are our curated list of attractions in Dubai for you to enjoy. As you can see, we've offered a mix of experiences that'll get you intimately familiar with Dubai along with the usual sightseeing options.