Kasol is a quick peek into the heavenly serenity that the beautiful state of Himachal Pradesh has to offer. Kasol is a paradise for hermits and people looking to get away from the regular holiday destinations and take a break from life. Surrounded by lush greens and dense forest cover with the Parvati River babbling its way through and overlooked by the massive pin Parvat ranges, Kasol is every mountain lover's, first love. People from all over the world like Russia, Ukraine, Israel, Germany, France, and more make their way to this humble little hamlet to experience the untouched goodness the Himalayas have to offer. From the bright and vibrant mornings followed by the blanket of shimmering starry nights, every day you spend here will feel like a blessing.
The adventure never seems to stop in Kasol. Hiking, camping, mountaineering, and trekking seem to be the regular way of life for tourists as well as the locals here. This is what sets Kasol apart from the rest of the Pahadi destinations. The fact that going from one end to the other seems like a whole experience in itself. There is more to Kasol than what meets the eyes. Here are some activities to do in Kasol that will add a new page of memory to your travel journal.
Hiking up to Chhalal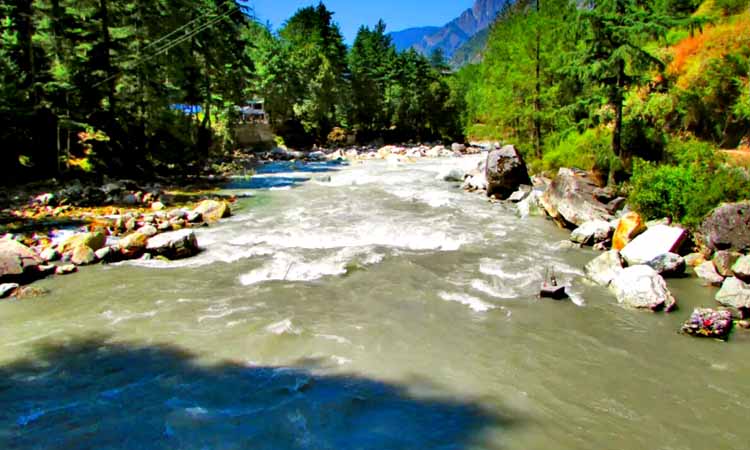 Chalal is located at a distance of half an hour of walk from the main Kasol market. While Kasol is located on one side of the Parvati River, Chalal gracefully occupies the opposite side of the river and is connected with a small bridge. After crossing the bridge the route ranges from being narrow in some places to somewhat wide in others. The entire route is blessed with tall pine trees, lush green mountains, the gushing Parvati River, and some chai shops in between. All you have to do is just follow the trail and a small government primary school will mark your entrance to Chalal. You can hang out at one of the many cafes here while chilling with the people there and feasting on delicious dishes and awesome music.
Trekking up to Grahan Village
Little is known about Grahan Village which is located just a couple of hours of a trek away from Kasol. In order to reach Grahan, you will be required to take the route upwards from the main market and cross Buddha Cafe. It would be an uphill trek from Kasol onwards but you have to just wait and keep on walking. The entire route goes through the iconic yet very underrated 'Kanawar National Park'. The trek will take you through small bridges connecting either side, narrow walking lanes, and extreme quietness. Be careful of where you set foot, there are some snakes on the route. Overall it is a 9 km long trek, you can either come back to Kasol by the evening or even spend the night at the village especially if you are looking to get away from the madding tourist crowd in Kasol or Tosh.
Day Trip to Pulga
Pulga is another one of the gems of Parvati Valley. One can make a whole day's worth of a trip to Pulga. To reach Pulga you will be taking a local bus journey from the Kasol market and get dropped off at Barshaini since beyond that the roads are not made. After getting dropped off at Barshaini you will have to cross a small bridge and then take a right, the route that will lead you to the scenic and jaw Droppingly beautiful surroundings. You will be chancing upon a sign that shows directions for Pulga, Kalga, and Kutla. Pulga is a very small Himalayan mountain village that has a handful of settlements and is overlooked by the tall lush green mountains. During winter this trek has a charm of its own since the entire village gets buried in a thick layer of snow that remains intact throughout the winter months.
Visiting Manikaran Gurudwara
Manikaran Gurudwara is a very popular place of Sikh worship just 1 km away from Kasol. This iconic Gurudwara was constructed during the 17th century by Raja Jagat Singh and has managed to attract tons of devotees and tourists from all over the world. While some people mainly visit Kasol for fun and recreational activities, a visit to Manikaran Gurudwara will add a sense of spirituality and positivity to your whole trip. The highlighting factor of this gurudwara is the presence of a natural hot water spring right next to the otherwise icy cold Parvati River. This pilgrimage center is inclusive of all religious ethnicities and backgrounds, so anyone can go there, relax and embed in your soul a feeling of extreme positivity.
Taking a Dip in Government Authorized Natural Hot Water Bath
This has to be one of those activities in Kasol that should be done. I was not aware of this place until I randomly chanced upon the sign and decided to go and see what the situation actually is. Located bang in the middle of the Kasol market and a few steps away from the iconic evergreen cafe you can walk into the absolutely gorgeous forest officer's complex which is not just pretty but very clean as well. Ask the person in charge to allow you into the hot water bath. You will be given a receipt according to the hour. You can go as a couple, to groups of friends, or even alone to experience the healing powers of natural hot water springs.
Going Cafe Hopping
Little is said about the delectable food trails in Kasol. This wonderful little town on the banks of the Parvati River caters to tourists from all over the world and as a way of making them feel welcomed and accepted, there are numerous cafes offering delectable dishes and cuisines. Have a delicious breakfast at the evergreen cafe which is known for its massive range of food choices ranging from Lebanese and Italian to North Indian and Desi Chinese. For some snacks, you can head to the Momos point near the bus stand or load up on desserts from the German Bakery. Lunch can be done at the Bhoj terrace cafe whose food remains absolutely epic. Dinner can be done in Buddha Cafe or Jim Morrison Cafe. Either way, you can have the time of your life gorging on delicious meals.
I humbly request anyone traveling to Kasol to be respectful of that place and not litter mindlessly or create unnecessary pollution of any kind. The litter you spread won't be managed properly as the locals are only responsible for keeping their surroundings clean. Don't be a burden, be a blessing.