Popularly dubbed as the heart of India (due to its location), Madhya Pradesh is a grand 10th century state. It is studded with innumerable Hindu and Jain sites of worship, age-old intricately designed forts and palaces which represents the golden age of art and architecture. Holiday Packages to Madhya Pradesh will ensure the fact that you visit some of the most enchanting and charming tourist attractions which will not only be memorable but also leave a lasting impression in your mind and soul. Be a part of the wonderful experience and witness the grandness in its full brilliance.
List of the 7 Best Places to Visit in Madhya Pradesh
1. Khajuraho
Khajuraho city is located in Chhatarpur district of Madhya Pradesh and is best known for its various temples and holy sites that showcase incomparable architectural wonders and extravagantly vibrant hotels. Some of the Main attractions of this city are as follows:
Eastern Group of Temples: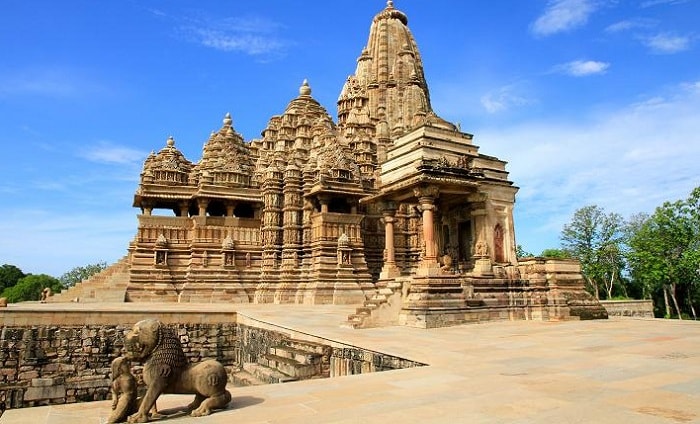 The Khajuraho group of temples is an iconic representation of the success of Chandela Empire. Some of the most prominent and vital temples of the eastern group of temples include Hanuman Temple, Parshvanath Temple, Ghantai Temple, Adinath Temple, the Brahma temple and the Vamana temple. A group of these temples reflects Hindu and Jain architectural designs and offers a delightful sight to its visitors.
Western Group of Temples: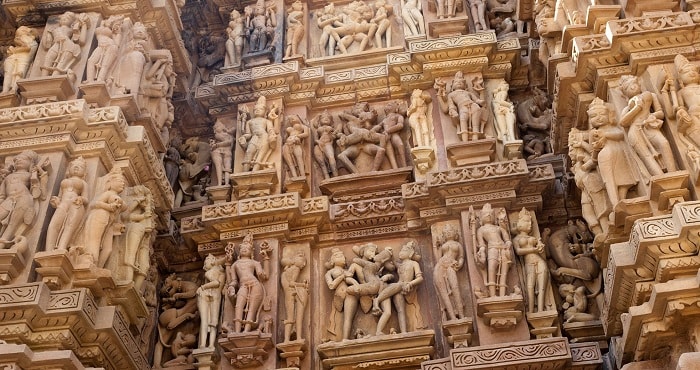 This zone comprise of temples which are adorned with distinguished architectural patterns. Not just this, a temple of this zone is believed to be the biggest temples of this region and is devoted to Lord Shiva. Main temples of this part are Matangeshwar Temple, Chausath Yogini Temple, Lakshmana Temple, Chitragupta Temple, Varaha Temple, Kandariya Mahadeva Temple and Vishwanath Temple.
Southern Group of Temples: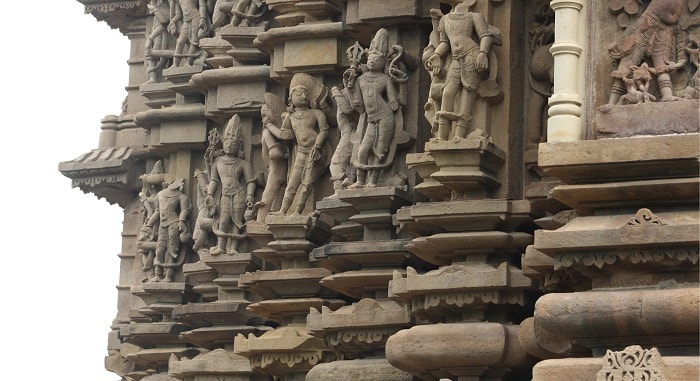 The temples of this part are famous for their striking designs and incomparable craftsmanship. Main temples are Duladeo Temple which was built in between 1100 AD to 1150 AD and is dedicated to Lord Shiva and Chaturbhuja Temple which was constructed in 1100 A.D. and devoted to God Vishnu.
Khajuraho Archaeological Museum: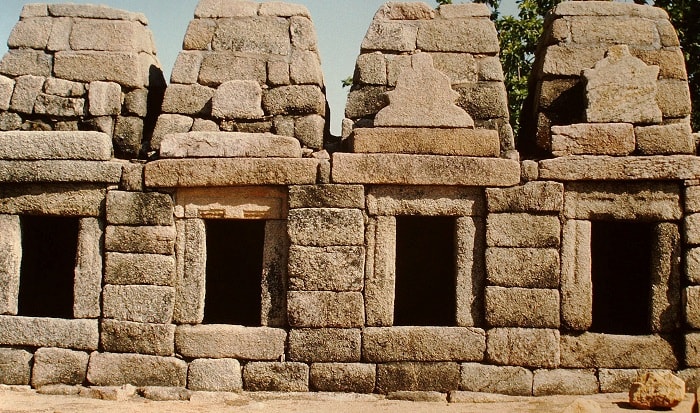 Earlier recognized as Jardine Museum, this museum exhibits the architectural relics and art pieces of 10th and 12th centuries. Many objects showcase classical illustrations of the Jain and Hindu religions. Main items of this museum include Nritya Ganesh, Uma-Maheshwara, Andhakasuravadha Murti and Vaikuntha.
2. Raneh Falls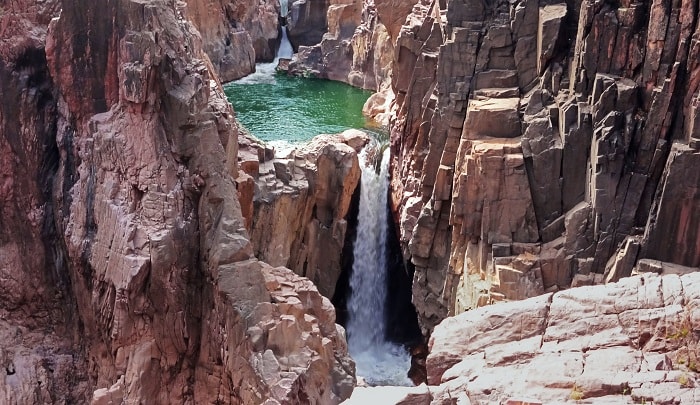 Situated at a close distance of only 20 kms far from this city of Khajuraho, the Raneh Falls is an amazing place where one is guaranteed to have a memorable time.
3. Panna National Park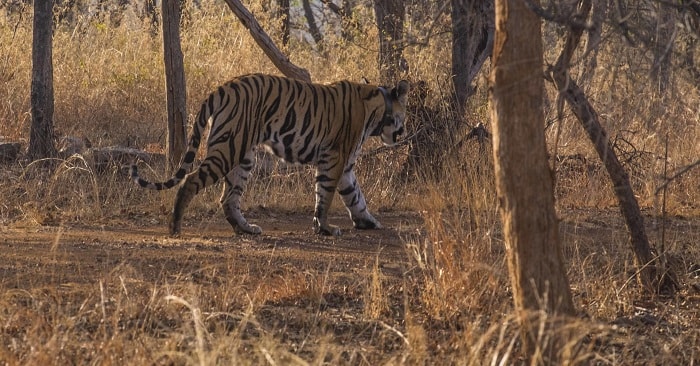 The well-known Panna National Park is just 25 kms far from this place of Khajuraho. Extended to an area of around 543 sq. kms, this park provides its visitors a spectacular view of gushing waterfalls. This park also provides a house for the fierce species of tiger.
4. Gwalior
Gwalior has a strong historical legacy and is located in the state of Madhya Pradesh. Still it is very closer to Agra, the city of Taj Mahal. By just travelling 76 miles south of the city of Taj, you will reach this historic city of Gwalior, which is indeed a popular tourist attraction site. The city of Gwalior has lots of interesting places worth paying a visit and due to these reasons it has constantly attracting tourists from over a century. Let us see some of the popular places.
Gwalior Fort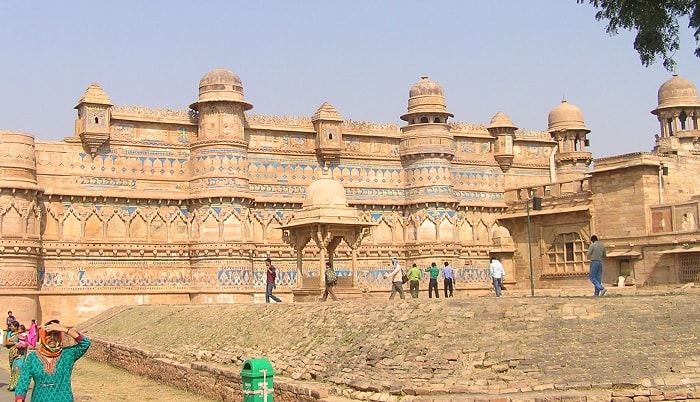 It is believed that the fort of Gwalior was established by Raja Suraj Sen several thousands of years ago on the command of Sage Gwalipa. It is also said that there was a pool of water, which actually was responsible in curing his leprosy and hence he built the fort Gwalior near this pool. The fort was very well structured with the outer wall measuring 3.2 km and as tall as 35metres. The architectural skills used are also marvelous, with beautiful cut Jain statues.
Man Mandir Palace:
This is again a huge palace which was laid by Man Singh Tomar during the time span of 1486 – 1516 A.D. The paintings kept and made inside the palace is really breathtaking.
Gujari Mahal and Archaeological Museum: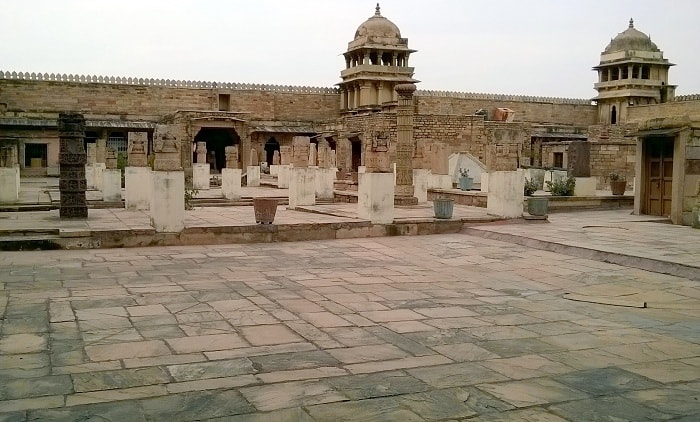 This palace was built by Man Singh which depicts his love for his ninth Gurjar wife, Mrignayani. Nowadays, this historical museum bears a huge stock of stone carvings.
Sasbahu Temple: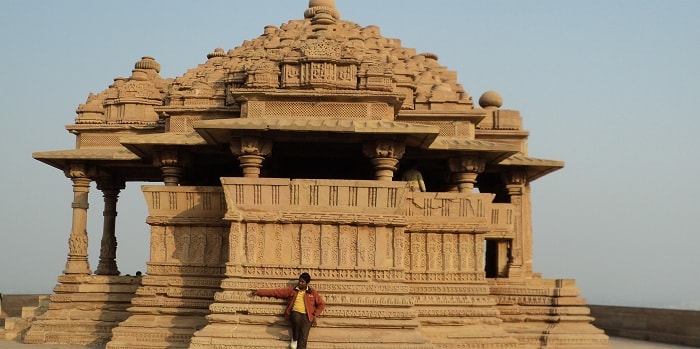 The name of this temple may give you the illusion that the temple has something to do with the relation between mother – in –law and daughter –in –law, but that is not the case. Located in the fort, the name is given to the two Neighboring Temples which are of different sizes. You can find beautiful decorations and sculpture over here.
Memorial of Tansen: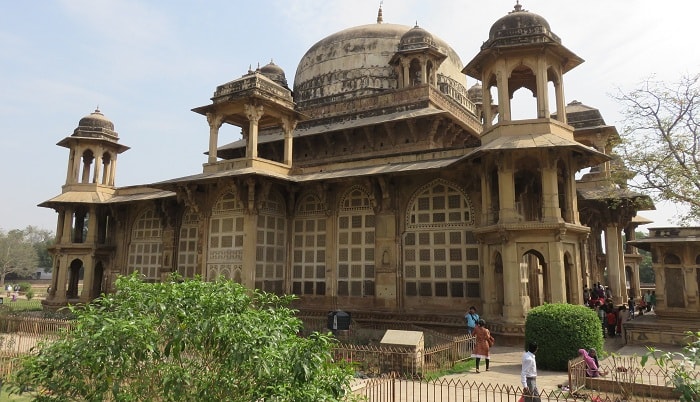 Near the tomb of Ghaus, you can find the memorial of Tansen, which was built in honor of the great musician Tansen.
Some other places to visit include Tomb of Ghaus, Surya mandir, Kala Vithika and many more.
5. Orchha
Located on the banks of the River Betwa, Orchha in Madhya Pradesh is included in one of the most historic and offbeat travel destinations in India. When you visit into this city, you will be delighted by viewing its unique blending of Rajput and Mughal style of architecture. This scared Indian destination bear witness to a medieval heritage in stone. Recently, Orchha has become a major tourist hot-spot.
Raj Mahal Orchha: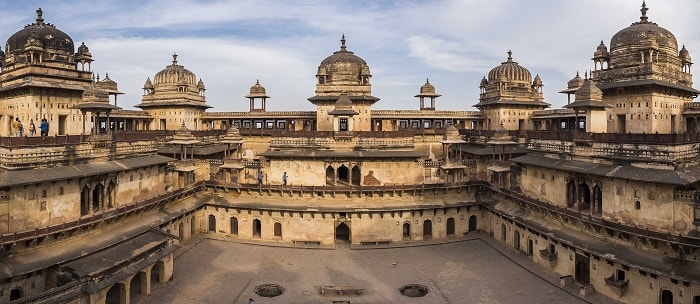 The super-talented Madhukar Shah was founded Raj Mahal in a fine blending of Mughal architecture. The Mahal is decorated with wonderful stone Jali work, beautiful frescos and palaces inside this Mahal.
Rai Praveen Mahal Orchha: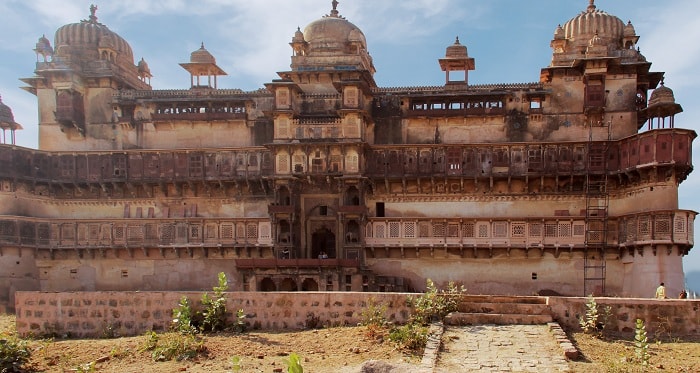 Built for elegant poetess and musician, Raj Praveen, the low roofed palace was noted for her simplicity, devotion and madness for the king, thus she has attained mythical status. Her beauty is titled as 'Nightingale of Orchha'. It boasts of three-storeyed buildings which are adorned by a tempting garden which is spotted with different beautiful harbors, formed in artistic shapes. The second floor of this palace is the most appealing one that presents Indian classical dance forms.
Jahangir Mahal Orchha: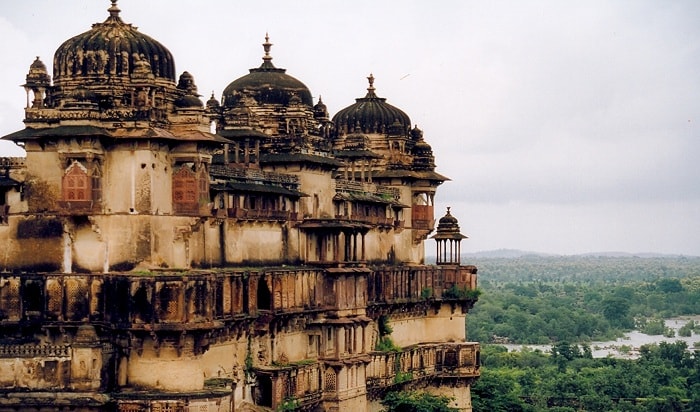 One of the major tourist attractions in Orchha is Jahangir Mahal which is situated, flanked to the Rai Praveen Mahal. It is a five-storeyed palace which is made in enchanting specimen of Bundela architecture. It is lively evidence of the deep friendship between the Mughals and Bundelas. Inside this Mahal, one can see attractive pictures of peacocks, beautiful flowers and startling geometric patterns.
Ram Raja Temple Orchha: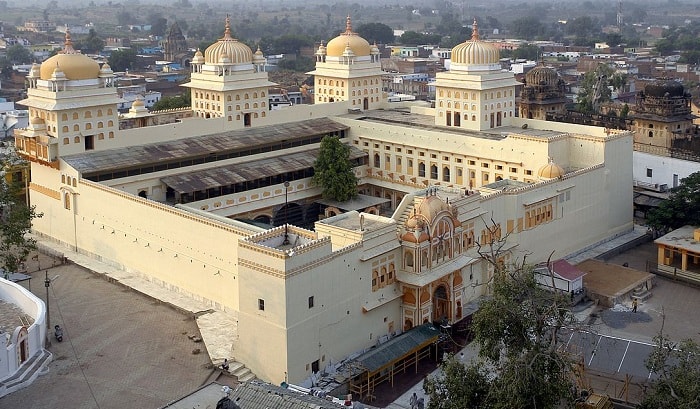 Devoted to Lord Rama, a large number of thousands of followers visit here to this temple only to worship him. It was built with high spires and palatial structure which is famous in all over India.
Chaturbhuj Temple Orchha: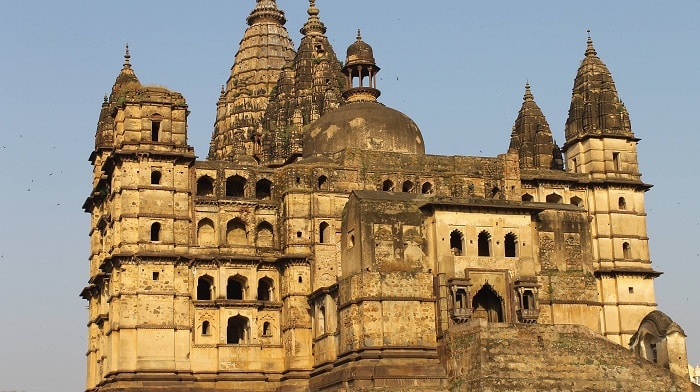 The Chaturbhuj Temple denotes to "four-armed "is the major attraction of Orchha, built in a unique concept. It is situated opposite the Raj Mahal, sited on a stone platform. The interior and exterior of this palace is marvelous, especially its visuals which are decorated with lotus motifs. Established in 1558 and 1573 this temple can fascinate any devotee from its abounded lights and space.
Lakshmi Narayan Temple Orchha: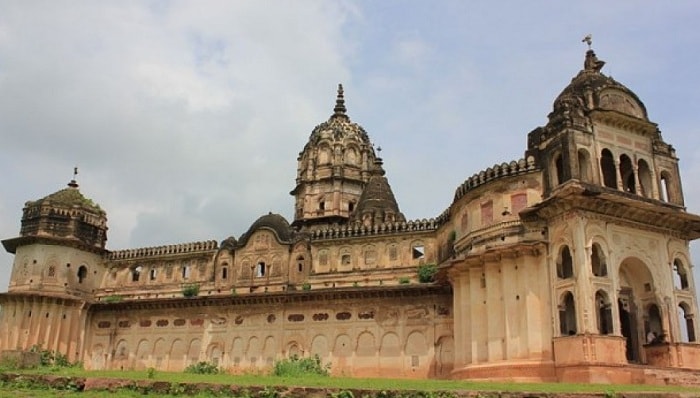 Dedicated to the Goddess of wealth Lakshmi, the Lakshmi Narayan Temple has significance for Hindus, designed in a marvel fusion of fort and temple. The supreme artist Vir Singh Deo was built this temple around 1622 In India Holidays.
6. Kanha National Park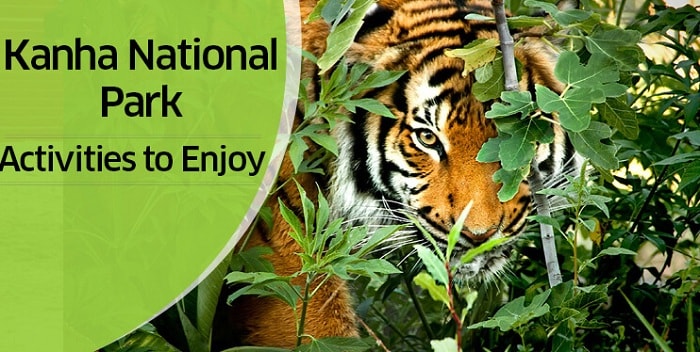 | | |
| --- | --- |
| Location: | Mandla and Balaghat districts of the state of Madhya Pradesh. |
| Major Places to See: | Royal Bengal Tiger, leopards, the sloth bear, Barasingha and Indian wild dog. |
| Other Places to Visit: | Kawardha Palace, Nagpur and Jabalpur. |
| Nearby Tourist Destinations: | Bamni Dadar also known as the sunset point and Kanha Museum. |
| Best Time to Visit: | February to June. Park is closed from July 01 to October 01 because of the monsoon. |
Located in Mandal district of the most distinctive Deccan Indian state of Madhya Pradesh, the Kanha National park is the most popular wildlife reserve of the world. Covering an area of about 1,940 sq.kms it is the largest and most well maintained wildlife park of India. Situated in the mighty Satpura Hills of the Central Indian highlands this park enthrals you, you encounter one of the rarest species of the incredibly vivid flora and fauna of this spectacular peninsular region. Though India is topographically very diverse and has many wonderful wildlife sanctuaries and parks, Kanha national Park is incredible.
The English Classic:
The Jungle Book by Rudyard Kipling was inspired by the picturesque stretch of hills where the Kanha Reserve is located. The swamp deer and the Barasingha (stag) are the two most prominently spotted species; they represent the park in a way. Other main attractions in the wildlife reserve are: tiger, bison, Sambhar, chital, barking deer, jackal, fox, porcupine, hyena, jungle cat, python, pea fowl, monkey, mongoose and leopard.
Flora and Fauna:
Kanha national park is a delight for the birdwatchers with a huge 350 species of birds. The park is a spectacle in the winter when almost all the bird species migrate. The most important species that are found here are the Nakta or the Comb Duck, the Long Billed Venture, the Yellow Wattled Lapwing, the Blue-tailed Bee-Eater, Blackwinged Kite, the Crested hawk Eagle and the Shikra white eyed buzzard. The park also offers you jeep and elephant safari to explore the most astonishing wildlife habitats. The travel into the dense woods on a robust jeep or an elegant elephant with sounds of interesting and never-seen and heard creatures of the wild is thrilling. The variety that Kanha National Park offers is simply outstanding. Most people prefer jeep safaris but the experience of the Elephant safari is undoubtedly brings a better sense of being in a jungle.
Kanha national Park is very fascinating as it has a very exquisite lush green landscape. The most popular spots inside are:
Sambar, Gaur and the four-horned deer are the ones spotted around the Bamni Dadar. A sunset view of this point is heavenly.
The Kanha Museum:
It is a museum located inside the park. The Museum is the appropriate place to gain an insight into the topography of forest and other interesting characteristics of the Park.
7. Bandhavgarh National Park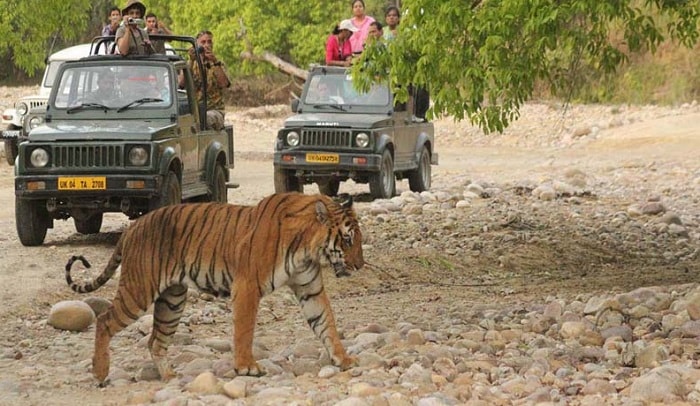 Bandhavgarh National Park is located in the Vindhya Mountain ranges of Umaria district of Madhya Pradesh, state of India. It was declared as National Park in 1968. It is known for its project tiger reserve, Bengal tigers can be seen in this region. The name Bandhavgarh means 'brothers Fort' that name is given by Lord Ram to his brother Laxman to watch at Sri Lanka. The hill of 807 m high is in amidst of the park.
In terms of tiger population density, Bandhavgarh National Park is on the top in the world. The park has also large population of leopard and deer. White tigers can be spot in this region. The park is famous for some famous particular tigers. One of the famous tiger was 'Charger'. This tiger named so because of charging elephants many times. He died in 2000 and his body was reserved at Charger Point.
The park is mainly divided into four zones: Tala, Khitauli, Magdhi and Pan Patta. Tala is the zone where tigers can be seen. These zones covered an area of about 694 sq. km. The deciduous forests covered the major areas. Sal, Saja, Dhobin, Bamboo trees are found in this region.
The tiger population in Bandhavgarh is about 44, but beside it many other animals are found, more than 35 species of animals, 250 species of birds, 80 species of butterflies and reptiles can be seen. Indian Bison, sambar, deer, Indian wolf, nilgai, hyenas, chital, leopard are major animals of this region.
Bandhavgarh Safari
You can take safari in two ways by jeep or by elephant. Elephant and Jeep safari provide an elegant facility of watching royal tigers with a closer look. It is safe and amazing to see creatures of the park. At Bandhavgarh National Park, you can enjoy a complete Wild Safari.
You can enjoy wild safari as well as you can experience the greenery forest region. Other nearby wildlife sanctuaries is also accessible from the Bandhavgarh.
Jeep safari can be taken throughout the day, six passengers can sit in a jeep. The Jeep Safari rides are divided into four regions. You can take safari in any one of this.
However, time of safari is varying according to seasons of the year, but it places in two shifts: morning shifts and evening shifts. Generally morning shift starts from 6 am to 11 pm and evening shift starts from 3 pm to 6 pm. Time may be alter half an hour according to season.
Elephant safari can be taken only in the morning. With elephant safari you can spot white tigers.
Bandhavgarh National Park is opened for visitors from October to June, in rainy season it remains closed due to concentration of greenery and endangered species of park.
Places to See:
Bandhavgarh Fort, Charger Point, Climber point, Shesh Saiya temple, Baghel Museum, Badi Gufa
To stay hotels in Bandhavgarh are available that normally charges 2000-3000rs per room. White Tiger Forest Lodge, government hotel and other private hotels are available.
How to Reach:
Jabalpur airport is the nearest airport, which is 85 km away from Bandhavgarh. You can reach her by train; Umaria is the nearest railway station 32 km. away. You can get train from Bhopal, Indore, and Jabalpur. Buses are available that takes 45 minutes to travel from Umaria to Bandhavgarh.