Also popularly known as 'Devbhoomi' – the land of gods, Uttarakhand has always been one of the popular trekking destinations in India since the ancient times. Home to numerous pilgrimage sites and well traversed trekking routes trekking in Uttarakhand is sheer bliss and a fun packed option for every type of trekker, adventure seeker or peace lover. The entire Uttarakhand region is laced in deep serenity, unmatched greenery and impeccable tranquility which give the trekkers a sense of peaceful exuberance.
Below are some of the most vibrant trekking routes which cannot be missed out on if you are planning on a trekking expedition in Uttarakhand:
List of 10 Trekking Places in Uttarakhand
1. Roopkund Trek (Chamoli)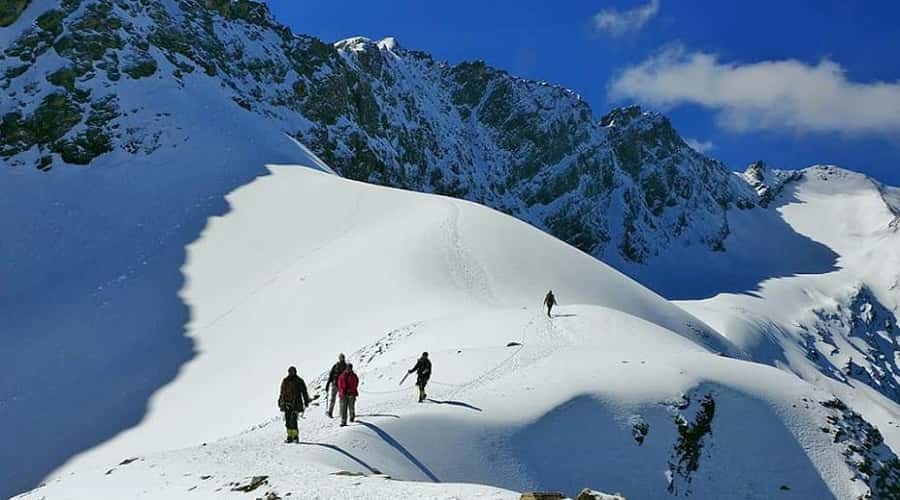 Roopkund is perhaps one of the most popular trekking routes in India which offers mesmerizing views from the top. Generally a 6 days trek, the exhilarating camp sites, picturesque routes, surrounding thick green forests and beautifully undulating green meadows makes this trek one of the most availed in Uttarakhand. After covering a wonderfully magnificent journey you will witness the eerily gorgeous, shimmering blue Roopkund Lake (which stays covered in ice for most of the year) with Trisul Mountain looming over it. With steep climbs and fun descents this trek is a wholesome dose of adventure for every traveler.
Preferred Time to Visit – August to October
2. Gangotri Gaumukh (Gomukh) Trek (Uttarkashi)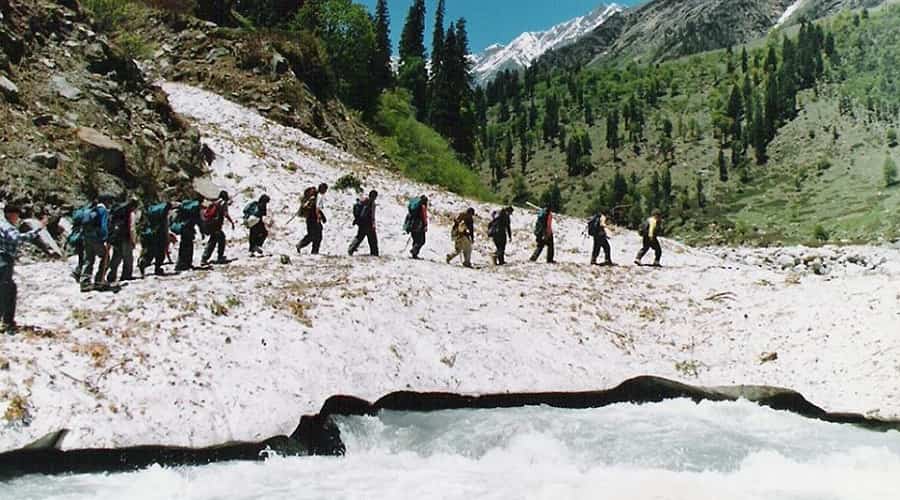 Literally translating to 'cow's snout', Gomukh is the source of the holiest river in India, Ganga and surrounded by towering Mt. Shivling, Gangotri group of peak and Kedardome peak. The Gangotri Gomukh trek is not only covered by thrilling adventure seekers but also by pilgrims and devotees. During the entire route of the trek you will be crossing numerous sparkling white glaciers like Meru glacier and Kirti Bamak glacier making it a unique experience. The difficulty level of this trek is moderate and can be done by amateur to beginner trekkers.
Preferred Time to Visit – May to June / mid-August to October
3. Valley of Flowers Trek (Chamoli)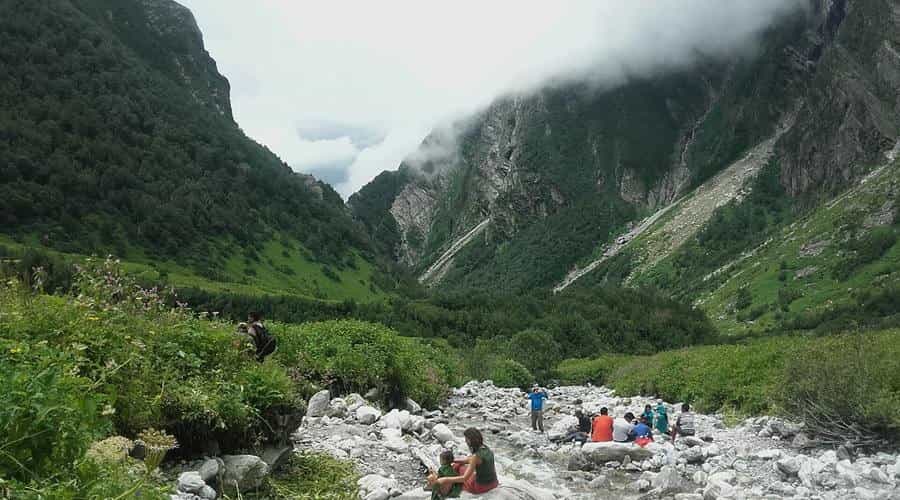 A UNESCO world heritage site, Valley of flowers is one of the most availed treks in India for avid trekkers, thrill seekers and nature lovers. Accidentally discovered by Frank S. Smythe in 1931, Valley of flowers is a one of a kind trek which is a must do. During the open seasons you will be welcomed with vibrantly colored flowers of varying shades embracing the valley from all sides. The babbling brook of clear water along with the fresh calming environment will freshen up your mind, body and soul alike. This trek pans for 4 to 5 days where you will be covering a distance of 17 km which kick starts from Joshimath.
Preferred Time to Visit – Mid July to mid-August
4. Kedar Tal Trek (Uttarkashi)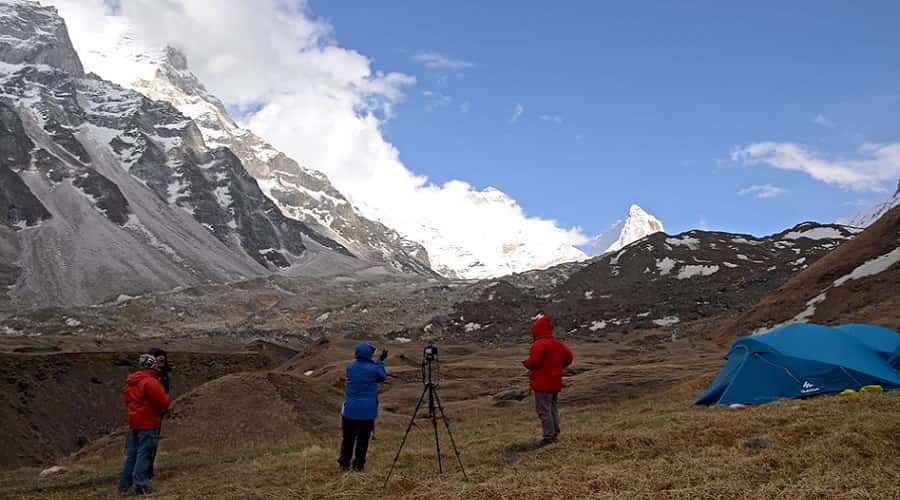 Popularly known as 'Shiva's lake', this 17 km trek from Gangotri is a tough one and one of the best options for trekkers seeking to push their boundaries and explore a new horizon. The entire trek is laid with rocky terrains and rugged topography which in the end gives way to the glimmering clear lake which rests on the lap of the towering Thalay sagar peak, Bhrigupanth, Jogin 1, Jogin 2 among other snow capped Himalayan peaks. You will experience a rich quality of mesmerising high altitude biodiversity during the trek.
Preferred Time to Visit – May, June, September, October
5. Rupin Pass Trek (Uttarkashi)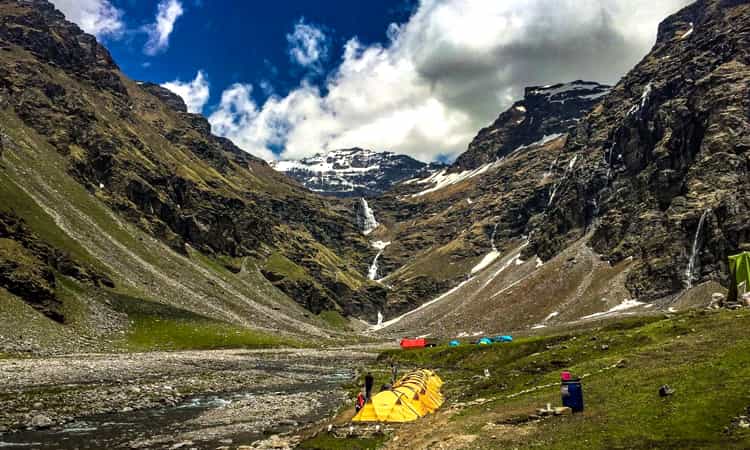 Known for being one of the most classic treks in India since it resembles an exhilarating orchestra of nature and adventure, Rupin pass trek is also one of the most cherished treks in India. The best part about this trek is that it gives way to breathtaking views on every turn and bend. This 9 days of moderately difficult trek starts off from a quaint village hamlet of Dhaula and passes through numerous flower studded lush rolling meadows and towering gushing waterfalls. The unmatched natural beauty and the stark white landmass on the top make it a trek of a lifetime.
Preferred Time to Visit – May to June / September to October
6. Pindari Glacier Trek (Kumaon Region)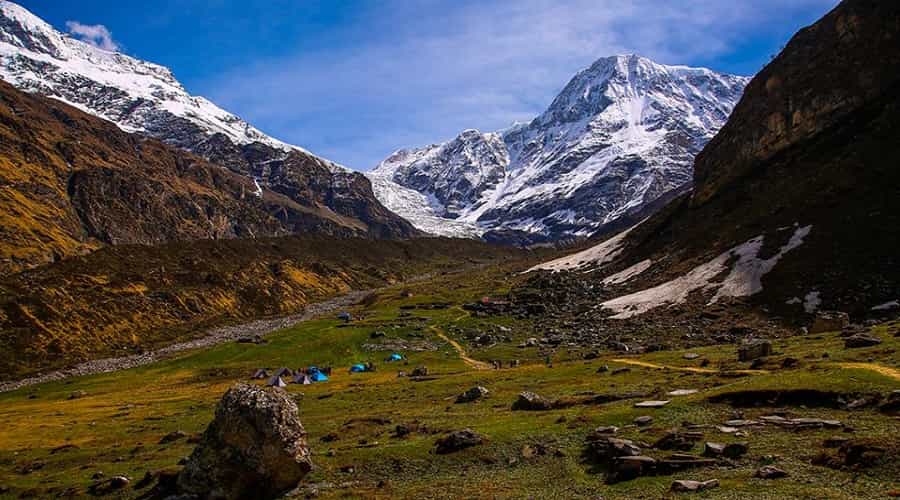 Locally named as 'the soul of Kumaon', this trek is known for being easily accessible but difficult to overlap with towering snow capped mountains and staggering moraines. This is one of the most beautiful treks anyone can take up with expansive gleaming white snow fields which sits among the surrounding greater Himalayan range. Located at an altitude of 3,660 metres above sea level on the lap of Pindar Valley this trekking route commences from Loharkhet and heads on through Dhakuri winding up at the source of River Pindar which meets River Alaknanda.
Preferred Time to Visit – April to October
7. Har Ki Doon Trek (Uttarkashi)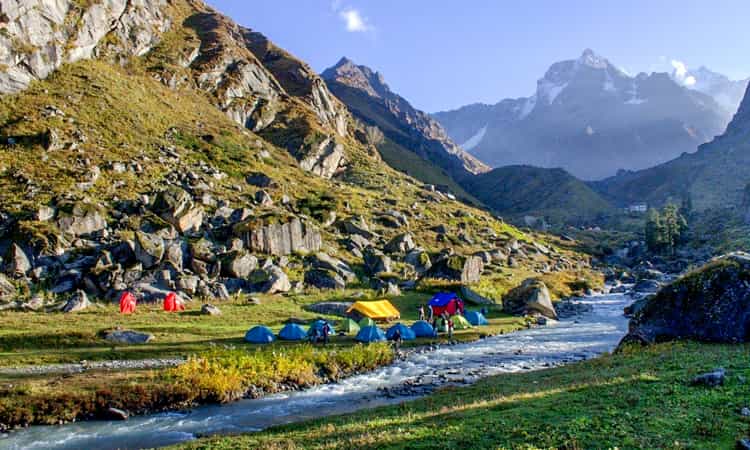 Popularly known as the 'valley of gods' and settled in the ravishing Western Himalayan valleys of Uttarakhand this trek is a complete delight for trekkers, adventure lovers and walkers in general. Located below the Har ki Doon peak this valley is entirely accessible via Govind National Park which is well known for its plethora of flora and fauna. One can witness the legendary Swargarohini 1, 2 and 3, Bandarpoonch and Blackpeak all together.
Preferred Time to Visit – April to June / September to December
8. Dodital Trek (Uttarkashi)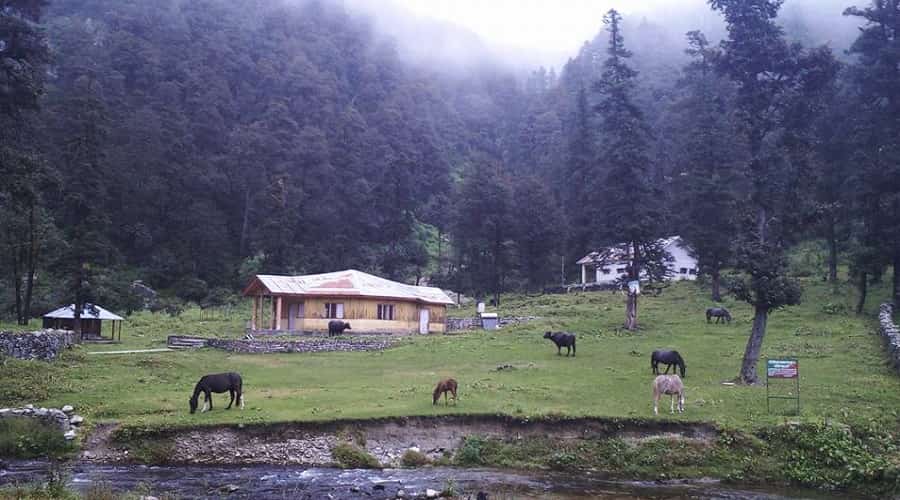 This 5 days of trekking expedition kick starts form a small village of Uttarkashi and finally gives way to the beautiful lake of Dodital and Darwa top (viewpoint). The emerald lake is situated among the high snowcapped mountains and is considered to be one of the most breathtaking and serene lakes in Northern India. The unique feature of this trek is the availability of Himalayan trouts in the lake and a small Lord Ganesha temple (as per mythology this is the place where he was born). The trek will be reached after a 2 days trek of 22 kms from Sangam Chatti.
Preferred Time to Visit – April to June / October to December
9. Dayara Bugyal (Uttarkashi)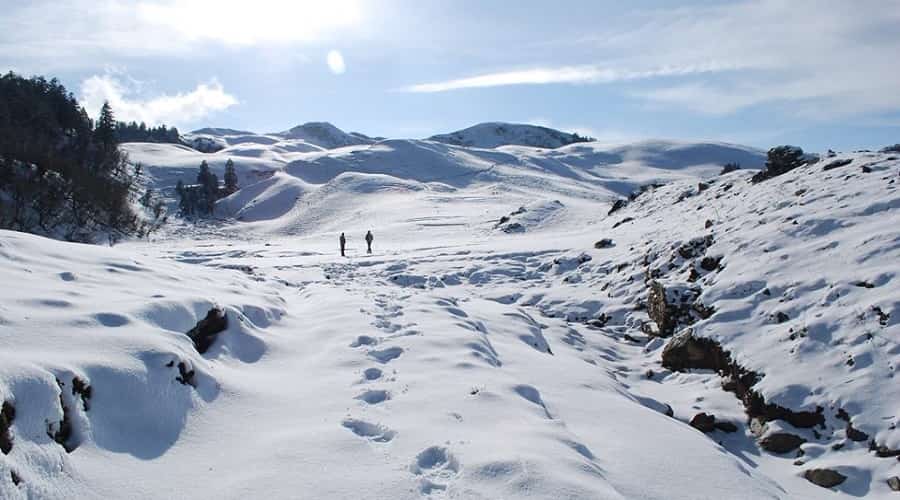 Dayara Bugyal is popular for being one of the easiest treks for amateurs and beginners alike. Located at an elevation of 3,408 metres above sea level these lush meadows serve as the grazing ground for local flocks. This 6 days of trekking expedition will take you across the colorful wildflower strewn land through oak and maple forests. The trek will kick start from Raithal and commence at the rolling green bugyals. The trek is an ideal option for people looking to start off their trekking life.
Preferred time to visit – May to July / August end to mid-October / December to February
10. Rudranath Trek (Garhwal Himalayan range)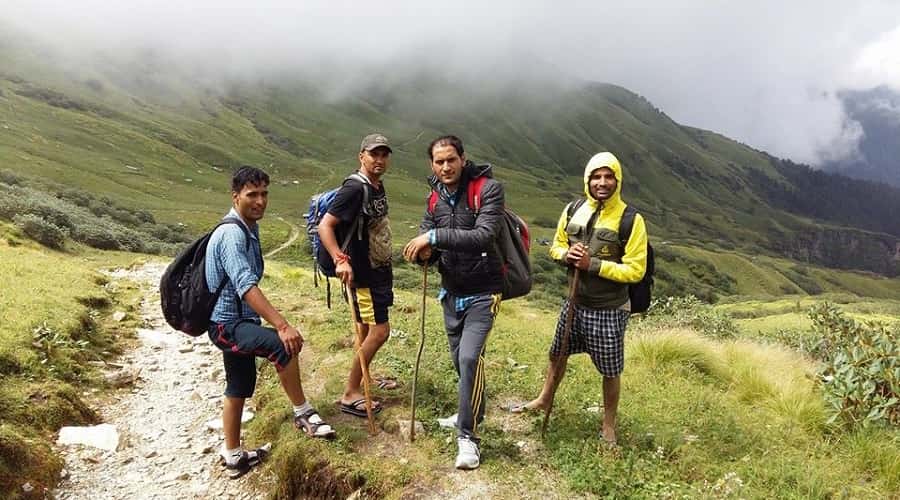 Mostly frequented by devout Hindus and pilgrims (due to the presence of Rudranath temple which is the fourth site in the Panch Kedar Yatra) this trek is also covered by avid trekkers. The trek towards the holy site offers exhilarating views of the different shades of nature. This moderately difficult trek winds through tiny villages offering vibrant views of the surrounding Himalayas including peaks of Nanda Devi, Trishul and Nanda Ghunti. The entire trail offers magnificent views through forest woodlands, green meadows and lush valleys.
Preferred Time to Visit – Early May to mid-June