About Badrinath Dham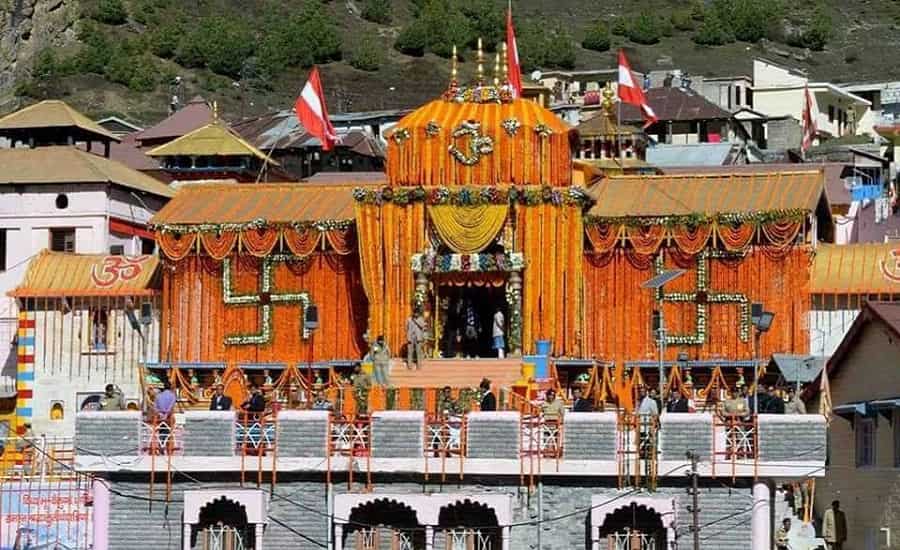 Popular for being one of the most important pillars of the Char Dham Yatra of Uttarakhand (which was established during the 8th century by the great sage Adi Shankaracharya) along with Kedarnath, Gangotri and Yamunotri this holy shrine is situated at an elevation of 3,300 metres above sea level in the district of Chamoli. Lord Vishnu is worshipped here in the form of 'Lord of Badri', who is named after this area since it was once covered in thick forests of Badri or jujube tree. The entire region of Badrinath is replete with ancient Hindu historical and mythological accounts. This place is surrounded by rolling green slopes and undulating lush valleys against the backdrop of the mighty snow-capped mountains of Nar Narayan and on the banks of the holy river Alaknanda that runs parallel to the temple.
How to Reach
By Road – Badrinath Dham has a number of intercity network of roads that connect almost all the major and minor cities and towns of the nearby destinations. You can bring your own private car here.
By Rail – The closest railhead for Badrinath Dham is situated in Rishikesh from where you can either choose to hire a cab of get a bus heading for the Dham. The roads lead up straight to the entrance of the Dham.
By Helicopter – If you are in a hurry or have someone with you who is incapable of completing the pilgrimage then the most convenient way of going is via a safe, secure and quick helicopter service. This will not only be a convenient option but it will also allow you to go for VIP or priority Darshan.
By Air – The nearest airport for Badrinath is situated in Dehradun which is the 'jolly grant airport', and just outside the airport you can book your cab or get on a bus heading for Badrinath.
Accommodation Facilities
Luxury Hotels – There are 3 star and 2 star hotels available at Badrinath which provides more amenities than the rest of the stay options. If you are willing to spend some more money then you can easily find a hotel that meets your needs and demands. You can either do it yourself through online hotel booking for Badrinath or you can also approach a pilgrimage tour provider.
Budget Stays – If you are travelling on a budget then you also have the options for staying at a pocket friendly lodge or even a 1 star hotel. Although it won't be as the luxury hotels but all your basic requirements will be met.
Ashrams – There are a number of ashrams available in and around Badrinath. These ashrams are known for organizing Bhandaras, and their accommodation is clean, tidy and not at all expensive. These ashrams are also open for all the pilgrims and most of them are located in close proximity to Badri Vishal.
Government Guesthouses – The GMVN TRH provides comfortable and clean stay in their spacious rooms which can easily fit any of your budget plans. This is one of the best ways of saving up some money on stay. All the basic amenities are present here like a clean bed, bathroom and even hot water.
Food Facilities
There are a number of food stalls and small restaurants available in Badrinath. These eateries offer fulfilling and delicious foods from north India like dal makhni, naan, mix veg. etc. you can also choose from a few Chinese dishes like noodles. However the most easily available food here is Maggi. Present here are also some tea stalls providing the basic and packaged snacks.
Note – Make sure you carry a bottle along with you. You can ask these small stalls to also boil the water since the water there is contaminated.
The opening and closing dates for all the Dham portals are decided by the temple committee each year on the holy occasion of Vijayadashami.
Opening Dates – For 2019 the opening date for Badrinath is expected to be around the early week of May in the auspicious eve of Basant Panchami. The idol of the presiding deity is brought back from its winter home in Joshimath.
Closing Dates – After staying open for the 6 months, the temple Kapat closes on the 3rd week of November which usually falls on Bhai Dooj which marks the oncoming of the winter months and the idol of the presiding deity is shifted to his winter abode in Joshimath.
Best Time to Visit
The overall weather condition at Badrinath Dham remains cold throughout the year. However with the onset of the summer months the temperature here rises as making April / May to July the best time to visit. Avoid travelling during the monsoon months of July to September since the entire region remains prone to unexpected and disastrous landslides. Helicopter services and some other transportation services are shut down during these few months in order to ensure the safety and security of the passengers.
Important Travel Tips
Even if you choose to go to Badrinath Dham during the summer months, you should still be loaded with some good and warm thermal and winter wear along with a few winter accessories like gloves, mufflers, reflectors / shades etc.
Carry along some packaged food items and dry fruits for an instant boost of energy since you will be walking, standing a lot. Make sure you boil your drinking water before consuming it.
Make sure you have a complete set of first aid box along with some bandages, gauze, Dettol etc. you should also remember to carry along some appropriate medicines like anti fever, anti-diarrhea, pain killers, cough syrup etc.
Confirm all your bookings and packages prior to the commencement of the journey in order to avoid any sort of delays or hindrances. Make sure all your payments are done in time.
Being a holy and an extremely pious destination alcohol is banned entirely. Avoid consuming alcoholic beverages and other related activities in order to maintain the sanctity of this religious destination.