About Rann Utsav
The winter months lasting from November to February the undisturbed, stark white desert of Kutch is turned into the festival ground for an eclectic showcase of the authentic Gujarati culture. This carnival is attended by travelers, vacationers and groups of friends and families who are presented with a Pandora box of various different activities, local dance and musical performances, authentic range of Gujarati food and so much more. Thanks to the continuous efforts made by Gujarat tourism the colorful fair not only brings life into the otherwise quiet and silent landscape of stunning white Kutch but it is also a source of income for a number of ethnic tribal families residing in those areas who earn their livelihood by displaying their work of art at Rann Utsav.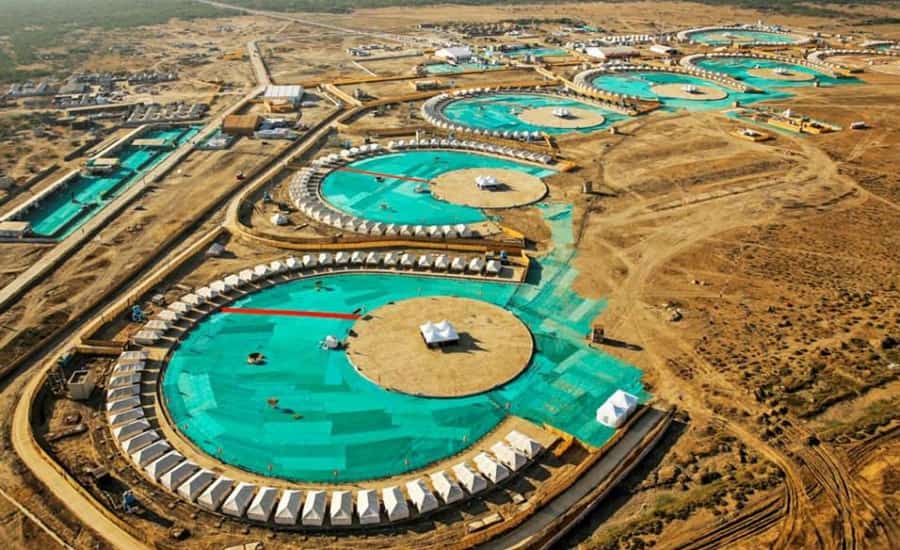 Attending Rann Utsav should definitely be included in your bucket list. If you are planning on attending this gala of fun filled performances and if you are ready to drench yourself in the true colors of Gujarat then here are a few helpful information's that will set your plans to motion:
Location and Duration
The enigmatic and vibrant Rann Utsav festival takes place right on the edges of the white desert of Rann of Kutch in the local village of Dhordo which is situated at a road journey distance of 8 kms. While booking your tour package to Rann Utsav you will be given the facility of pickup and drive from the airport to the tent city of Rann.
This celebration of Gujarati culture lasts for a duration of 3 months from November to February. The dates for this year's Rann Utsav are from – 1st November 2018 to 20th February 2019. It is a wise option for you to book your respective tickets as soon as possible and experience some of the most memorable and best days of your life.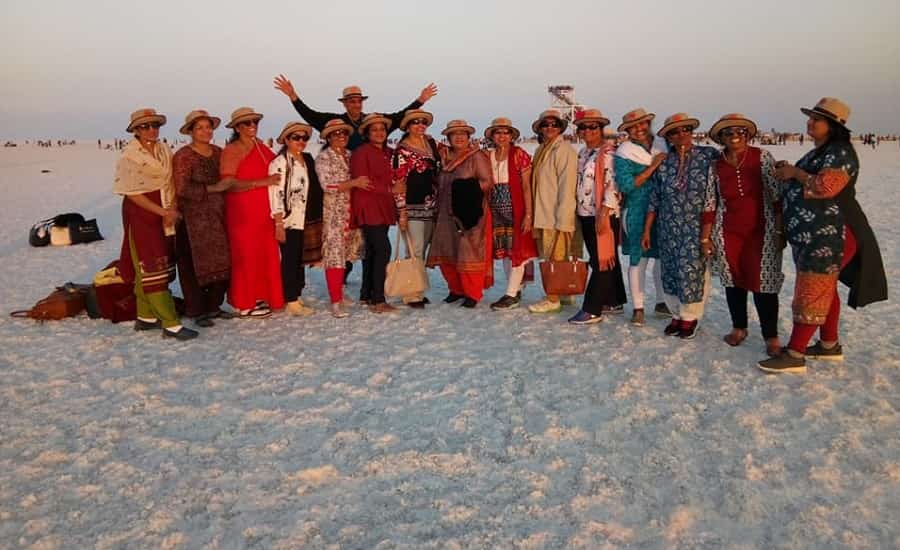 How to Reach (Flight, Road, Rail)
If you are planning on visiting by flight then the Bhuj airport is located at a distance of 86 kms from the ethnic village of Dhordo. There is also a railhead at Bhuj, which is a convenient and a more budget friendly option for people travelling from far and wide and is located at a distance of 135 kms from Dhordo. There is a network of well-connected roads in Gujarat which caters to visitors from all over India and a number of state run buses ply on it, making travelling by road a convenient option. Make sure to book and confirm your flight or railway tickets almost 45 days prior to the commencement of the carnival since this fair witness a huge number of attendees.
Accommodation Facilities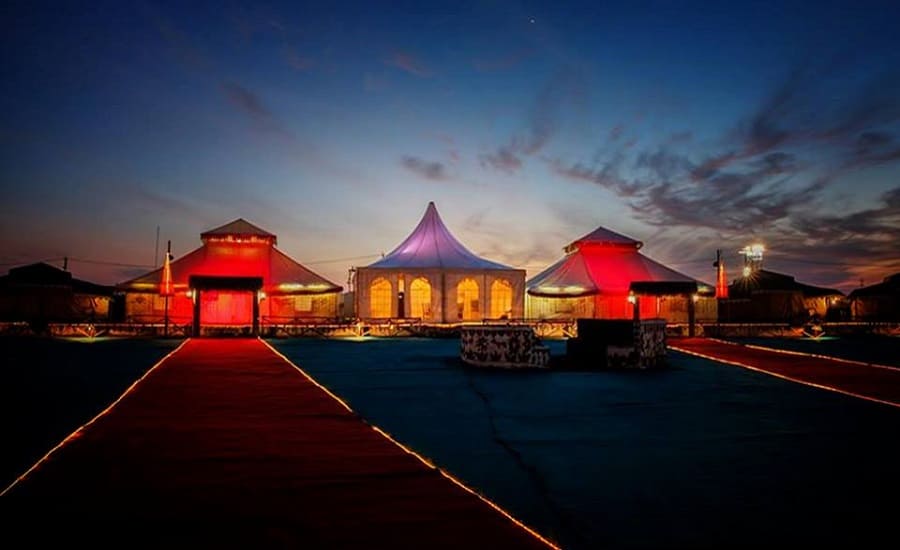 One of the most sought after booking option during your visit to Rann Utsav is at the tented accommodation facilities that are set up for the purpose of providing the traveler with a real Gujarati experience. These tents are lined up next to each other in a semicircular setting on the fair grounds. These tents are divided according to categories like premium tents, non ac tents and deluxe ac tents. All these tents have basic amenities and wooden flooring, attached bathroom, a double bed, a front porch among others. You can also opt for staying outside the fairgrounds you can book hotels according to your expenses and budget at Devpur which is located at a distance of an hour's drive from here. Be sure to carry some relevant and vital ID proof since these are checked before your entry into the carnival premises.
Must Buy Souvenirs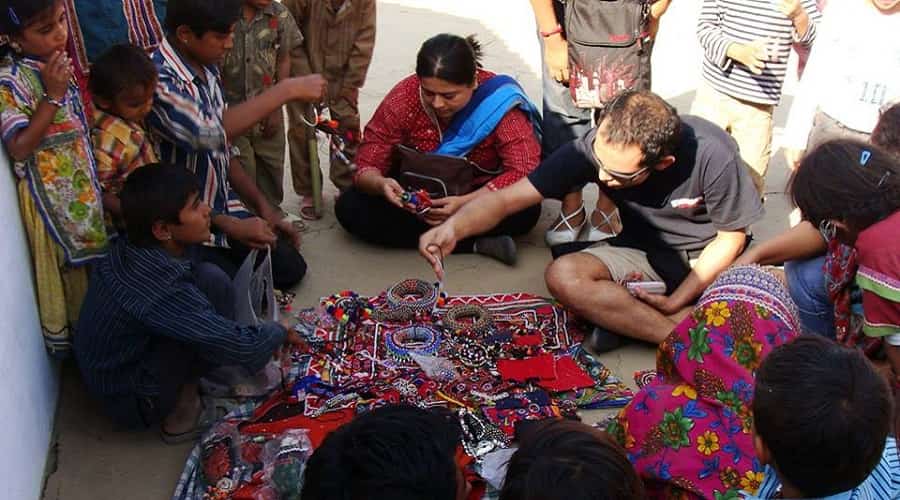 Rann Utsav is every shopaholic's dream come true. If you are not a shopaholic then visiting the grand Rann Utsav will turn you into one. The markets of Rann Utsav are adorned with numerous ethnic souvenirs and memorabilia items including block printed fabrics, mirror work bags, handicraft wall hangings, stunning traditional Gujarati jewelry, leather articles, carefully crafted original Gujarati ornaments among a range of others. The market adds an unmistakable dash of colors to the Utsav and sets it apart from the rest. You can also buy some other souvenirs like sea shell toys, 300 years old art textiles of Rogan, Bandhani Sarees, silver jewelry, hand embroidered works of traditional Gujarati art from Khaarek, Paako, Garasia Jat and others. The list for this will go on and on.
Fabulous Food of Rann Utsav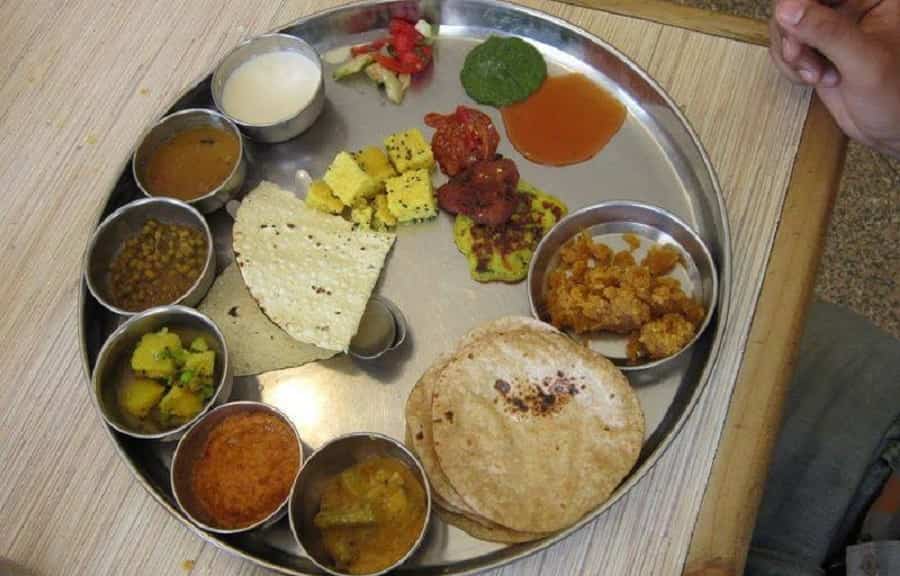 Rann Utsav is known for being a foodie's paradise and the moment you enter the Utsav premises you will be greeted with a fragrance of mouthwatering authentic Gujarati delicacies. There are two massive dining halls present within the carnival grounds that offer delectable Kutchi dishes and cuisines. Food corners serving street food of Gujarat and other traditional Gujarati dishes like – double roti, masala cone, Khari Bhat, Fafda, Besan Gatta vegetables and Dabeli among a plethora of other scrumptious meals are a common availability. Every food is made with immense love, care and hard work which truly showcases the rich culture that Gujarat truly is.
Interesting Activities
Magical Moon Night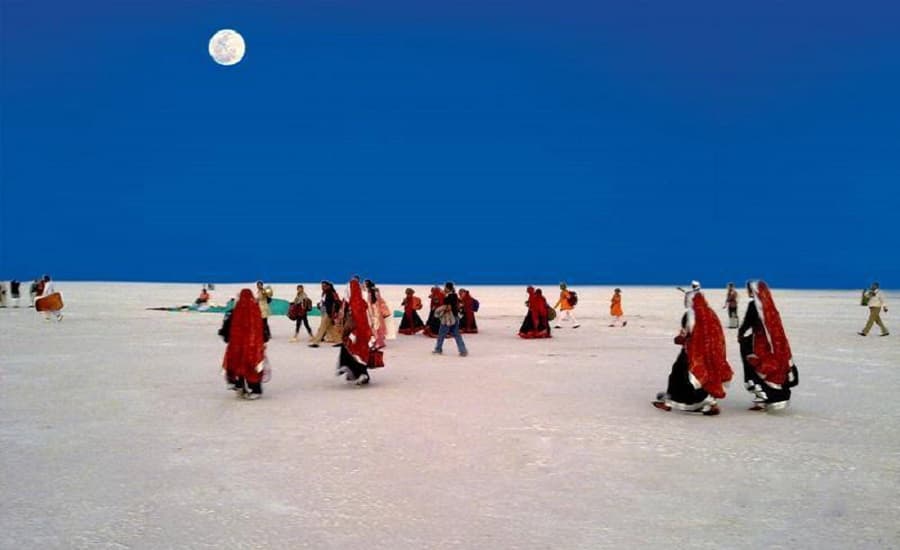 The expansive, stark white landscape of Kutch gleams like a bed of diamonds during full moon lit nights. The calming serenity of the place is difficult to describe in words and the perfect opportunity for spending some quality peaceful time with you loved ones. These are the most awaited time of the Rann Utsav festival and people from all over the world visit the Utsav to witness this natural phenomenon. Plan your trip in a manner that you get to see this incredible art work of nature.
Taking an ATV Ride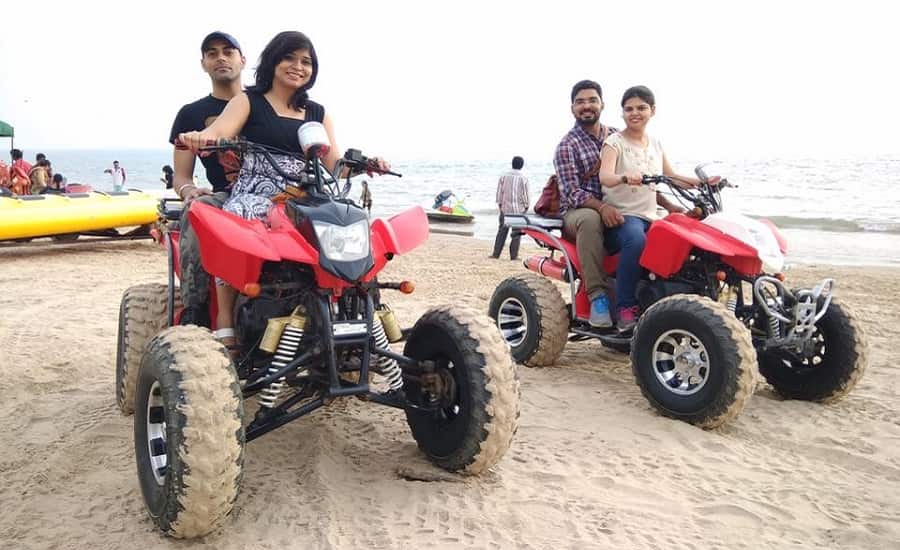 If you want to add an adventurous twist to your Rann Utsav then taking a fun and adrenaline pumping ride on an ATV (all-terrain vehicle). Glide through the surreal landscape of Kutch and feel the wind in your hair and face. Speed through the white desert and have a wonderful time.
Hot Air Balloon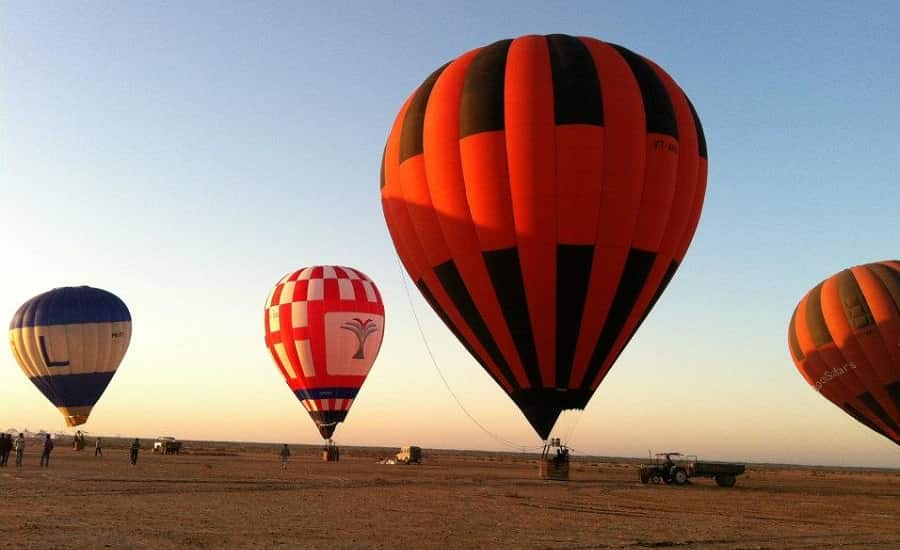 Experience the beauty of Gujarat from a bird's eye view. Avail a once in a lifetime opportunity of going on a hot air balloon ride and overlook the vibrancy of the world below. This enchanting experience will leave you stunned and hold you in awe for a long time to come. This is one of the must have experiences of Kutch.
Visit Mandvi Beach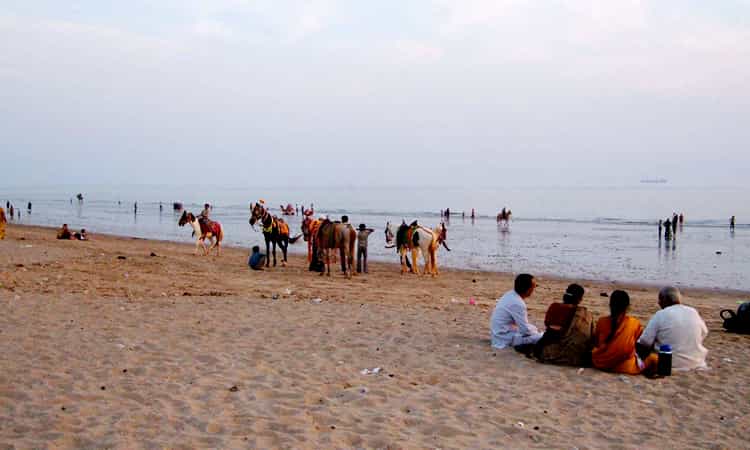 This beach of Gujarat is one of the most loved and visited beach where people visit to experience its beauty and charm. There are a number of fun activities that this place has to offer which include fun camel rides and various picnic activities for families. If you are looking to have a relaxing memorable time then a visit to this beach is definitely a must.
Enjoy a Fiesta of Cultures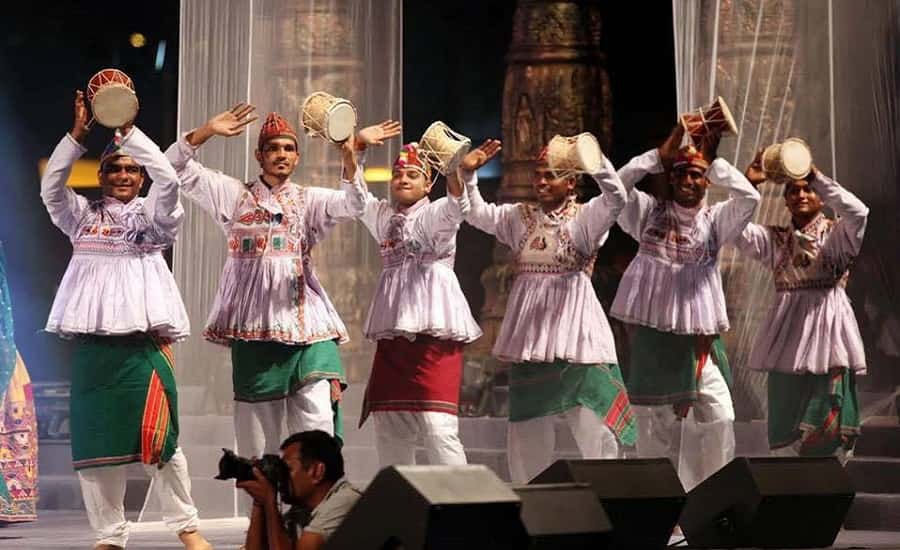 There will be no dearth of experiencing some of the most enchanting live music at ran Utsav. Every step of your way will be filled with an air of traditional Gujarati folk songs and music being played. These folk groups of performers are spread and distributed all over the premises of the Rann Utsav. You can witness the rhythmic beauty of the folk musical which is continuously performed everywhere.
Travel Tips for Rann Utsav
You will be required to attain a government pass (security reasons) to a visit to Kutch since the India – Pakistan border is in its vicinity. Make sure you also carry a valid photo ID proof along with you just in case.
Booking a private taxi will ensure that you have a comfortable journey from your point of departure to the Utsav grounds. This also ensures that you reach on time and do not miss out on fun.
Make sure you listen to all the major announcements that are blared on the loudspeakers keenly since it may carry some important message or piece of advice. These announcements are made in Gujarati as well as Hindi so please make sure that you keep an ear out for any such announcements.
Make sure you have enough woolen and winter clothing items in order to ensure that you have a comfortable stay at Rann. Since the Utsav takes place during the winter months you should expect some cold and chilly weather conditions. Especially during the night.
Due to its timing booking a luxurious, high end, AC tent is not a good idea since the temperature outside is cold and inside the tent the temperature is comfortable for a good night's sleep or if you are looking to relax.
One of the most convenient and widely acclaimed ways of travelling to Rann is by booking your tickets through a tour and travels company that ensures you have the best experience there. Since there is going to be a rush and an excess of tourist presence there it is a wise decision to invest your hard earned money into a legit ran Utsav travel package.