Pawan Hans Helicopter Service Provider was established on 15th of October in 1985. This national helicopter company was set with the objective of offering its services to the oil sector in order to explore its off-shore corporation, it also provides its charter services to promote the tourism sector and the services are even offered in remote areas also. Pawan Hans has been emerged out as the largest helicopter company in South Asia. There are more than 50 helicopters maintained and operated under this public-oriented helicopter company. Its multi-service providing feature has made it one of the most trusted and the most reputed flagship helicopter service providing company. This reputed helicopter company has been transcending its service experience of three decades in the field of aviation and has been trying its best to maintain their rapport as the industry-leading business. PHL is Approved Maintenance center of Eurocopter. The corporate office of PHL is located in Noida and its regional centers are established in Mumbai and Delhi.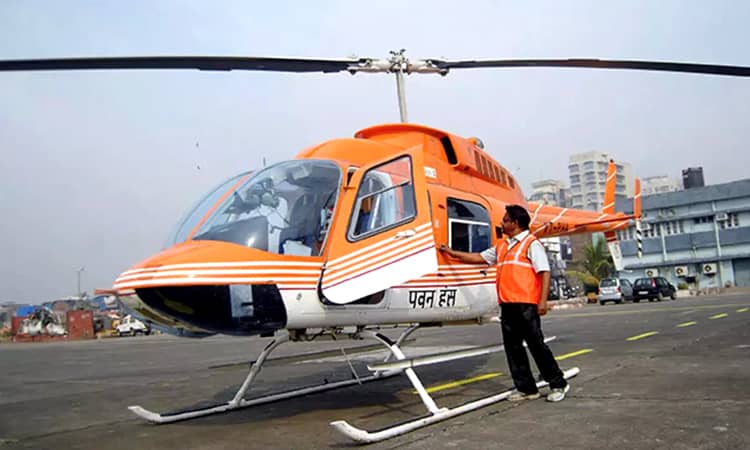 Vision and Mission of PHL
Vision– Its vision is to provide a safe, secure, justifiable, and reasonable top-notch aviation services to its customers.
Mission– Its top mission is to become the most famous and leading company to provide seaplanes and helicopter services and then to provide the best repair and revamp services competing with International standards.
Achievements of PHL
Pawan Hans Limited has set a record of flying for more than 1 million flying hours and has even successfully completed lakhs of landings.
Its first commercial operation was for ONGC which had commenced on 6th October 1986. It was done with two flying helicopters one from Juhu Aerodrome towards the offshore Rigs.
The company has been reckoned as a saga of success in the field of civil aviation.
The company is known for providing multiple services including oil sector and for bringing the remote areas of the nations in contact with the mainstreams.
Pawan Hans is not only limited to the helicopter services nowadays and is expanding itself as per the need of the society.
It is the first ISO certified 9001:2000 aviation company in India.
Pawan Hans limited has established its AME training and safety excellence institutes.
The company has been awarded an operator safety award "An accident-free year".
Future Accomplishments
PHL has decided to operate and maintain 100 helicopters by 2027.
To widen its business, the company has decided to spread its business in diversified fields including seaplanes, training and skill development, small fixed-wing aircraft, and safety audit and consultancy. They have even planned for the creation of infrastructure and foreign projects like establishing heliports and helipads.
PHL Commitment to Quality– Pawan Hans Limited has reached to its fourth decade of the business journey with a saga of success in their name. The team doesn't only focus on the individual but also on collective motivation inside the company to take it to the next level and to become a leading company in the aviation field.
The company is committed to providing zero safety incidents or accidents. It assures to reduce the environmental impacts especially fuel conservation. It also prevents the cases of injuries and accidents causing harm to the passengers and the employees. The company is quite dedicated to utilizing the resources on the maximum basis.
The Performance Showed by PHL
The company has recorded a high credit rating in the aviation field.
From last three continuous years, it has been rated very good consistently in terms of MOU performance.
PHL is operating and maintain more than 50 heavy, medium, and light disciplinary flights.
Its clients are from some of the largest countries in the world.
Destinations Covered by Pawan Hans:
PHL helicopters fly to various cities of the country including Arunachal Pradesh, Chandigarh, Tripura, Sikkim, Nagaland, West Bengal, Odisha, Daman Diu, Chandigarh, Jammu, Vaishno Devi, Machail Mata, Chardham Yatra, Shimla Manali, Amarnath Yatra and even at MHA Guwahati. Its services were temporarily suspended in Meghalaya which has been resumed on 26th of July, 2012 after the approval of Mukul Sangma who is the Chief Minister of the state.
Flight Safety
As per the company claims of zero safety incidents, it has initiated and revamped safety programs and practices which have really resulted in more than90% successful services offered. Accountability, awareness, training, incentives, and a strong focus on the planned efforts for safety management issues. The company believes that efficient and profitable working symbolizes the safe working environment. PHL is proactive in educating its employees, monitoring and measuring the effectiveness of their work along with recognizing safe work practices. PHL is well equipped with the latest technologies that allow less toxication and acts as a potential health risk reducer. The company assures for producing less hazardous wastes and even their proper disposal. The company recognizes its safety as a core value of the flight operations.
Additional Information
The government of India had approved the privatization of this company on the 12th of January, 2017.
It provides services for film shooting and aerial photography, flower dropping, VIP transportation, joy rides, casualty and rescue tasks etc.
PHL owns Jal Hans which is the first amphibious aircraft service under the administration of Andaman and Nicobar Islands.
13th January 2018 was a very disappointing day for PHL as the charter with ONGC staff crashed in the Arabian Sea. However, all 7 passengers including 5 ONGC officers and 2 pilots all were recovered.