Barren yet refreshing, Spiti is all about extremities. Extreme climate, extreme wind, and extremely beautiful. I went to Spiti in late October, which is normally off-season for tourism but that's just how I like to travel. Spiti is a remote village, tucked away in Himachal Pradesh that had remained out of bounds for a really long time until some explorers discovered that people actually were living and thriving there. Ever since its discovery, and ever since it became popular in social media, Spiti and Himachal Holiday Packages, in general, have always caught my attention and I immediately added them to my bucket list.
Road Trip Route
For utmost enjoyment and to have a deep immersive travel experience, I decided to go by road. My trip started from Kasol, Himachal Pradesh which may seem like an unusual place to start but why not? I had devised my own plan and route which seemed the most practical and feasible during that time. The route I took was: Kasol – Jalori Pass – Shimla – Rampur – Ribba – Nako – Sumdo – Kaza – Batal – Kunzum Pass – Rohtang Pass – Old Manali – Delhi.
There was just one reason for choosing this route. It formed the perfect circle which gave me the perfect transition from the lush green hills to little trees being dotted around and then eventually entering the treeless, barren, cold high mountain desert. Although the Manali route is shorter and takes a couple of hours of travel, it doesn't paint the whole picture. That is why I chose the Manali route for the final leg of the trip while coming back.
My Trip to Spiti Valley – Amazing Travel Experience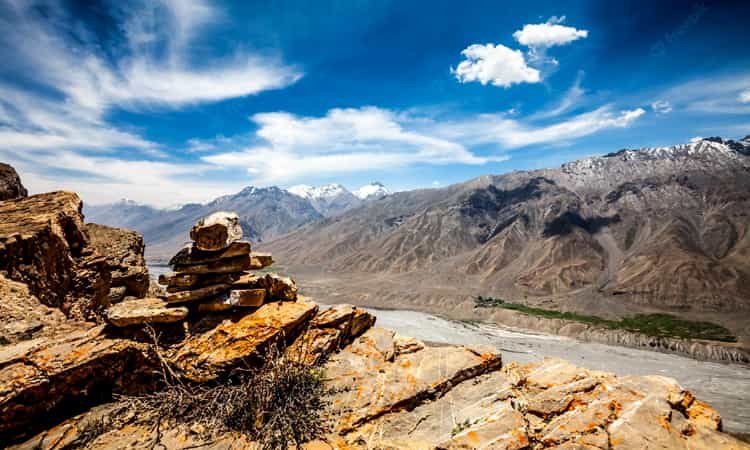 Day 1: Shimla – Pooh – Nako Village – Kaza
My Spiti trip started from Shimla early in the morning through the cab that I had booked via an online travel forum. The journey towards Kaza was nothing short of spectacular. From Shimla I left early in the morning even before breakfast, I wanted to have my breakfast at the Dhaba and not in a hotel. I slept most of the way but when I woke up I saw a drastic yet gradual change in the scenery and mountain cover. The trees were fading away as we were gaining height. Without stopping for breakfast we finally stopped at a small village where my hunger became unbearable, this tiny hill village was called Pooh. I had a delicious Chinese meal of Momos and Chowmein for dirt cheap, loaded up on some snacks since there are literally very few shops selling snacks. Winding through the roads of Kinnaur and overhanging mountains while being surrounded by sparse to little greenery was an exhilarating experience.
As we gained height and the mountains started turning more and more barren we reached Nako village, a must-visit en route Kaza.
Nako Village – The first thing I noticed the moment I stepped out at Nako was that every step required a lot of effort to make. This is because of the low oxygen content in the air here. Located at a height of over 12,000 feet above sea level, Nako is sparsely populated with a handful of traditional homes and one or two hotels. I made my way to the holy Nako Lake which was a couple of steps down the road. The village and the lake are overlooked by Reo Purgyil, the highest mountain in Himachal Pradesh. I took a few pictures and since it was off-season I had the whole lake to myself. So after spending a few minutes there I made my way to a nearby cafe, had some honey lemon tea, and went back into my cab towards Kaza.
It was after sunset that I reached Kaza and I was tired. I just hit the bed and slept like a baby excited for my morning in Kaza the next day.
Day 2: Arrival at Kaza
For a better perspective, I will start off with my first day at Kaza. I had arrived at Kaza a day prior in the evening and since I was exhausted after a long and seemingly never-ending journey, we just crashed the moment I reached the hotel. I had made bookings at the moustache hotel which is located right at the entrance point of Kaza and it is also the highest royal Enfield service center since a Spiti Valley Motorcycle Trip is every travel enthusiast's dream.
I realized that one day after arriving at Kaza I need to take it easy, not rush through my experience and just absorb every sight, every view, and everything is seen as a sponge. So instead of packing my day with a lot of activities, I decided to take the following day off, acclimatize and get used to the low oxygen air. I got freshened up, picked up my camera, and headed out for the market to see what a local Kaza Khas market is all about. The lack of trees and greenery makes the wind ruthless and they lash about like crazy. The moment I stepped out of the room I was greeted with the crazy wind so don't bother making your hair.
Moustache hotel is 1 km of a simple walk away from the main city market. I had gone during the off-season when there were almost zero tourists and almost every cafe was shut down. I wandered around for a bit. Checked out the local thangka paintings, classic Spiti souvenirs, warm clothes, and many different things. I came to know that Seabuckthorn is a source of major livelihood in Spiti since these red bushes, packed with nutritional goodness, are found in abundance all along the life-giving and dainty Spiti River.
I then went to book a local tourist cab to take me to some popular sightseeing destinations around Spiti. I made the booking at the Kaza bus stand office. I booked an alto cab for 2,000 rupees that would take me through some popular destinations around Kaza. I payed them the advance, took a receipt, and scheduled the sightseeing time for 7 am the next day since I was super pumped and excited to see what more awesomeness this otherworldly place has in store for me.
After taking a few pictures and having some tea at the local tea stall I decided to retire to my hotel room to relax some more after gorging on a delicious healthy meal prepared by the chef / former driver/flute playing helper there who dreamed of opening up his own Dhaba in his village at Kinnaur Same day.
After spending some time sitting outside in the sun and staring awe-struck at the bare brown massive mountain sprinkled with some snow on top in front of my room, the night started to catch on.
Phone Connection – The phone connectivity in Kaza is only limited to local BSNL numbers. In order to stay connected with my parents and for safety purposes I purchased a BSNL number at a phone shop at Kaza market. Just one passport size picture and a copy of your ID will get you a BSNL SIM card that would be functional for 5-8 months. If you don't have the said documents then you will get the SIM functioning for just 3 days. I would recommend everyone traveling to Kaza to get this SIM card so that your close ones are aware of your whereabouts.
Weather at Night – It gets incredibly cold, windy, and chilly at night so much so that it becomes difficult to leave the room. Pack wisely by adding many different thermal layers underneath.
The Fly Situation – It came as a surprise to me. When I woke up the outer porch of my room was covered in house flies that were buzzing around relentlessly. I had never read anywhere about this problem and was very shocked. A small window was left open through which a whole village of flies had entered the outer room. The owner, later on, told me to either light up an Agarbatti to get rid of them and just keep the windows closed at all times.
Day 3: Kaza – Langza – Komic – Hikkim – Chicham Bridge – Kye Monastery – Kaza
Woke up to my alarm at 6 am and got ready to go on my epic adventure around the brown, Mars-like mountains. The driver, who was a local old man, had arrived way before the given time and was very diligent and polite. We set off by 7 am on a journey filled with wonder, inspiration, and unbelievable beauty. The first stop was at the Buddhist statue in Langza.
Langza – Langza is a very small, desolate Himalayan village located about 20 minutes away from Kaza at a height of 14,000 feet above sea level. Langza is famous for the Buddhist statue and the fact that fossils are found easily along the landscape. I reached there, admired the wonderful surroundings, and was instantly caught by the quietness and a sense of peaceful meditative wonderment. There is a small cafe near the statue which was closed since it was off-season and I was there too early than the regular opening hours. After taking a couple of pictures I left for my next location which is Tangyud Monastery in Komic.
Komic – Located at a little more height of over 15,300 feet above sea level I Komic village seems like a village straight out of every travel book that you may have read and is also the highest village in the world. The Tangyud Monastery is ancient and is located in the periphery region of the Kibber Wildlife Sanctuary. Since I reached the monastery relatively early, it was closed. But my driver went around the back and a monk came over following him. He was old and was limping which made me realize that it's mind over matter and the survival of the fittest in such harsh conditions. The compound of the monastery also houses the world's highest restaurant which truly is a wonderful feeling to experience. The monk allowed me in the monastery and I looked around, read the literature available, and took several pictures. The monk then gifted me a yellow thread for my safety and wished me well before I headed off to my next destination.
The highlight of the monastery is the giant stuffed and preserved leopard hanging right on the doorway that used to be a real leopard. I don't know the history of the hanging leopard but it adds a great touch to the uniqueness of this place.
Hikkim – Located just about 2 km away from Komic village, Hikkim displays the beautiful and scenic landscape of the Trans Himalayan region in its full glory. On reaching Hikkim, as a part of a tourist experience, I was taken to the highest post office in the world which is located at an elevation of 14,600 feet above sea level. Before walking on a downward slope to reach the post office I bought a postcard to send home and a couple of other souvenirs to take back for my friends. I had a cup of much-needed hot tea and some light Maggi breakfast before heading on for the next destination. The entire Hikkim village is surrounded by massive jagged mountains as a result of centuries of wind and rock erosion which stirs all your senses.
Chicham Bridge – My next destination was Asia's highest suspension bridge, Chicham which is just a little bit over 45 minutes of road journey and takes you deep into the Kibber National Park. I decided to cross over Kye Monastery and go there last since it would fall on our way back. It is situated on an elevation of over 4,000 meters above sea level with the fragile line of Spiti River running below it and it is surrounded on all sides by a sea of brown treeless mountains. There are no shops or settlements around the bridge which makes this experience all the more thrilling. The bridge is adorned with prayer flags all over and since I had gone there during the off-season there was just a family of 3 there. After taking pictures and chilling out some more I headed on for my next destination, Kye monastery.
Kye Monastery – The iconic key monastery whose picture is etched on every traveler's mind, its powerful image of a Buddhist learning center perched on top of a mountain made it one of my most awaited sightseeing destinations. Just 15 minutes away from Chicham, the main entrance of the monastery was under construction, and just like many other places, it was totally empty and I was the only traveler there. I was super excited to experience this place all for myself. On reaching I made my way up the stairs and saw some monks washing their plates and utensils. As I was looking around, I saw the entrance to the main Gompa or the prayer hall. A monk noticed me looking all confused on where to start and motioned me to go in and check out the place. The interiors are adorned in old writings, traditional paintings on the walls, and sculptures of different monks with a massive Buddha sculpture gracing the center stage. The floor was lined on the sides and center for the monks to sit and pray. It was absolutely quiet and it felt like I was in a fantasy world. Photography is prohibited within the premises of the monastery. I thought that the monastery tour was over but it had just started. When I came out of the main Gompa, the monk then motioned me to go to his left and check out the whole place. I went around the left corner and the stairs led me to a beautiful Kitchen / Porch where another monk was sitting and he welcomed me with a traditional salt-based hot beverage. We talked while I finished my cup of tea and then we set off to take a tour of the rest of the place.
Key is a tunnel of the interconnected web of rooms that goes deep inside the mountain and makes you wonder how people have been living here for centuries now. The monastery tour was completed on 3-4 floors. Each floor had a monk in charge who made sure I didn't take any pictures and told us stories about the visit of Dalai Lama to inaugurate Kye and also about all the preceding and succeeding important lamas and monks who helped create Kye the importance it holds today in the world. After about an hour of exploring the complex of Kye Monastery, I thanked the monks who showed me around and I got in the cab to head back to my hostel in Kaza since these were the only places that were on my sightseeing list. Since I was traveling on a budget and had limited days to explore, I also booked a traveler ticket for my way back at the same bus station in Kaza market where I had booked my cab. The ticket receipt had the bus number and the driver number for convenience.
I reached back to my private room in moustache hostel by evening when the sun was still up, changed into comfy clothes, and went to bed after a delicious, scrumptious dinner.
Day 4: Kaza – Kunzum Pass – Rohtang Pass – Vashishth – Old Manali
The departure time for the traveler was at sharp 6:30 and the booking person had strictly told me to be on time since there were only 2 travelers functioning every day and the weather was also questionable. I left the hotel at 6:00 am in the morning since I did not wanted to be late and I had a very heavy rucksack with me that slowed me down substantially since the way to the Kaza bus stand was a little bit slanted. Slowly and steadily I trudged by way up to the bus stand which was a small bound complex with many travelers and cabs along with some tourists and locals to make their trip to Old Manali or Manali. After having a cup of hot tea I stepped into the traveler with other locals and we were on our way.
After a rocky journey of 1 hour, we stopped at Batal to get some breakfast. I had some parathas and Maggie at a very small Dhaba that served freshly prepared breakfast. It was without a doubt one of the most fulfilling breakfasts I had. After half an hour to 45 minutes of stopover, we were off. The journey was very rocky, undulating, and rough that surprisingly rocked me to sleep. All along the journey, I was accompanied by the Beas River on one side and the mountain on the other side. Our first stop on the 12 hours way back was at Kunzum Top.
Kunzum Top – located at an elevation of almost 15,000 feet above sea level, Kunzum Top is a high mountain pass connecting Lahaul valley to the valley of Spiti. The top is situated about 122 km away from the main town of Manali and remains open for a limited duration of June to July and from October to November. Stopping at the Kunzum top is a ritual followed by many drivers since they take the blessings from Kunzum mate before heading onto the dangerous journey. People can also go to Chandratal Lake from Kunzum top as it is just 15 km away. Kunzum is also one of India's highest motorable mountain passes and is surrounded by snowcapped mountains and glaciers on all sides. After taking pictures from this awe-inspiring location we got back on the bus and continued on for the journey.
I would advise every traveler to not follow the google maps route timings since in it the travel time between Kunzum Top to Rohtang Pass is just 1 hour however in reality it takes about 3.5 to 4 hours to complete the trip. As we were heading to Rohtang La through hairpin bends and accompanied by the Beas River on the side, it started snowing. The bus had to stop for a brief moment before carrying on since the snowfall makes the roads slippery and dangerous to travel. As we were nearing Rohtang Pass the landscape started to change drastically. I was now able to see Luch greenery and tall trees decorated in far-off valleys below and that really filled me with a lot of joy, happiness, and a sense of fulfillment.
Rohtang Pass – Rohtang pass is about 50 km away from the main town of Manali and is famous for being the only destination in India where people can experience snowfall throughout the year. This pass connects the Kullu Valley to the Lahaul and Spiti district in Himachal and is often used by the locals to make regular trips.
Finally, by evening, I reached old Manali via Vashishth. Vashishth is a small holy village in Kullu near Manali which was founded by the guru that goes with the same name. It is a very popular tourist spot near Manali and is famous for its natural hot water springs.
I decided to stay at another one of moustache hostels available in Old Manali since I loved their service and amenities in Kaza. When the receptionist came to know I had stayed at a moustached franchise in Kaza was kind enough to give me a discount. My bus for Delhi was booked for the evening the next day and since I was really tired by the end of the day I ate and simply crashed to my bed.
Day 5: Delhi Departure
I woke up early in the morning and since my bus ride back to Delhi was at 6 Pm in the evening I decided to check out the Old Manali marketplace and chill at one of the many cafes here. I had some light breakfast and made my way up the market area where both sides of the cobblestoned road were lined with local and traditional shops selling locally made handicrafts and souvenir items. When it was time for lunch I made my way to a popular cafe called the lazy dog and had a delicious pasta dish and a couple of beers. The cafe has 2 sections, one of them is outdoor and one of them is indoor and the best thing is that it is a riverside cafe and you can relax and kill some time here while listening to the peaceful bubbling of the river flowing. I then made my way to the bus station, happy about going home with a head full of memories and hope in my heart of coming back soon.