This ancient holy Hindu temple is situated in the district of Rudraprayag and is believed to be the place where the cosmic wedding of Lord Shiva and goddess Parvati. The temple is dedicated to Lord Vishnu the holy wedding procession is said to have taken place in the presence of all the prominent and significant saints and gods. Lord Vishnu is said to have performed all the major and minor wedding rituals. The creation of this temple is still not known and an eternal burning divine flame here marks the holy wedding that took place here and is believed to have been burning ever since. Encapsulated amongst the lush greenery of the mountain peaks and rolling mountains the courtyard of the temple here is also known for being the source of a water stream that is responsible for filling up the three sacred bathing ponds or Kunds that are located in close proximity to the temple. Also popularly known as Akhand Dhuni temple this temple is currently being used as the marriage destination for a number of domestic as well as international celebrities. What else do you need to make your wedding more memorable and enthralling than the clear open skies and the lush green surroundings of the Himalayan mountain peaks. This place is the perfect combination of deep spirituality, admiration and utmost devotion and will make your wedding even more pious and promising.
About Triyuginarayan Temple
Legend:
As per Hindu mythology Goddess Parvati – daughter of Himavat – during her rebirth as Sati was the very first wife of Lord Shiva. She is known for sacrificing herself and burning herself alive when her father insulted Lord Shiva. Initially, the goddess tried to please the lord with the help of her beauty and appearance however, this was in vain. She had to perform and practice rigorous penance at Gaurikund which is situated at a distance of just 15 kms from Triyuginarayan temple. People make it a point to visit Gaurikund during their visit to Triyuginarayan as a way of paying their respect to the goddess. Gaurikund is also the base camp for commencing the trekking journey to Kedarnath temple, one of the most ancient and holy Jyotirlingas of India. Before getting married at Triyuginarayan temple Lord Shiva is said to have asked her hand in marriage at Guptkashi.
The quaint and peaceful hamlet of Triyuginarayan is believed to have been the capital of Himavat during the Satya Yug. This marriage took place by the eternally burning fire here that can still be seen in front of the temple inside a Havan Kund which is in the form of a four-cornered fireplace inside the ground. Lord Vishnu acted as goddess Parvati's brother and formalized the wedding. Lord Brahma took up the part of the priest of the wedding and sanctified their union which was done in the presence of all the prominent and important sages of that age.
The reverence of this place is also mentioned in the Hindu scripture of Sthala Purana. According to this scripture all the pilgrims visiting this temple gather some amount of ashes from the ever-burning fire since it is believed to be extremely holy and they also carry it back with them. It is believed that having these ashes in your person will promote conjugal bliss amongst married couples. Prior to the marriage proceedings of the lord, the attending gods are believed to have taken a holy bath in the four small ponds or Kunds here, namely – Rudra Kund, Vishnu Kund and Brahma Kund.
Architecture:
A look at Triyuginarayan temple will make the pilgrims and visitors realize that this is the temple which resembles the main temple of Kedarnath Dham. This factor also plays a role in attracting pilgrims from far and wide. The current shrine of Triyuginarayan is also known as Akhand Dhuni temple and is believed to have been built by the great sage and seer Adi Shankaracharya who is credited with having building a number of other matths and temples across the length and breadth of India. The temple is home to 2-foot tall image of Lord Vishnu in an all silver material; he is shown being accompanied with his consort – goddess Laxmi who is the goddess of music and learning (in the form of Saraswati). A four-cornered Havan Kund is located right in front of the temple and consists of an eternally burning flame which is believed to have been burning ever since the holy wedding took place here. Pilgrims offer wood into this burning flame and take its ashes home as a sign of their blessing. A holy stone known as Brahma Shila is located in front of the temple and is held in high regard since this is the place where the divine marriage took place.
Excursion Places:
1. Augustmuni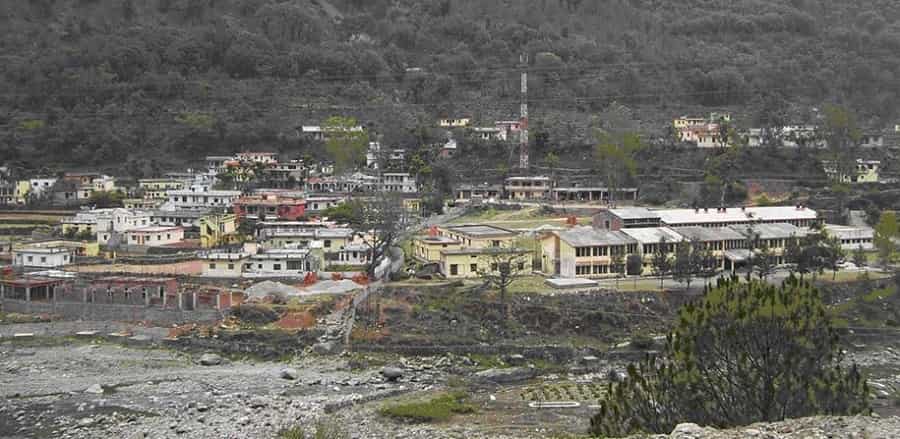 This scenic hamlet is located on the banks of the holy river of Mandakini and as per the name this town is dedicated to the great sage of Rishi Agastya. This place is also an important pilgrim town due to the presence of its helipad for the Char Dham Yatra. The beautiful and untouched beauty of the surroundings allows the visitors to be a part of incredible spirituality and tranquility.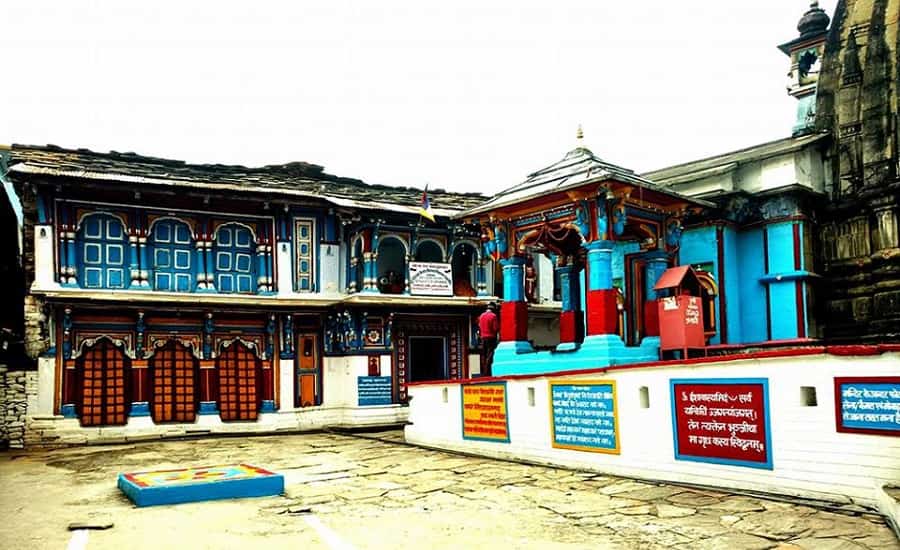 Also known for being the winter home of Kedar ji when the Kedarnath Dham is closed for Darshan during the winter months this place is also one of the most scenic destinations to relax yourself. This serene hamlet is perched on an elevation of 1,300 metres above sea level and offers some of the most panoramic views of the surrounding beauty of the enchanting Himalayas.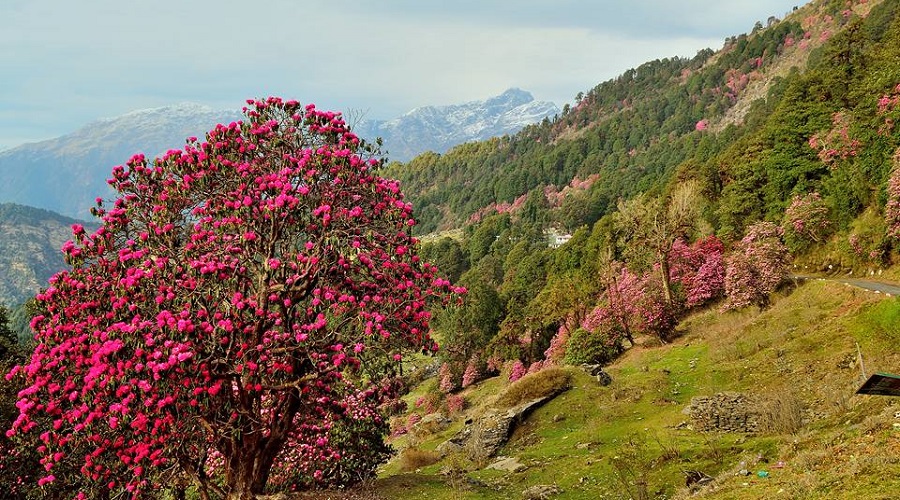 Blessed with unmatched natural beauty and perched on an elevation of 2,900 metres above sea level this quaint hamlet in the Himalayas is one of the best ways of relaxing yourself away from the bustle of the city life. This place is situated at a distance of 36 kms from Guptkashi this hamlet is a winter wonderland and one of the most visited winter travel destinations in India.
4. Khirsu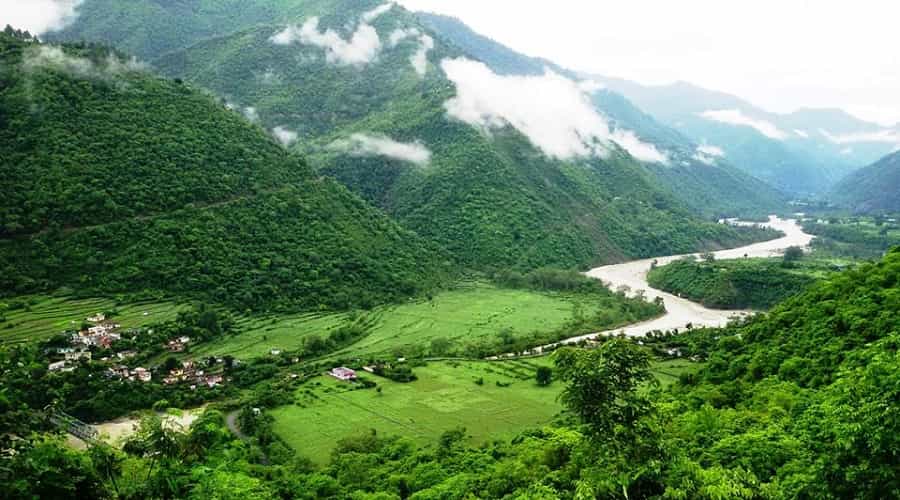 Sitting perfectly on an elevation of 1,700 metres above sea level this untouched hidden jewel of Uttarakhand is known for its beauty and serenity. Known for its clean and pure air, vast blue open skies and lush surrounding greenery Khirsu is bounded by the mighty Himalayas on all sides and from here the tourists also have the option of travelling on to Kandoliya, Pauri Garhwal and Ulkha Giri.
5. Sonprayag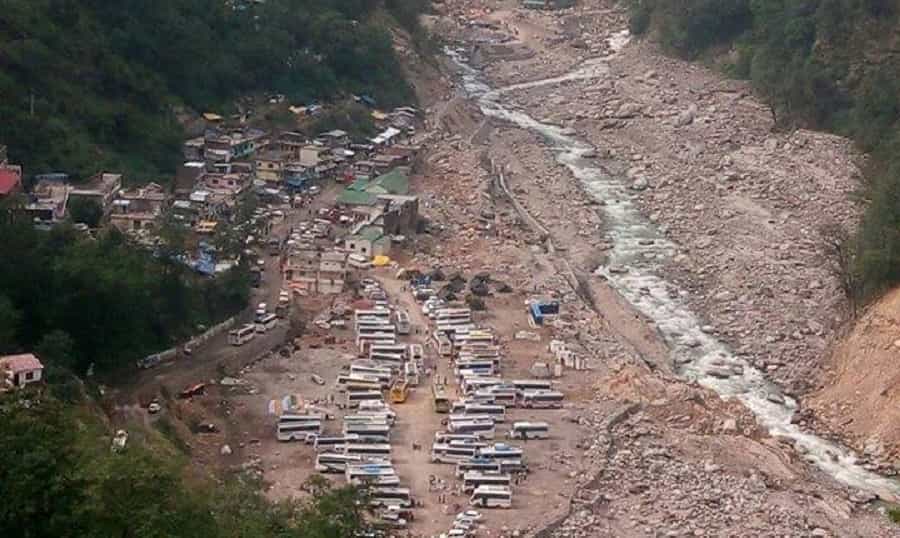 Sitting atop an elevation of 1,829 metres above sea level is located in close proximity to the holy village of Triyuginarayan this place is used as a base camp for Triyuginarayan and Kedarnath. The entire hamlet is flanked by the snowcapped peaks of the Himalayas and is on the meeting point of the holy rivers of Mandakini and Basuki. People and pilgrims visit this place during their pilgrimage Yatra of Char Dham.
6. Kedarnath Wildlife Sanctuary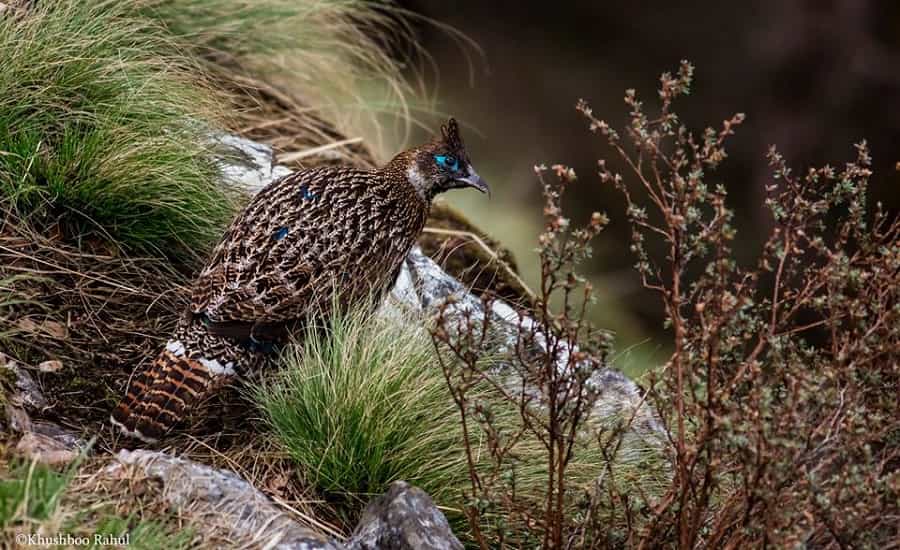 Spreading out at an area of 975 sq. km. and surrounded by the overlooking peak of Chaukhamba this sanctuary is also known as Kedarnath musk deer sanctuary. The sanctuary gets its name from the Kedarnath temple which is located inside the premises of this wildlife sanctuary along with a number of other holy temples. The entire place is replete with an incredible collection of flora and fauna and is known for being a popular high altitude trekking destination. If you are a nature lover or are looking to experience the wildlife in a close personal manner then a visit to this wildlife sanctuary is advised.
Where to Stay:
The village where the temple is located offers some extremely low priced lodges with only the selective basic amenities here. if you are looking for a better place to stay then these two nearby villages that are located at a distance of 30 kms from here offers better hotel options for you:
Guptkashi – There are a number of hotels that would fit your budget here. the average hotel here will cost you anywhere between Rs. 1,000/- to Rs. 2,000/-. Some of these hotels are – Kedar valley resorts, Hanuman inn and resorts, Krishna lodge, Hotel new Pandey inn, Café Buransh. The expensive hotels here offer various services like restaurants, room service etc. and these can go up to the cost of Rs 3,000/- to Rs. 5,000/- some of these hotels include – magpie jungle camp, Alpine adventure camp, Adhvanta resort, Tulsi hotel.
Sonprayag – There are numerous hotels located in Sonprayag where you can choose from deluxe to super deluxe category of hotels. All these hotels offer clean and hygienic stay conditions. These hotels cost anywhere between Rs.500/- to Rs.1,200/- which are JPG palace, Himalayan villa, Shivlok hotel, Jamloki tourist lodge and many more. If you are looking for a luxury stay option then here are a few hotels which range between Rs.1,500/- to Rs.6,000/- and these hotels are – Kedar river retreat, Kedar resorts, Himalayan comforts, Shivalik valley resorts, hotel Mahadev, Bhoomi holiday homes, hotel Shri Hari, the Char Dham Camp.
How to Reach:
The temple is well connected with a network of durable roads to almost all the important towns and cities of Uttarakhand making your journey easier. Here are a few options that you can choose from and plan your journey to this iconic temple accordingly:
This ancient holy temple can be easily reached by road from the village of Sonprayag. The closest railhead heading to Sonprayag is located in Dehradun which is at a distance of 251 kms from here or you can also choose to get off at the Railway station of Rishikesh which is situated at a distance of 212 kms. The closest airport for Sonprayag is located in Dehradun at a distance of 226 kms which is the jolly grant airport.
No matter what mode of transportation you choose, you will be required to either hired a shared taxi or a personal cab heading up till Triyuginarayan.
There are several different trekking routes leading up to the temple of Triyuginarayan. One of these treks goes through Sonprayag on the Ghuttur – Kedarnath trail and this route makes its way through dense and thick forests and is a journey of 5 kms. Kedarnath Dham is located at a distance of 25 kms from here. another popular trekking trail to Triyuginarayan commences from Mussoorie which is a 7 days of yatra journey and goes through Tehri, Mala, Belak, Budakedar, Triyuginarayan and Kedarnath (in this very order).
Best Time to Visit:
The temple remains open for Darshan from 7 am to 7 pm.
Since the temple is situated at an immense height and surrounded by the magnificent Himalayan beauty, the temple should preferably be visited during the summer or spring months of March to June. The region remains prone to heavy and unexpected landslides or weather changes during the monsoon months of July to September. However in case you want to experience the Himalayan chill then you can visit this place during the winter months of November to march.
VIP and Celebrity Wedding at Triyuginarayan: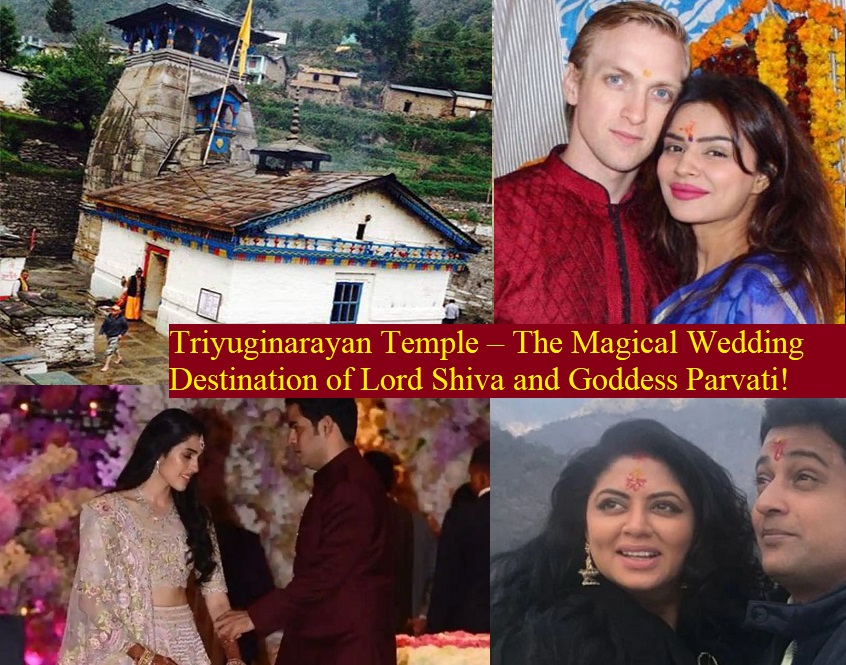 The temple of Triyuginarayan has been the wedding destination for the famous television and comedy actress of FIR fame Kavita Kaushik.
It has also been the site for the wedding of IPS officer of Ghaziabad Aparna Gautam as well as Nainital's ADM Lalit Mohan.
It is speculated that the marriage ceremony for Akash Ambani and Shloka Mehta will also take place at this temple in March.
The government of Uttarakhand is looking into plans of developing Triyuginarayan into a beautiful and a spiritual wedding destination in the future where people can get married at the very place where Lord Shiva married Goddess Parvati.
Click Here to Enquiry For Wedding Package: Triyuginarayan Temple Wedding Booking