Rightfully named as 'Devbhoomi' or the land of gods, Uttarakhand has innumerable holy sites and pilgrimage destinations. These temples are known for creating a huge wave of tourism here and play a huge contribution in its economy. The entire landscape is dotted with ancient temples of religious importance that are frequented by devout Hindus. From being host to the Char Dham pilgrimage Yatra of Uttarakhand to the Panch Badri – Panch Kedar Yatra and so much more, people from far and wide visit Uttarakhand to experience its spirituality which cannot be felt anywhere else in the world. With the mighty Himalayas forming its crown every place in Uttarakhand has its own religious significance which makes it a destination which everyone should definitely visit at least once in their lifetime.
Here are a few popular Hindu temples in Uttarakhand which you should visit if you are looking for a deep spiritual experience:
List of the 20 Hindu Temples in Uttarakhand
1. Har Ki Pauri (Haridwar)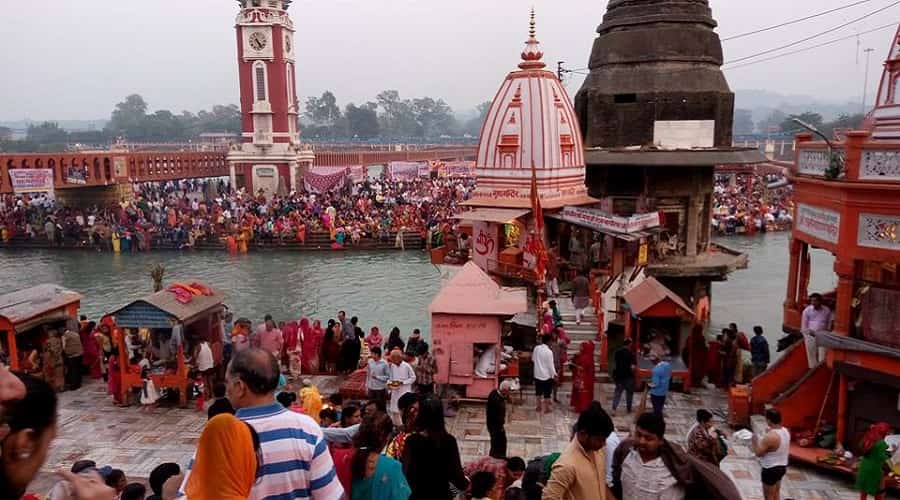 Regarded as one of the holiest Ghats of India and visited by innumerable devotees on a daily basis, Har ki Pauri is located exactly on the point where the holy river of Ganga touches the plain for the every first time after coming all the way down from the Himalayas. It is believed that taking a dip in its water will provide moksha to the pilgrims. This enchanting Ghat springs to life during evening time when the entire Ghats is lit up with mesmerizing chanting of slokas and the rhythmic music of the Aarti.
2. Chitai Golu Temple (Almora)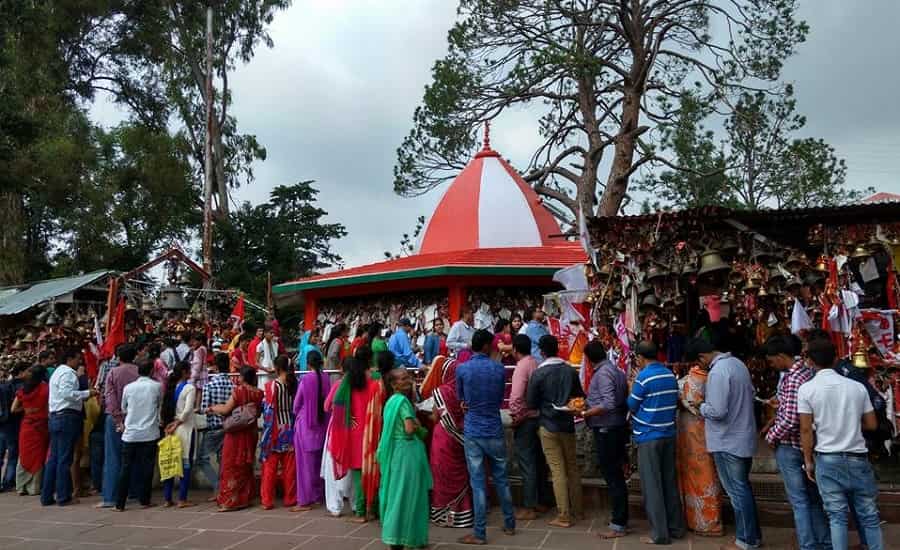 Located at a distance of just 8 kms from Almora, Chitai Golu is one of the prime god that is worshipped by the local people of Uttarakhand and is held in extremely high regard. The temple is home to numerous copper bells, which form its identity adorn the temple with the presiding deity being Golu Ji – who is an incarnation of Lord Shiva in the form of Gaur Bhairav. He is also known for being the god of justice and it is believed that anyone looking for justice prays to him then their wishes are granted.
3. Kedarnath (Rudraprayag)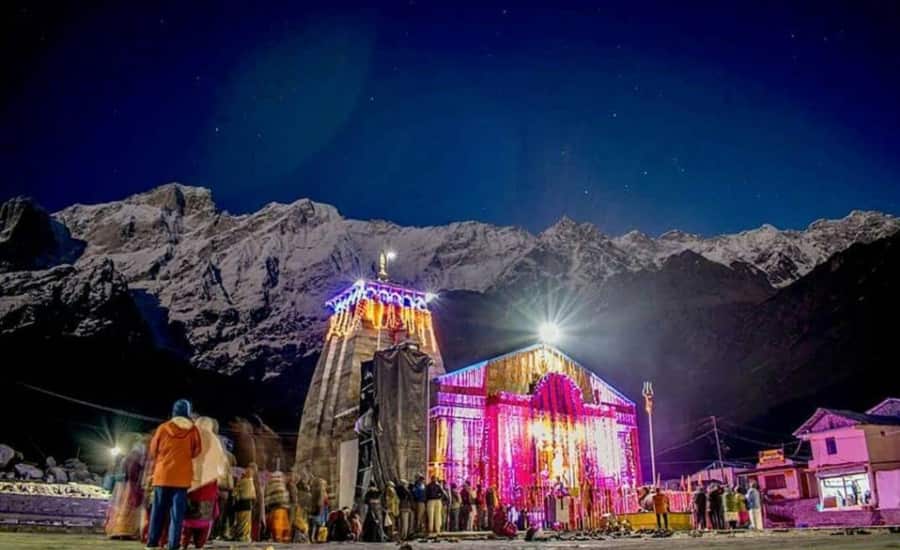 This ancient Jyotirlinga of Lord Shiva is perched on a high elevation amongst the greenery of the Garhwal Himalayas. After the devastating flash floods of 2013 Kedarnath was resurrected and now it stands stringer than ever. People from far and wide visit this abode of Lord Shiva where he is worshipped as the 'Lord of Kedar'. Not only is this temple an important part of the char Dham circuit but is also an important part of the holy Panch Kedar Yatra pilgrimage. If you are looking to experience the peak of spirituality in India then a visit to Kedarnath will be a boon.
4. Maa Barahi Devi Temple (Champawat)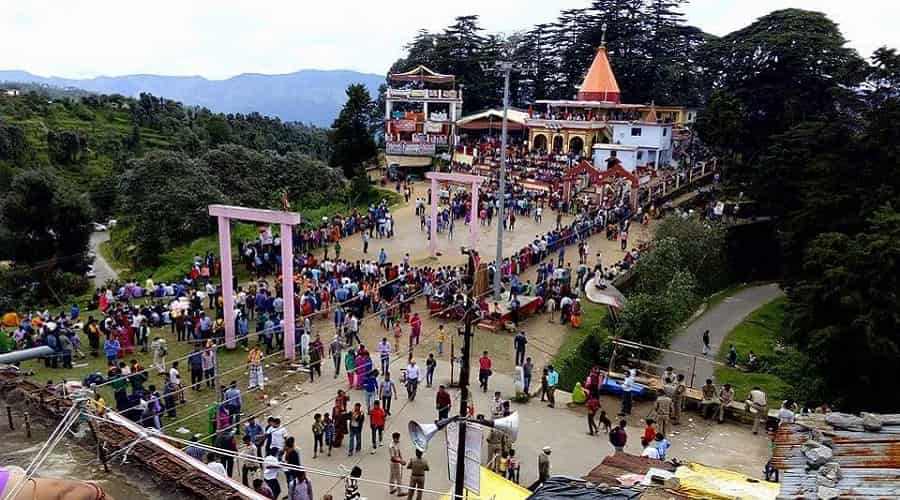 Dedicated to one of the Matrikas (which is a group of seven mother goddesses) this vibrant looking temple is the focal point for its unique and ancient tradition of stone pelting that takes place every year on the holy eve of Raksha Bandhan. Located at a distance of 45 kms from Lohaghat on the Lohaghat – Champawat highway the temple witnesses a huge turnout to witness this unique event. The temple is small in its stature but holds incredible significance to the ethnic tribes and Pahadi Groups of Uttarakhand.
5. Baijnath Group of Temples (Bageshwar)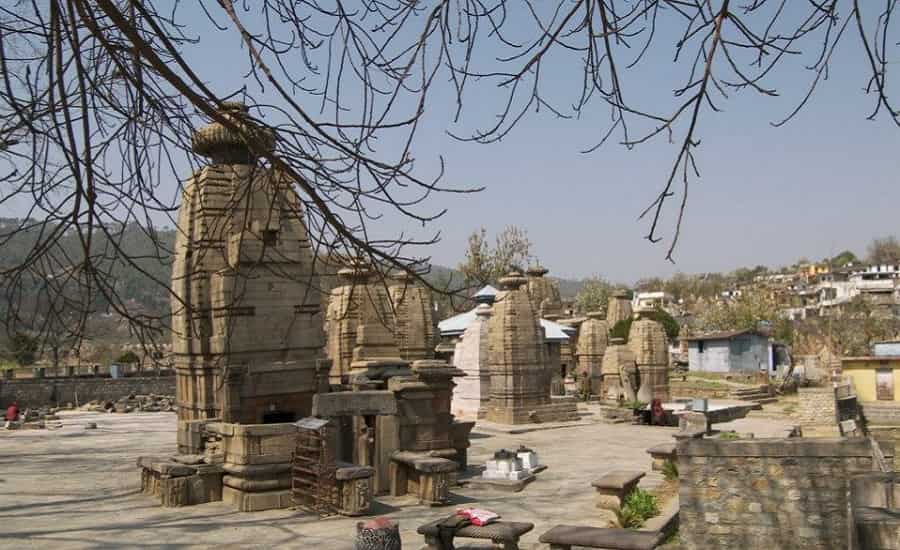 Declared for being of national importance by the ASI (archeological survey of India) the architectural masterpiece of this group of temples is a mark of expert craftsmanship of the 10th century that seems to be inspired from the architectural style of South India. With the main shrine being dedicated to Lord Shiva this glorious cluster of temples is located at a distance of 40 minutes from Kausani and should definitely be visited. The entire drive to this temple is extremely scenic and one can enjoy the sights of some beautiful tea gardens.
6. Vishwanath Temple (Guptkashi)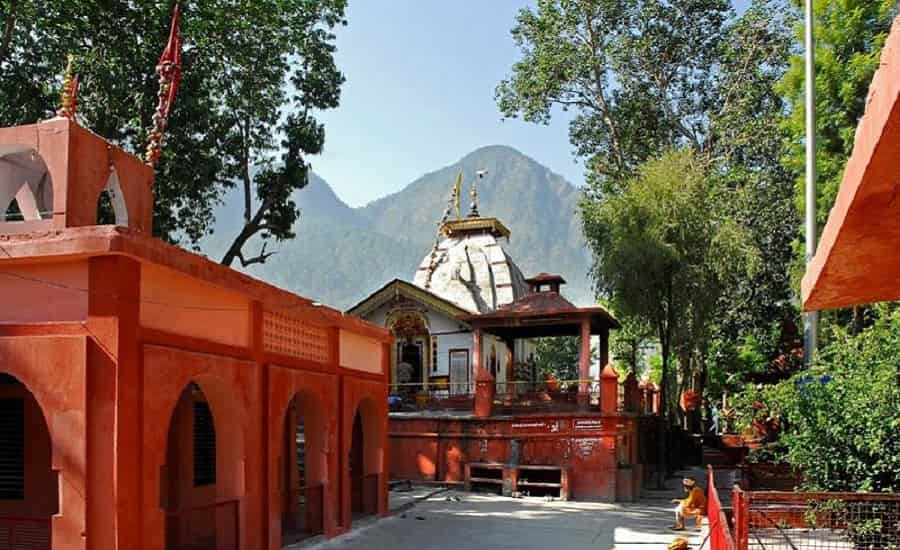 The ancient temple of Lord Shiva is located en route from Sonprayag to Joshimath and holds incredible religious significance. People can witness both the rivers of Ganga and Yamuna together and it has also found its mention in the holy book of Lord Shiva – Shiv Puran. This place is believed to be the exact spot where sage Markandeya was sacrificed by Lord Shiva. This complex consists of three different temples and requires the visitor to climb up almost 50 to 60 steps. The presiding deity linga that is enshrined inside the temple is a replica of the Linga of Kedarnath.
7. Jhula Devi Temple (Ranikhet)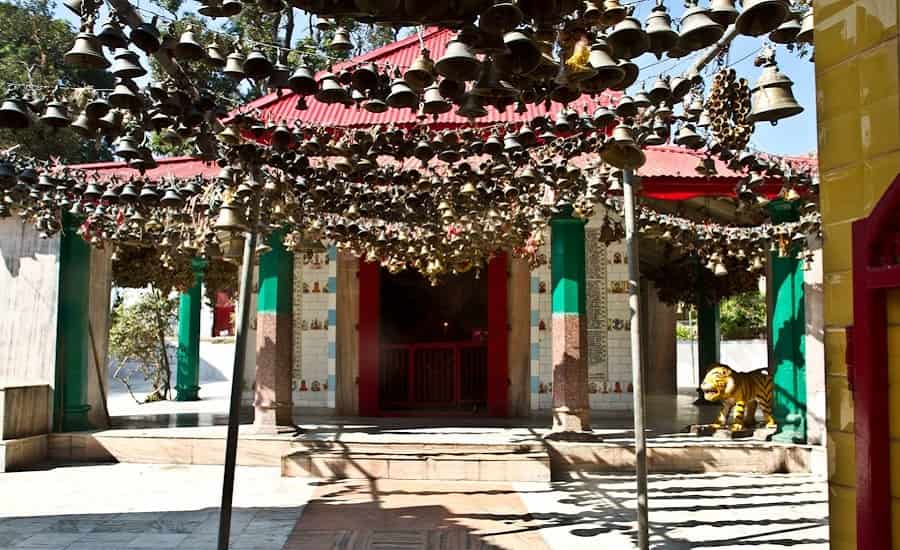 Dating back to almost 700 – 750 years back and located just before the army check post at Chaubatia the temple of Jhula Devi is extremely unique and should definitely visited once for its quirk. Almost every inch of the temple is covered in traditional brass bells that are tied around by the devotees whose wishes Jhula Devi has granted. The presiding deity of the idol of Maa Durga sits on a wooden Jhula and the temple's location gives it a peaceful and a calming vibe. This is one of the cleanest and one of the quietest temples here with easy parking facilities and convenient visiting options.
8. Gopinath Temple (Gopeshwar)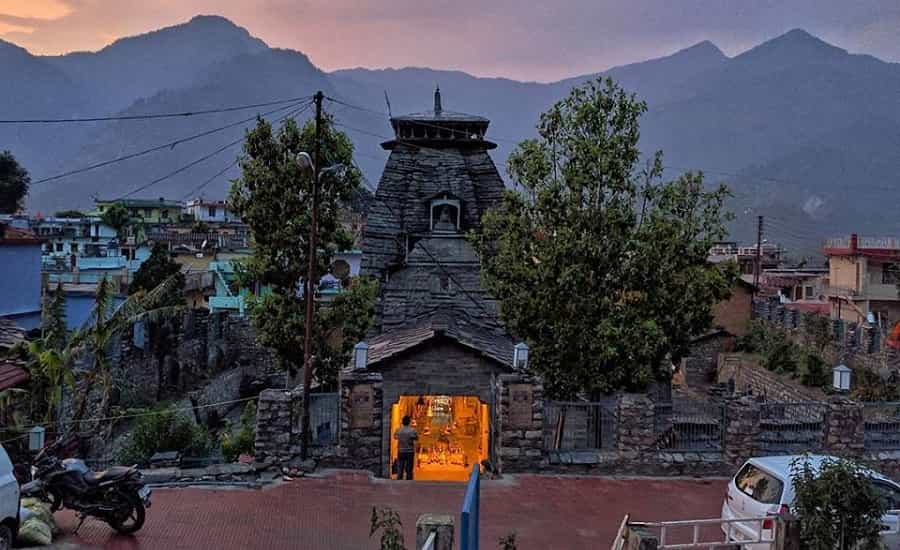 Popular for being one of the most important temples dedicated to Lord Shiva, Gopinath temple was constructed by the Katyuri kings of Uttarakhand during the 9th and 11th century. The mythological legend of this temple is extremely vibrant and involves the fact that this is the place where Lord Shiva had hurled his trident weapon at the god of love – Kamdev (Kamadeva). Until this day devotees can see that trident wedged inside the mountain and no amount of power has been able to move it from there, it can only be moved by a true Lord Shiva believer with just a slight touch.
9. Mansa Devi Temple (Haridwar)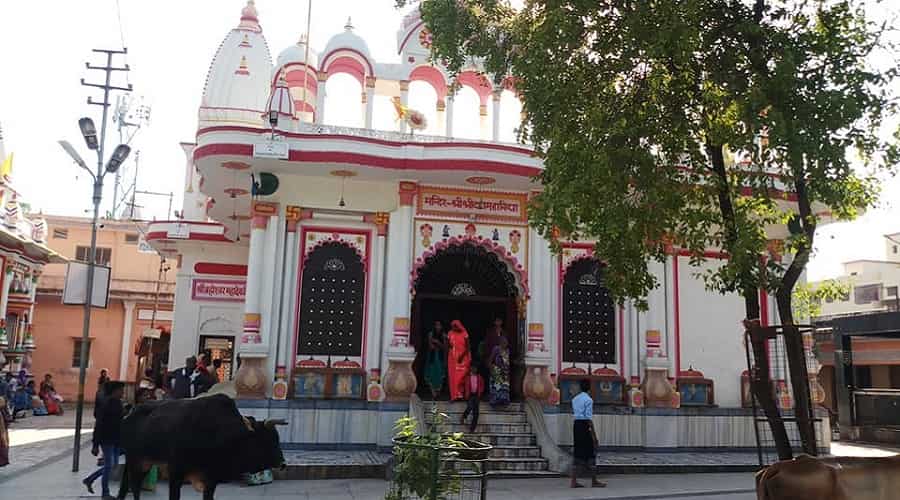 Dedicated to goddess Mansa Devi located in the holy town of Haridwar this temple is perched on top of a small hill and attracts a number of visitors and devotees from far and wide. A ropeway service there allows you to reach the temple shrine within just 5 minutes. The temple exudes positivity and a vibe of deep spirituality which can be experienced during your visit there. You will also be treated with some mind blowing view of the valley below.
10. Neelkanth Mahadev Temple (Rishikesh)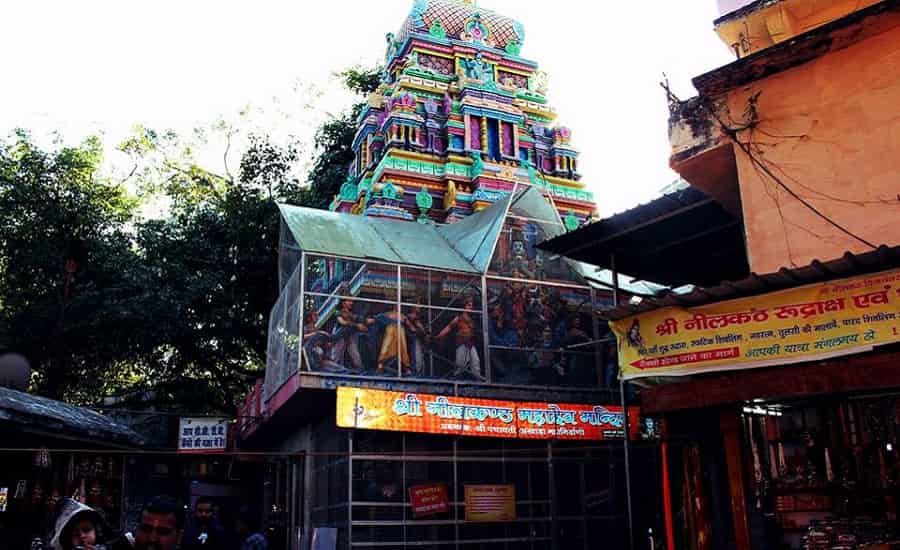 If you are looking for a quick spiritual getaway experience then a visit to this temple is a must. The temple is dedicated to Lord Shiva and it takes almost 2 hours for anyone to cover by road due to its location on top of a hill. Although the main shrine is extremely tiny and small people can sit and perform meditative activities outside the main temple premise and have mesmerizing views of the valley below. The road will take you through hair pin bends and sharp turns (do carry medicines for vertigo or motion sickness) but the resulting view and the spirituality that follows are incomparable.
11. Patal Bhuvaneshwar Cave Temple (Pithoragarh)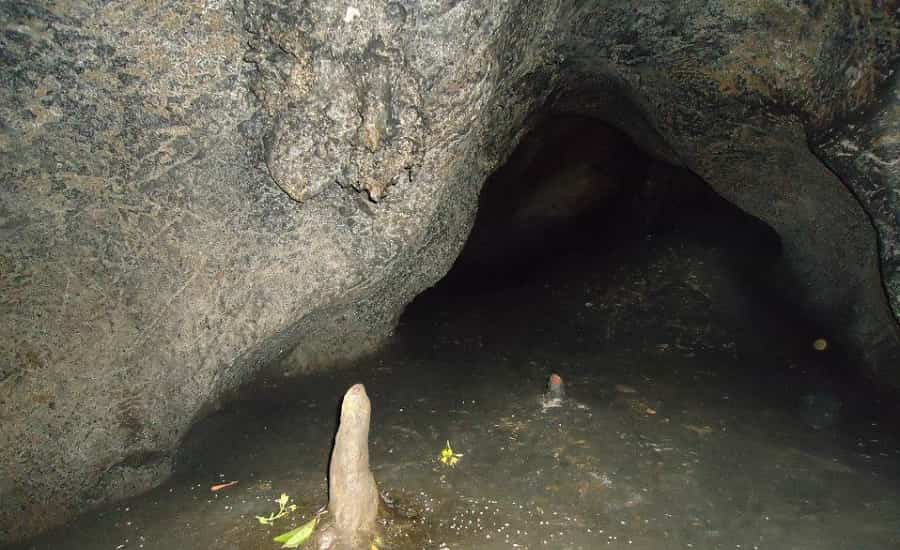 The history and legends related to this limestone cave temple is incredibly fascinating. It is believed that Ritupurna had met Sheshnag inside the temple who carried him on his hood and showed him all the creations that were made by the gods and goddesses by witnessing the 33 kotis which also includes Lord Shiva himself. This unique temple remained shut down for several ages and as per the predictions made in the Skanda Puran, it was reopened during the Kalyug. You will also be fascinated by the naturally occurring stalagmite formations inside the cave.
12. Tarkeshwar Mahadev Temple (Lansdowne)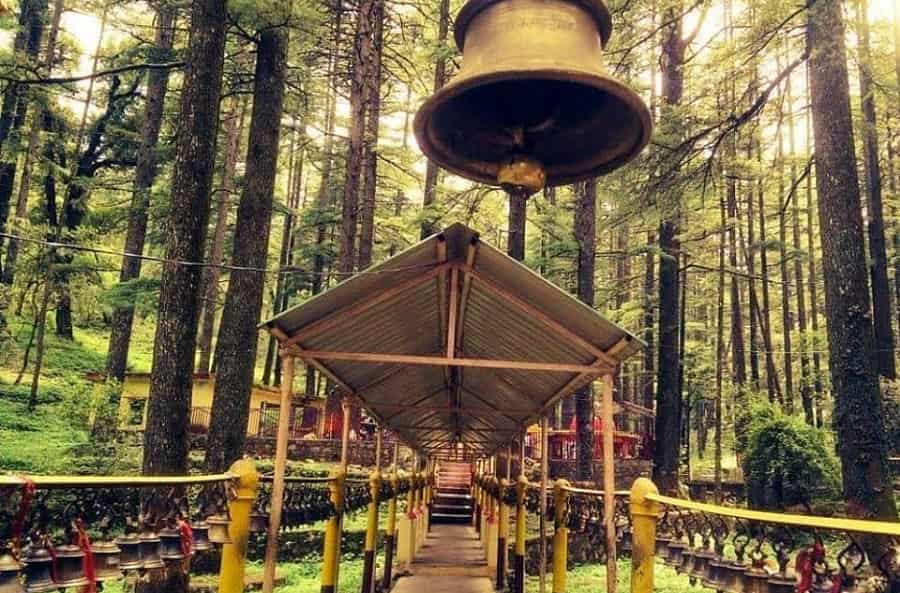 Set amidst the lush green and towering trees of deodar this temple is known for its unmatched peace and tranquility making it ideal for sages and sadhus to meditate and perform their penance. Form the parking lot the devotees will have to make their way through for 300 metres in order to reach this ancient temple that is almost 1500 years old. The entire trekking route consists of both uphill as well as downhill treks but the serenity and peace here remains unchanged and persistent.
13. Baleshwar Mahadev Temple (Champawat)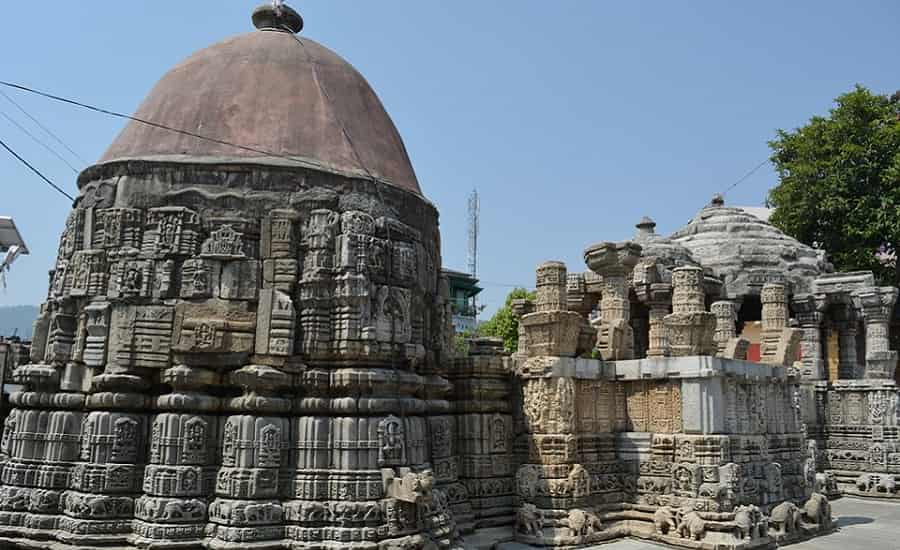 Located in close proximity to bus stop and railway station this ancient temple is famous for its unique and extremely elaborate work of stone carvings. The construction date of the temple can be dated back to 10th or 11th century other than the main temple shrine which is dedicated to Lord Shiva, there are two other temples within the same premise and it experiences a huge crowd during the holy eve of Mahashivratri.
14. Bagnath Temple (Bageshwar)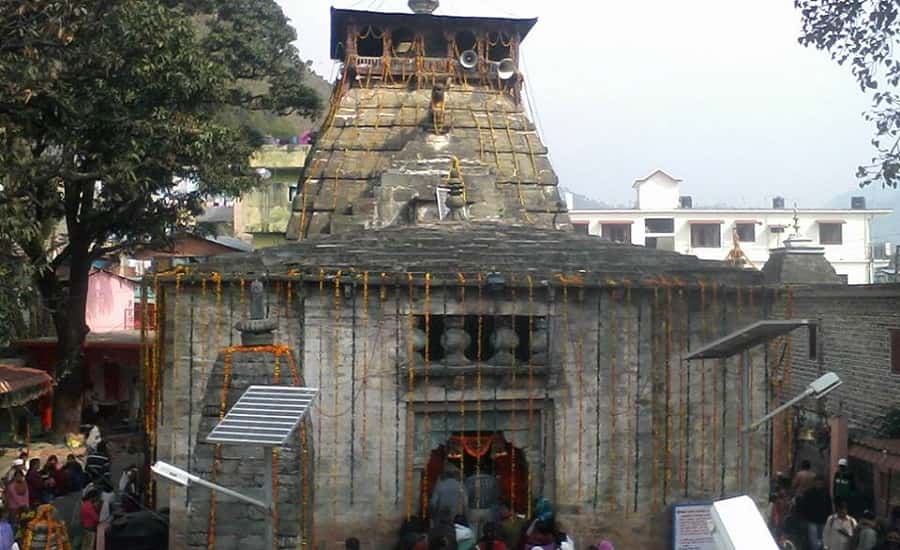 Dating back to the 7th century and located right on the Sangam of two holy rivers of Sarayu and Gomti Bagnath temple worships Lord Shiva in the form of a lion and the city of Bageshwar draws its name from this temple itself. It is named so since sage Markandeya is believed to have been visited by lord Shiva in the form of a lion. Along with this the temple also finds its mention in the holy book of Skand Puran. People also visit Bagnath as an option to perform the final rites in an area adjoining the main temple shrine.
15. Kasar Devi Temple (Almora)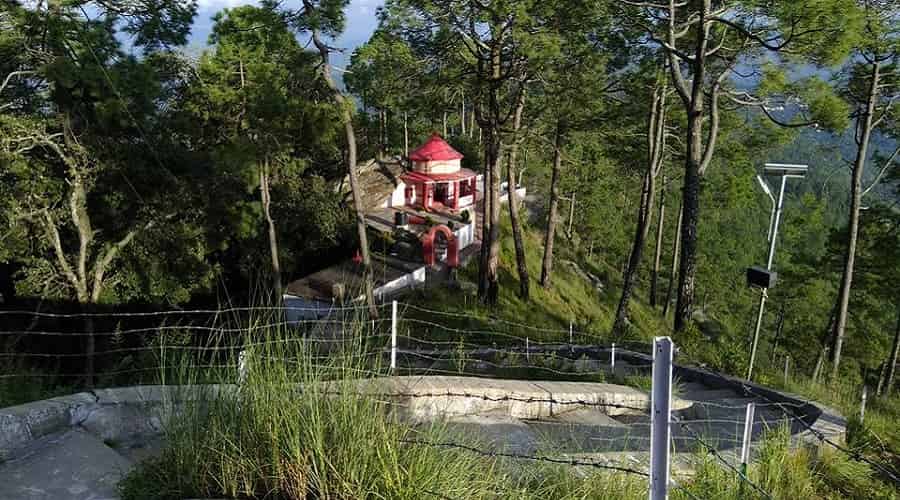 This 2nd century temple dedicated to goddess Durga is located on a hill top which is believed to hold special magnetic waves which can only be found in one another destination of Stonehenge. This temple had also attracted Swami Vivekananda who had come here to perform his meditation. People from far and wide visit this place to perform their meditation and feel the positively charged particles rejuvenate them from deep inside. Mostly visited by foreign individuals looking for a spiritual experience the main temple shrine can be reached after a climb of 20 minutes.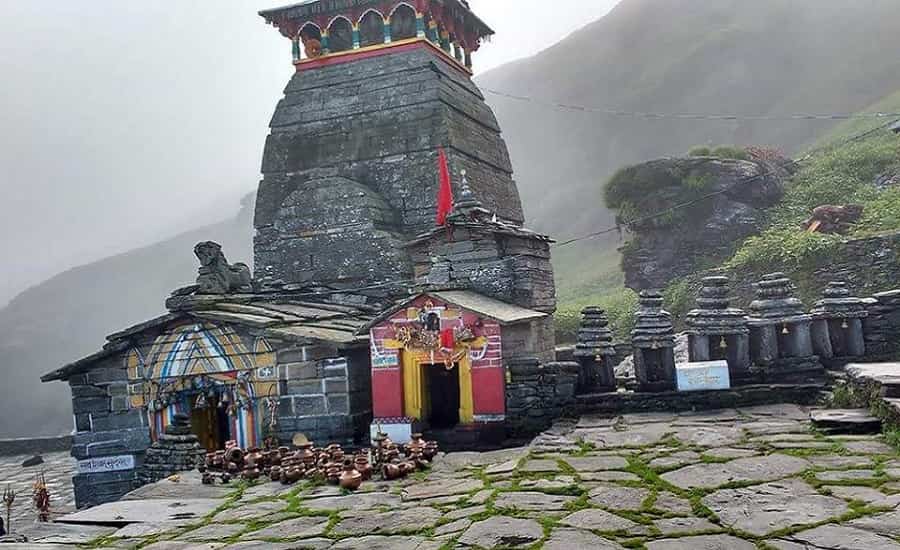 Sitting on an elevation of 3,680 metres above sea level and famed for being the highest temple of Lord Shiva in the world, Tungnath is also an important part of the Panch Kedar Yatra circuit. The devotee will be expected to cover a trekking distance of 4.5 kms starting from Chopta. This temple which resembles the architecture of Kedarnath Dham, is placed amongst the pristine and natural beauty of the Garhwal Himalayas. Believed to be more than 1,000 years old this temple also houses a shrine of not just Lord Shiva but of goddess Parvati as well.
17. Badrinath Temple (Chamoli)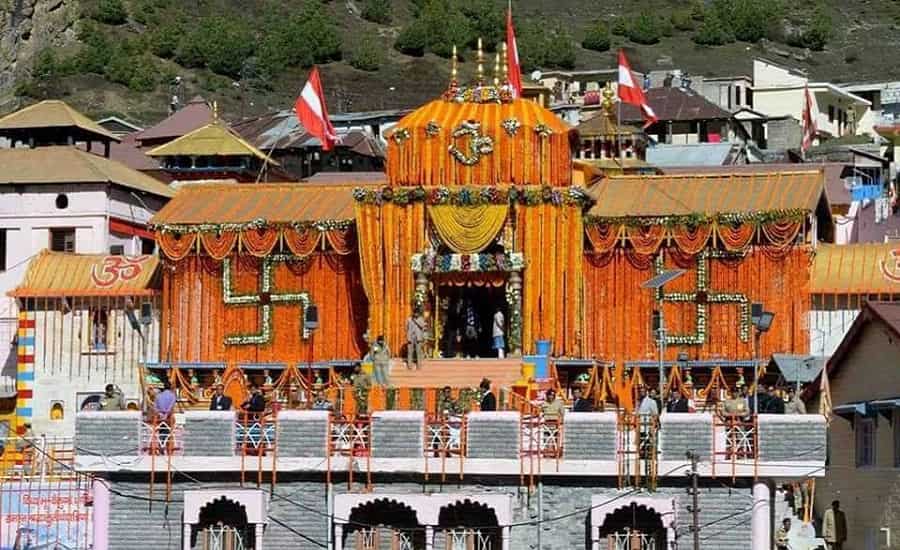 Also popularly referred to as Badri Vishal, this temple is dedicated to Lord Shiva who is worshipped in the form of Lord of Badri. Reaching this place is an easy job since it has a strong and dense network of roads. The legend of Badrinath refers to the time when Lord Vishnu had performed his penance there and his consort goddess Laxmi covered him from the harshening weather conditions. The charm and divinity of this place is unmatched and should visited at least once in a lifetime for every devout Hindu.
18. Purnagiri Temple (Champawat)
Located right on top of the hill at a distance of 20 kms from Tanakpur this temple is also situated on the banks of the holy river of Kali. This place is an important Shaki Peeth in India and is believed to house the naval or nabhi of goddess Sati. The final road head for this hill top temple is located in Thulligad and various transport options are made available to reach for the final destination. People who visit this place with a pure heart and deep devotion for the goddess gets their prayers answered.
19. Rudranath Temple (Rudraprayag)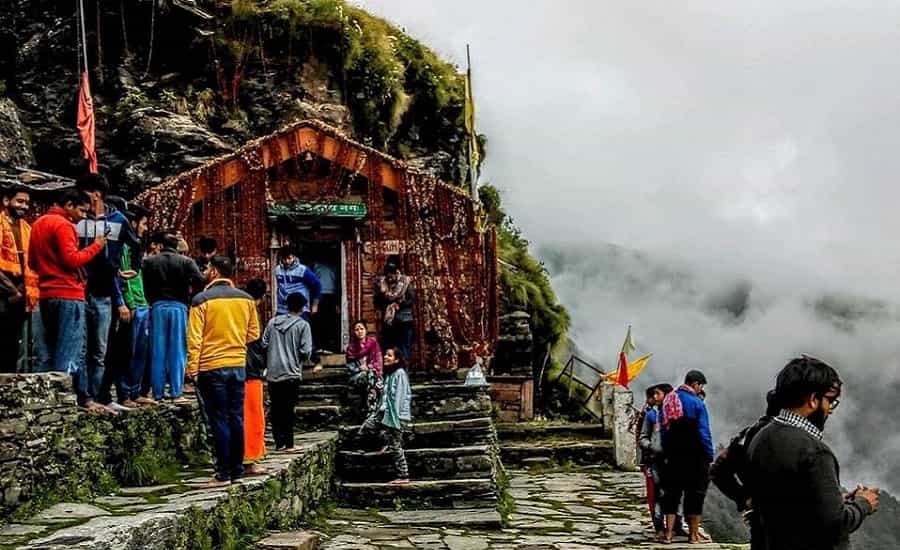 This ancient temple of Rudranath which is naturally carved out from the mountain rock this temple is known for being one of the toughest tracks in the Panch Kedar Yatra circuit. You will also be witnessing the incredibly rejuvenating Sangam of the holy rivers of Mandakini and Alaknanda. If you are interested in attaining peace then performing meditation here is considered to refresh you from the within and can allow you to achieve the tranquility you need.
20. Kainchi Dham Temple (Nainital)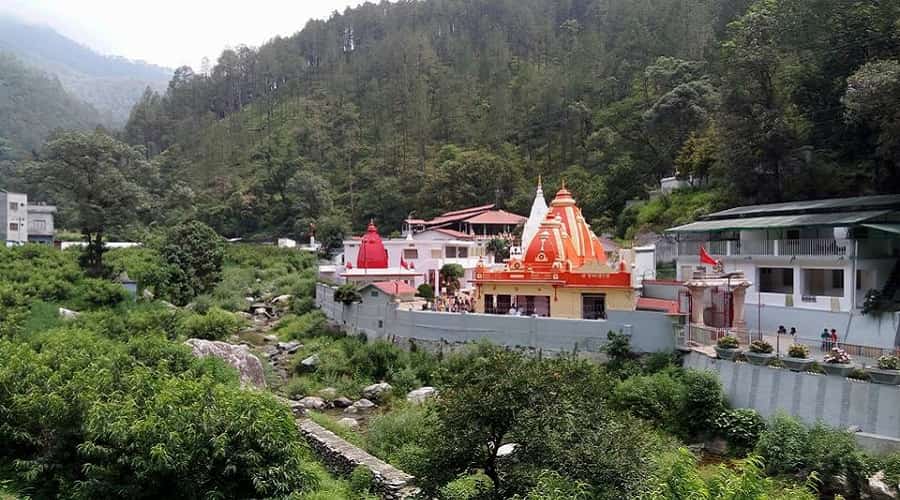 This temple located amongst the blissful surroundings is famous for being one of the most popular destination for top techies of USA like bill gates, Mark Zuckerberg, Julia Roberts to name a few. The peaceful surroundings here allow you to connect with your innermost self and achieve a deep sense of salvation. The main temple shrine is small in size but the surrounding tranquility is unmatched and it is extremely neat, clean and well maintained.