Nestled amongst the vibrant and lush greenery of the northern Chamoli region is one of the most magnificent representations of pure and untainted Himalayan beauty. A UNESCO world heritage site, Valley of flowers is famous for its incredibly rare, endangered and beautiful collection of flora and fauna. This collection includes – Asiatic black bear, snow leopard, musk deer, some magnificent exotic high altitude Himalayan birds and so much more. Sitting peacefully on an elevation between 3,352 and 3,658 metres above sea level the gently sloping and undulating landscape of valley of flowers forms beautiful scenery when combined with the rugged mountainous beauty of Nanda Devi national park. Together these two places form the transition area between Zanskar mountain range and the greater Himalayas cover an overall region of 87.50 sq. km and can be easily included in your plans of Char Dham Yatra with Valley of Flowers. One famous mythological account related to this place is that, Valley of flowers is the place from where Lord Hanuman collected the Sanjeevani Booti for curing Laxman. With a clear water stream gently flowing through the Valley and the lofty, green-carpeted mountains surrounding it is one of the finest and the most alluring destinations in India if you want to experience nature in its raw form.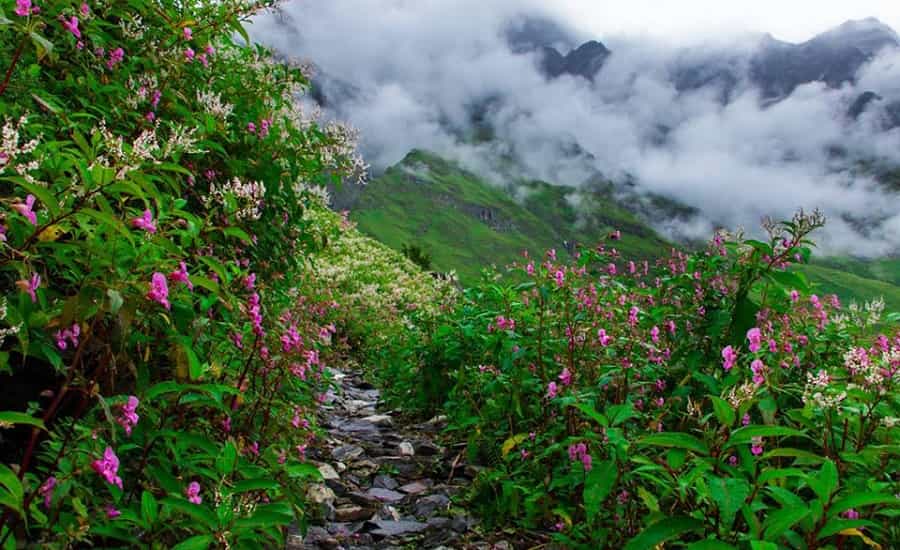 About Valley of Flowers
Location
The magnificent valley of flowers is situated in the district of Chamoli in Uttarakhand. Due to its remote location it takes any traveller a minimum of 3 days to reach Valley of Flowers from Haridwar. The last motor head is located in Govindghat from where you will be required to trek your way to the valley of flowers.
Discovery of Valley of Flowers
Due to its remote location and its inaccessibility this serene valley was undiscovered to the outside world. In 1931 ace mountaineer and explorer Frank S. Smythe along with his other mountaineer friends Eric Shipton and R.L. Holdsworth stumbled upon the valley of flowers by accident while they were on their way back from their successful expedition of Mount Kamet.
In 1939 a botanist called Joan Margaret Legge was deputed by Royal Botanic gardens to visit this fascinating valley and study the flowers there. While making her way through the rocky slopes to collect some flower samples she slipped off the mountain edge and lost her life. Currently, a rock can be seen there which was erected in her memorial by her sister.
Base Camp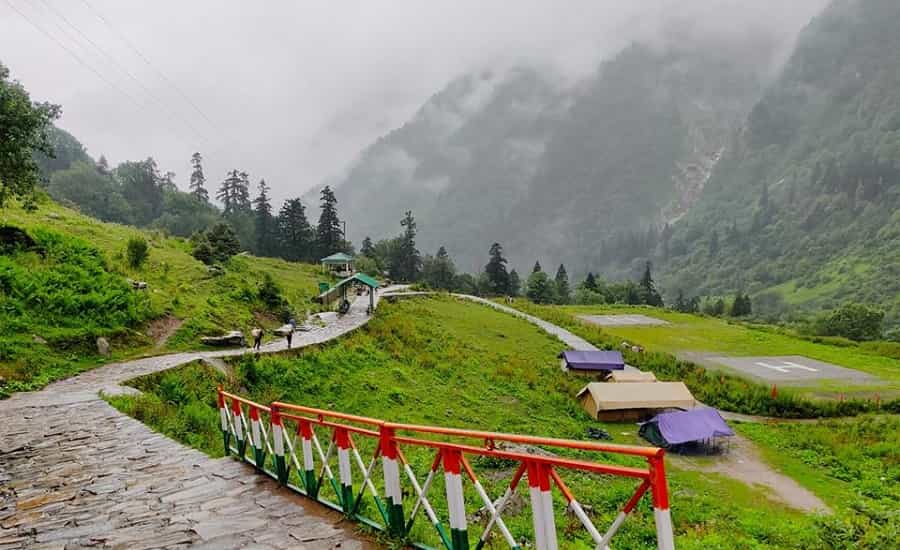 The village of Ghangaria serves as the base camp for further trekking to Valley of flowers. This village has a number of stay options and accommodation facilities for people planning their trip to the valley. Stay at valley of flowers is not allowed and people have no option of staying there. This base camp is primarily managed and administered by state forestry department and ministry of environment and forests of Uttarakhand. Forming settlements and grazing activity inside the park is completely banned ever since 1983 in order to protect the fragile ecosystem and biosphere of the valley.
Getting There
The closest airport for Valley of flowers is situated at a distance of 295 kms in Dehradun while the closest railhead is at a distance of 276 kms in Rishikesh. The closest road head for Valley of flowers is at Govindghat and requires you to cover a road journey of 10 hours to Joshimath from Dehradun and another final 1-hour journey to Govind Ghat. From Govindghat you will be required to trek up to the base camp at Ghangaria. You will be needed to trek for a further distance of 5 to 10 kms to see the beauty that is bestowed here.
Trekking Journey
The overall trekking journey will be covered in a span of 10 days.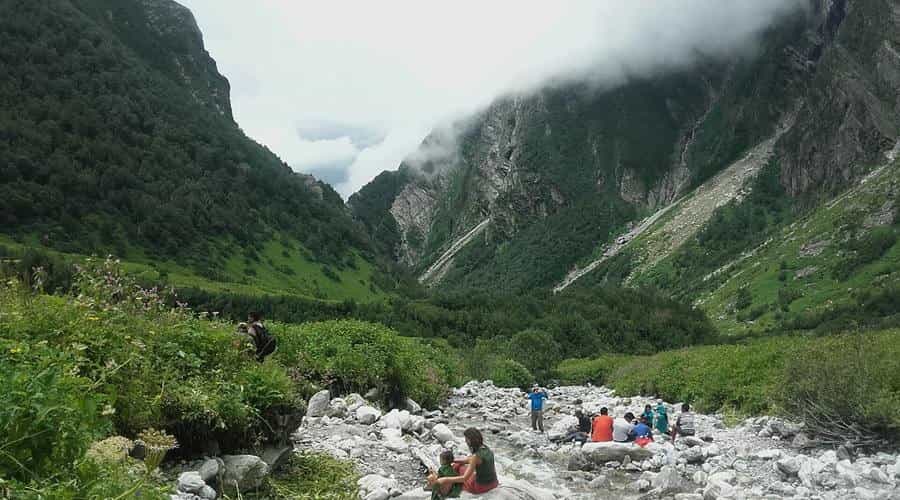 Your journey will commence from Govindghat which is situated at a road journey distance of almost 11 hours from Haridwar. Once you reach Govindghat you will be making your way to Ghangaria via poolna which is a drive of 4 kms. From Ghangaria you will be making your way to the valley of flowers and back which will take almost a 6 hours of trekking journey to cover almost 3.7 kms back and forth.
The difficulty grade of this trek is from Ghangaria to valley of flowers is not a steep one since this valley is almost as the same level for 3 to 4 kms. The official commencement point for the valley is almost 3.5 kms and out of this 50% of the overall trek is steep and uphill while the remaining one is not steep at all. In case you find it difficult to make it to the valley then you can avail the services of some alternate ways of traveling like palanquins or dolis. These days' ponies are banned from entering the national park.
Opening / Closing Dates and Timings
Every year the valley of flowers opens its gates to visitors and nature enthusiasts on 1st June and shuts down on 4th October.
Every day the valley gates opens up at 7 am in the morning and the last entry to the valley is allowed up till 2 pm in the afternoon. You will be required to leave the valley by 5 pm in the evening. You will be required to get to the entry gates of the national park by 6:45 am early in the morning. You should make sure to make your return trekking journey by 1:30 pm in order to reach back by 5 pm.
Best Time to Visit
The entry to the national park is opened up during the summer months and after its closing in the months of October or November it remains snow bound making accessibility impossible. Avoid going to the park during the monsoon months of July and August. If you want to experience the lush greenery of the post rain Himalayan beauty then visiting Valley of flowers during the months of late August, September and October is advised. You can also make a trip to the valley during the summer months of June and July when the park gates are thrown open for visitation.
Where to Stay
Prior to continuing on to Ghangaria, it is advised for you to stay for a night at Joshimath. One of the most reliable options for accommodation is the guesthouses provided by GMVN. Make sure you do advance booking before coming here.
There are a number of other stay options from which you can choose from that suits your budget like – Himalayan abode homestay, Nanda inn homestay.
Ghangaria also has a few hotels and camping facilities with some basic amenities and facilities like at the Sri Nanda Lokpal Palace. To avail the camping facilities at Ghangaria you will be setting up your camp close to the entry of the park.
Other Valley of Flowers in India
Yumthang Valley (Sikkim) – Sikkim is known for being blessed with some of the most awe-inspiring views and scenic destinations. The valley of Yumthang is also famous as one of the valley of flowers since the entire valley gets dotted with a wave of exotic flowers. Sitting peacefully on an elevation of 11,693 feet above sea level and with almost 24 different varieties of rhododendrons this valley is one of the most magnificent valleys in India.
Best Time to Visit – February – June
Kaas Plateau (Maharashtra) – Situated within the Sahyadri range of western Ghats inside the city of Satara and located at a driving distance of 3 hours from Pune this flower covered plateau displays almost 850 different varieties of colorful and vibrant flowers. This region is also known for being home to a rare blue-purple flower that blooms every 7 years and covers the entire plateau in its mesmerizing beauty.
Best Time to Visit – September – October
Dzukou Valley (Nagaland) – this valley in particular is known for its gently rolling hills covered in lush greenery and dotted with colorful plants. This undisturbed natural beauty is a hidden gem in the north eastern region of India. Surrounded by the Japfu hill ranges at an altitude of more than 2,000 metres above sea level, this valley offers some of the most stunning views of the flowers in this valley. Every summer the valley springs to life and bursts with vibrant colors due to the presence of some seasonal flowers.
Best Time to Visit – June – September
Travel Tips
Make sure to start your trekking journey at an early hour from your base camp at Ghangaria so that you will have more time to visit the national park.
Since this place is a world heritage site you will be required to enter your name in the register, pay the entry fees and declare all the plastic bottles that you will be carrying along.
The entry for the valley of flowers opens up in the morning at 7 am and the last entry is at 2 pm in the afternoon. You will have to start your return journey at 1 pm so that you reach back by 5 pm in the evening.
Make sure you are fully prepared beforehand and you carry along some extra pair of socks, a torch, a poncho or a raincoat to shield you from the heavy rains and extra camera batteries if needed.
Make sure you book and plan your trip to Valley of flowers according to your liking since the months of May, June and September is preferred however, in case you want to experience the valley while its completely covered in colorful flowers the visiting it during the months of July and August are advised.
Some Frequently Asked Questions About Valley of Flowers
Q. Can senior citizens do this trek?
Ans. Senior citizens who perform some amount of exercise regularly and on a daily basis and are also maintaining good health then they can visit the valley with ease. However the valley is located at a massive height and you should not have a history of altitude sickness. The 4 days of the trekking journey will require you to walk extensively however you can avail the services of a pony, palanquin or doli, except for the 3 days of trek at valley of flowers.
Q. What kind of shoes is required to traverse through the valley of flowers?
Ans. Avoid wearing sports shoes and old shoes since the entire terrain of the valley is extremely rocky and you will be requiring the support of a good pair of shoes for your journey. The shoes that you choose should not be new but should be worn almost 15 dyas prior to the commencement of the trek. Shoes with nice grip, proper ankle support and water proof technology should be bought.
Q. What is the minimum age to visit valley of flowers?
Ans. The trek can be done with kids but not with infants. The kids should be able to at least enjoy the trekking journey and there is no problem for the trekking part since there are porters available at reasonable prices of almost Rs.700 to 1,000/-. The minimum age of the kid should preferably be 4 years old. You should make sure to carry along all the essential amenities required while travelling with kids since the village of Ghangaria is extremely remote.
Q. How many days are required to see the valley of flowers?
Ans. The total number of days taken to explore the beauty of valley of flowers is a minimum of almost 6 days from Haridwar and for people coming from far away destinations then they will need at least 8 to 10 days.
Q. New Treks Close to Valley of Flowers National Park
Ans. The forest department is actively adding a number of new trekking routes on an everyday basis to attract more tourism to this region. Some of these are:
A trekking journey of 15 kms from Kunthkal to Hanuman Chatti has now been opened for visitation after 45 years.
A trekking journey of 21 kms to Dibrugheta from Lata village.
A 13 km of trekking distance within the rocky and mountainous terrain of Dronagiri.