Devbhoomi, Uttarakhand offers you an opportunity to experience a kaleidoscope of cultures and traditions which date back to centuries. Home to a thriving wildlife culture and a surreal green cover, this hilly state will guarantee to take your breath away. Apart from the undeniably obvious beauty of the place, the state of Uttarakhand is also replete with extremely rich customs and traditional heritage. Tourism in Uttarakhand primarily focuses on having a deep spiritual experience along the Hindu belt of the region. The whole place is closely peppered with ancient spiritual sites, holy pilgrimages and temples of immense relevance. The people of Uttarakhand perform vivid rituals and celebrations which are deeply seated in the rich mythology and natural surroundings. Apart from farming and animal husbandry the entire region is packed with skillful artisans and woodworkers making Uttarakhand a land of creatives as well as mystics.
The colourful and vibrant Uttarakhandi culture is made up of local people called commonly as 'Pahadis', meaning 'people of the mountains', who have kept the flames of ancient Pahadi culture alive even till the present days of modernization and digitization. This state is graced with the presence of multi-ethnic tribes and groups like Rajputs, Garhwali, Gujjars and Kumaoni, who co-exist in immense harmony with each other. The local population here is composed of heterogenous ethnic backgrounds that strongly adhere to their one of a kind cultures and traditions. People live peacefully among unmatched greenery in houses made of thatched and terraced roofs and work on their farm fields every day.
Culture and Tradition of Uttarakhand
Origin and Ethnicity in Uttarakhand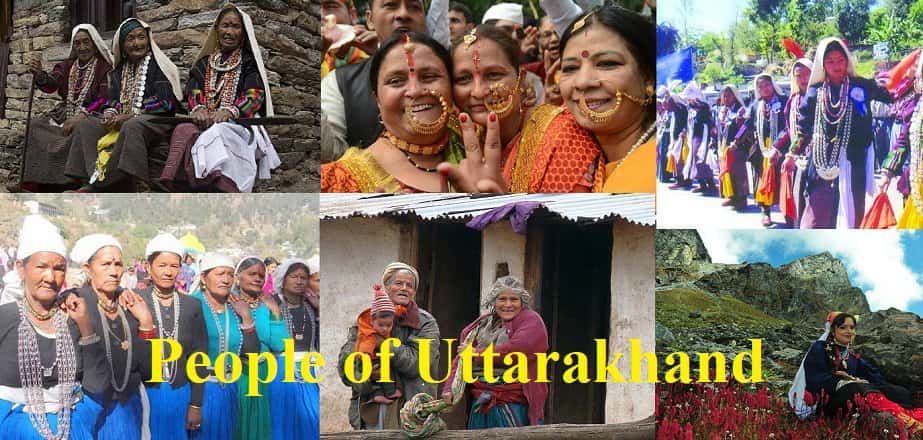 The entire landmass of the state is divided into two section according to the upper and lower Himalayan regions, known broadly as Garhwal and Kumaon. Both these regions are made up of various different divisions namely: Uttarkashi, Chamoli, Rudraprayag, Tehri Garhwal, Dehradun, Pauri and Haridwar which form the Garhwal division and Pithoragarh, Bageshwar, Champawat, Udham Singh Nagar, Nainital and Almora which form the Kumaon division. Almost 90% of the entire population of Uttarakhand consists of Hindus, who have also created some of the most magnificent and timeless local temples. Apart from Hindus, some Muslim locals can also be seen practicing animal husbandry other tribal groups in this area also constitutes of mongoloids, Nordic races, Dravidians and proto-Australoid. Some of the most distinct group of ethnic population which inhabits this area consists of Jaunsari who have their own set of customs, traditions and even their own dressing sense. Other distinct population consists of the Bhotiya tribes who are also a prominent figure in this region and can be easily recognized since their physical appearance looks like that of a Tibetan. This tribe is further divided into a number of sub-sects each with their own individual set of rules and regulations for their customs and traditions. This mosaic of colourful and traditional representations is what makes Uttarakhand a different and one of the most refreshingly unique places to visit in the entire Indian subcontinent.
Customs and Traditions of Uttarakhand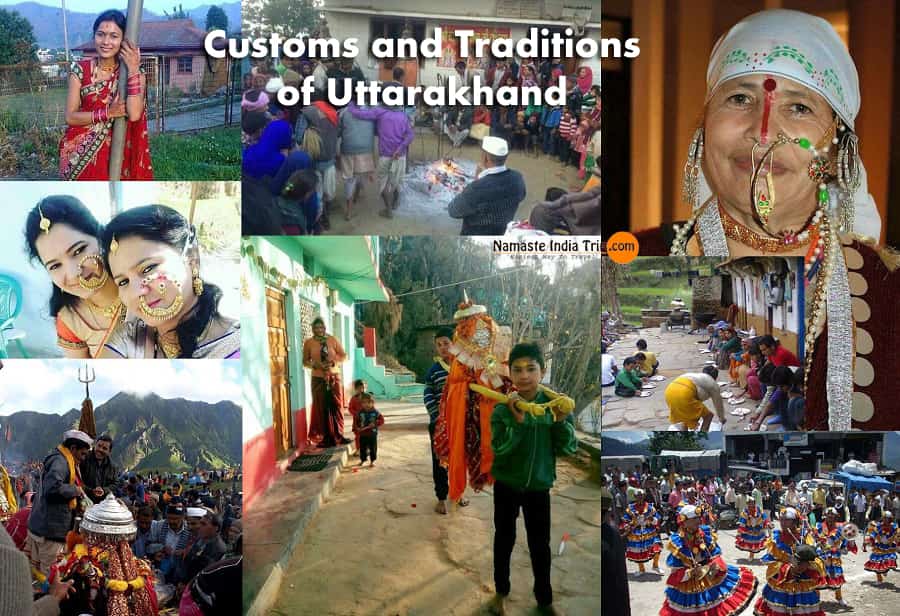 Being an extremely old civilization, the people of Uttarakhand believe in a number of different set of colorful traditions and cultures. A majority of the population follow the worship of spirits of their bygone ancestors since they feel that it is their duty to help them in achieving their salvation along with honouring their memories. They also believe that doing so will wake up the sleeping gods and local deities from a general state of inactivity and offer them their much needed help and shower them with blessings. This is an extremely ancient and traditional belief which makes way for divine justice. One dominant factor which can be noticed during these traditional processions taking place is the usage of extensive music which is believed to invoke the attentions of all the gods residing in their heavenly abode.
A singer is accompanied during these puja rituals and proceedings who sing the great ballads of gods, goddesses and even epics like Mahabharata and Ramayana. The people in Uttarakhand have their traditions deeply rooted in their various superstitions and religious faiths. The people depend on astrological forecasts made by the local Brahmins who decide the auspicious time of the day and date to perform the ritual. Each and every one of their social functions is laced with traditional and age old customs like, birth, death, marriage etc. two of the most prominent deities which are worshipped here are Lord Shiva and Goddess Durga and almost all the festivals and fairs are dedicated to the said deities. Along with puja rituals the local population also indulges in Tantra Mantra to prevent natural calamities and other diseases. Animal sacrifices of buffalos, goats and sheep take place at a location called 'Sidhpeeth', as well as on the confluence of the two holy rivers.
Folk Dance of Uttarakhand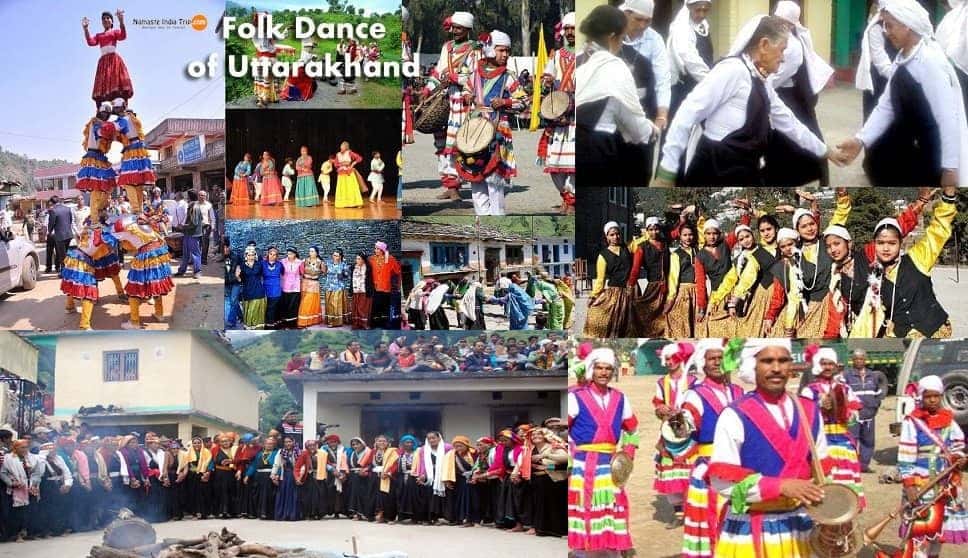 The Uttarakhandi or Pahadi culture is one of the most unique culture which can be witnessed in its plethora of cultural representations. The folk dance of Uttarakhand is not complicated or involves a complex set of steps like other classical dance forms. However this dance is extremely pleasing and appealing to look at. Dances are used to express the joy and celebrate the arrival of new seasons or any other remarkable day. Some of the folk dances performed by the natives here are:
Barada Nati – This is an extremely popular dance form of Jaunsar Bawar region in Dehradun district. This dance is also performed during the eve of some of the most holy religious festivals and social functions. This dance is also taken part by both boys and girls who are dressed in colorfully vibrant traditional costumes.
Chhapeli – This dance is performed by a pair of couples where the female counterpart has a mirror in her left hand and a colourful handkerchief in her other hand while the male half is playing musical instruments like manjira, flute and Hudka. This is a fun duet dance performance which represents the joyful romance where the female (or in some cases young boys) perform some elegant waist movements.
Choliya – This dance form dates back to thousands of years which is performed during marriage processions. People employ the use of traditional Kumaoni musical instruments like Turi and Ransing which are played by Jogis or Bhairagis. People dance in incredible synchronization and perform various movies like turning the body and sword fighting feats.
Folk Songs of Uttarakhand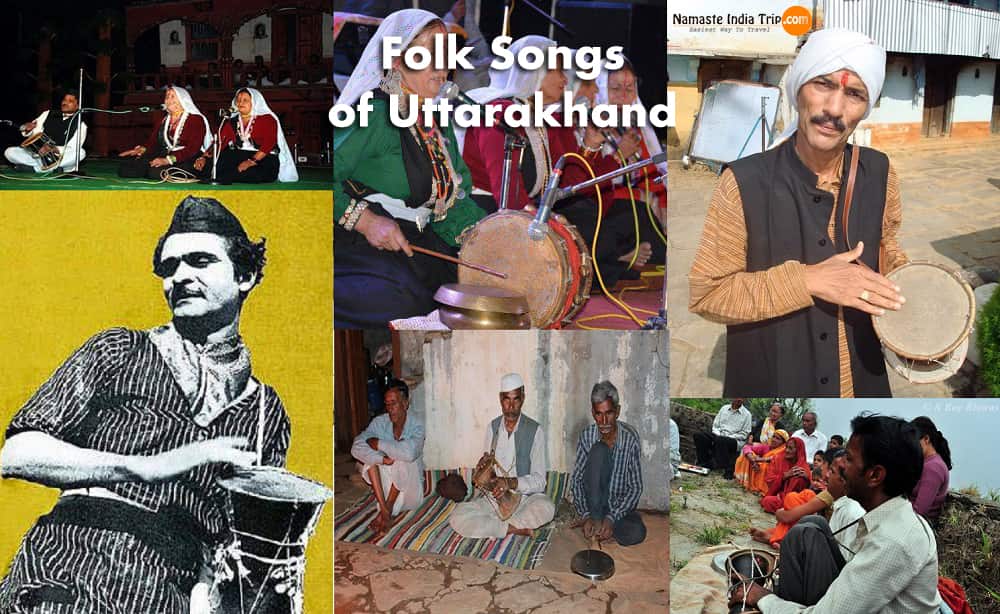 The native music of Uttarakhand finds its root in the surrounding Mother Nature, which has undergone through numerous phases of change and transformation over a period of time. The songs and music of Uttarakhand speaks of different festivals, traditions, local stories and the life of pahadi people in general. Here are some of the different types of folk songs which are popular in this wonderful state of rich cultural heritage:
Basanti – These types of folk songs have been composed to celebrate the coming of the spring season when the flowers are in full bloom and the entire land springs to life. This song can be sung individually or in groups.
Bajuband – This folk song represents the love and sacrifice which takes place between the shepherds. This song is a love dialogue which takes place between a man and a woman or between a boy and girl.
Jagar – Jagar music is included in the category of ghost or spiritual worship which are also combined with graceful dance movements. In some cases, this music form is also performed in the form of local puja songs and is sung in unison to honour the various deities.
Khuded – These are the songs used to showcase the sufferings of women when they are separated from their husband. While singing this song the woman curses these unfortunate circumstances when the woman has to stay at home while their spouse is out looking for a job.
Folk Cuisines of Uttarakhand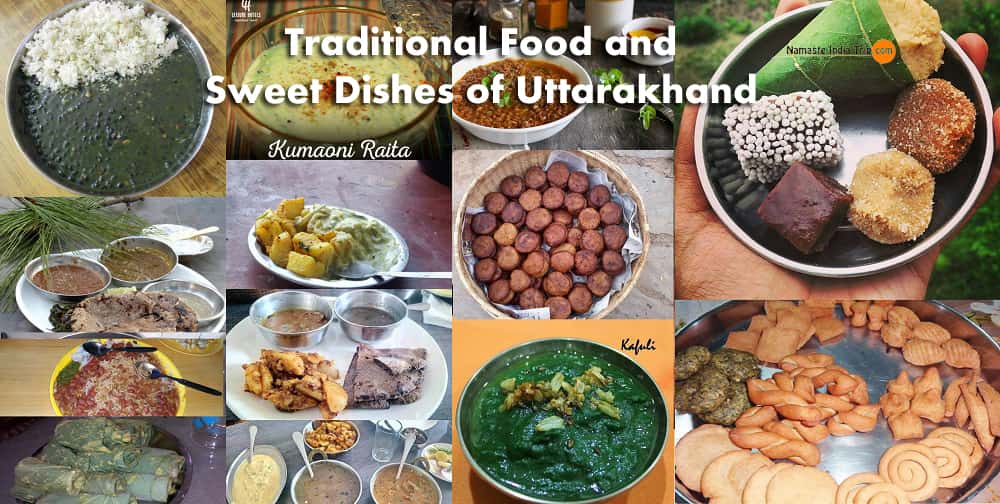 The population of Uttarakhand which resides on higher altitudes is deprived of freshly available fruits, vegetables, wheat and rice. They dine on grains such as Mandua and barley, which is their staple food item along with drinking locally prepared liquor which helps them in bearing the chilled weather conditions. People residing in the lower regions have fresh availability of vegetables and grains like rice, wheat and lentils. The population primarily indulges in spicy food and some of their popular dishes include – black gram dal, potatoes and tomatoes stew with thick gravy, spinach dishes and a variety of breads like chapattis and Gahat ke Parathe. To accompany the food the locals prepare special chutneys which are prepared from sesame seeds, hemp seeds among other locally produced ingredients which work perfectly to perk up your entire meal. Apart from the incredible savoury selection of delectable cuisines, Uttarakhand is also known for its wonderful collection of sweet dish preparations which include Bal Mithai of Almora, Singodi and so much more which are made from desiccated coconut and sweet Khoya.