Perched at an elevation of 1317meters above the sea level, Ukhimath is situated in Rudraprayag district of Uttarakhand. The place is known as winter home of Lord Kedarnath and Madhyamaheshwar. This is a winter pilgrimage and devotees come here to pay the homage at Omkareshwar temple as Kedarnath is closed during winter. From Ukhimath, pilgrims can enjoy the beauty of snow capped mountains. It offers tourists the fascinating views of lush green mountainous view of Kedarnath and Neelkanth peaks. Pilgrims can find many ancient temples at Ukhimath which are dedicated to different gods and goddess.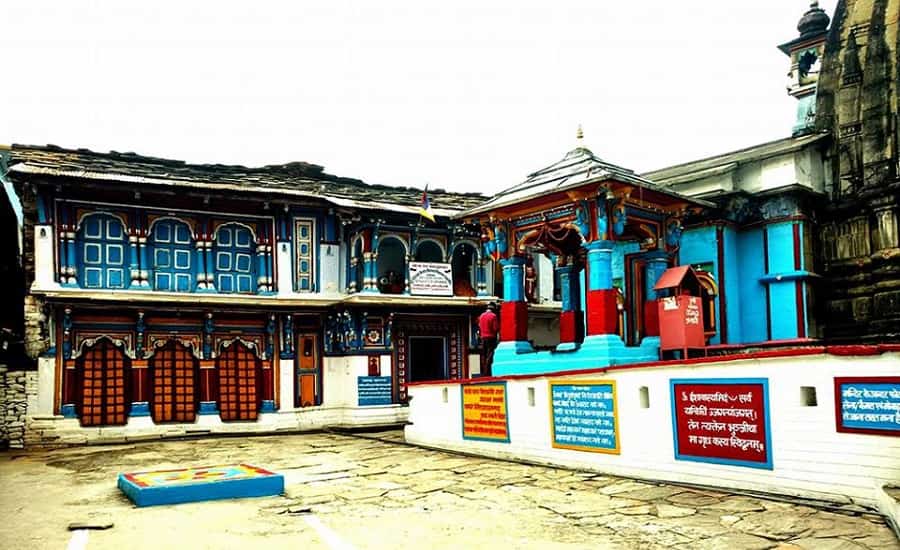 About Ukhimath
Legends
There are many legends behind the origin of this town of Uttarakhand. It is considered that the place is named after Banasur's daughter Usha. Later it got converted into Ukhimath. The place is the marriage place of Aniruddh (great grandson of Lord Krishna) and Usha. During winter the idols of Kedarnath and Madhyamaheshwar. The place is a hub of many temples like Usha Temple, Mandhata Temple, Parvati Temple and Lord Shiva.
Location
Ukhimath is located at a distance of 40km from Rudraprayag district and is also at a very less distance from Deoria Tal, Tungnath and Madhyamaheshwar each one holds a great religious significance. There are 9 Airports which are closer to Ukhimath but Dehradun Airport is the closest (95km) and the biggest airport and is located at the southwest of Ukhimath.
Languages Used in Ukhimath
There are many languages which are spoken here including Garhwali, Kumaoni, Hindi, English etc.
Best Time to Visit Ukhimath:
Weather during Summer- the weather of this holiday spot is very pleasing and delightful as the temperature ranges from 10 degree Celsius to 32 degree Celsius. There is no visibility issue in this season which is a major issue during winter. The sky gets covered with fog so visibility becomes an issue during winter. During day time the weather is quite pleasant but night becomes cold so it is always advised to tourists to carry woolens with them.
Places to Visit in Ukhimath:
1. Deoria Lake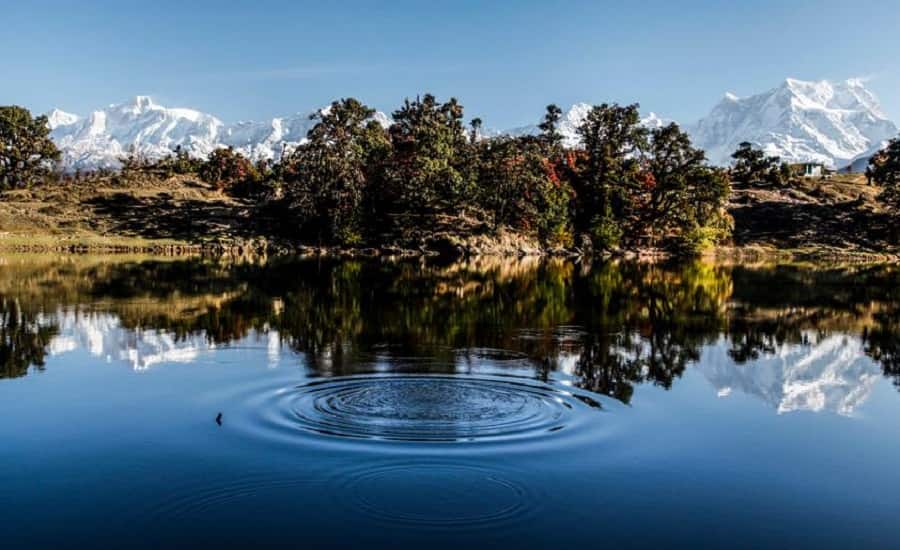 An olive lake situated at an altitude of 2438metres above the sea level. This emerald sea holds crystal clear water and the fascinating view of sun rise and sun set from this place is amazing. So the place is crowded more during morning and evening. Tourists from every nook and corners of the country come and gather the nostalgic memories from here. One can spot many animals quenching their thirst from the lake. The place is considered as a trekking place too due to its soothing beauty of lush green mountains and easy accessibility. Bird Watching, Camping and village tourism can also be enjoyed from here.
Best Time to Visit Deoria Lake
Summer and starting of winter is the best time to visit this place due to the pleasant and favorable climate. Heavy snowfall occurs during winter so if you are compatible enough to survive in such cold environment then you can plan your trip.
2. Sari Village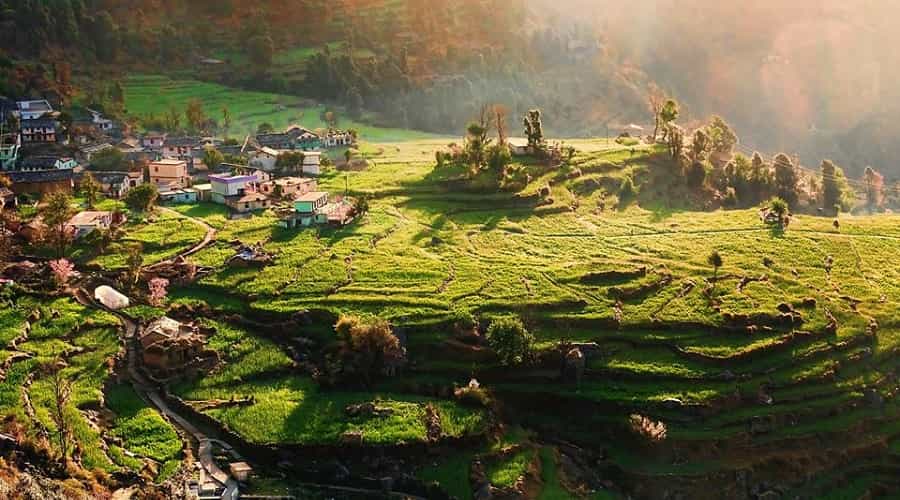 The village is located in Rudraprayag district at an elevation of 6554metres near to Ukhimath. This destination is not known for shopping as it is very far from the market. It is only at s distance of 2km from Deoria Tal. Couples can enjoy walking on the road amidst the stunning mountains. Tourists can enjoy trekking which is not so difficult to complete and trekkers can enjoy their trekking amidst the lush green mountains. Several species of animals can also be found here and even can find species of birds and butterflies.
Best Time to Visit Sari Village
Throughout the year but monsoon is less preferred due to destructive landslides. Unlike other places in Ukhimath, Sari can be visited during winter also as there is very less snowfall and the temperature ranges from 0 degree Celsius to 15 degree Celsius and during summer the temperature ranges from 20 degree Celsius to 36 degree Celsius.
3. Omkar Ratneshwar Mahadev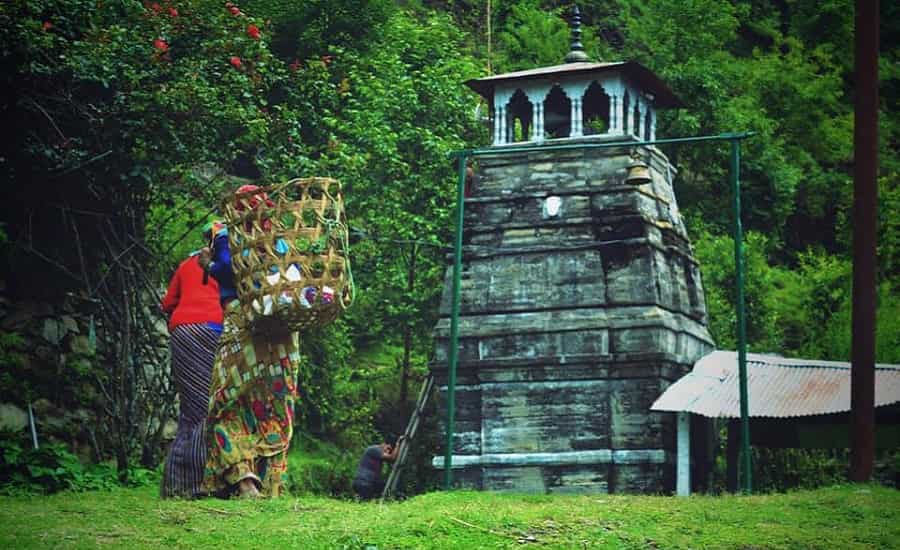 While moving towards Sari village from Deoria Tal, one can spot this pilgrimage which is dedicated to Nag Dev and so called as Devariya Nag Temple also. Travellers can reach at this place by covering a trekking distance of 1km from Sari Village. The Mandap and Garbhagriha of the temple is quite similar to other shrines of Uttarakhand including Kedarnath and Tungnath in terms of architecture. The idol of the shrine is carrying something in the neck built of copper and coiled shaped. The air of this place is completely filled with spirituality and unflinching faith of devotees linger in the atmosphere.
Best Time to Visit Omkar Ratneshwar Mahadev Temple
September to November and March to May is the best time to visit and enjoy this pilgrimage. During winter, the place experiences heavy snowfall which leads to very low temperature.
4. Chopta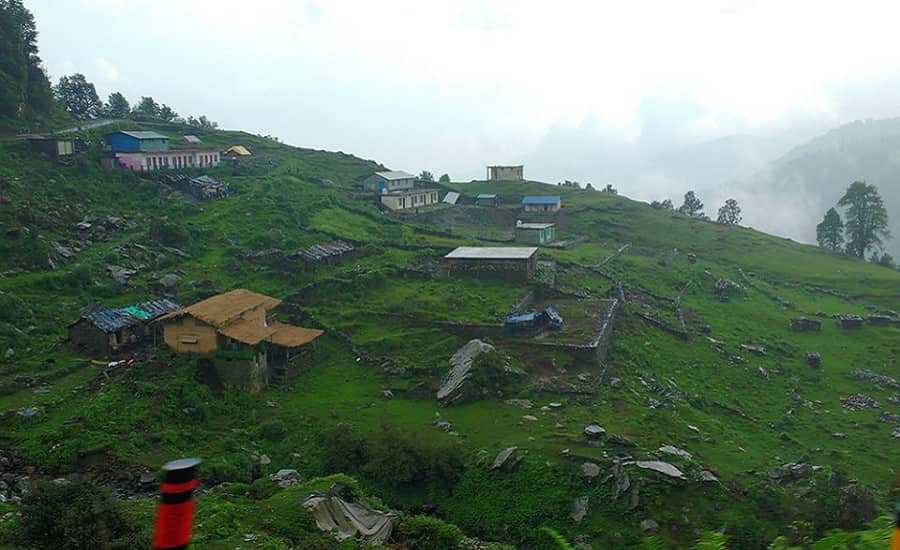 The beauty of this place is unexplainable and untouched but is very much similar to Switzerland and is so called as "Mini Switzerland of Uttarakhand". This place gives us a completely different experience from other cities which are dipped in pollution and from the irritation of blaring horns of the cities. Chopta is a perfect tourist destination for those who are in love with nature, peace, animals, birds and adventurous activities like trekking. This place is truly blessed with enormous natural beauty, tranquility and spirituality. Foreigners prefer Chopta on other places in Uttarakhand for performing meditation and yoga.
Best Time to Visit Chopta
During monsoon the atmosphere of Chopta becomes greenish and mood refreshing. During Monsoon the place becomes more fascinating and soul enriching.
5. Gauri Kund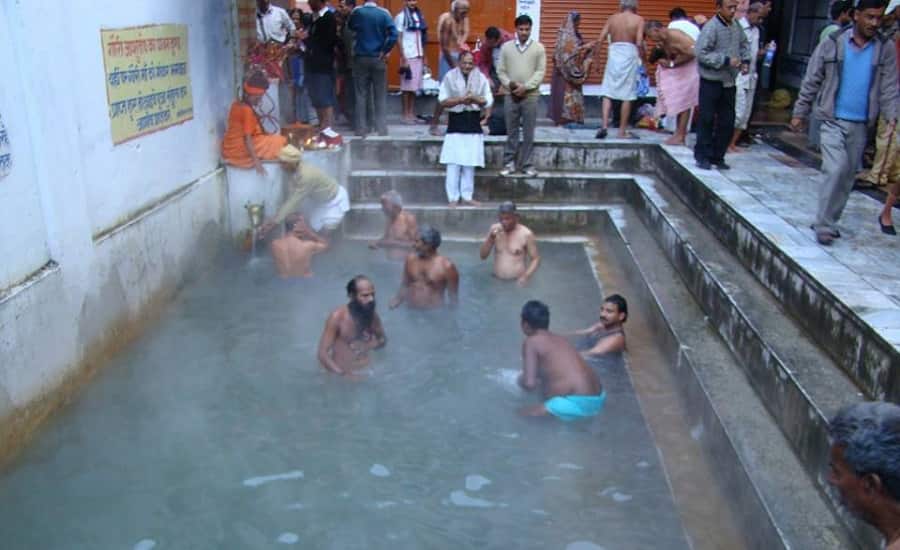 Gaurikund is located at a 16km trekking distance from Kedarnath and is situated at an elevation of 1982metres above the sea level. This sacred place is dedicated to goddess Parvati (wife of Lord Shiva). Pilgrims can enjoy the panoramic view of lush green forests below which holy river Ganga flows. The place got its name because there is a belief that years back the place used to hold a hot water spring there which cannot be seen now. There is one more belief behind this place that this is the only place where Lord Shiva accepted the marriage proposal of Goddess Parvati.
Best Time to Visit Gauri Kund
May, June, September, October and November are the best months to visit Gauri Kund. In December the temperature falls from -3 degree Celsius to 13 degree Celsius so it is not visited more during winter.
Accommodation in Ukhimath
Ukhimath is rich in accommodation which can help tourists to make their journey a blissful and a delightful one. The accommodation in Ukhimath does not only mean luxurious hotels, it holds some beautiful guest houses too which can be budget friendly. It means you don't need to worry about the accommodation if you are planning a trip to Ukhimath as the place is budget friendly to everyone.
How to Reach Ukhimath:
By Air– Ukhimath is situated at a distance of 197kms from Jolly Grant Airport, Dehradun. From Airport travelers can get cabs very easily.
By Train– There are 2 railway stations near to Ukhimath, Rishikesh (201 kms from Ukhimath) and Haridwar (179km away from Ukhimath). From there tourists can hire taxi or can opt for bus till Rudraprayag which is near to Ukhimath.
By Road– the roads of Uttarakhand are well connected with each other as interstate buses ply from Haridwar and Srinagar Garhwal and drop you at Rudraprayag and from there you can get a taxi to your destination.
Shopping at Ukhimath
Ukhimath is however not a shopping destination but still you can get some casual products at reasonable rates. This can help you to bring some memories of your Ukhimath Excursion.
Cuisines of Ukhimath
You cannot find restaurants at every place in Ukhimath. So you may need to depend on Dhabas and street food stalls. Aloo tamatar ka jhol, Chainsoo, Chaulai ke Laddoo are some famous dishes of this place.
Note
You cannot find non vegetarian foods at religious places of Ukhimath but in restaurants you can get all types of dishes.
Tips to be followed while Visiting Ukhimath
At some places you need to have patience while walking. Please do not be in hurry as it could trigger gulp which can lead to some major accidents.
If you take pony or palanquins rides then it is better to avail it from Gaurikund as it shortens the time duration of the journey as compared to Sonprayag.
It is advised to bring ample cash with you as there is very less chances to get ATMs everywhere on the mountains.
Only BSNL, Reliance Jio and Vodafone work here so please carry these networked SIM to avoid getting disconnected with your friends and family.
Avoid going for trek during night as it is less visible and you may find some wild bears too.
Bring ample woolen clothes with you as the climate is not fixed on hill stations.