Uttarakhand is the crowning jewel of India. With a history dating back to the time of the gods to being the centre of culture and heritage on the hills, Devbhumi Uttarakhand has always been an intriguing destination for many. The people of Uttarakhand, lovingly referred to as Pahadis, are all about working hard, having good quality of food, and having a good time. There is a lot one can tell about them through their lifestyle and attire. If you are headed to Uttarakhand for a holiday, then keep an eye out for the local's attire. It can tell you more about them than you can imagine.
Here is everything you need to know about the traditional dress of Uttarakhand for men and women:
Traditional Dress of Uttarakhand
Traditional Attire of Garhwali Men and Women
Traditional Garhwali Clothes for Men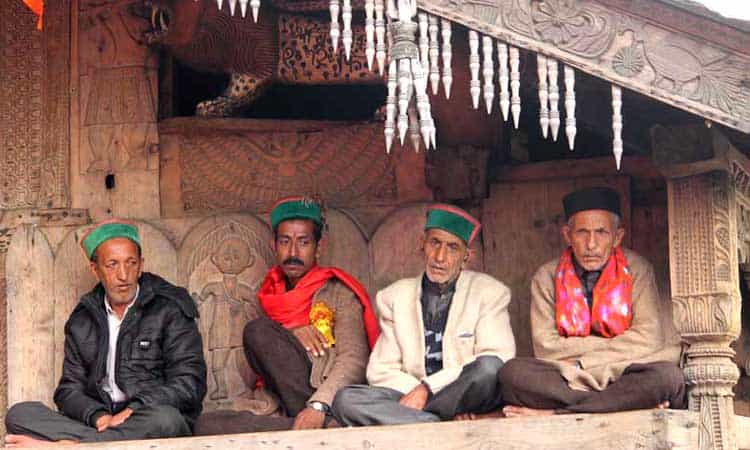 Most Pahadi Garhwali men can be seen wearing a lungi or a traditional style dhoti which is paired with a Kurta that functions as the upper garment. The men can often be seen wearing some sort of headgear or a turban which completes the whole costume as one. During the winter season, they can be seen wearing a blazer, sweater, or a sweater on top of their traditional Kurta and dhoti combination.
The headgear or the traditional turban is mostly worn by the older men population, which may be a sign of respect while the younger Pahadi men are seen wearing topis both of which are used to protect themselves from the direct sunlight. Hints of the British influence can also be seen in their attire as many of them can be seen wearing suits and coats.
Wedding Attire for Garhwali Men
During special occasions like weddings, the Garhwali groom can be seen wearing a yellow traditionally styled Kurta along with a dhoti or white Churidar. The fabric of any of this clothing attire depends on the weather conditions. In most cases, men wear clothing made out of cotton fabric in cold regions.
Traditional Attire of Garhwali Women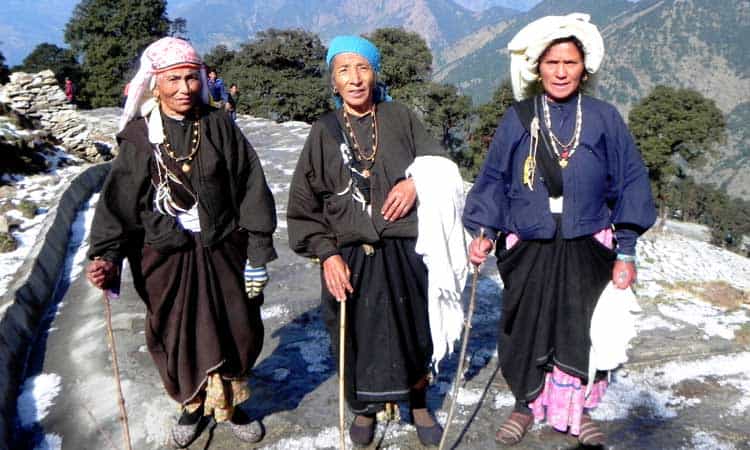 Garhwali women are very fond of dressing up in colorful clothes and pairing them up with traditional Jewellery. Pahadi women residing in different districts or regions of Uttarakhand wear different attires or color combinations. The women residing in the Pithoragarh district of the state wrap a saree which is also known as a sarang locally. The only way that it is different from the regular way of wearing a Saree is that the pallu goes from the left side while tying it around the waist in order to ensure that the decorated part of the Pallu comes in the front.
The women in Uttarakhand are incredibly hard-working and their work requires doing lots of physical activity in the fields. They often tuck in their pallus so that they don't interfere with their daily chores. They often also wrap a shawl around their waist that resembles a waistband. During the winter months, they also wear a blouse on top of their blouse. This is how they equip themselves to deal with the chilly winter season. The headscarf is another important part of the traditional attire for the women here.
The Pahadi women are very particular about the way they tie their pallus as it is a way of keeping up with their traditions and cultures that date back to the ancient ages.
Wedding Attire for Garhwali Women
Married women are traditionally expected to wear a silver ornament called a Hansuli which is worn around the neck along with a Guluband that resembles a contemporary choker.  Other important ornaments any married woman is expected to wear are Chareyu, Black Beads, Silver Payal, Toe Rings, Silver Bracelet, Necklace, and others. The most mandatory part of any married woman is wearing a Bindi and a Sindoor. Even to this day, a Guluband is a defining ornament for married women in Uttarakhand. It is designed on top of a maroon or a blue band along with gold square pieces neatly arranged on it.
Traditional Attire of Kumaoni Men and Women
Kumaoni Men's Clothing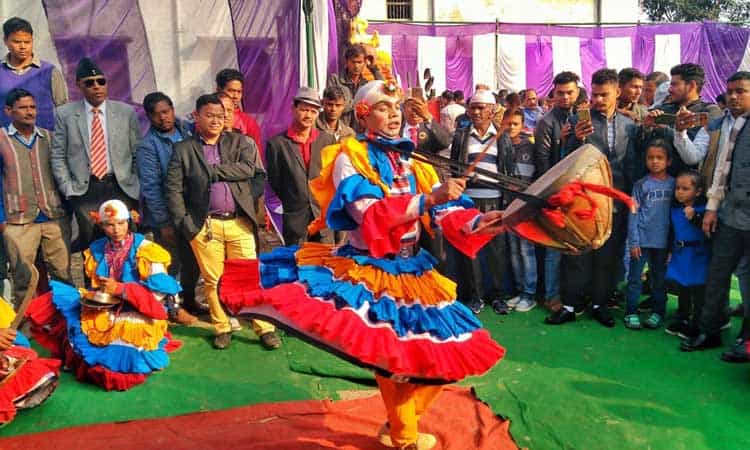 Although Garhwalis and Kumaonis recognize themselves as being different from each other, their clothing and dressing sense resembles each other quite a lot. Men and women in Uttarakhand walk a lot, traversing through the narrow pathways on the hills on a daily basis requires the clothes to be comfortable and cause no hindrance. Most men prefer wearing Kurta Pajama which cause zero obstacles while walking or working on the fields. A typical differential factor in Kumaoni and Garhwali men is that Kumaoni men prefer wearing some sort of simple jewelry or the other.
Kumaoni Women's Clothing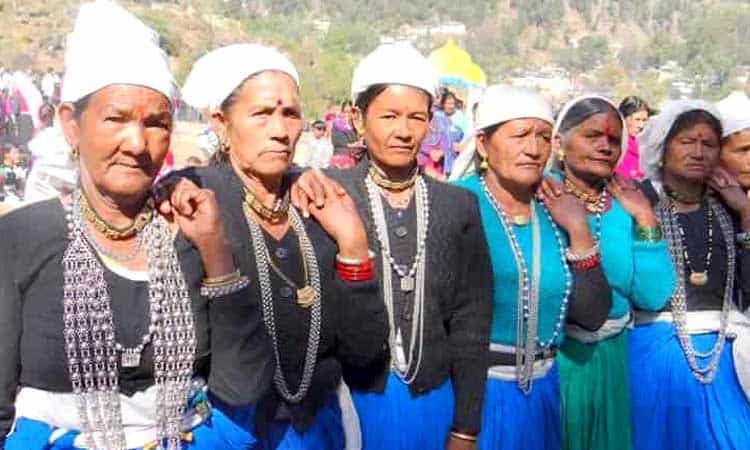 Ghagri and Orni or a long skirt with blouse or Kurti and a Chunni are one of the most commonly worn attire for the women residing in Kumaon regions. They wear warm woollen blouses and skirts along with a shawl during the cold winter months. They can also be seen wearing Kurtis and headscarves on a regular day while working on the fields or while just carrying on with their day-to-day life.
In some cases, local Kumaoni women can be seen wearing a long skirt that looks like a petticoat along with a full sleeve shirt for a blouse instead of a regular Choli or Blouse. The look is completed by carrying an Orni or a long Dupatta.
Kumaoni Women's Wedding Attire
The bridal dress for the local Kumaoni women comprises a wedding Lehenga, Ghagra, Choli, and an Orni. It also involves wearing a Pichora or a Rangwali that are designed in silver or gold tatting. Once married, the women wear black necklaces designed in pure silver or gold jewelry. The ethnic locals residing on the hills also wear a sarong which is a type of simple saree wrapped tightly around under a simple blouse.
Among the Muslim population, before getting married, the women wear veils to hide their faces known as Rangwalis. These Rangwalis are considered to be very holy and are worn as a part of local marriage tradition. When it comes to colors the local women choose to wear several different colors that are in contrast to each other.
Tribal Community Attire In Uttarakhand
Uttarakhand or Devbhoomi is home to not only a large collection of flora and fauna but a large number of big and small tribal communities. Other than the Garhwali's and Kumauni's the state is home to numerous local tribes that have been calling these Himalayan Hills their homes for the longest time. These tribal communities are very particular about preserving their roots and finding different ways to save them from slowly going into extinction. One such way of honoring their ancestors and keeping their culture alive is by wearing local attire.
This Is What the Local Tribes in Uttarakhand Dress Up
Attire Worn By the Jaunsari Tribe
The Jaunsari tribe has a story of its own. The people of this community believe that they are the direct descendants of the Pandavas. The way they dress up is quite distinct from the rest of the Pahadi population in Uttarakhand. Unlike regular silver or gold jewelry, they happen to wear a lot of brightly colored jewelry that provides them with a deep sense of uniqueness.
Even the Jaunsari men wear bold colored jewelleries like necklaces and large Kadas in order to keep their faith alive. They also wear a very distinctive type of headgear called Digwa which is a woollen cap. The women adorn themselves in a Ghagra, Dhantu, or a scarf and finish the look with a woollen coat on top that keeps them warm and comfortable during the cold winter days. At special events, the locals ditch the short coat for a long coat which is called Lohia.
Attire Worn By the Bhotia Tribe
The Bhotiya Tribe Reside in the deep parts of Uttarakhand and due to their obvious features, they are believed to belong to the mongoloids. The places where they call home in Uttarakhand are in very high altitude and cold regions. In order to deal with these harsh cold conditions, they are known for wearing woollen clothing throughout the year. They make their own pieces of clothing like shirts, coats, waistcoats, Skirts, etc that are made out of woollen yarns.
The most defining part of their attire is the jewellery worn by the women since they are extremely larger than regular jewellery. Other than that they also wear silver and gold jewellery as well. The men of the Jaunsari tribe wear a trouser along with a loose gown on top. They also tie up a woollen patta around their waist and complete the entire look by topping it up with a traditional cap.
Frequently Asked Questions (FAQs)
Q. What Are The Different Tribes Of Uttarakhand?
Ans. The 7 different tribes of Uttarakhand are Jaunsari, Tharu, Raji, Bhotiya, and Buksha among others.
Q. When Is The Best Time To Visit Uttarakhand?
Ans. Beat the heat by visiting Uttarakhand from the months of April to early July.
Q. What Is The Language Of Uttarakhand?
Ans. Hindi is the official language of the state. Other than that the locals also speak Kumaoni, Garhwali, Nepali, and Punjabi.
Q. What Is The Traditional Dance Of Uttarakhand?
Ans. Choliya Dance is the traditional dance of Uttarakhand.
Q. What Is Uttarakhand Known For?
Ans. Uttarakhand is known for its pilgrimage circuits, holy temple, culture, scenic views, fresh fruit orchards and yoga and meditation.