Dedicated to Lord Shiva and tucked away at an altitude of 3,500 metres above sea level, Kedarnath Dham is one of the most famous and highly revered Shiva temples in the world. Although it is located at a very high altitude, and going the trekking route requires a lot of time, energy and effort, after reaching, everyone is washed over by a deep sense of devotion and respect to the Lord.
According to mythology, the first foundation stone for the Kedarnath temple was laid by the Pandavas. There are numerous other legends stating that it used to be the place of residence for the lord himself that makes this place of Shiva worship incredibly important and supremely powerful. Located on the banks of the holy Mandakini River, the temple is a testament to the undying spirit and loyalty of the Hindu devotees.
Kedarnath Helicopter Booking Procedure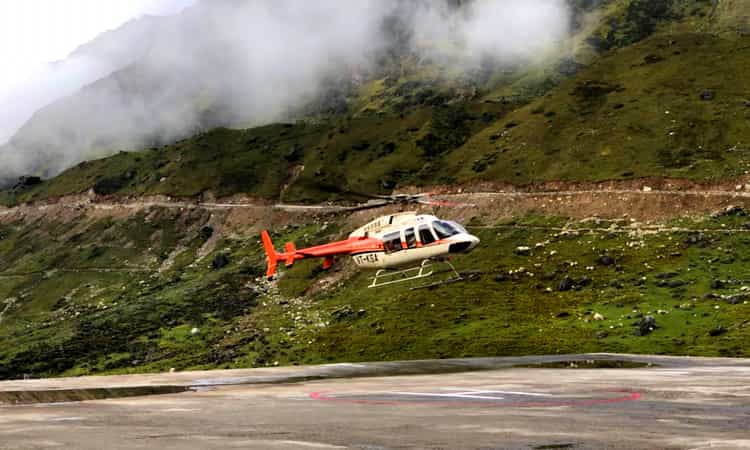 Kedarnath Dham is located in the district of Chamoli and about 452 kms away from Delhi by road. In case you are travelling with someone who has physical or mental health concerns then it is advisable for you to go to Kedarnath by helicopter.
One can easily book their helicopter for Kedarnath online from any Char Dham Yatra service provider or travel agency. Going for a travel agency will be one of the smoothest and easiest options for you to choose from. Although if you wish to make the bookings on your own, then these are the steps that you will be needing to follow:
Visit the official website for Kedarnath helicopter booking set up by the government of Uttarakhand.
You will be asked to first register yourself in the website using your personal information such as contact details, name, nationality, valid IDs etc.
After registering an email confirming the registration will be sent to your registered email address.
After logging in to the website you will be easily able to access and book the helicopter slots as per your liking.
Kedarnath by Helicopter
The trek to Kedarnath is a rather challenging one. It involves a steep trek up to the temple which is 18 kms long, one side. The roads leading up to the temple are narrow and crowded, which further increases the travel time on foot. A helicopter trip to Kedarnath is a blessing for the devotees. The helicopter trip ensures a smooth ride, VIP Darshan experience where you get to jump the long waiting lines and head back the same day. The smooth transfers, good quality of accommodation or stays, pick up and drop off service and complete assistance throughout the trip comes along with the Kedarnath by helicopter tour package.
The Kedarnath yatra by helicopter starts off from the Sahastradhara helipad in Dehradun. From here the pilgrims are flown to the helipad in either Phata, Guptkashi, Sitapur, Sersi etc. from here the passengers are transferred to the government-assigned helicopter. This government helicopter will then transfer the passengers to the Kedarnath Helipad, just 500 metres away from the main temple entrance.
Kedarnath Dham Tour Itinerary
Kedarnath Dham Yatra by helicopter takes just one day to cover, if there are no time snags or delays. This is what a standard Kedarnath Dham Yatra by helicopter will go like:
Day 1 – The trip will commence from the helipad in Dehradun called Sahastradhara helipad. The helicopter ride will be of 45 minutes to one of the helipads for Kedarnath. From the helipad the passengers will be transferred to a government chopper that will transfer them to the Kedarnath helipad which is located 500 metres away from the main temple entrance. After having some time for completing the Puja Darshan and rituals, the passengers will be taken back to the Sahastradhara Helipad which will be marking the end of the Kedarnath yatra by helicopter.
Kedarnath Helicopter Services Routes
Dehradun – Kedarnath: The helicopter ride for Kedarnath starts off from the Sahastradhara helipad in Dehradun. This is also the shortest air distance to Kedarnath. The aerial distance between the two places is 108 kms.
Ticket Price – 24,500/- rupees for one way.
Sersi – Kedarnath: The Sersi helipad is the nearest helipad to reach Kedarnath and is 5 kms away from Guptkashi. The aerial distance of Kedarnath from here is just 10 minutes.
Ticket Price – 3,000/- rupees one way.
Phata – Kedarnath: Kedarnath Dham helipad is just 10 minutes away from the helipad at Phata. Phata Helipad is one of the most famous and busiest helipads for Kedarnath that caters to about 20 to 30 flights on a daily basis.
Ticket Price – 2,780/- rupees one way.
Guptkashi – Kedarnath: Guptkashi helipad is located 45 kms away from Kedarnath Dham. One can easily reach Guptkashi from all the major as well as minor cities since there are many roads connecting it.
Ticket Price – 2,800/- rupees one way.
Heli Companies Approved By Uttarakhand Government
Here is a list of some of the state government-approved helicopter service providers:
1. Arrow Aircraft – Arrow is one of the leading helicopter aviation companies.
Helicopter Operating Route: Guptkashi – Kedarnath – Guptkashi / Sersi – Kedarnath – Sersi.
2. Himalayan Heli – Himalayan Heli provides shuttle service in the form of helicopter tour among other charter chopper service. It has cumulatively flown for over 5,000 hours and has had over 2,500 landings in its fleet of choppers. Himalayan Heli is also known for providing Heli services in various emergency situations. They also provide chopper services for Vaishno Devi Yatra, Char Dham Yatra and Amarnath Yatra.
Helicopter Operating Route: Sersi – Kedarnath – Sersi
3. Kestrel Aviation – This air transport company has been functioning since 2008 and provides services such as: VIP charter service, Chardham Yatra by helicopter and emergency services in the remote hilly regions. They have some of the most state of the art fleet of latest helicopters with their head quarter being located in Mumbai.
Helicopter Operating Route: Sersi – Kedarnath – Sersi
4. Pawan Hans – Pawan Hans is one of the most famous helicopter service providers in India that provides a range of heli services. The company is also famous for providing emergency rescues in case of flooding and landslide situations on the hills as well as the plains. Pawan Hans also operates in Char Dham Yatra along with Amarnath yatra service.
Helicopter Operating Route: Sersi – Kedarnath – Sersi
5. Chipset Aviation – Chipset aviation is a helicopter service company that offers a wide range of heli services like VVIP charter service, Char Dham Yatra by helicopter service, personal travel, air ambulance and other such helicopter tourism services. Established in 2009 the company has also won the best charter service award.
Helicopter Operating Route – Sersi – Kedarnath – Sersi
6. Thumby Aviation – Thumby aviation service provider has been in the chopper service provider industry for almost a decade now under the patronage and direction of Capt. KNG Nair. Thumby Aviation runs regular heli services for various state governments, central government and other such agencies including the armed forces like BSF and ITBP.
Helicopter Operating Route: Sersi – Kedarnath – Sersi
7. Pinnacle Air – ever since 1988, Pinnacle air has been the leading helicopter service provider. It offers spiritual as well as luxury helicopter service for everyone. This includes travels in Uttarakhand, Amarnath yatra, Hemkund yatra and more.
Helicopter Operating Route: Sersi – Kedarnath – Sersi
8. Aryan Aviation – Aryan Aviation is an Indian airline helicopter service provider company that offers private chopper services for not just the Char Dham Yatra but for Kedarnath as well.
Helicopter Operating Route: Sersi – Kedarnath – Sersi
FAQs for Kedarnath Helicopter Booking
Q. How Much Time Does Helicopter Passengers Get For Darshan At The Shrine?
Ans. Every passenger gets 2.5 to 3 hours to complete the puja and Darshan.
Q. Are There Breathing Problems In Kedarnath?
Ans. Yes. Some people may experience breathing problems owing to its high elevation.
Q. Can Heart Patients Go To Kedarnath?
Ans. It is advised for heart patients to consult their healthcare provider in this aspect. It is best for them to go to Kedarnath by helicopter.
Q. How Long Is The Kedarnath Trek?
Ans. The trek to Kedarnath is 18 kms long and takes up a whole day to cover.
Q. What Is The Price Of The VIP Darshan Ticket?
Ans. One VIP Darshan ticket costs 2,100/- rupees.
Q. Which Is The Best Month For A Kedarnath Trip?
Ans. April to June is the best time to go for a Kedarnath trip.
Q. How Far Is Kedarnath From Rishikesh?
Ans. Kedarnath is 216 kms away from Rishikesh.
Q. When Does It Start Snowing In Kedarnath?
Ans. Snowfall in Kedarnath starts in early October.
Q. Is Kedarnath Darshan Free?
Ans. Yes. Kedarnath Darshan is free for all.
Q. Can I Visit Kedarnath without Registration?
Ans. No. registration is compulsory to visit Kedarnath or any of the Char Dham temples in Devbhumi, Uttarakhand.