Uttarakhand also called as land of Gods is home to a bounty of natural and enchanting lakes which replenishes its stupendous scenic beauty. This northern state of India is strongly blessed with a plenitude of lush green valleys, lofty mountains, scented flowers, and divine rivers. The challenging heights and location amidst the lap of mountains of the lakes make them more appealing and inviting to the tourists. Sometimes it seems like the lakes are playing hide and seek with the sun and sometimes they rest underneath the snow. Amongst such splendid lakes, there are a few which are perfect for daring treks and other adventurous activities while some of them are a perfect relaxing destination to escape you from your hectic schedule and crowded roads. The beauty, calmness, and the history behind their formation allure a horde of tourists every year.
List of 8 Famous Lakes in Uttarakhand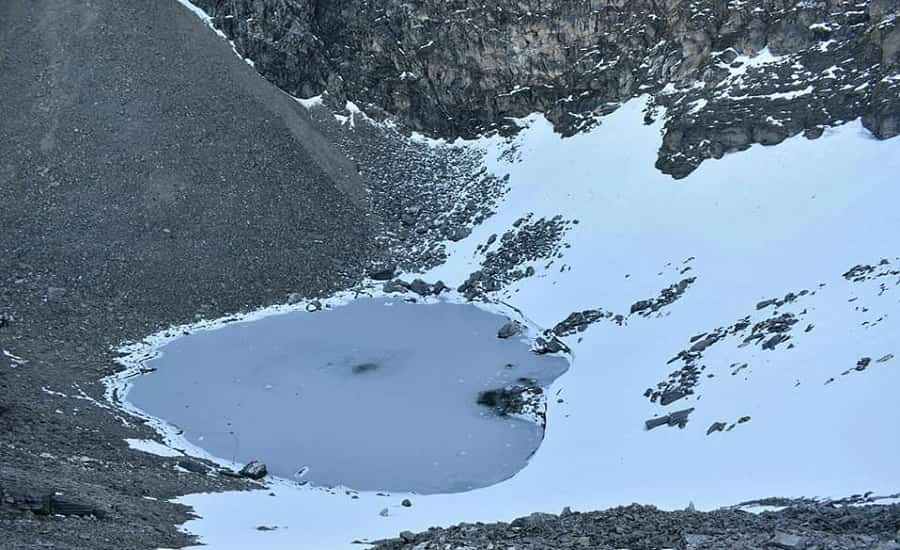 Situated at an elevation of 5029 meters above the sea level, Roopkund is the highest lake in Uttarakhand. The lake is situated in the Chamoli district of Uttarakhand and offers splendid views of the imposing Himalayas. One can spot various human skeletons on the banks of the river which is still not revealed properly that how have they come there and whose skeletons are those? One needs to trek for 23 km to reach such an elevation. The skeleton can be looked through water when ice melts down. Dating back to the 15th and 16th century, a hailstorm took away the lives of hundreds of helpless pilgrims and it is believed that the skeletons are of those pilgrims only.
2. Kedar Tal Lake – A Sapphire-Hued Lake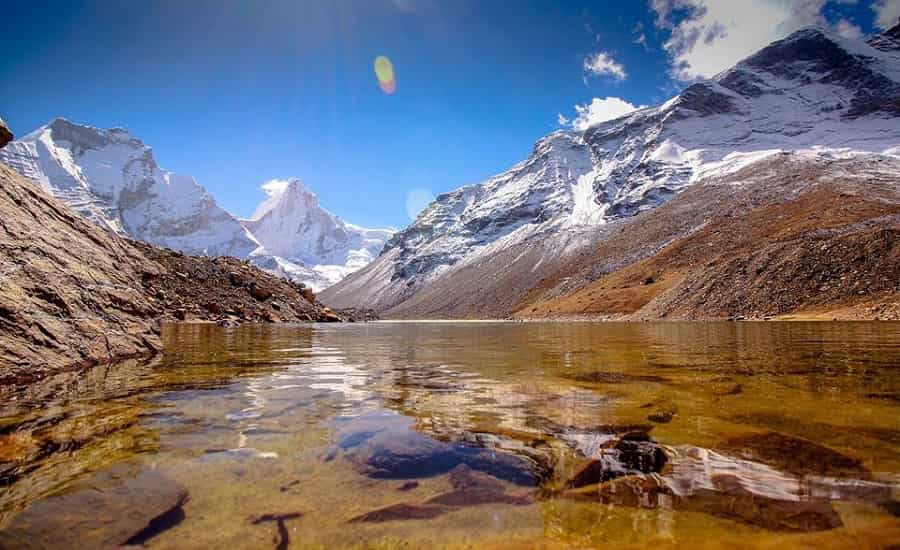 Nestled at an elevation of 5000 meters above the sea level and is situated at a distance of 18 km from Gangotri. The lake is also known as Shiva's Lake and is located in Uttarkashi district of Uttarakhand. The lake is formed by the melting of Kedar Glacier. A trek to Kedar Tal Lake is not an easy trek, it is quite challenging and mesmerizing which gives the stupendous views of snow-clad mountains, lush green meadows, gushing river streams, and beautiful waterfalls. You need proper trekking experience trekking experience as the trek is a moderate and a difficult trek. The reflection of Thalay Sagar in this crystal clear lake water is really an enchanting experience.
3. Satopanth Tal Lake – Triangular Lake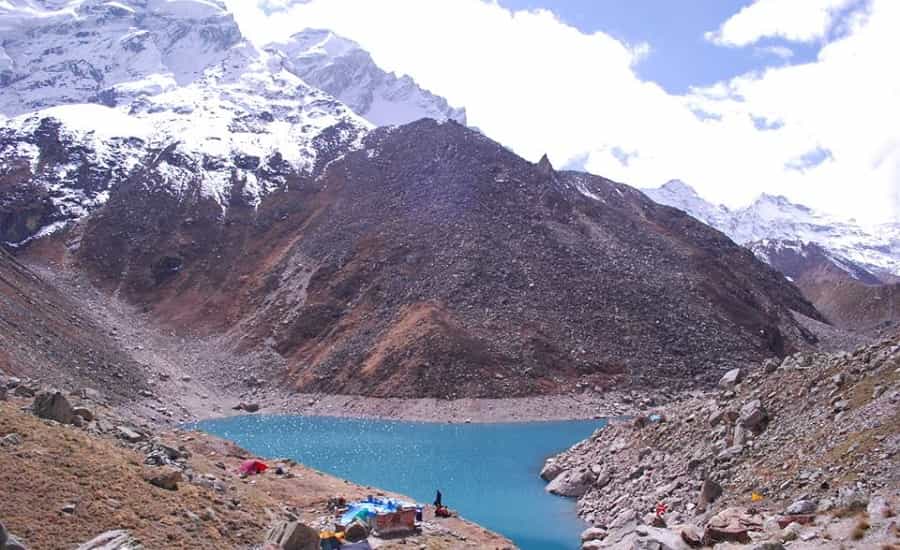 This lake is known for its fascinating beauty as well as the religious significance and is counted as one of the most famous lakes in Uttarakhand. It is believed that this pristine lake is the same place where Bhima was denied for the entry to heaven. This triangular shaped lake also holds a great religious significance. As per the mythological belief, all the three corners of the lake are occupied by Brahma, Vishnu, and Mahesh. It is situated at an elevation of 4600 meters and is nestled in the lap of snow-shrouded peaks at a distance of 25 km from Badrinath.
4. Bhimtal Lake – Mythological Lake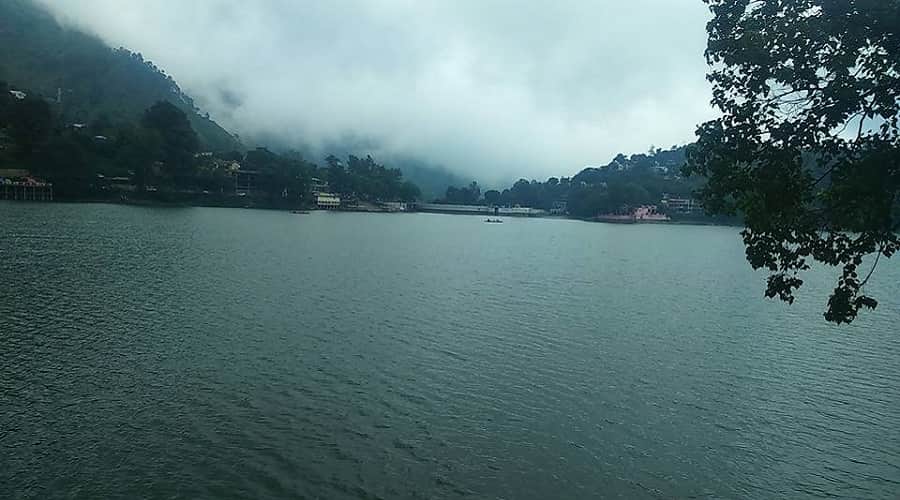 This splendid lake has been named after a mythological character of Mahabharata, Bheema. The popularity of this lake is increasing day by day due to its location in the Nainital region. Unlike other places in Nainital, Bhim Tal Lake is very less crowded and is known for its scenic beauty. Bhīma Tal Lake is also reckoned for holding some beautiful temples where numerous devotees flock every year to pay their offerings. Dating back to the 17th century there is a very popular Bhimeshwar Temple which is known for its appealing architecture.
5. Naini Lake – Eye-Shaped Lake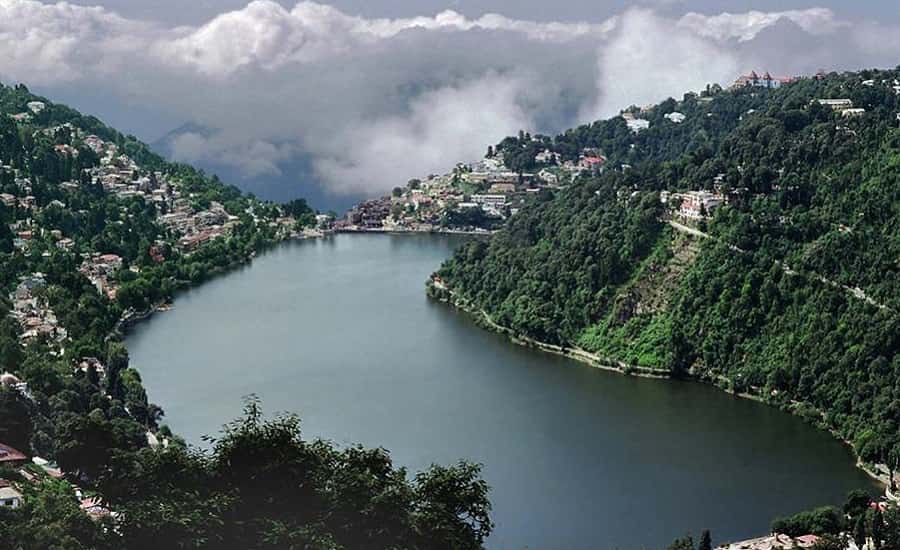 This pear-shaped lake is situated at an elevation of 2000 meters and has been extended over an area around 2 miles. It was discovered in 1839 by P Baron. The topology of this eye-shaped lake is divided into two parts- Mallital and Tallital. Mallital is situated towards north and Tallital is situated towards South. The lake is abundant in aquatic lives and the whole region is a great charm to animal and flora lovers. You can also enjoy the boat riding activity and the boat festival organized at Naini Tal Lake participated by tourists from all across the globe.
6. Hemkund Lake – A Splendid Lake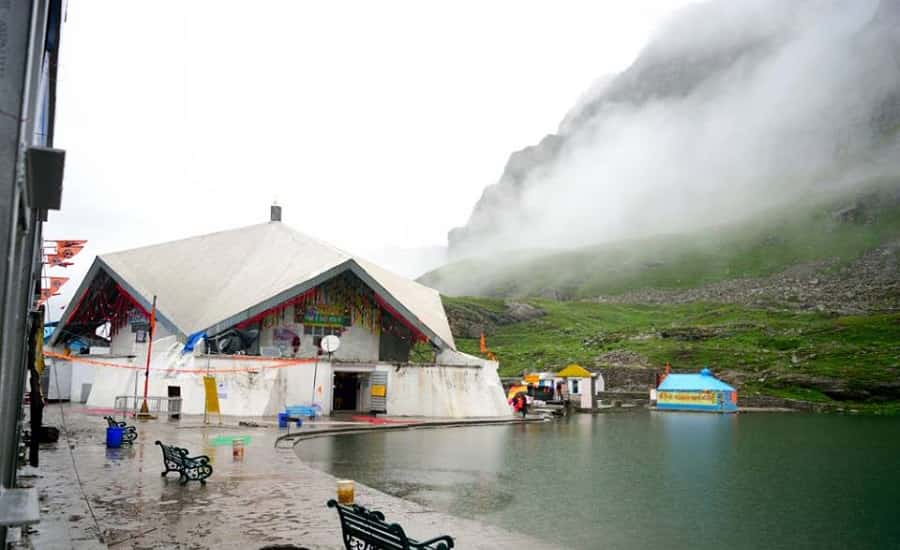 This lake is situated at an elevation of 4329 meters in the Chamoli district of Uttarakhand and is also known for its revered Sikh shrine Hemkund Sahib dedicated to the tenth Guru of Sikh Guru Gobind Singh. Hemkund Lake is often called a lake of snow and is beautifully decorated with seven magnificent peaks ranging around 15,200 feet in Uttarakhand. Devotees who flock at this Hemkund Sahib Gurudwara take a deep into this pious lake before offering their prayer. The lake and the Gurudwara witness thousands of devotees every year from all around the world.
7. Vasuki Tal – A Placid Lake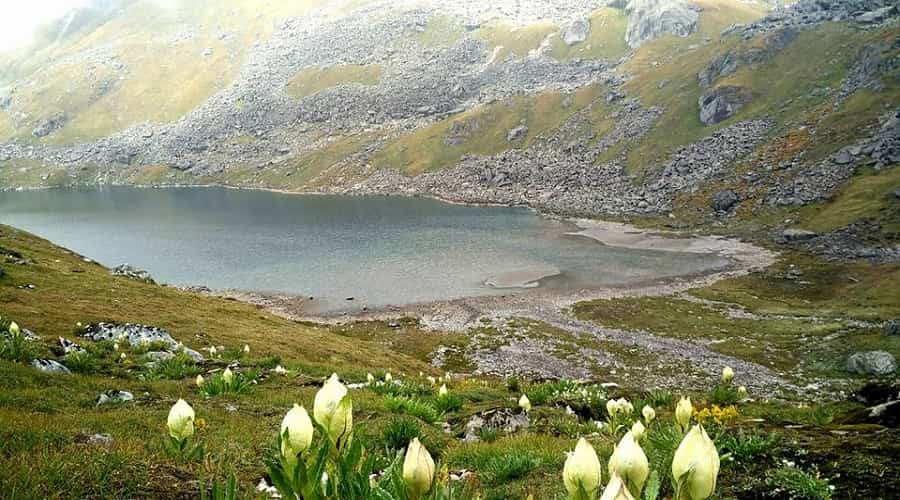 Situated at a distance of approximately 5 Km from Kedarnath and is situated at an elevation of almost 14,200 feet above the sea level. The ambiance of this placid region is filled with colorful and blooming Brahma Kamal and other Himalayan flowers. Going back to the mythology, it is believed that this is the same place where Lord Vishnu took bath on the auspicious occasion of Raksha Bandhan and like this, the lake got its name. This placid lake offers the splendid views of the imposing Chaukhamba Peaks and the inviting trekking valleys which allure the tourists at their most.
8. Tehri Lake – Perfect Blend of Scenic Beauty and Spirituality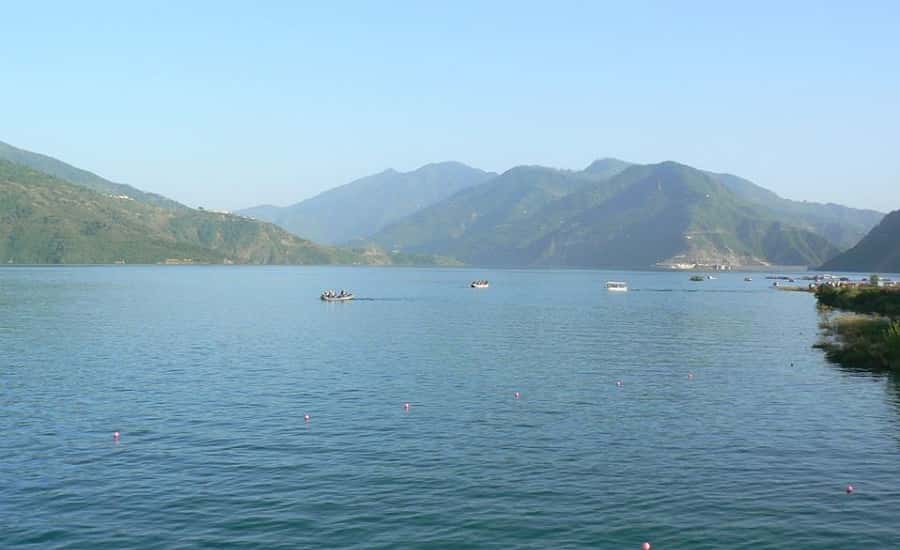 New Tehri is considered as the only planned city of Uttarakhand and is widely famous for its world's highest hydroelectricity projects. Gushing Bhagirathi and Bhilangana rivers form this emerald dam near it. Being headquarters of Tehri Garhwal District the region becomes more important and great sightseeing in Uttarakhand. Besides this imposing dam, Tehri offers jet skiing, rafting, canoeing, and many other water sports. The ambiance is filled with scenic beauty, cool salubrious breeze, and spirituality (many temples can be dotted here). If you are an adventure lover and traveling enthusiasts then you must add Tehri in your sightseeing destinations.