Gujarat is the land of one of the most diverse states in India and is famed for its picturesque beauty and scenic landmarks. Booming with prosperity and incredible tourist attractions Gujarat is home to some of the most fascinating shopping centres in India. Some of the main productions here include peanuts, sugarcane, cotton and milk products however if you are a shopaholic then Gujarat is the place for you to be. The entire region is dotted in a myriad of shops and market places dedicated to a plethora of items and things. Here you can shop for the souvenirs, things you may need, traditional artefacts and many other things. Apart from the famous tourist attractions in Gujarat are Rampur, Lothal, Kutch desert, Dholavira, Dwarkadhish temple etc. shopping in Gujarat is nothing short of a fun adventure where you can shop for handicrafts and craftsmanship. This colourful Manchester of the east boasts of amazing history, vibrance and some of the best fabrics in the world.
What to shop for in Gujarat
Bangles
Khadi
Traditional jewellery
Ghaghra choli
Bandhni
Patola silk sarees
Where to Go Shopping in Gujarat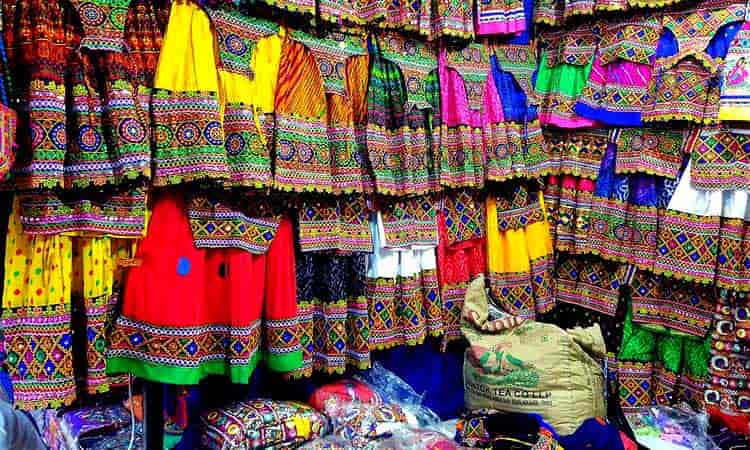 Rani no Hijro
This whimsical and colourful market is situated in close proximity to the tomb of Ahmed Shah's queen. The place has so many options for you to shop that you can choose from a range of clothe markets, traditional costumes and all the glittering jewellery that would be fit to dress up a queen. You can find some of the best selections of fabrics like Ikat, Mashrush and Ajrakh among others. This market remains teeming with shopping lovers till late at night. Along with clothing items and accessories it is also a hub for purchasing decorative items and at night various pop up eateries line the path making it a fun place to be. This is the best place to find traditional Garba clothes in Gujarat. The market place is set all around the tomb complex primarily focussed on selling women clothing and accessories.
Law Garden Market
If it is traditional Gujarati clothing wear you are looking for then this market is the place to be. The place is famous for selling a wide variety of the popular mirror work, clothing and textiles of Gujarat. Most of these clothes are supplied by the tribes of the Rann of Kutch area including interesting bead works and exquisite handicrafts. Each shop that lines the pathways here is as bright and colourful as the next. A great place to relax after a day of fun since it is also a wonderful night market. The place explodes to life especially during the fun time of Navratri and other Gujarati festivals.
Lal Darwaza Market
This famed market area located in Ahmedabad is one of the busiest and the most popular shopping destinations in Gujarat. If you want to check out and shop for some awesome clothing items and accessories then you have to visit this place. You will be filling your bags with some of the most cheap and stylish clothing wear. From sarees to western dresses and for clothes for kids to adults this place has it all and is a true hub for shopaholics from all over the world. The entire market place is criss-cross with narrow pathways which is adorned by colourful markets and shops from all sides. Don't worry the things you buy here are of supreme quality and consists of dupattas, wallets, old books etc.
Rajkot Marketplaces
This is the 4th largest urban development in Gujarat and is one of the fastest growing cities in the world. The trade and industry sector here makes way to a lot of tourism and invites travellers and tourist from all over the world. The marketplaces of Rajkot is extremely popular for its embellishing mirror and bead works. The market places overflow with pristine quality of accessories like Meenakari furniture, quirky jewellery pieces, silk embroidery and patch work. The traditional tribes and the local population here display their wares made out of gold and silver smiths in the Bangadi Bazaar here. It is the perfect place for you to shop for these one of a kind items.
Jamnagar Markets
Jamnagar houses some of the most unique market places in Gujarat and a true oasis for anyone who loves shopping and admires traditional culture. One thing that you will observe in the market places here are the locally created tie dyes clothing wear and sarees. While shopping here you will also be diverted to the plethora of manufactured articles such as interesting paperweights, bangles, brass items, beetle nut crackers, Kajal, Kum Kum etc. there wont be any dearth of things that you would want to shop making it a haven for buying souvenirs and local things for the people you love.
Gandhinagar Ravivar Market
as the name suggests this market place is only set up during Sunday and here you can shop for virtually everything and everything. From clothing, kitchen supplies, furniture and hardware to books and even goats this is the best place to get done with your Sunday shopping. You will be able to shop for things so unique and beautiful that you may not have known you needed. Shopping here is considered to be incomplete if you haven't shopped for Khadi clothing materials. The diversity of Khadi products here will blow your mind and you can even gorge on some delicious locally made cuisines.
Sindhi Market
If you are in Ahmedabad and are looking for a place to buy some pocket friendly traditional Gujarati clothing then a visit to Sindhi market is a must. The market place pans over an area of Kalupur gate and is a shopping hub for everyone who enjoys shopping. The best part about this place is the availability of budget items that are long lasting and beautiful to look at. You can get some of the widest range of dress materials, handicrafts, bed sheets, foot wear etc. at the most reasonable prices. Not only is this a hub spot for shoppers but it is also one of the cleanest and neatly kept market places in Gujarat.