Popular for its pilgrimage relevance and ancient holy sites, Gujarat is also extremely well known for its magnificent collection of flora and fauna. The entire Gujarati landscape is lined with spectacular beaches along with other unique and interesting features which serves as the home to a variety of birds, animals and plants. From the gleaming white salt deserts of Rann of Kutch to the undulating hills of Western Ghats, this western most city of India caters to a flora and fauna of a variety of species which includes – the Asiatic lions, the four horned antelope, bustards, blackbucks among others. Owing to its incredibly varied landscape the Gujarati ecosystem biosphere shows a promising and a thriving future. The entire state is covered in national parks and sanctuaries that serve as a tourist attraction for nature lovers, photography enthusiasts and people who want to experience the beauty of raw nature in a personal manner.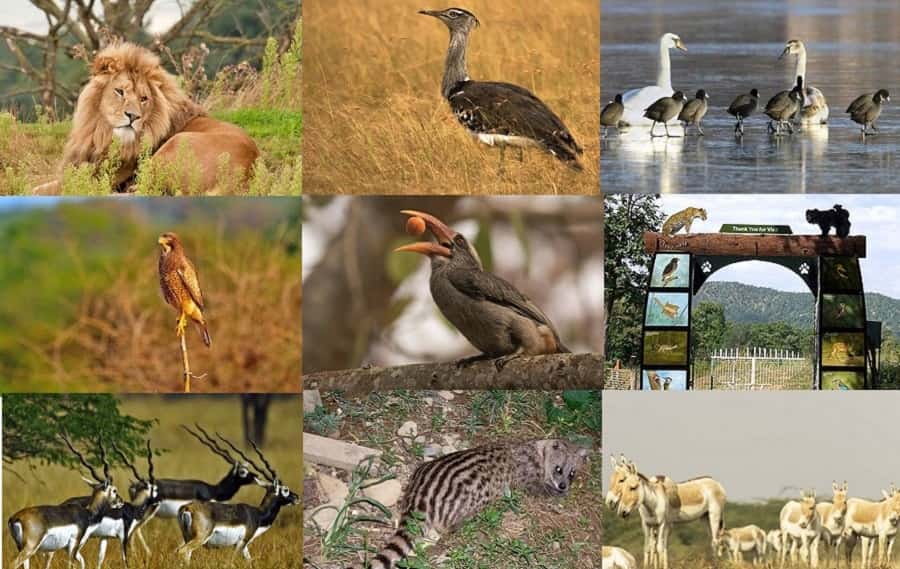 These protected areas are created with an aim of protecting some of the most endangered species like gazelles, jackal, antelope, lions, hedgehogs, flamingoes, stork among a whole plethora of other birds and animals. Along with wildlife sanctuaries and national parks of Gujarat, as well as other protected areas people also make it a point to visit the wetlands of the Rann of Kutch which is home to a number of various birds and animals like flamingoes, sloth bears, pelicans and other rare species which can only be spotted at this very place in India. These places serve as the point of interest for people interested primarily in bird watching, researchers as well as tourists from across the globe. Wildlife tourism in Gujarat has always served as one of the most attractive feature and it truly is an experience of lifetime.
Flora and Fauna of Gujarat
Gujarat has a rich store of flora and fauna and serves as home to 500 different varieties of mammals along with 2,000 different species of birds. Spread all across the length and breadth of the state, the flora and fauna of Gujarat is also home to a massive breed of insects, fishes as well as amphibians and reptiles. Some vital mammals found here are – black bucks, nilgai, hyenas, wild boar and chitals along with other snakes, lizards, scorpions, crocodiles and even bees and silk worms. Birds that are easily found here are – peacock, parrots, pheasants, cranes and geese ducks etc. which makes this state an extremely popular destination for wildlife tourism.
Here are a few popular national parks and sanctuaries in Gujarat:
Gir National Park:
Famed for being the only home to the endangered Asiatic lions, this national park was set in place with an aim of protecting the dwindling wildlife population, caused due to hunting activities in the 19th century. During a wildlife safari across this dry deciduous forest landscape you will be able to witness mammals like hyenas, jungle cat, leopards, honey badger etc as well as a few colorful migratory birds.
Jessore Sloth Bear Sanctuary
As the name suggests, this sanctuary is popular for preserving the almost endangered sloth bears which is one of the most unique and a rare species of bears that are not easily found anywhere in the world. the forest ecosystem is extremely rich and diverse and will treat you with views of rare, exotic and unique species of birds and animals. The green forested area of this sanctuary against the backdrop of the Aravalli hills makes it a picture perfect visit.
Marine National Park
Situated comfortably in the southern shore of Gujarat and spread at an area of 270 sq. km. this unique national park is dedicated to preserving the marine life of the wetlands of Rann of Kutch. One of the prime wildlife tourism attractions of Gujarat this national park has been attracting a throng of tourists each year who visit this place to witness some of the most spectacular reefs, sea cucumbers, sea urchins, pearl oysters etc.
Narayan Sarovar Sanctuary
Popular for its chinkara population and the rare sightings of various rare birds and animals this sanctuary is also home to 15 different endangered wildlife species. This sanctuary houses a thriving mangrove forest which gives rise to a vast biodiversity of plants and animals. This place is a boon for photography enthusiasts and nature lovers who love admiring the gift of god in a closer manner.
These are a few of the most well-known national parks and sanctuaries of Gujarat and the list could go on. Other places that attract wildlife tourists are Jambughoda national park, Hingolgadh nature education sanctuary, Khijadiya bird sanctuary, Barda hills wildlife sanctuary, Thol Lake bird sanctuary, gaga wildlife sanctuary and more. If you are truly invested in spending time among nature and getting to know the wildlife population then Gujarat is the best place to be.
Essential rules to remember while visiting a national park or a sanctuary:
It is important for you to understand that you will be visiting the home of these wild animals so make sure you respect their privacy and not venture too close to them.
Do not feed the animals in any case.
Do not play loud music or make any noise since this will cause the animals to run away and stay away.
Do not get off the vehicle into an uncharted territory since animals are very possessive about their home boundaries.
No alcohol consumption or cigarette smoking is allowed since this will cause a disturbance in the natural environment.
Keep the place green and save its pristine condition. Avoid littering and do your bit for a greener planet.