When I think about Rishikesh, I am swept over by a feeling of nothing but pure peace. The well-kept Ghats, thought-provoking environment, and the coexistence of nature and humans is a potentially life-changing experience to many. I feel lucky to have this spiritual center located very close to my hometown, Delhi. It is a favorite weekend getaway destination for many. When I was in Rishikesh I met people from Germany, France, Ukraine, Mongolia, Tibet, Russia, and many more which goes on to show the power of spirituality and religious fervor this place has on the curious soul. With a temple at almost every step of the way, the thriving adventure tourism here is a stark contrast. It has to be one of those rare places in the world where spirituality meets adventure.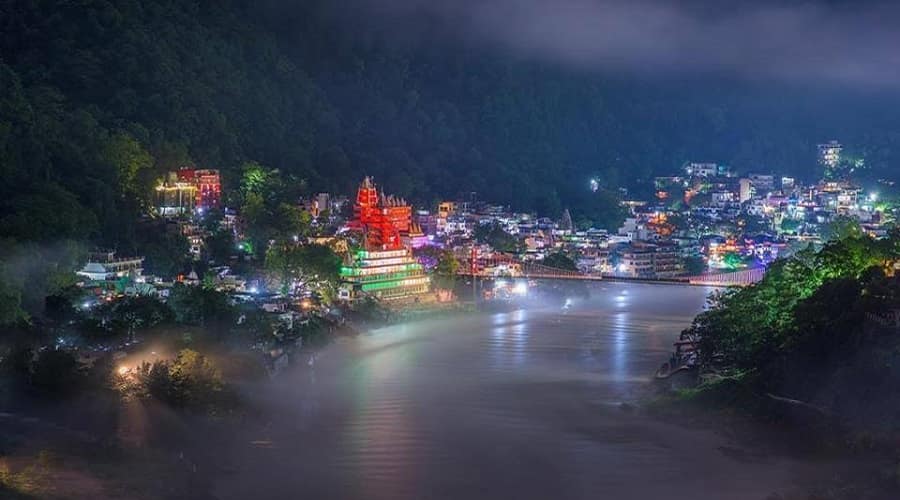 How to Reach Rishikesh
My trip to Rishikesh started from my bus stop in New Delhi at about 10 Pm. Late-night bus journeys are the easiest and the most budget-friendly ways of getting to Rishikesh because it is just about 5 hours of road journey away and on reaching you will have the entire day to yourself for exploration and checking out interesting activities to indulge in.
As a government rule, no bug Volvos or large buses are allowed in the interiors of Rishikesh in order to keep the holy town free from a lot of traffic as there is barely any space. It may also have been done in an attempt to conserve the Ganga River. After some people got off at Haridwar, the remaining people, including me, got off at a very sketchy-looking place, half an hour just before Lakshman Jhula. We were transferred to the Laxman Chowk in a local shared auto and I finally reached the Chowk by 5 am. The whole place was very quiet and there was Pindrop silence but I was guided through the narrow alleyways to Lakshman Jhula by the sound of the Ganga River. I stayed here at the Bunkstay hostel which is just a couple of steps away from Laxman Jhula.
Here are a couple of things you can do that I did too during my stay in Rishikesh.
Visit the Beatles Ashram
The iconic brand, which was once dubbed to be more popular than Jesus, the Beatles, had visited the Maharishi Mahesh yogi ashram. Currently, it is left in a state of complete abandonment and negligence. This used to be the training Centre for yogis during the 1960s and 1970s. Ever since it was abandoned during the 1990s it has been under the care of the forest department. Sitting atop a high cliff for a height of over 150 feet, overlooking the Ganges below, the ashram complex pans out over an area of 14 massive and lush green acres.
Once there you can walk through and check out the entire area consisting of dilapidated buildings covered in colorful and psychedelic murals. You can even enter these buildings and experience the true vibe of this place especially the Chaurasi Kutia, accommodation quarters, the hall, and an open-air assembly hall which showcases some of the best murals dedicated to the Beatles.
Attend the Ganga Aarti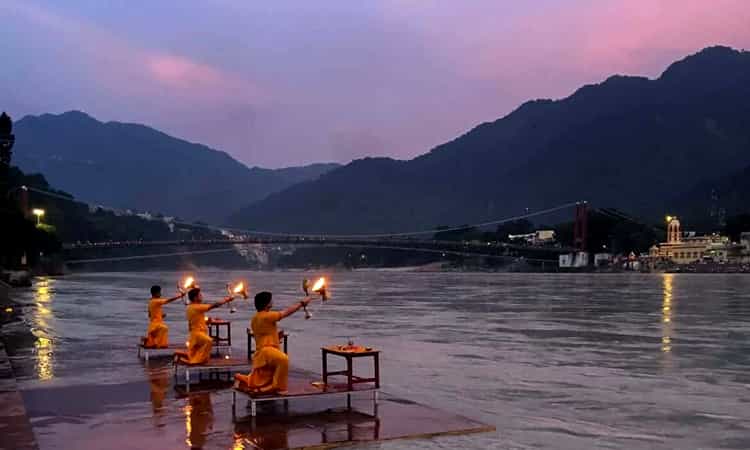 If you don't attend the evening Ganga Aarti at Rishikesh then did you really get the whole Rishikesh experience? Every evening, no matter the weather, without fail, the banks of the Ganga River light up with mesmerizing and rhythmic Aarti chants and procession. Even if you are not spiritually inclined, attending the Ganga Aarti will feel like something has been lifted off your shoulder. During my stay in Rishikesh, I attended the Aarti almost every single day because it is always such a spectacular phenomenon. The Aarti at Parmarth Niketan Ashram has become highly commercialized and you barely get to catch a glimpse of the main procession properly. You can go to the Aarti at Shatrughan Ghat, which is in the 'Muni Ki Reti' side of Rishikesh and it caters mostly to the locals. The Aarti procession is much better and you also get a clearer and more personal view of the pandits performing the puja.
Rishikesh Food Trail
Rishikesh is undeniably one of the most popular holiday destinations for not just Indians but also foreigners from all over the world. Rishikesh receives travelers and tourists from the farthest places on the globe along with catering to the domestic Indian crowd as well. This has made the food choices in Rishikesh extremely diverse. The food here ranges from traditional north and south Indian cuisines to Russian, English, and Lebanese cuisines. A typical food trail in Rishikesh can start from having a delicious breakfast of Aloo Poori and chai at the Ram restaurant near Ram Jhula. It opens at 7 or 8 am in the morning, which is one of the earliest opening places to eat in Rishikesh. For lunch, you can head to the little Buddha Cafe for some fulfilling delicious Lebanese meal of hummus, pita, falafel, and noodles. In the evening if you get hungry you can either have delicious baked goods from a German Bakery or royal cafe? Royal Cafe is a wonderful riverside surprise with balcony seating and a wholesome menu offering vegan options as well. You can end the night by going to a budget-friendly restaurant called Neelkanth which is in the Ram Jhula Market area and they serve delicious Indian meals.
Go For Kunjapuri Temple Morning Hike
Famous as the sunrise hike in Rishikesh, Kunjapuri Temple is a must-visit for a more soulful experience in Rishikesh. The trek starts well before sunrise. A day prior to the trek had booked a cab service from Ram Jhula Taxi Stand. You can find several service providers for this here. I paid my advance and the next morning, the cab was there to pick me up at 3 am, as promised. After almost a 1 hour drive, we reached the temple entrance and headed on to the top of the temple which was a lot of steps ahead. On reaching and as the sun rises, you will see some spectacular views of the surrounding snowcapped peaks of Gangotri Range, Nanda Devi Range, Panchachuli, and many more. After offering your prayer at the temple and taking some pictures, you can head down the other way that will take you through some stunning rolling green hills, village life, and a beautiful collection of flora and fauna. En route, you can also stopover at a waterfall and chill there for a bit before heading out. It is a super fun and adventurous experience for many.
Visit the Ashrams
Rishikesh is all about finding the best ways to explore yourself and self-speculation and the best means is to spend some time at one of the numerous big and small ashrams. I did not stay at the ashram but I did go for a full day of ashram tours. I hired a guide to show me around and he did a great job at it. We started off with the iconic Parmarth Niketan Ashram in the Swarg Ashram part of Rishikesh which is across the river. This ashram has a lot of history involved and covers a very large area including hostel homes for free and food for visitors. It also trains young Pandits to perform puja rituals. The next ashram was Gita ashram which is home to an incredible past and lush green cover, and some trees even date back to hundreds of years ago. The last and final ashram for the day was Swarg Ashram which seemed less like an ashram and more like a scenic and high-tech living society set against the lush green hilly background.
Go Rafting
Rishikesh is a place of extreme spirituality and tranquility. On the other side of the spectrum, it is also a great place for having an adrenaline-pumping time. Other than hikes and treks, going rafting on the gushing Ganga River is an Unmissable part of Rishikesh exploration. I had contacted my hotel's reception guy for rafting recommendations and made the booking for evening rafting. I was packed up in a jeep and accompanied by 4 guides since I had chosen to go without any other strangers on the raft. It was me and the guides taking me through the rough waves of the frivolous Ganga River that would lash up the raft. The guides kept me motivated throughout the 45 minutes of the raft trip. I did not know how to swim so I opted out of the cliff jump but the guides did motivate me and made me realize that it is totally safe to get into the calm waters while holding on to the raft rope and the lifejacket felt extremely reassuring. I was dropped off at one end of the Ganga beach and I was then taken back to my hotel safely and soundly. It is a must-have experience in Rishikesh that will help get over irrational fears and you will have a lifetime's worth of memories in just a single trip.
Visit Neergarh Waterfalls
Neergarh is not a popular tourist destination in Rishikesh but it deserves more recognition. I decided to take it easy and dedicate one whole day to go out and explore this waterfall that is divided into 3 levels and every level is mesmerizing and blessed with bountiful natural beauty. There was almost no crowd on the first level of the waterfall but as I made my way up the route to go further into the waterfall and explore the unbelievably green surroundings. The second level was also not crowded but there was a small tarp shop selling chai and some snacks for the tourists. I walked uphill some more and made my way to the final and 3rd level of the waterfall where you get a much clearer view of the valley below and the best part? There is a Maggie point where I had super spicy Maggie and chai. The ticket for the waterfall can be bought right at the entrance and you can either walk all the way up to the waterfall or Hitchhike a ride from one of the many jeep or cabs that run through the place. The waterfall is a wonderful contrast to the otherwise tourist and devotees-packed temples and other places of worship. The entire trek up and down took me about 2 hours and I would highly recommend this place to everyone.
Rishikesh is truly a one-of-a-kind place where the spectrum of activities you can do is like Pandora's box. There is some excitement or the other waiting for you around the corner to truly blow your mind away!