Jaipur has been on my travel list for a long time now. Located very close to New Delhi, Jaipur is just a couple of hours away by road and there is no dearth of places to visit there. The enigmatic and eclectic past of maharajas and palaces has been a huge intriguing factor for me. Other than that what piqued my interest is the vibrant culture and delicious food.
Jaipur is named after the great Raja Jai Singh who had settled this whole town during the 17th century. The entire place is dotted with opulent palaces and intricate yet super strong forts that have managed to withstand the test of time. If you too are a history buff like me then Jaipur will be your playground where you will feel like imagining and recreating the glorious past.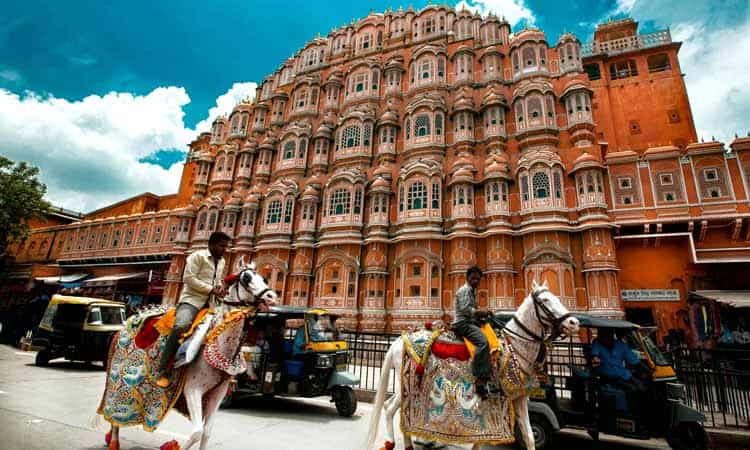 Here is how I went for my trip so that you too can get inspired and head out!
Jaipur Itinerary 4 Days – Amazing Travel Experience for Jaipur
Day 1: Morning Arrival in Jaipur
I started my trip to Jaipur from Delhi by road which is about 4-5 hours of a road trip. I had booked a cab which cost me 5,000/- rupees since I had booked the cab from Delhi. The reason why I chose a cab service was that I wanted to go on a carefree road trip rather than the restrictive bus service. The cab arrived at my place at the designated time and I was off! The route took me from Delhi to Gurgaon, Rewari, Alwar, Rajgarh, and finally Jaipur. The roads are very well made and there is regular tourist traffic you can spot. Since I had left really early in the morning at 6, I reached Jaipur by 11:00 am. I had ample time to chill out the whole day but since I was kind of tired I decided to keep the rest of the day low-key and not indulge in some intense sightseeing. I wandered around my hotel market place and as the sun was setting the whole city lit up with colorful, antique stores and marketplaces selling local handicrafts items and souvenirs that you can take back home for your friends and family. Without wasting much of my energy I decided to head back to my hotel, have dinner and doze off with the dream and a brand new perspective of exploring the pink city the next day.
Day 2: Visit to Hawa Mahal, City Palace and Jal Mahal
This was the day that I had been waiting for since day 1 of my road trip to Jaipur. I have seen numerous social media pictures and videos of these places that I just couldn't wait for. In order to have a more immersive, local experience, I decided to use local transportation, which was easily available to get around.
My first sightseeing destination on the list was the grand and awe-inspiring Hawa Mahal. Hawa Mahal is more than just 'Palace of Winds', it is a feeling on its own. On reaching I was taken aback by the sheer magnitude of the grandiose this place imposes. The first thing to cross my mind was that it looks much grander and prettier than in pictures. This palace is made in the shape of Lord Krishna's crown since the king who commissioned it, Sawai Pratap Singh, was an avid Krishna devotee. The most stunning and eye-catching feature of the palace is without a doubt the 953 collection of small windows or Jharokhas that create a honeycomb-like structure. Other than being constructed for the royal ladies to look at the daily lives of people outside, it was also built with the intention of making the palace more airy for everyone, especially since summertime in Jaipur seems like a curse. I wandered around re-imagining this place during its peak in the 17th century.
There is no direct entranceway to Hawa Mahal, tourists make their way through the side of the city palace which is the best option since in this manner you will also get to check out the iconic city palace. After strolling through the Hawa Mahal for a while I made my way to the city palace.
Built-in 1559, the city palace without a doubt has to be a must-visit in Jaipur. With the first step that I took here, I was mesmerized immediately. The detailing, the intricacy, and the sheer magnitude of this palace are impeccable that will leave anyone speechless. Did you know that this palace was built in accordance with Vaastu by king Sawai Jai Singh on the 2nd? On first look itself, it becomes clear that the whole palace is a wonderful fusion of Rajput, Mughal, and European architectural styles. The main attraction in the palace is its 4 gates that have their own story to tell. All these gates represent the 4 seasons and gods and goddesses associated with them. From outside the palace is a sight to behold and from the inside, it looks equally magical and magnificent. To learn more about this abode of the royals, I made my way to the city palace museum, where I laid my eyes on some of the most incredible and finest collections of arms in the world. The entire palace complex is painted in sober tones and the architectural wonders here include everything from balconies and ornate pavilions to mirrored walls and floral decorations that made me feel like I am walking in my dream world.
City Palace and Hawa Mahal took up a lot of my energy but I was not done yet. After some delicious Laal Maas and Kachori Meal, I headed for the final destination of the day which I knew wouldn't take up a lot of time or make me beyond tired. This destination was Jal Mahal.
Built-in 1750 by Maharaja Jai Singh the 2nd of Amber in the middle of Man Sagar Lake, this red sandstone Mahal represents beautifully the incredible combination of Mughal and Rajput style of architecture at its best. Sitting here and watching the sunset on the horizon is truly an experience that cannot be missed. An interesting fact about this place is that on first look you can only spot one floor while the rest of the 4 floors are submerged underwater. Set against the backdrop of green, gentle hills, spending an evening here is a blissful experience.
After sunset, I decided to head back to my hotel.
Day 3: Amber Fort, Nahargarh Fort, and Patrika Gate Visit.
The next day I woke up really early since I had a restless night as I was looking forward to visiting the landmark forts of Jaipur. Amber and Nahargarh Fort are 2 forts that I have been wanting to visit, explore and learn more about since I came to know about them. I had seen numerous pictures of the forts several times but I didn't know that in real-time, it would be something else entirely.
From my hotel, my first destination of Amber fort was about half an hour away and since I had been staying at mustache Jaipur, cab service and local transportation were easily available.
Amber or Amer Fort is probably the most famous landmark of Jaipur that is famous as the most loved forts of not just Jaipur but also Bollywood and Hollywood. Not only is it imposing to look at, but it is also architecturally smartly built which is clear with the fact that just a small speck of natural light has the ability to light up the deepest interiors of the fort due to the placement of concave mirrors. For me, it's the secret passages and tunnels that fascinate me the most. A 2 km long tunnel connects this fort with Cheel Ka Teela or the hill of eagles which was made with the intention of whisking away the royals and women during the time of an invasion. Other than the obviously imposing and magnificent structures, the finely carved out designs, and sculptures, one of the most incredible parts of the fort is the Kesar Kyari, or the area where the royal ladies of the fort used to grow this fragrant spice. I came to know that it took the workers over 100 years to complete the fort and beautify it to its present vigor.
After spending nearly all my data on taking pictures and collecting memories, I made my way to the next fort of Nahargarh which was just half an hour away.
Marking the heritage and Overlining the charm of Rajasthan is Nahargarh Fort which is famous for being one of the largest forts in India. This jewel of Jaipur is historically rich and filled with regal and ethereal stories of legends and myths. This massive fort was built with the intention of protecting the city people from invaders however it was never under attack. As I went through the historical past of the fort I came to know that it was built with the intention of a summer retreat for Maharaja Sawai Jai Singh the 2nd on top of a ridge. The fort is filled with huge water tanks which are connected through an intricate network of channels for the continuous supply of water in case of an invasion. Indo-European architecture is a testament to the changing times depicted through the architectural brilliance.
Before heading back to my hotel since I was not that tired and was in the mood to explore more, I decided to visit the famous Patrika Gate which is located just about half an hour away from the main city Centre. The gate is huge, incredibly detailed, and finely painted that serves as a grand entranceway to the Jawahar Circle Garden, and it is also believed to be the most photographed spot in Jaipur. I was taken aback by the sheer detailing and vibrancy displayed in the iconic walkways depicting the pure Rajasthani culture.
After taking in the unending marvelous beauty of both the forts that took me the whole day to learn about, I headed back to my accommodation.
Day 4: Albert Museum – Departure
Early in the morning, after a delicious local breakfast of Kachoris, I headed down to one of the most anticipated destinations of my trip – Albert museum. At first looks it doesn't seem like a museum, it looks like another magnificent palace that showcases the beauty of Rajasthani culture. However, this kind of museum can only be expected in Rajasthan.
Situated in Ram Niwas Garden, right outside the city wall, Albert Museum is also known as the government central museum. It is one of the best representations of indo-Saracenic architecture and it is a must-visit, especially if you are looking to learn more about the incredible culture of Rajasthan. It has ancient to medieval paintings, wall hangings, sculptures, jewels, crystals, carpets, and many more with the main attraction being an Egyptian mummy display! If I am being honest, checking out the entire place will overload your senses with a lot of information and you will leave with a new found awe for this place of mystery and wonderment.
Finally, I had to go back to my bus stand to catch my bus back to Delhi with a lifetime's worth of memories and a new chapter to my travel life.
Best Time to Visit
Jaipur is located in Rajasthan and is very close to Delhi. The summertime here is extremely brutal, hot, and dry. Lasting from April to June, these summer months make it impossible to explore and go sightseeing in Jaipur. The temperature during the summer months ranges from 24 to 40 degrees Celsius.
This makes the best time to visit during the autumn winter time of September to March. The temperature remains between 8 to 26 degrees Celsius. It is easier to go out on sightseeing sprees without having to worry about the weather conditions.
How to Reach
By Road – Jaipur has a very good network of roads connecting the various major and minor Indian cities. NH 8, NH 11, and NH 12 are the 3 national highways connecting Jaipur with other cities. The national capital New Delhi is located 235 kms away from Jaipur by road and can be reached with the help of a local or private bus and personal car. A visit to Agra, Taj Mahal can also be included in Jaipur since it is located about 220 kms away from here.
By Flight – Sanganer airport is the nearest airport to the main city of Jaipur which is situated at a distance of just 10 kms from the main city Centre. The airport receives flights from a lot of major and minor cities from all over India. Although but expensive it is a very quick way of getting to Jaipur.
By Train – Jaipur receives trains like Shatabdi express from Delhi and other places like Delhi, Mumbai, Ahmedabad, Jaipur, Chennai, Kolkata, and more. For a typical royal experience, you can even book the iconic palace on a wheel that runs from Delhi.
Frequently Asked Questions (FAQs)
Q. Are 2 days enough to explore Jaipur?
Ans. Yes. 2 days are enough to explore all the important sightseeing places in Jaipur if you plan it smartly.
Q. Is Jaipur Better or Udaipur?
Ans. Both the places have their own charm. It totally depends on the type of traveler that you are. If you love to visit the bustling tourist attractions then Jaipur is the best choice for you. If you like quiet and peaceful surroundings, then Udaipur is the place for you.
Q. Is Jaipur Safe For Tourists?
Ans. Absolutely! Jaipur is one of the most popular tourist destinations in India and it receives foreign tourists from all over the world. Despite a few pickpocket cases experienced by tourists, there has never been a violent crime against them. It's a completely safe destination for tourists.
Q. What Are Some Famous Foods To Eat In Jaipur?
Ans. Some famous foods in Jaipur include traditional Rajasthani Thaali, Laal Maans, Pyaaz Kachori, Dal Baluchi, Chicken Lollipop, Lassi, and hibiscus ice tea.
Q. What Can I Buy From Jaipur?
Ans. Here are some things you can buy from Jaipur – Meenakari Works of Art, Jewellery, Trinkets, Mojris, Blue Pottery, Jaipuri Handcrafted Bags, Leharaiya Saree, Bandhani Dupatta, and many more.