Surrounded by the mystical Himalayan beauty and the rejuvenating air and perched on a whopping elevation of 4,419 metres above sea level is the star-shaped Gurudwara of Hemkund Sahib or formally known as Gurudwara Shri Hemkund Sahib ji. This is a crucial pilgrimage that is taken up by devout Sikhs from India and across the border who visit here every year when it open up for Darshan for 4 months. The name of the place can literally be translated into snow (hem) bowl (Kund) which it rightfully represents on the lap of the snow bound Himalayas.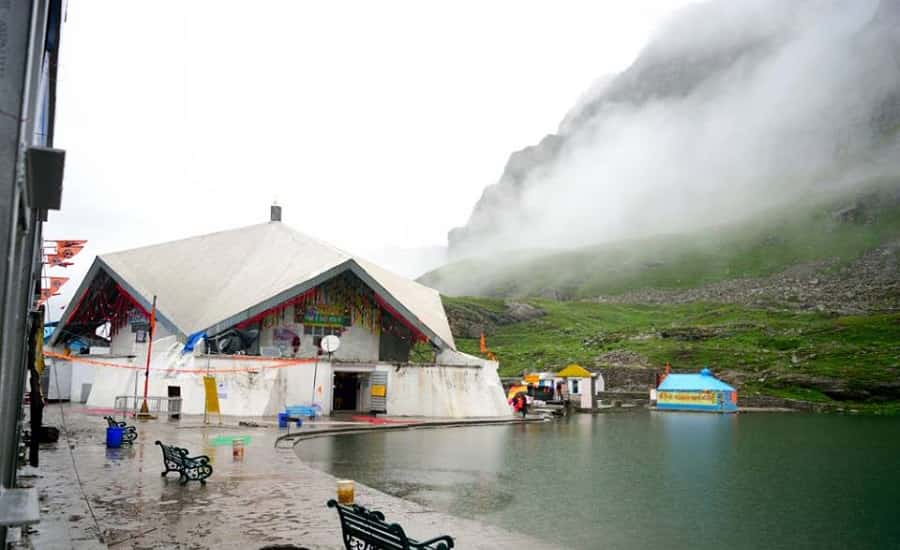 About Hemkund Sahib
Spiritual Significance
People visiting this holy Gurudwara often mention that visiting Hemkund Sahib is not about the destination but it is more about the journey that a pilgrim has to undertake. Hemkund Sahib has often been mentioned as 'Tapasthan' or the place for meditation and is known for being the place where Guru Gobind Singh had performed his meditation. People come here to not only offer their respects inside the Gurudwara but a dip in the glacial water of pristine lake that is located right in front the temple is believed to offer you a deep sense relief and rejuvenation.
Short Itinerary
A typical itinerary for Hemkund Sahib also includes a visit to the nearby UNESCO site of Valley of flowers national park. The trip will last for 6 days and 5 nights and will go as follows:
Day 1: Start driving from Haridwar – Govindghat (via Joshimath and Devprayag; 8 to 9 hours)
Day 2: Start your trek from Govindghat – Ghangaria (14 kms; 3 to 4 hours)
Day 3: Set up base at Ghangaria – Valley of flowers and back.
Day 4: Trek from Ghangaria – Hemkund Sahib Gurudwara and back (6 km)
Day 5: Trek from Ghangaria – Govindghat or you have the option of driving back to Joshimath
Day 6: Drive back to Haridwar from Govindghat or Joshimath
Getting There Easily
One of the most convenient ways of getting to Hemkund Sahib is by starting your journey from Haridwar or Rishikesh which can be reached via train or bus service. From here you will be catching an early morning bus to Joshimath which will take 9 hours to 15 minutes to cover. The next day you will be taking a bus to Govindghat which will take just 45 mins. From Govindghat you will start you trek to Ghangaria where you will be covering almost 11 kms. This route can also be covered with the help of a porter or a mule. The entire route is made up of rocky trails. After staying overnight in Ghangaria you will be trekking for 6 kms to reach Hemkund Sahib.
If you are willing to spend some more on comfort and convenience then you can avail the facilities of a helicopter service till the Ghangaria helipad.
Where to Stay
An overnight stay at Hemkund Sahib is not allowed and one must look for accommodation options at Govindghat. You can get cheaply available hotels and rooms for prices as low as Rs.200/- to Rs.300/-. You can also find some expensive hotels here which offer some better amenities and services like restaurants, room services and running hot and cold water.
You can also choose to stay at Ghangaria where there is a range of hotels available and you can pick your choice accordingly. There is also a GMVN guesthouse available here which offers a good stay option at the right price along with good amenities and services.
Opening / Closing Dates
Every year there is no fixed date of closing of Hemkund Sahib but it generally starts in the summer months when the snow here melts away. Last year the gates had opened up in the last week of May. Then it remains open for a few months till the weather changes and the region gets covered in snow. This marks the closing of the gates of Hemkund Sahib for the season which generally takes place in the month of October.
Unique Architecture
This star-shaped holy site is set at an imposing height by the banks of the magnificent crystal clear lake whose source can be traced to Lakshman Ganga. Being located at this incredible height during its construction a lot of things had to be kept in mind. The roof of the gurudwara was given its current shape like a star consisting of crests and troughs in order to allow it to handle the snow fall in a more effective manner. The lake of Hemkund is also diverted in such a way that it makes its way towards the ground floor where a bathing area for women was created. On enetering the gurudwara you will be greeted with a large hall which is lit up with lights and elegant and opulent tapestry. 4 doors are created on the 4 corners of the gurudwara and a langar hall is also created in close proximity which serves a delicious langar of khichdi and sweets free of cost to the pilgrims.
How was Hemkund Sahib Discovered?
The exact location of Hemkund Sahib is mentioned in Dasam Granth that was confirmed in 1730s and the search for this pious spot started during the late 19th century. The very first Sikh who had traced the exact geographical location of this Gurudwara was Pandit Tara Singh Narotam in 1884 who was also a prominent 19th century Nirmila scholar. His discoveries and findings were the published by the Sikh scholar Bhai Vir Singh in this works called Sri Kalgidhar Chamatkar.
Lesser Known Facts
Before the opening of the gates of the Gurudwara people and primarily the helpers from Indian army clear out the entire way, covered in a thick covering of snow, leading up to the Gurudwara which is a part of the selfless service act that is practiced by every Sikh devotee.
The place has found its mention in the book that was dictated by Guru Gobind Singh – Guru Granth sahib where it mentions that he used to perform his meditation here not only in his present life but in his past life as well.
This holy pilgrimage spot remains shut down for the most time of year and shuts down 15 days prior to the commencement of the holy festival of Dussehra.
The architecture of the Gurudwara is the only one in the world to possess a pentagonal structure. This unique and distinct feature has put it in a very prominent position in the world.
Due to its construction at an incredible height of 15,210 feet above sea level, it is known for being the most highly placed Gurudwara in the world.
One of the most fascinating features of this Gurudwara is that this fascinating structure was created with the flawless and extremely hard efforts by the people themselves. No machinery was used to transfer the raw material or build this structure and even the steel slabs were transferred with the help of solely manpower covering a total distance of 10410 metres.
Despite its relevance this holy spot, due to its location on such a high elevation it remained unnoticed and went undiscovered for over a duration of 2 centuries.
Other Nearby Places to See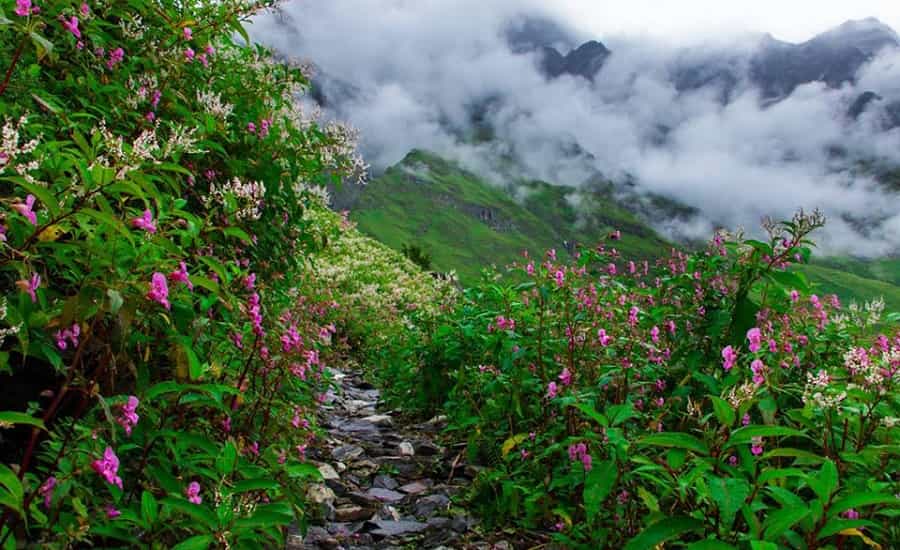 A UNESCO world heritage site this valley is known for being carpeted with some of the most exotic high altitude flowers. The region also consists of gushing waterfalls and the gently flowing river that forms the banks of this site. There are no trees in sight but just a vast expanse of green carpet that cover the gently undulating hills. A must visit destination on your Hemkund pilgrimage.
Badrinath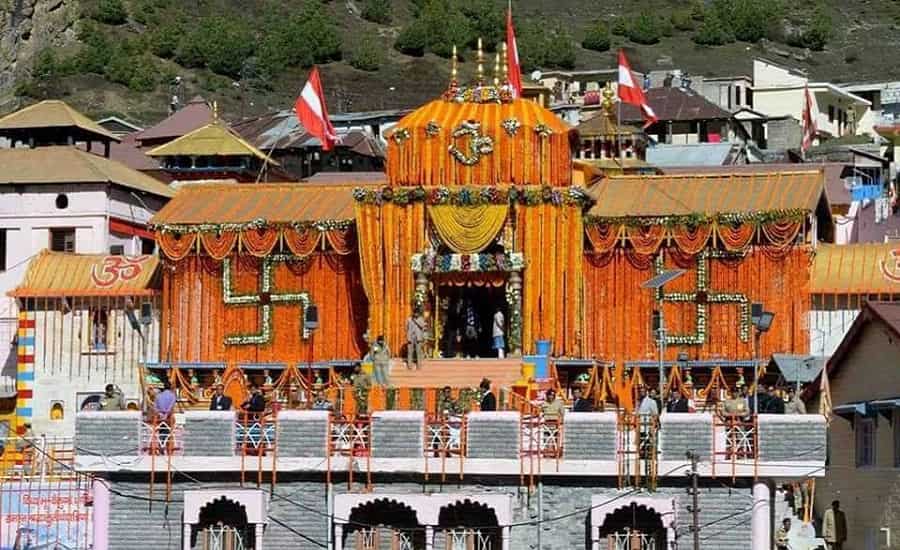 The colorful and opulent holy abode of Lord Badri and one of the most crucial pillars of not just the Chota Char Dham Yatra of Uttarakhand but also that of the all India Char Dham Yatra. This Divya Desam is set against the magnificent backdrop of the majestic Nar and Narayan peaks and attracts numerous pilgrims from India as well as abroad.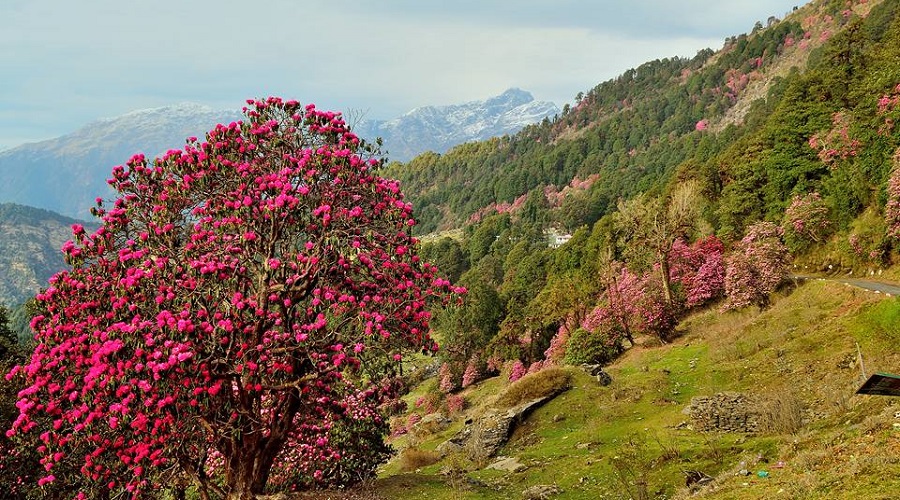 Located right on the crossroads of two of the holiest Dhams of Badrinath and Kedarnath, Chopta is one of the most awe inspiring hidden gem in Uttarakhand. This place can be used as the starting point for the trek to the highest Lord Shiva temple in the world i.e. Tungnath. The beauty of this place cannot be compared to anywhere else and offers a great sense of peace and serenity to the visitor.
Mana Village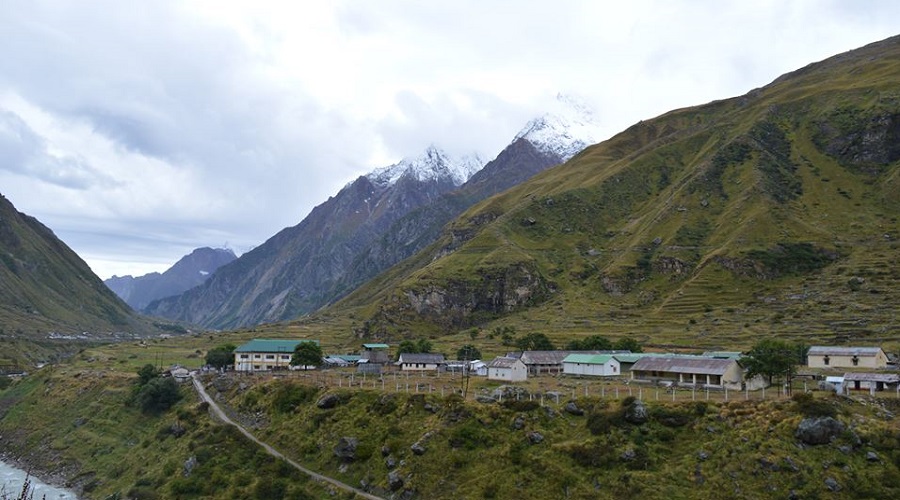 This pristine village is known for being the last Indian village on the Indo – Tibetan border and is situated at a mere distance of 3 kms from the main temple of Badrinath Dham. People generally visit this place on their visit to Badrinath Dham and one of the prime attractions here is the last Indian coffee shop.
Kagbhusandi Lake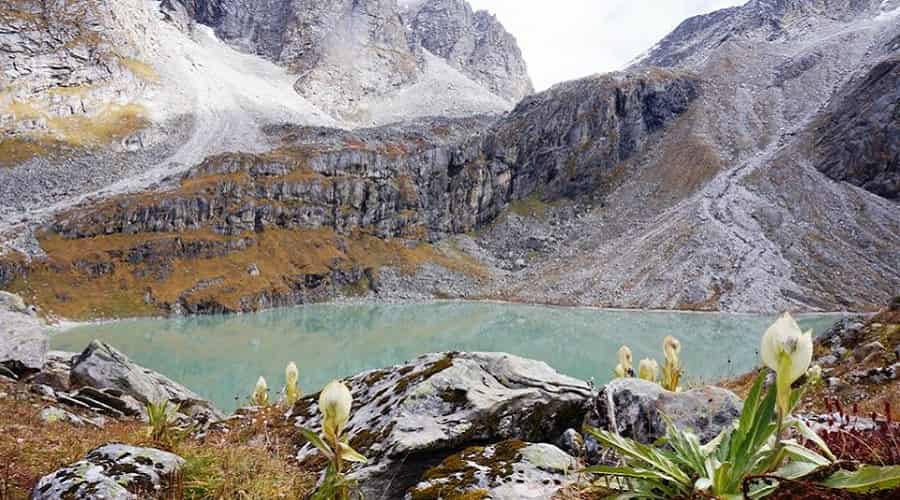 This small high altitude glacial lake holds glimmering green water and sits on an altitude of 5,230 metres above sea level on the lap of the grand Hathi Parvat. The entire lake not only offers some of the most magnificent and awe inspiring views of the imposing peaks of Chaukhamba, Nanda Devi and more but the entire perimeter of the lake is also surrounded by various high altitude exotic Himalayan flowers that amp up the beauty of this place.
Frequently Asked Questions
Q. When is the best time to visit?
Ans. Every year Hemkund Sahib opens up during the summer months of late May and stays open till snow fall in October. During this the best time would be to visit when the Gurudwara gates are opened up for Darshan. Avoid going during the monsoon months since it will prove to be extremely dangerous for the pilgrims and you will also be putting your life at risk with this.
Q. What is the Exact Location of Hemkund Sahib?
Ans. This holy Gurudwara is located in the district of Chamoli and the final road head leading up to this holy shrine is located in Govind Ghat which falls on the Joshimath – Badrinath route. From here you will be trekking to Ghangaria and then further to Hemkund Sahib.
Q. How Long Does It Take To Reach The Gurudwara from Govind Ghat?
Ans. It actually depends. Normally if you are trekking at a constant and leisurely pace then it will take almost 8 to 10 hours to cover and steep distance of 14 kms. Some people also decide to cover this distance on mules, ponies, Dolis and Pithhus in order to ease their journey.
Q. What are the other options to stay at Ghangaria, other than hotels?
Ans. Ghangaria consists of a Gurudwara and most of the devotees prefer to stay at the Gurudwara. There is also a GMVN guesthouse located here which provides a decent stay option along with a range of services and amenities to ensure your comfort and convenience. These options for stay are extremely cheap and budget friendly.
Q. Is the Journey to Hemkund Sahib Safe?
Ans. Travelling Uttarakhand is extremely safe. However the trekking journey on a steep elevation is extremely tiring and demanding and the pilgrim should be fit physically as well as mentally. Make sure you carry your trekking essentials in order to make your journey simpler and more comfortable. Even the alternate transport options of Dolis and Pitthus are considered to be extremely safe.
Q. What Kind of Weather Changes will I Encounter?
Ans. The most stable time for you to visit Hemkund Sahib will be in the month of June to August and August to October. You will be encountering some unexpected chilly, cold, and freezing temperatures also with some unexpected rainfall make sure to carry along raincoats and appropriate warm clothing items.